The Bard and The Coach, born 394 years apart, share a unique correlation.
Both are philosophical proponents of the prophetic phrase "death by inches.''
This is the first time the names William Shakespeare and Victor Fangio ever have appeared in the same sentence.
That bond is not limited to each being thoroughly involved with plays most of his life.
Twice, in "King Lear'' and "The Comedy of Errors'' (which seems like a tragedy about the Broncos' 2017-18 seasons), Shakespeare referred to football. In Act 1, scene 4, of the first, Kent, the king's protector, slaps a servant, who protests "I will not be struck, my lord.'' Kent replies: "Nor tripped, either, you base (shameful) football player.'' The latter mention was in Act 2, Scene 1, when domestic Dromio complains of his treatment. "Am I so round with you as you with me, that like a football you do spurn me thus.''
Shakespeare purportedly played an early version of football as a boy in Stratford- Upon-Avon. Fangio played a different style of the game as a youth in Dunmore, Pa.
Fangio makes references to football about 150 times daily. "The Broncos' goal is getting back to winning football'' and, in a line that's rather Shakespearean, "To hell with chiropractors, let's play football.''
An odd coupling: Playwright — "Fair is foul, and foul is fair, hover through the fog and filthy air'' — and play right — "We've got to cut down on fouls. Last year this team was 31st in the league in penalties.''
At 60, Fangio finally achieved his first head coaching job of any kind, uttering one memorable and significant line to John Elway during their three-hour interview in January in suburban Chicago.
John Elway has aimed high when it comes to quarterback height for the Denver Broncos. It hasn't necessarily resulted in success as many of his tallest QBs have come up short.
"I promise you. We will not kill ourselves by inches,'' the applicant said.
The Broncos Boss was extremely impressed. Flying in the face of the NFL coaching youth movement, Elway chose a coach who was close to his own age.
Under the previous coach, the Broncos were defeated by feet, yards and every other basic measure.
During his Jan. 10 introduction of Fangio as the Broncos' 17th coach since 1960, Elway reemphasized how the "death by inches'' belief system had persuaded him.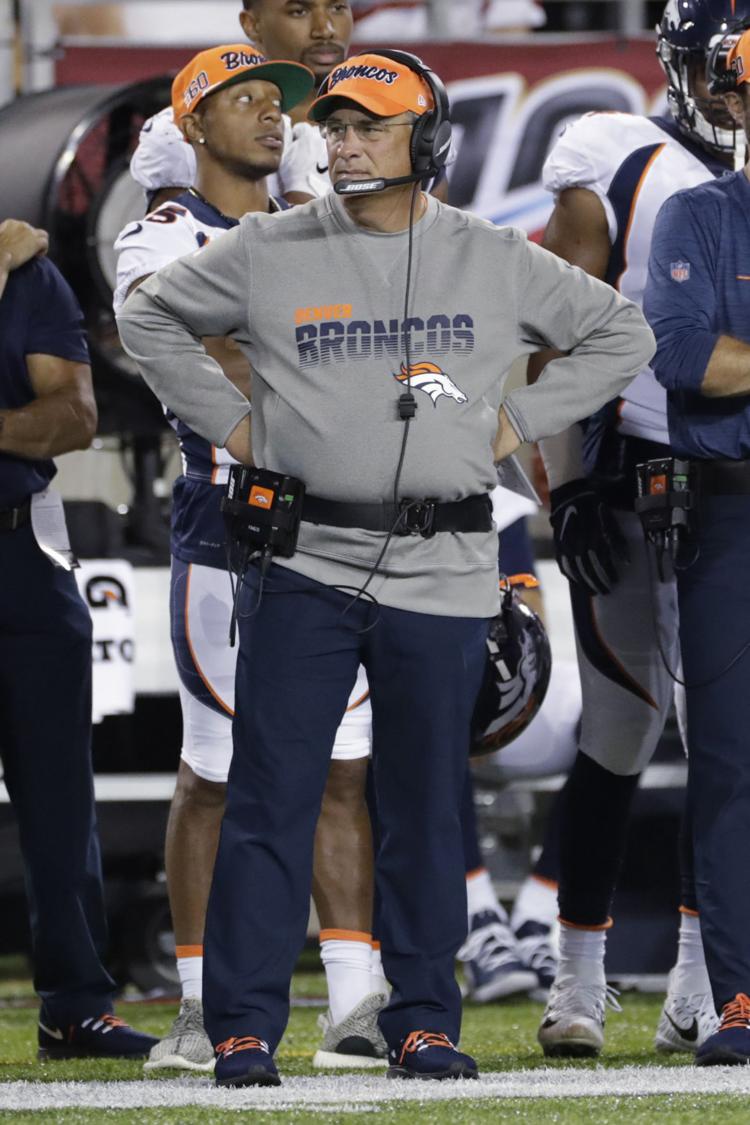 A few moments later in the crowded conference hall at Dove Valley, Fangio said: "We're going to stress fundamentals. We're not going to cut any corners.
"There will be no death by inches.''
The Broncos' 2019 battle cry was born.
Asked to describe the meaning of the term, Fangio said that, as a coach, "when you see a small misdemeanor crime, you correct it.''
For example, he elaborated, "When you are holding a team meeting, or a defensive or a position meet, and someone comes in 30 or 45 seconds late, that, in and of itself, is not going to affect whether you win or lose a football game that week. That's an inch. But the next day there may two or three guys who show up late, or that guy comes in a minute or two late, and when all those inches add up, you're a losing football program.''
In other conversations we've had, Fangio indicates that "death by inches'' disruptions also would include unnecessary penalties, a lack of attention to detail in preparations, making the same mistakes repeatedly, failure to practice hard, a poor attitude, fights with teammates, being lackadaisical about the business of football.
Amid their back-to-back losing seasons for the first time since the early 1970s, the Broncos revealed they were characters and didn't show character. Vance Joseph was not a leader of men.
Mitch Tanney is helping Vic Fangio and the Denver Broncos use analytics to help the team on the field, in the draft and elsewhere.
A punt returner can't persist in fumbling, yet still retain a job; a quarterback can't keep throwing interceptions in the red zone; a star starter can't put his feet up on a chair and pretend to study films; players can't be straggling onto the practice field.
Recently, after a workout, I said off to the side to Vic: "How's the 'death by inches' process going?''
"Good. Mostly,'' the coach said. "They're understanding. We still have too many penalties, but guys are in the meeting rooms early; they're concentrating on football and what we're doing. And we haven't had any of those 'last player' situations,'' in which one player arrives tardy.
I wondered if he had brought any players in for a discipline hearing or a chat about incessant errors. "I have a few times in the past, but not this year. Peer pressure is more important than coaching pressure.''
Fangio told me he did not originate the "death by inches" approach to football.
"I got the line a long time ago from an old coach. I just adopted it. But I always thought that if you mess up the little things, they develop into big things. I've always talked to my defenses about 'death by inches'. Now I've applied to the offense and special teams, too.''
I told Fangio that William Shakespeare penned the first usage of the expression "death by inches" in the play "Coriolanus.''
"Really. I never knew.''
In the tale of legendary Roman general Coriolanus, an old, bearded tribune, Junius Brutus, is captured by the enemy. A messenger exclaims to his leader that if a deal is not arranged for the release of Brutus, the Volscians will "give him death by inches.''
Shakespeare wrote plays. Fangio calls plays. And they have lived by the consequences of death by inches.