The NFL draft begins Thursday with the first round at 6 p.m. on ABC, ESPN and NFL Network. The same networks will broadcast Rounds 2-3 at 5 p.m. Friday. Rounds 4-7 will start at 10 a.m. Saturday.
NOTES: The rankings listed are based on Approximate Value (the football version of Wins Above Replacement) as determined by pro-football-reference.com. The "worst pick" from each round largely followed that guideline, but also included an element of subjectivity.
---
FIRST ROUND
Best pick: Von Miller
Taken No. 2 in 2011, Miller became the defensive leader on a pair of Super Bowl teams, including the team that captured Super Bowl 50 behind his MVP performance that included 2.5 sacks and two forced fumbles. He was a unanimous selection to the NFL's All-Decade Team for the 2010s. And, of course, he operates a chicken farm.
Worst pick: Ted Gregory
The Broncos took the nose tackle from Syracuse with the No. 26 overall pick in 1988 in a pick that led to changes in the team's pre-draft evaluation procedures. Gregory came in with a nagging injury and, though he was listed at 6-foot-1, coach Dan Reeves was surprised to find (after selecting him) that he was considerably shorter than that. He reinjured his knee in training camp and was traded to the Saints before the start of his rookie season. He played just three NFL games before another injury ended his career.
Did you know?
The Broncos drafted Hall of Fame defensive lineman Merlin Olsen in their second draft in team history, taking him No. 2 in the 1962 AFL draft. However, the Los Angeles Rams took Olsen No. 3 in the NFL draft that season and he played his 15-year career with the franchise. … The Broncos dealt three picks to Baltimore in the 2010 draft to move into the first round and draft quarterback Tim Tebow at No. 25. The Ravens used those picks on linebacker Sergio Kindle (taken No. 43, he played in just three career games), tight end Ed Dickson (taken No. 70, he made 190 career catches for 2,128 yards) and tight end Dennis Pitta (taken No. 114, he made 224 catches for 2,098 yards). The tight ends caught a combined 28 career touchdowns, Tebow threw and rushed for a combined 29 career scores.
This year's pick: No. 15 – historical look
The Broncos have picked at No. 15 four times, drafting offensive lineman Tom Glassic (1976), defensive back Dennis Smith (1981), linebacker John Mobley (1996) and defensive Deltha O'Neal (2000). Those three made a combined 449 career starts. Glassic was a seven-year starter for Denver on the offensive line, Smith is in the team's Ring of Fame, Mobley earned a first-team All-Pro selection and O'Neal was twice a Pro Bowl selection. No draft position has brought more value to the team.
---
Recent first-round picks
2019 (No. 20): Noah Fant, TE – Iowa
2018 (No. 5): Bradley Chubb, DE – NC State
2017 (No. 20): Garett Bolles, T – Utah
2016 (No. 26): Paxton Lynch, QB – Memphis
2015 (No. 23): Shane Ray, DE – Missouri
---
Top 10 first-round picks
2011 (No. 2): Von Miller, OLB – Texas A&M
1974 (No. 14): Randy Gradishar, LB – Ohio State
2006 (No. 11): Jay Cutler, QB – Vanderbilt
1975 (No. 17): Louis Wright, DB – San Jose State
1997 (No. 28): Trevor Pryce, DT – Clemson
1983 (No. 4): Chris Hinton, T – Northwestern
1989 (No. 20): Steve Atwater, DB – Arkansas
1981 (No. 15): Dennis Smith, DB – USC
2010 (No. 22): Demaryius Thomas, WR – Georgia Tech
1999 (No. 31): Al Wilson, LB – Tennessee
---
Bottom Five
1988 (No. 26 overall): Ted Gregory, NT – Syracuse
1998 (No. 30 overall): Marcus Nash, WR – Tennessee
2016 (No. 26 overall): Paxton Lynch, QB – Memphis
2007 (No. 17 overall): Jarvis Moss, DE – Florida
2001 (No. 24 overall): Willie Middlebrooks, DB – Minnesota
---
SECOND ROUND
Best pick: Clinton Portis
Portis played two stellar seasons for Denver, rushing for an average of 1,550 yards in those years with a combined 29 rushing touchdowns and 71 receptions for 678 yards and two more scores. But his value didn't end with his time in orange and blue. The Broncos traded him to Washington for Champ Bailey and a draft pick that was used to select Tatum Bell. Bell ran for 1,025 yards in 2006. Bailey played out the bulk of his Hall of Fame career at cornerback for Denver, earning Pro Bowl selections in eight of his 10 seasons with the Broncos and setting a team-record for passes defended (122) and ranking fourth in interceptions (34). The Approximate Value (according to pro-football-reference.com) of Portis, Bell and Bailey in a Broncos' uniform was 149, which ranks second only to John Elway's 203 in team history.
Worst pick: Paul Toviessi
The Broncos traded up to grab the Marshall defensive end with an injury history (he missed the entire 1999 season) with the 51st pick in 2001. His career tallies: Signing bonus ($1.243 million signing bonus), knee surgeries (three), games played (zero). The Broncos released him 364 days after selecting him. Buffalo used the two picks it received in exchange for Toviessi to draft Pro Bowl running back Travis Henry (who ran for 6,086 career yards, including three years with 1,200+) and linebacker Brandon Spoon (who started 14 games as a rookie before an injury ended his career).
Did you know?
The Broncos traded 1968 second-round pick Curley Culp to Kansas City when the college heavyweight wrestling champ wanted to played defensive line but Denver insisted on playing him on the offensive line. He became a Hall of Famer with the Chiefs as a DL. … The team has used over half (29 of 54) of its second-round picks on defensive players, yet it has sent more offensive players to Pro Bowls (Portis, G Zane Beadles, RB Glyn Milburn, WR Courtland Sutton) than defenders (LB Ian Gold, DB Tory James and DE Rulon Jones). … Prior to the AFL-NFL merger, the Broncos used a second-round pick on Hall of Famer Dick Butkus (1965) but did not sign him.
This year's pick: No. 46 – historical look
This will be the third time the Broncos have picked at No. 46. They previously grabbed defensive end Andre Townsend (1984) and tackle Orlando Franklin (2011). Franklin, who started four years at tackle, was acquired with the pick Miami sent to Denver for receiver Brandon Marshall. Franklin eventually left to sign a five-year, $36.5 million free agent contract with the Chargers.
---
Recent second-round picks
2019 (No. 41) Dalton Risner, G – Kansas State
2019 (No. 42) Drew Lock, QB – Missouri
2018 (No. 40) Courtland Sutton, WR – SMU
2017 (No. 51) DeMarcus Walker, DE – Florida State
2016 (No. 63) Adam Gotsis, DT – Georgia Tech
---
Top 10 second-round picks
2002 (No. 51) Clinton Portis, RB – Miami
1973 (No. 36) Barney Chavous, DE – South Carolina State
1985 (No. 54) Simon Fletcher, LB – Houston
1980 (No. 42) Rulon Jones, DE – Utah State
1989 (No. 41) Doug Widell, G – Boston College
2010 (No. 45) Zane Beadles, G – Utah
1978 (No. 55) William Gay, DE – USC
1985 (No. 31) Vance Johnson, WR – Arizona
2012 (No. 36) Derek Wolfe, DT – Cincinnati
2000 (No. 40) Ian Gold, LB – Michigan
---
Bottom five
1975 (No. 43) Charles Smith, DE – North Carolina Central
2001 (No. 51) Paul Toviessi, DE – Marshall
1981 (No. 42) Clay Brown, TE – BYU
1982 (No. 50) Orlando McDaniel, WR – LSU
2009 (No. 64) Richard Quinn, TE – North Carolina
---
THIRD ROUND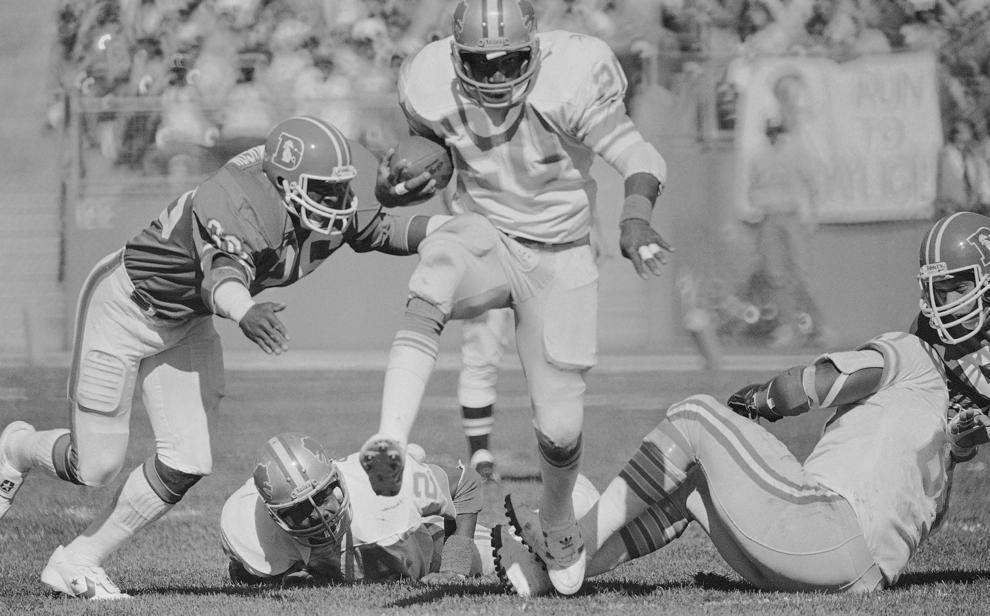 Best pick – Billy Thompson
The strong safety played his entire 13-year career with the Broncos, was a three-time Pro Bowl pick and holds team records with 61 takeaways, seven defensive touchdowns and 785 interception return yards. He ranks third in Broncos history with 179 starts and earned a place in the team's Ring of Fame. How adept was the pick? He was named a first-team All-Pro, while none of the 27 picks ahead of him earned that distinction. The Broncos found him from Maryland State College, which produced Art Shell as a third-round pick for the Raiders the year before.
Worst pick – Maurice Clarett
Clarett is one of just two Broncos third-round picks since 1983 to never see action in an NFL game (Carlos Henderson in 2017 was the other). And it was so easy to see coming. A talent who starred as a freshman for national champion Ohio State, the rest of Clarett's college career was marred by scandal and controversy. He ran slow times at the NFL Combine, which he refused to finish. He was cut after a dismal training camp. After his time with the Broncos, he served time in prison.
Did you know?
Brian Griese (1998) is the only quarterback the Broncos have taken in the third round, while Jason Elam (1993) is the only kicker. … Of Denver's 56 third-round picks, 17 never started a game (eight never played at all). Half started 10 games or fewer in their careers. Nine were selected to a Pro Bowl. … The leading rusher among third-round picks is Ronnie Hillman (2012), while Eric Decker (2010) is the runaway leader in all receiving categories. … Ohio State and Florida lead the way in producing four third-round picks apiece for Denver, while Florida, Michigan, Notre Dame and San Diego State each had three.
This year's picks: No. 77, 83, 95 – historical look
The Broncos' scheduled pick in the round is No. 77. They've picked once at that spot before, taking nose guard Bruce Radford in 1979 from Grambling. He appeared in 16 games for Denver as a rookie, recording his best season, before playing elsewhere for his final two years. They've never picked at No. 83, the selection they acquired from Pittsburgh last year. They picked offensive lineman Michael Schofield at No. 95 in 2014, a spot they'll draft again this year after getting the pick from San Francisco. Schofield started 29 games for the Broncos over three years before being acquired off waivers by the Chargers. The three third-round picks mean the Broncos pick five times in the draft's first 95 selections.
---
Recent third-round picks
2019 (No. 71) Dre'Mont Jones, DT – Ohio State
2018 (No. 71) Royce Freeman, RB – Oregon
2018 (No. 99) Isaac Yiadom, CB – Boston College
2017 (No. 82) Carlos Henderson, WR – Louisiana Tech
2017 (No. 101) Brendan Langley, CB – Lamar
---
Top 10 third-round picks
1969 (No. 61) Billy Thompson, DB – Maryland State
1967 (No. 58) Mike Current, T – Ohio State
1991 (No. 61) Keith Traylor, DT – Central Oklahoma
1987 (No. 86) Michael Brooks, LB – LSU
1973 (No. 54) Paul Howard, G – BYU
1998 (No. 91) Brian Griese, QB – Michigan
1997 (No. 67) Dan Neil, G – Texas
1974 (No. 68) Claudie Minor, T – San Diego State
2010 (No. 87) Eric Decker, WR – Minnesota
1993 (No. 70) Jason Elam, K – Hawaii
---
Bottom five
Seven players never saw action in an NFL game
---
FOURTH ROUND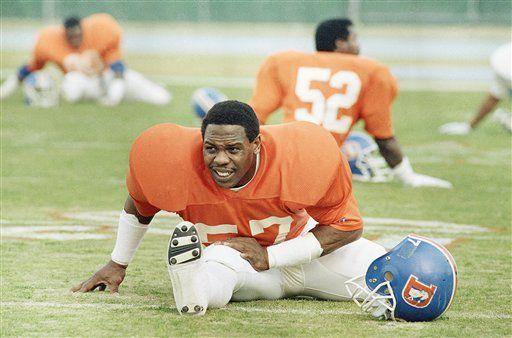 Best pick – Tom Jackson
Only two players picked in 1973 produced more value for the teams that selected them than Tom Jackson – Hall of Famers John Hannah and Dan Fouts. They were long gone in the draft by the time Denver picked Jackson out of Louisville. Jackson was the heart of the Orange Crush defense, voted the team's most inspirational player six times. He played in 191 games and then became a renowned studio analyst with ESPN for nearly three decades.
Worst pick – Bryant McNeal
The former Clemson star was one of eight Broncos' fourth-round picks to never play an NFL game, but he had perhaps the steepest fall from there. A lower back injury ended his time in Denver after he was picked in the fourth round in 2003. After spending time in camp with Tampa Bay and Oakland, he was arrested in 2007 for trying to sell a Land Rover that he didn't own to a pawn broker and for writing a fraudulent check to a dental group. McNeal later returned to Clemson to finish his degree and later coached high school football.
Did you know?
The Broncos drafted Lyle Alzado only after a scout's car broke down in Montana, prompting him to ask Montana Tech for film that he watched while awaiting repairs. It was there that he saw Alzado dominating on defense for tiny Yankton (South Dakota) College. The Broncos picked Alzado in 1971 and he helped them to the 1977 Super Bowl and earned two Pro Bowl selections. … Denver picked tight end Keli McGregor in the fourth round in 1985 out of Colorado State. McGregor never caught on, playing eight games in his career, but later became team president of the Colorado Rockies until he died suddenly at 47 in 2010.
This year's picks: No. 118– historical look
The Broncos have never picked at No. 118, though they did select wide receiver Brandon Marshall at No. 119 in 2006. He went on to catch 970 passes for 12,351 yards and 83 touchdowns in his career.
---
Recent fourth-round picks
2018 (No. 106) Josey Jewell, ILB – Iowa
2018 (No. 113) DaeSean Hamilton, WR – Penn State
2016 (No. 136) Devontae Booker, RB – Utah
2015 (No 133) Max Garcia, C – Florida
Two fourth-round picks in 2012
---
Top 10 fourth-round picks
1973 (No. 88) Tom Jackson, LB – Louisville
2006 (No. 119) Brandon Marshall, WR – Central Florida
1971 (No. 79) Lyle Alzado, DE – Yankton
2006 (No. 126) Elvis Dumervil, DE – Louisville
1977 (No. 101) Bill Bryan, C – Duke
2000 (No. 112) Cooper Carlisle, G – Florida
2001 (No. 113) Ben Hamilton, G – Minnesota
1975 (No. 95) Rick Upchurch, WR – Minnesota
2008 (No. 108) Kory Lichtensteiger, C – Bowling Green
1972 (No. 102) Tom Graham, LB – Oregon
---
Bottom five
Eight players never saw action in an NFL game
---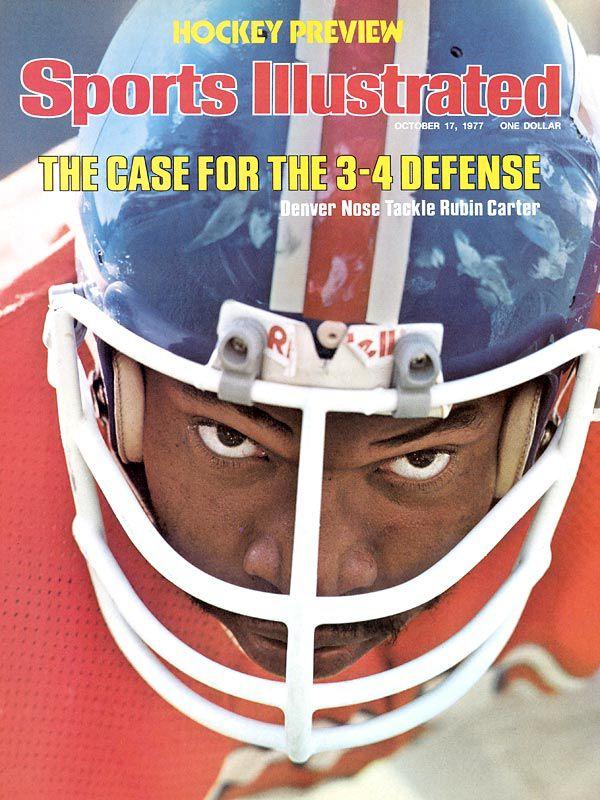 FIFTH ROUND
Best pick – Rubin Carter
In picking Carter out of Miami in 1975, the Broncos found the nose guard to anchor the middle of the 3-4 Orange Crush defense. Carter played his full 12-year career in a Broncos uniform, playing in 166 games with 152 starts. Playing an unglamorous position, Carter was never selected to a Pro Bowl and isn't a member of the Broncos' Ring of Fame, but he played a huge role in the defense leading the league against the run in the Super Bowl season of 1977.
Worst pick – Rick Leach
There was nothing wrong with wanting Leach in the fifth round in 1979. The left-handed Michigan quarterback finished third in Heisman Trophy balloting, led the Wolverines to three straight Big Ten titles and was a first-team All-American. However, the Broncos probably should have checked to see what Leach wanted. He was taken in the first round of the MLB draft and played 10 years in the majors. Not a big deal, as seven other Broncos fifth-round picks didn't play a down in the NFL, but future Pro Bowl players like Max Montoya, Dwight Clark and Drew Hill were still on the board.
Did you know?
This has been a round of heft for Denver. Of the 13 players it picked in Round 5 who went on to start more than 15 NFL games, nine played on the offensive or defensive line. … The Broncos picked a couple of future NFL stars with some of their early, pre-merger fifth-round picks as a member of the American Football League. They grabbed Charlie Cowan in 1961, and the offensive tackle from New Mexico Highlands instead signed with the Rams and made three Pro Bowls in a 15-year career. In 1963 they took Ray Mansfield, who won a pair of Super Bowls as the Steelers' center for 13 years. … Rubin Carter's son, Andre, outdid him in draft positioning. Andre, who was born in Denver, went in the first round to San Francisco in 2001 (No. 7 overall) and made one Pro Bowl in a 13-year career.
This year's pick: No. 178 – historical look
The Broncos have never picked at No. 178. Their closest pick came in 1999, when they selected tight end Desmond Clark at No. 179. He had a 12-year career, catching 323 passes for 3,591 yards and 27 touchdowns.
---
Recent fifth-round picks
2019 (No. 156) Justin Hollins, LB – Oregon
2018 (No. 156) Troy Fumagalli, TE – Wisconsin
2017 (No. 145) Jake Butt, TE – Michigan
2017 (No. 172) Isaiah McKenzie, WR – Georgia
2016 (No. 144) Connor McGovern, G – Missouri
---
Top 10 fifth-round picks
1975 (No. 121) Rubin Carter, NT – Miami
1981 (No. 125) Ken Lanier, T – Florida State
1980 (No. 131) Mike Harden, DB – Michigan
1982 (No. 131) Sammy Winder, RB – Southern Miss
2012 (No. 137) Malik Jackson, DT – Tennessee
2006 (No. 161) Chris Kuper, G – North Dakota
1999 (No. 158) David Bowens, DE – Western Illinois
1989 (No. 134) Darren Carrington, DB – Northern Arizona
2010 (No. 137) Perrish Cox, DB – Oklahoma State
1996 (No. 159) Patrick Jeffers, WR – Virginia
---
Bottom five
Eight players never saw action in an NFL game
---
SIXTH ROUND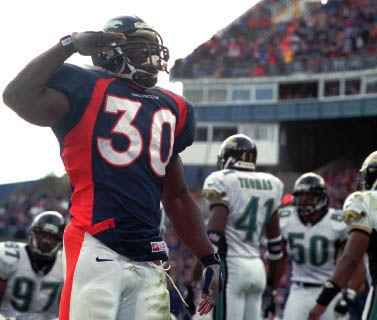 Best pick – Terrell Davis
Who could have seen this coming? Davis began his college career at Long Beach State and had just one standout season at Georgia (when he ran for 824 yards for a Bulldogs team in 1993 that went 5-6). Even in his abbreviated career, Davis' three Pro Bowl selections were equal to the sum of the 50 players drafted ahead of him. He's one of five Hall of Famers from the 1995 NFL draft class. Three of the others were taken in the first round, while Curtis Martin went in the third round – 122 spots ahead of Davis. So, yeah, strong pick.
Worst pick – John Winesberry
The only problem in drafting Winesberry, an Oklahoma prep legend who starred at Stanford, was that in retrospect his failed, injury-plagued attempt to make an NFL roster delayed the start of the next phase in his too-brief life. A converted Muslim who changed his name to Shaheed Nuriddin, the former running back earned his law degree, worked in state government in Washington and championed the cause of worker safety. A lifelong nonsmoker, Nuriddin died of lung cancer in 2005 at 52.
Did you know?
Sixth-round pick Mark Jackson caught just one touchdown pass during his rookie season, a Week 13 score in a win over Cincinnati. His second touchdown came that year in the AFC Championship game as the final play of The Drive. Only Shannon Sharpe finished with more receiving yards among Broncos players picked after the fourth round than Jackson, who had 5,551. … As unlikely as Terrell Davis' career turned out to be, he didn't even post the most shocking seasons for a running back taken by the Broncos in the sixth round between 1995 and 2000. Mike Anderson ran for 1,487 yards as a 27-year-old rookie in 2000 (he served in the Marines before attending college). Then, after three years of diminishing performance and not playing at all in 2004, Anderson again eclipsed 1,000 yards in 2005. … The Broncos have found eight multiyear starters in the sixth round, or roughly one per every eight players they've picked in the round.
This year's pick: No. 181 – historical look
The Broncos have picked at No. 181 once, selecting defensive back Tony Veland in 1996 from Nebraska (the Cornhuskers have given Denver three sixth-round selections, more than any other school). Veland played one year for the Broncos, appearing in 12 games. He then started five games for Carolina in his second season, intercepting a pass and forcing a fumble. His career ended after those two seasons.
---
Recent sixth-round picks
2019 (No. 187) Juwann Winfree, WR – Colorado
2018 (No. 183) Sam Jones, G – Arizona state
2018 (No. 217) Keishawn Bierria, ILB – Washington
2017 (No. 203) De'Angelo Henderson, RB – Coastal Carolina
2016 (No. 176) Andy Janovich, FB – Nebraska
2016 (No. 219) Will Parks, S – Arizona
---
Top 10 sixth-round picks
1995 (No. 196) Terrell Davis, RB – Georgia
2005 (No. 200) Chris Myers, G – Miami
1986 (No. 161) Mark Jackson, WR – Purdue
1980 (No. 157) Keith Bishop, G – Baylor
2012 (No. 188) Danny Trevathan, LB – Kentucky
2000 (No. 189) Mike Anderson, RB – Utah
1999 (No. 179) Desmond Clark, TE – Wake Forest
2014 (No. 207) Matt Paradis, OL – Boise State
2002 (No. 191) Jeb Putzier, TE – Boise State
2016 (No. 219) Will Parks, S – Arizona
---
Bottom five
Eight players never saw action in an NFL game
---
SEVENTH ROUND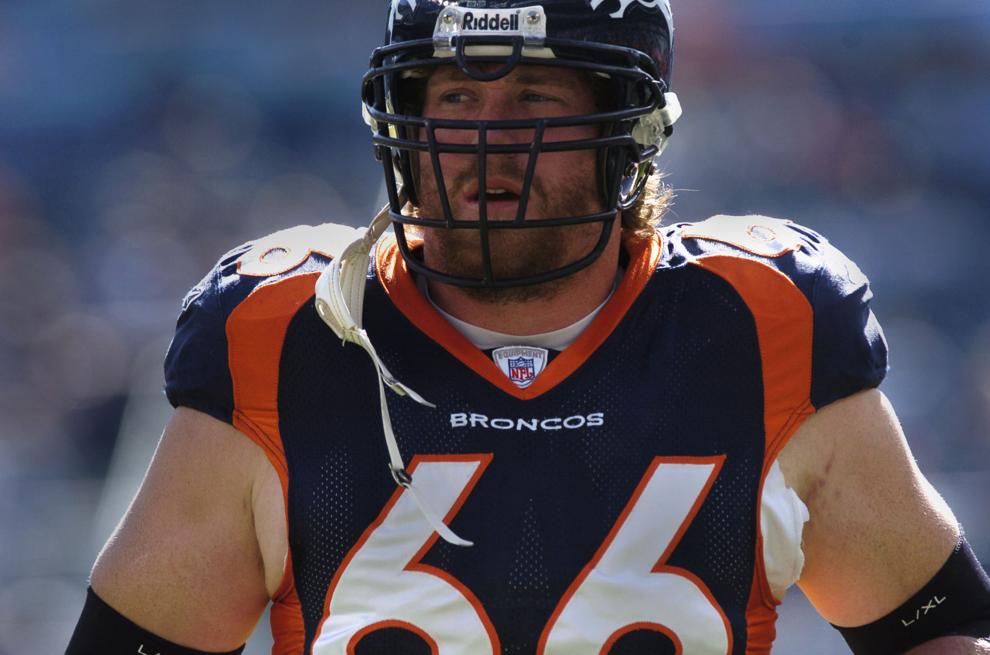 Best pick – Tom Nalen
Some trivia: Since 1972 there have been only two NFL players drafted in the sixth or seventh rounds to be inducted into the Hall of Fame. Both were taken by the Broncos – Terrell Davis (sixth round, 1995) and Shannon Sharpe (seventh round, 1990). Granted, that will change when Tom Brady is eligible, but that's how it stands. What's more amazing is that of all the players taken those rounds since 1964, only Brady has a higher rating – as assigned by pro-football-reference.com – than Broncos center Tom Nalen (who was born, coincidentally, in Foxboro, Mass.). Nalen was the team's center from 1994 through 2007, earning five Pro Bowl invitations and twice being named first-team All Pro. Only John Elway has more starts in a Broncos' uniform than Nalen's 188. Six different running backs notched 1,000-yard seasons with Nalen serving as part of the line.
Worst pick – Chad Kelly
Maybe Kelly could have turned into a worthwhile backup quarterback. He never gave himself that chance. The team promptly cut him in October 2018 after he was arrested for criminal trespassing when he entered an Englewood residence after 1 early on a Tuesday morning. Mumbling incoherently, he sat on the couch next to a woman, who was in the home with her child. The woman then hit him on the back with the plastic end of a vacuum cleaner and chased him out of the home.
Did you know?
Only four quarterbacks taken in the seventh round (Ryan Fitzpatrick, Gus Frerotte, Matt Cassel and Pat Haden) have more victories as a starter than Trevor Siemian, who is 13-12. … Seventh-round pick Keith Burns (1994) was such a valued special teams player that he appeared in 197 career games despite starting just three. He later joined former Broncos coach Mike Shanahan's staff in Washington as the special teams coordinator. … The Broncos have drafted 10 tight ends among their 72 all-time seventh-round selections, and half of them played at least 100 NFL games.
This year's picks: Nos. 252 and 254 – historical look
The Broncos have picked two players at No. 252 — center Jim Czirr (1976) and defensive back Josh Furman (2015) — and neither appeared in an NFL game. They've picked at No. 254 once, selecting defensive end Walt Bowyer in 1983. He played in 61 career games over four years, starting 11 and recording 6.5 sacks, two fumble recoveries and an interception.
---
Recent seventh-round picks
2018 (No. 226) David Williams, RB – Arkansas
2017 (No. 253) Chad Kelly, QB – Mississippi
2016 (No. 228) Riley Dixon, P – Syracuse
2015 (No. 250) Trevor Siemian, QB – Northwestern
2015 (No. 251) Taurean Nixon, DB – Tulane
2015 (No. 252) Josh Furman, DB – Oklahoma State
---
Top 10 seventh-round picks
1994 (No. 218) Tom Nalen, C – Boston College
1990 (No. 192) Shannon Sharpe, TE – Savannah State
1998 (No. 219) Nate Wayne, LB – Mississippi
1998 (No. 200) Trey Teague, C – Tennessee
1981 (No. 181) Steve Busick, LB – USC
1973 (No. 166) John Grant, DT – USC
2008 (No. 227) Peyton Hillis, FB – Arkansas
1999 (No. 218) Billy Miller, TE – USC
1995 (No. 222) Byron Chamberlain, TE – Missouri
1984 (No. 186) Clarence Kay, TE – Georgia
---
Bottom five
Sixteen players never saw action in an NFL game