Arlene Pieper never had a reason to run a second marathon, but she's got plenty of inspiration to stay fit at 89.
"I'll keep going because I want to keep coming to this," the official starter of the Pikes Peak Marathon said just after Sunday's 7 a.m. start. "This is my favorite thing to come to because I just really enjoy everything that's here."
Pieper became the first woman to complete a sanctioned 26.2-mile race in the United States when she finished the 1959 Pikes Peak Marathon in a little over nine hours, but she only ran the race as a way to market her women's health studio as suggested by her husband.
"Silly me, I said 'OK,'" she remembered.
Three days later, she lost all of her toenails and realized there was no need to do a second.
"That mountain is something else," Arlene said. "Once was enough."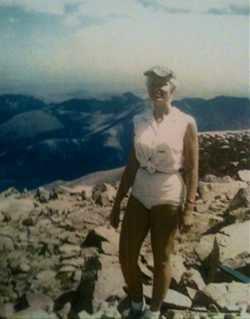 Her accomplishment was lost on her until 10 years ago when someone did what a private investigator couldn't and found her in California to notify her of her place in running history. A couple of days later, she flew to Colorado to start the 2009 marathon in celebration of the 50th anniversary. She's been returning to Manitou Springs for race weekend each year since with daughter Kathie, the one who followed her mom up Pikes Peak that day to the summit at 9 years old.
"I was really only going to go, that day of the race, to Barr Camp, just halfway," Kathie recalled. "She was so far ahead, she started sprinting off ahead of me, and dad's kinda behind me and when we got to Barr Camp, he asked me how I was feeling. That's about as far as I had ever gone, and I said 'I'm feeling pretty good,' and he said, 'You want to see if we can catch her?' So off we went."
Four generations of Piepers outfitted in custom T-shirts were on hand Sunday, the largest contingent since the annual trip started, but future trips will depend on her health. A grandson, 29-year-old Kyle Mills, gave her added reason to get back, promising to complete the marathon in the coming years.
"I'll be here as long as I can walk and talk," Arlene said. "I feel so honored."
After Arlene wrapped up interviews, Manitou Springs mayor Ken Jaray stopped by to introduce himself, and many others gathered for pictures, autographs and handshakes. Colorado Springs native Sarah Guhl visited with Arlene and got a picture after she took seventh in the women's marathon in 5 hours, 6 minutes and 29 seconds.
"I just think her story is really inspirational, especially for women, and even for running in general," Guhl, a Cheyenne Mountain graduate, said.
"She's such a sweetheart, very humble lady."
Count Arlene as a fan of Guhl and the rest of the women who continue to push themselves beyond limitations placed by others.
"It's awesome," she said.
"We can do anything. There will be a woman president one of these days. I just know it."
Guhl was one of roughly 1,000 women registered to race this weekend, a far cry from 60 years ago.
"I think it's pretty amazing that when we started there was three girls and 16 guys," Kathie said. "And look at how it's grown."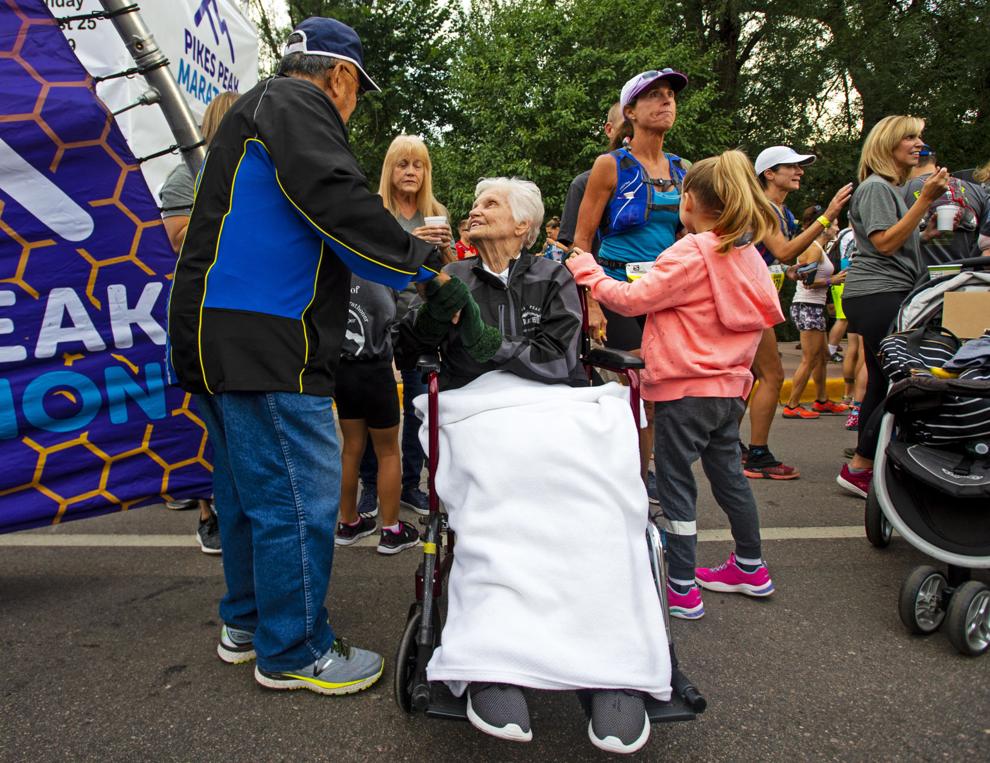 There was a time when it was thought women could not handle the marathon, but Arlene debunked that and provided inspiration to many.
"I think it's cool to see people go before you and do amazing things because it pushes you to do more than you think you can do," Guhl said.
While she might not be running anymore, Pieper's still got the muscle to inspire, if Guhl's visit was any indication.
"I like working out. I still exercise with barbells and dumbbells to keep my body going. My exercise is in this," Arelene said referencing her wheelchair. "I'll never stop working."