So much for the slow climb to respectability. On Thursday, the Air Force women's basketball program thrust itself into steamroller mode.
The Falcons (8-7, 2-2 Mountain West) not only won against Colorado State(11-3, 2-2 MWC) in Fort Collins for the first time since 2008, they pummeled the Rams 77-52 on their home floor.
Air Force had four players in double figures, including a pair of freshmen – Lauren McDonald and Jo Huntimer – who shot a combined 11-of-17 in breakout games. The Falcons outrebounded the Rams 40-34, committed half as many turnovers, made twice as many 3s and allowed the hosts to hold the lead for only 11 seconds.
"It's all coming together," said Haley Jones, who led Air Force with 11 rebounds. "As a senior, it feels like it's taken four years to get to this point, but it's so worth it."
This is the fourth win for Air Force in five meetings with the Rams, but two of those wins had come at the academy and another at the Mountain West Tournament. The last trip to Moby Arena had resulted in a 20-point loss. And that's how most of the history of this matchup has gone, as Colorado State held a 50-2 all-time advantage before this surge that began with a 49-44 Air Force victory at Clune Arena on Feb. 27, 2020.
"I think so much of basketball is matchups," coach Chris Gobrecht said. "Over the years I've just seen that happen a lot where it will stump you that someone beats you that shouldn't be beating you, and there will be someone else that you have their number. A lot of it is just matchups. We play a style of play that is just hard for them."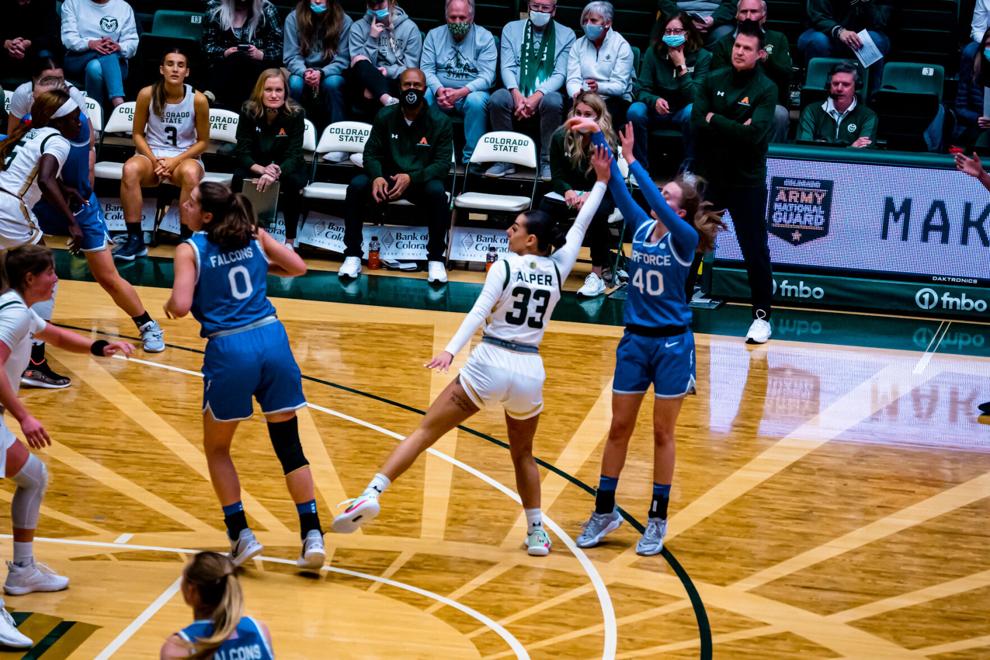 The Falcons succeeded in frustrating the Rams, leading 7-2 in steals and 11-5 in offensive rebounds, leading to a 15-6 edge in points off turnovers and a 16-2 differential in second-chance points.
The rebounding difference started with Jones, whose six offensive rebounds were more than the Rams' total.
"She was just vintage Haley," Gobrecht said. "She rebounded the crud out of the ball and played tough defense and was hard-nosed. She's the kind of player that makes the other guy really ticked. It's just like, 'Leave me alone.'
"I think it's so important to have somebody like that."
It was also important that the Falcons turned to some freshmen who could shoot the ball. As the Falcons have slowly improved under Gobrecht, the team's shooting percentage has been the consistent sticking point.
With McDonald (5-of-8 shooting for 15 points) and Huntimer (6-of-9, 14 points) leading the way, that was not an issue on Thursday.
"You kind of are timid as a freshman, like I'm just trying to find my way, my footing and some shots aren't hitting," said Jones, the senior. "And one day it just clicks. I think today was that day.
"They can do it in practice, so it was almost like a waiting game to see when it's going to all hit in a game."
Air Force also had 12 points from junior Kamri Heath, 10 points from senior Cierra Winters before she fouled out and 11 points, five rebounds and three steals from senior Riley Snyder.
This is a program that has seen loads of frustration, particularly in this series that it still trails 16-51. Not on this night.
"This was a lot of fun," McDonald said.