An ending rarely gets remembered if it's mediocre.
The record, scoring and any other possible stat available for pundits would immediately point to an average year for Air Force, concluded fittingly in a close loss to UNLV — a near-repeat of the mistakes that cost the Falcons in their first loss in Las Vegas to the Rebels.
But the foundation was built this season, and the results from it will tell the full tale of coach Joe Scott's Air Force 2.0.
Looking back to this season a few years removed from it will reveal the real value of a 14-18 record and several close losses. The trajectory is already beginning to follow Scott's previous stint with the program, but Name, Image and Likeness changes have created a different sport altogether.
As far as the current day, ahead are the Falcons' top-five most impactful players in Scott's second-winningest season as the program's leader.
1. Jake Heidbreder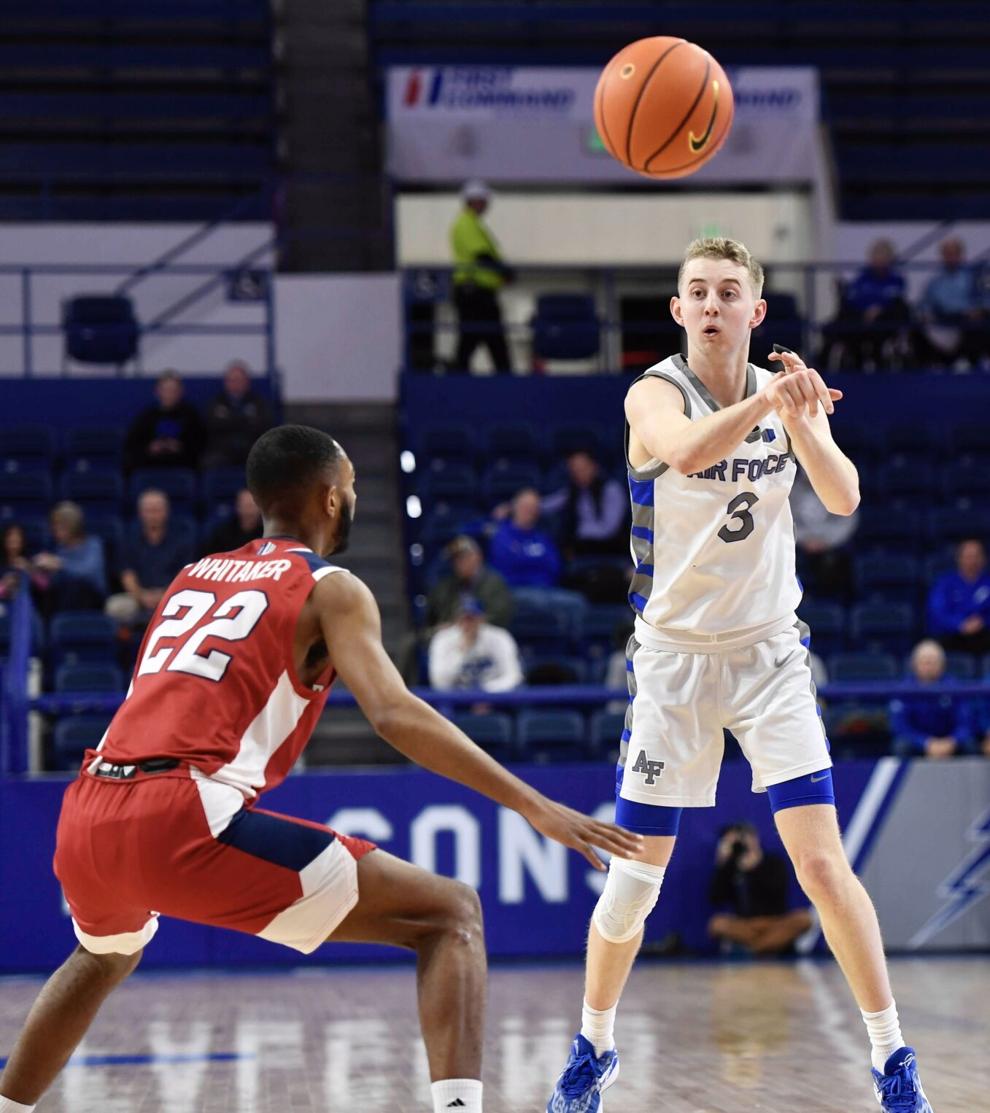 No opposing game plan ignored Jake Heidbreder, whether it was Arkansas-Pine Bluff or a second battle with Colorado State.
The main reason: he can shoot, and score in bunches.
All three of his top-scoring games this year were Falcons wins. Stretch it out to all of their 14 victories and he scored in double figures in all but three of them.
The production came with Heidbreder playing at less than 100% all season. Even game-to-game warm-ups were almost unanimously replaced with time on a stationary bike to warm up his legs and avoid a re-injury. In practice, his participation was limited throughout the year.
Even still, he led the Falcons with 15.1 points per game and joined Rytis Petraitis as the only two Air Force players to average double-digit scoring. His 26 points on 11-of-13 shooting was the catalyst for the program's upset of New Mexico.
Imagining a full healthy year, alongside teammates for not just practices, but games, is a utopia of sorts — one the Falcons need in bulk if they hope to regain a top spot in the conference.
2. Rytis Petraitis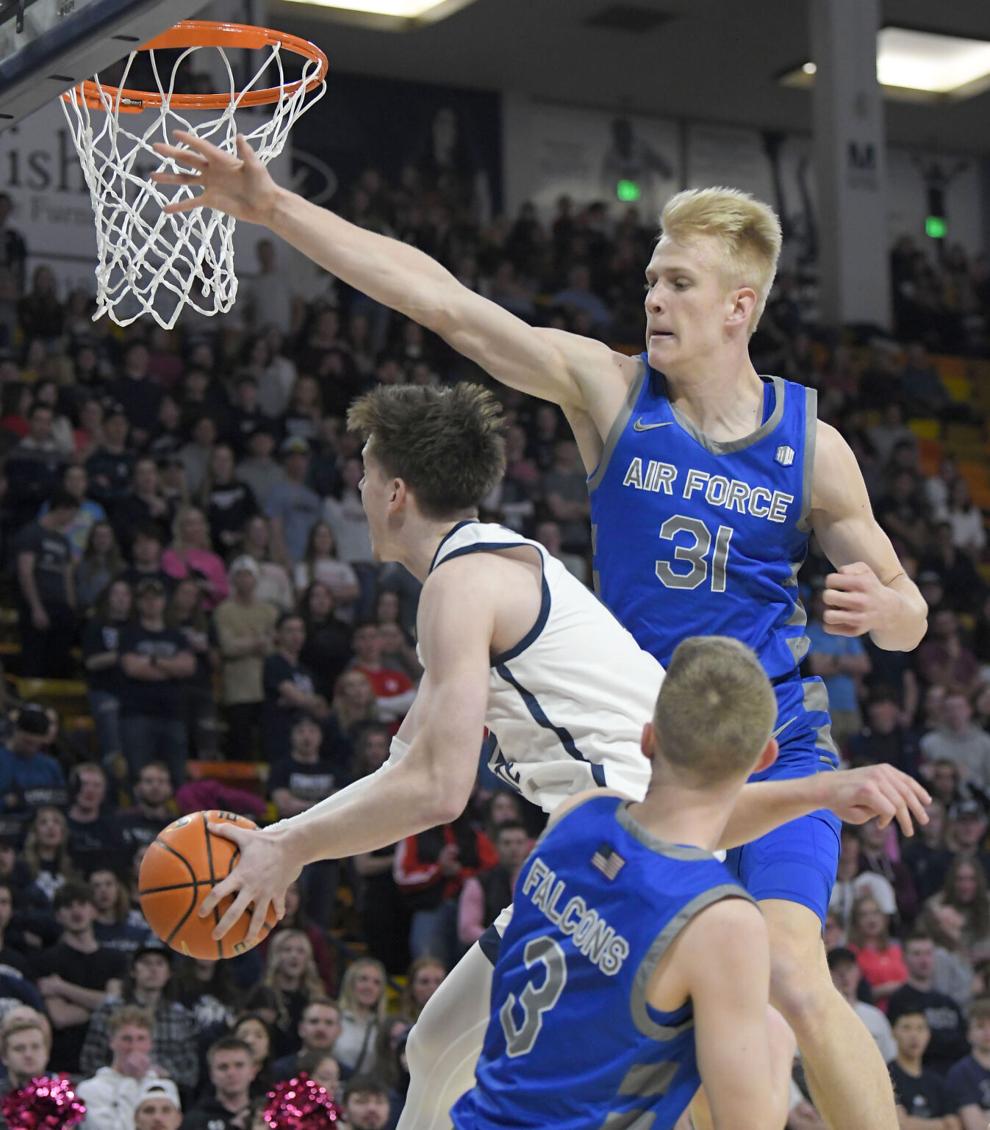 Rytis Petraitis was a known contributor before his first game, according to coach Joe Scott.
The Falcons' leader brought the freshman up by name before the year, and his predictions proved to be right. At least if you look at Petraitis' six nods for Mountain West Freshman of the Week, which led the conference.
He missed out on the final award for first-year players to Nevada's Darrion Williams.
In his 32 games played (16 starts), Pertraitis racked up the program's top marks in free throws attempted (161) and made (113). The chances were set up by a team-best intensity that resulted in 10.4 points and 6.2 rebounds per game.
His 87-to-51 assist-to-turnover ratio may result in Scott's biggest smile. Especially if it improves from a year's worth of wisdom.
3. Carter Murphy
Carter Murphy's perseverance was rewarded, and he gave those benefits right back to Air Force with his play.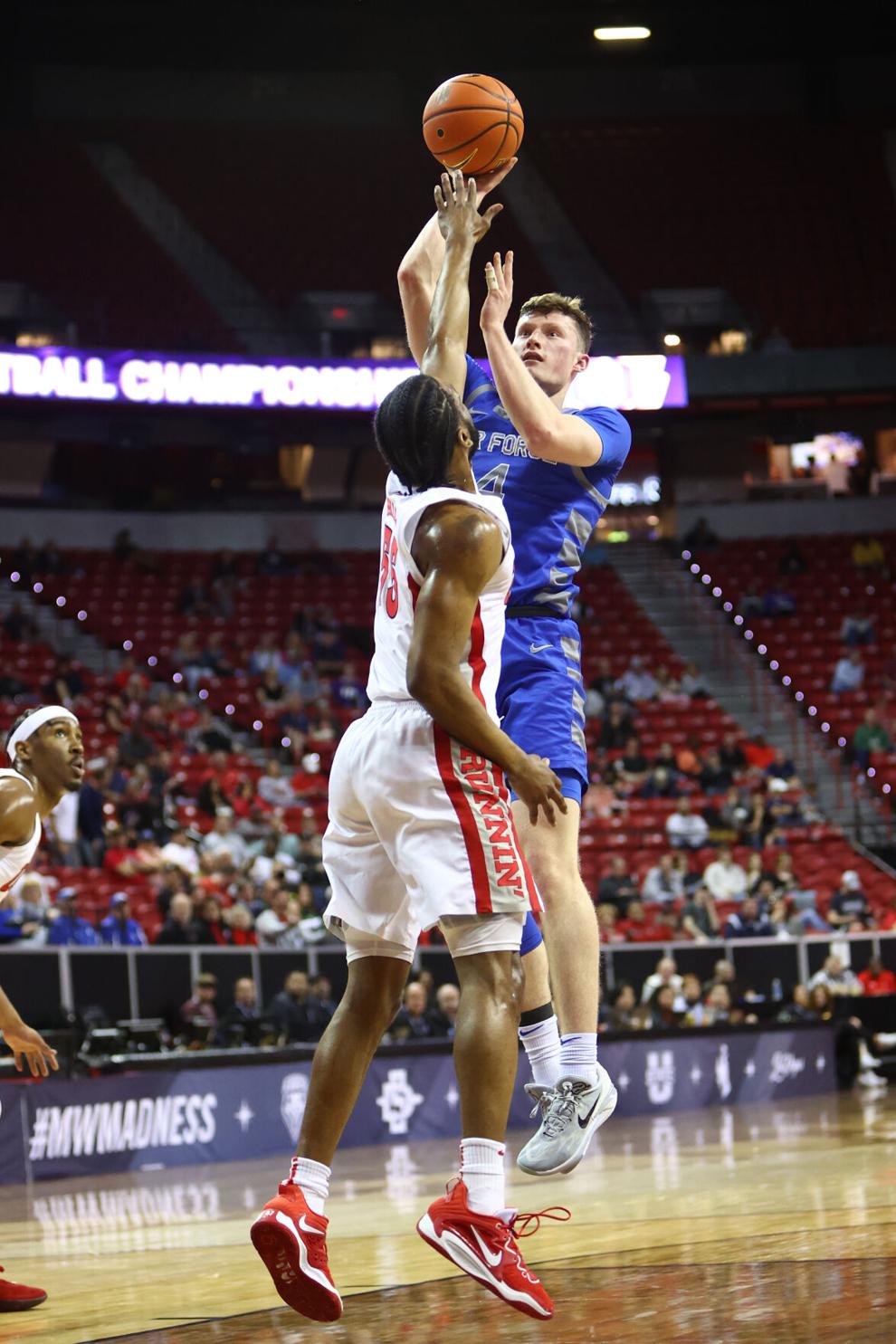 In the team's first 24 games, Murphy played at least 20 minutes in three of them. In the final seven, he played an average of 30 and started the Falcons' final two games — losses to San Jose State on senior night and to UNLV in the Mountain West Tournament's opening round.
With the increased chance, Murphy scored 15.7 points per game, up from his season average of 7.2. His 19 against UNLV in the tournament and 17 on senior night were largely what kept the Falcons close in each.
Though Jake, his younger brother, will be transferring, the impacts from Carter's final run will show up in how his teammates play in future years. Ethan Taylor, Heidbreder, Jeffrey Mills and others will all be able to speak to his lessons through their play.
If nothing else, they all learned what it means to be a "True Falcon," according to Scott.
4. Beau Becker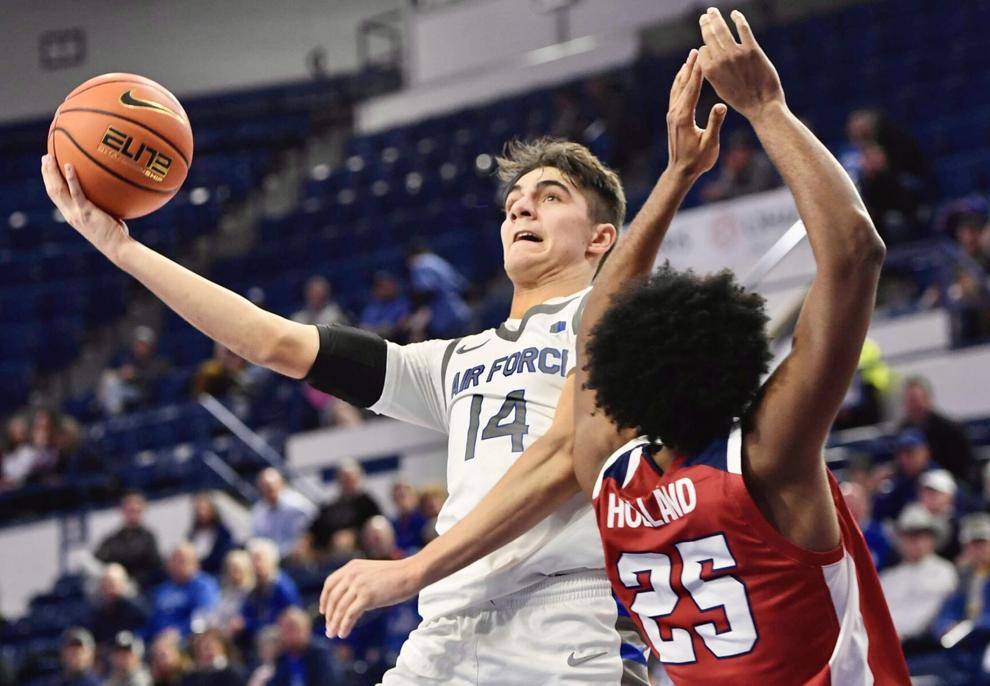 Beau Becker was a shadow in the program until he wasn't allowed to be anymore.
Switching between forward and center, Becker's playing time didn't come to fruition until a season-ending surgery to Lucas Moerman. Then, he was coming off the bench to help Corbin Green each game.
It wasn't until a game against Wyoming, in which the big man scored a career-high 23 points to complete the team's sweep of the Cowboys, that his true exploits came to light.
Becker's five 3-pointers were also a season-high and spoke to the vision the program has for him. He nailed a shot from beyond the arc in 12 of his 15 starts and even forced defenses to adjust to him as the season went on.
Moerman will return next season, as will Corbin Green. Nikc Jackson's graduation eases the logjam some, but the minutes for Air Force's bigs next season will be something to monitor.
5. Camden Vander Zwaag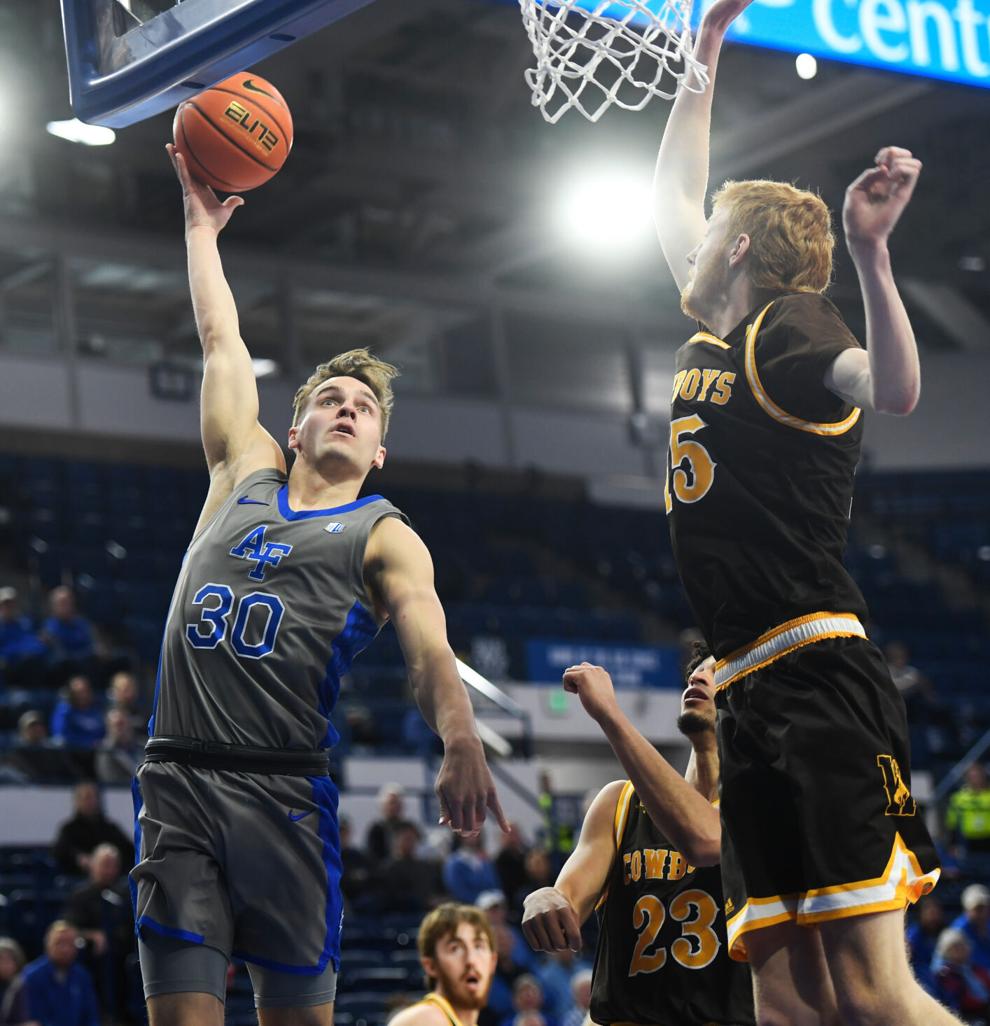 Headband or not, Camden Vander Zwaag was exactly what Air Force needed during several stretches this year.
The impact grew as the season went on, though the playing time went down. His 22 points against Mississippi Valley State were helpful, but his 10 points in 17 minutes to beat Wyoming a second time were even more noticeable.
The same goes for Vander Zwaag's leadership on the bench as he was often seen chatting with younger players and giving direction after they were subbed out.
Joe Scott adds to Air Force contract
Air Force showed trust in Joe Scott's process by bringing him back to lead the basketball program and aided his efforts with a contract extension on Monday.
The deal adds another year to Scott's existing contract and puts him under control through the 2028 season. It follows the Academy's similar track with other coaches of ensuring a four-year deal is in place to aid recruiting efforts.
Since his return, Scott has gone 30-56 in the last three seasons leading the Falcons, including his second-best record (14-18) leading Air Force this season. His highest came in the 2004 run to a Mountain West title (22-7).