It was a unique sight on Saturday, the Air Force quarterbacks wearing the same jerseys on the practice field as their teammates and being tackled to the ground just like everybody else on the field.
This was the seventh practice of the spring session for the team that must replace three-year starting quarterback Haaziq Daniels. But it was the first one to allow media to watch. What was witnessed was a quarterback competition with seniors-to-be Jensen Jones, Zac Larrier and Ben Brittain as the obvious frontrunners and the trio being allowed to play a normal style of football, all the way to the ground on tackles, instead of donning black jerseys to set them apart with whistles blowing as defenders approached.
It wasn't absolutely normal, as many returning players, particularly the veteran offensive linemen, were not exposed to the live portion of practice. Still, there was enough action to show something.
Here were some notes and observations from The Gazette's Brent Briggeman: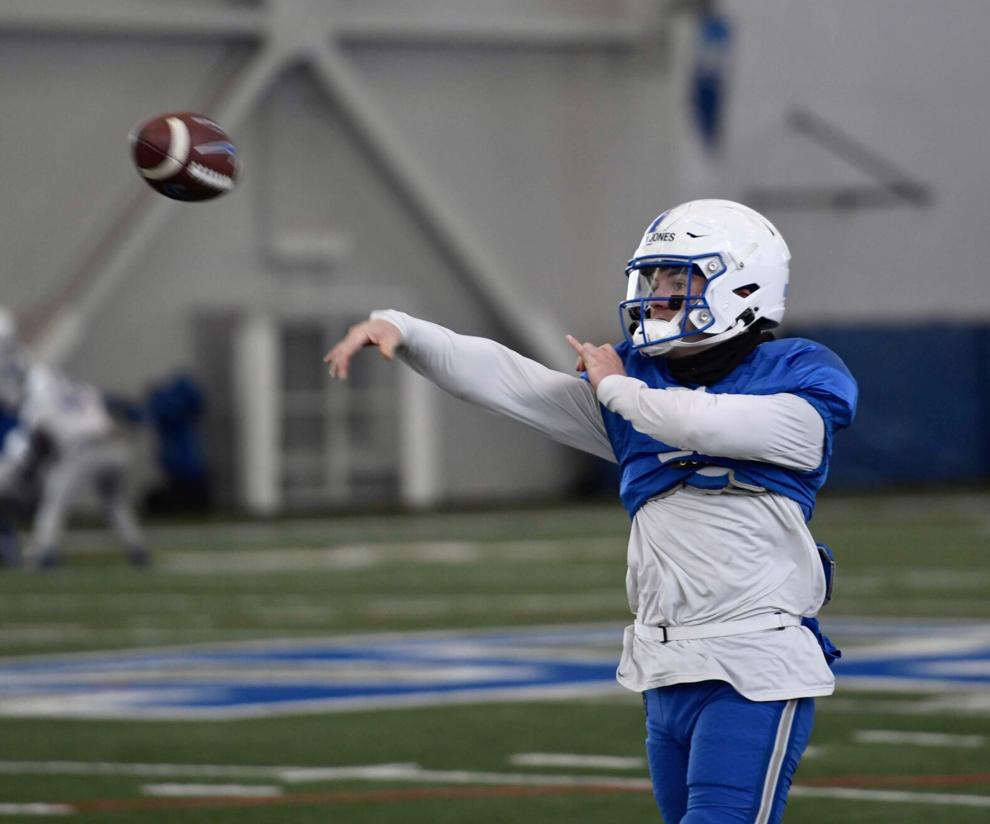 Quarterback battle
If there was an obvious starting quarterback on the field Saturday, it wasn't apparent. That's not to say the three main contenders didn't flash the requisite skills. But it's clear that coach Troy Calhoun and offensive coordinator/quarterbacks coach Mike Thiessen will have a lot to consider.
Jones has proven himself in game action to be a stout runner. He showed in practice that he could also throw the ball, highlighted by a pass to Conner McIntee on an out pattern between a pair of defenders.
McIntee, by the way, made a number of catches in the morning practice.
Larrier, a Mountain West track champion who had been splitting spring time Monday through Wednesday with the football team and the latter portion of the week with the track team, connected on a deep scoring pass to Parker St. John and, of course, noticeably quick when running.
Brittain's arm has generally been considered his strength through his first three years, but he looked quick as he slipped through holes on the run.
"I'll tell you, offensively they pick things up pretty good," Calhoun said of the top three QBs. "I think year-to-year you've got to do things a little bit differently in terms of how you approach, and even offensively some of the things that you do. And the further we get into spring and probably more so once we get into August will be tailored for whoever that may be."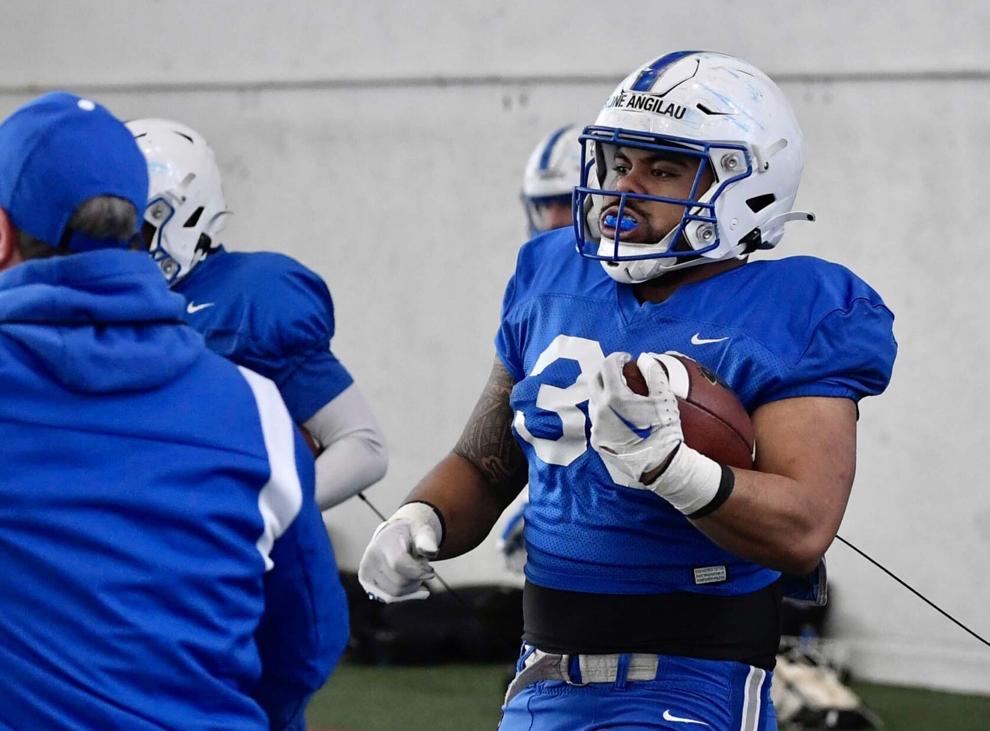 Surplus of 'Superbacks'
The Falcons utilized a number of players at fullback, where the loss of NCAA leading rusher Brad Roberts leaves a massive opening.
Tailback John Lee Eldridge III will get looks there after running 766 yards and four touchdowns with a staggering 7.7 yards per carry last year.
"We're just trying to train John that if there's snaps there that we want him at that spot, where he's ready for it," said Calhoun, referencing the midseason switch to fullback Jacobi Owens during the 2015 season. "We'd rather do it now so it soaks in pretty good rather than trying to do it in the middle of the season."
Among those getting work at fullback – a spot that is now apparently called "Superback" in the offense – were Owen Burke, Jet Harris, Sione Angilau and freshman Dylan Carson, a former three-star recruit who broke free for a 50-yard touchdown during Saturday's scrimmage.
Angilau ran out with the first group (whatever that means at this point in the spring), and features a stout 5-foot-10, 225-pound build that is most similar in recent years to fullback D.J. Johnson.
Calhoun said he didn't have a strong preference when it came to body-type in that role that has seen a wide variety lately with the lean Timothy Jackson and the speedy but firm Roberts.
"You've got to be able to make some hard 2s, yet once in a while be able to hit a double-digit gain, too," Calhoun said when describing what he wants from a fullback, after first listing dependability off the field and durability on it. "But the hard 2s are probably the primary on-the-field thing that we want skill-wise."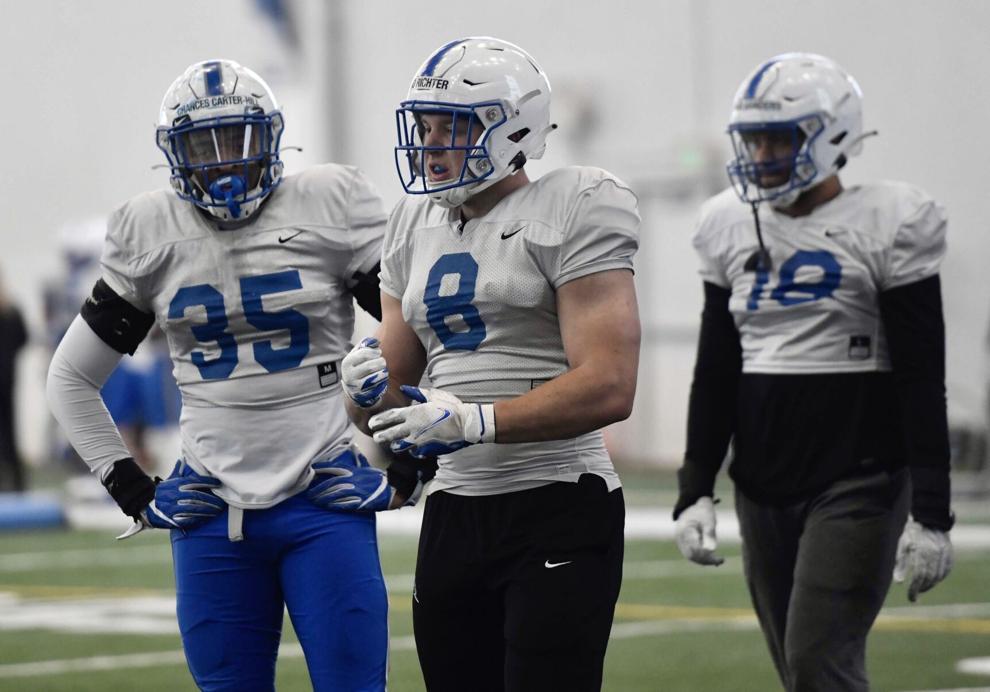 Other notes
There was a huge collision on a pass across the middle to Cameron Breier as safety Jakobi McGowan. The impact turned out to be more glancing than head on, but both were going full speed when they hit.
Defensive end Jack Curtis has had a strong spring, by at least one account, but it's uncertain where the former prized recruit will fit on a team that has veteran experience with Jayden Theirgood, Payton Zdroik and P.J. Ramsey penciled in as probable starters and Aiden Schwartz and Andrew BoiseD'Enghien behind them.
Bo Richter looks to have grown even larger through work in the weight room. He'll likely replace Vince Sanford at outside linebacker and have a spot to call his own after sliding to multiple spots as a junior. Wherever he plays, he'll look the part.
Skill-position players to watch include Jalen Johnson and Aiden Calvert at tailback and Tre Roberson at wide receiver.
The offense dominated the latter portion of the scrimmage, but, again, with different players sitting at different times, don't read much into it.