Ten Air Force games over the past two years have been decided by one possession. That means nearly half of the Falcons' games were decided by a turnover, missed tackle or some other quick sequence within the 60-minute contest.
Given the thin margins, predicting with any kind of confidence how the game will go on Saturday – let alone on November Saturdays – is a futile gesture. That's not what this is. What we're providing is a rough map of the schedule, and noting why Air Force fans would be justified in approaching each matchup with optimism and skepticism (looking at the cup as half empty or half full) knowing the actual result will fall somewhere in the middle.
***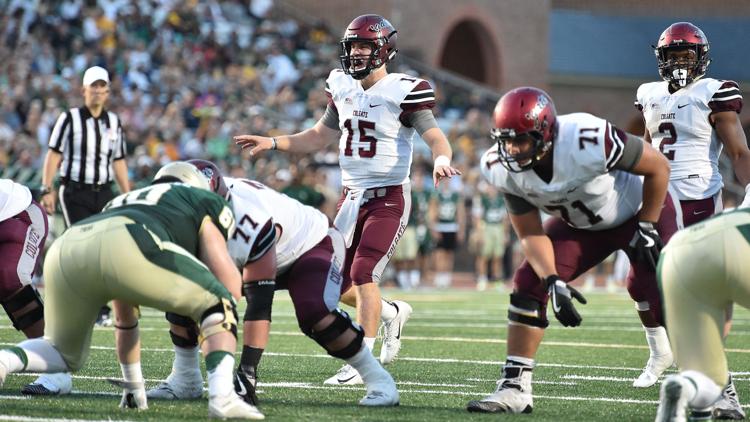 COLGATE AT AIR FORCE | 1:30 p.m., Saturday (ESPN3)
Half empty…
Colgate may be from a lower classification, but it finished last year ranked ahead of five Mountain West programs and Navy in the computer rankings. One of the Raiders' two losses last year came at Army in November, where they fell 28-14 after trailing by a touchdown inside the final 3 minutes. Junior dual-threat quarterback Grant Breneman, an All-Patriot League first-team selection a year ago, is back for a third year as a starter. So too are six from a defense that set an FCS record last year with five shutouts.
Half full…
Colgate lost 34-14 to Villanova on Saturday. If Air Force can't handle a team with a 20-point home loss to an FCS team, then the whole season is going to take a half-empty tone. Only two of Colgate's front seven on defense return, giving even more of an advantage to Air Force's complicated running attack. Air Force coach Troy Calhoun has gone 13-0 against FCS teams with an average margin of 49-12.
***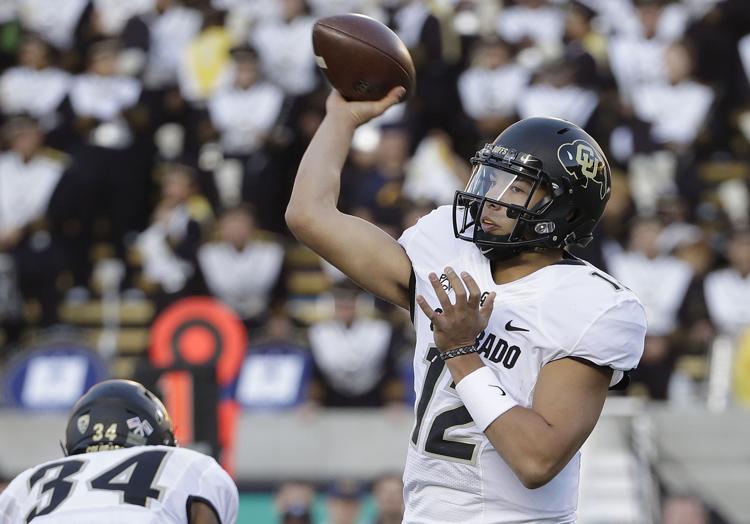 AIR FORCE AT COLORADO | 11 a.m., Sept. 14 (Pac-12 Network)
Half empty…
Air Force has struggled with opponents from Power Five conferences, going 1-8 over the past decade. The Buffaloes return quarterback Steven Montez and receiver Laviska Shenault, an All-America candidate who will provide a matchup nightmare for the Falcons. Though Colorado closed last year 0-7, it had gone 20-11 over its previous 31 games – earning a spot in the 2016 Pac-12 Championship. The cupboard was hardly bare for new coach Mel Tucker.
Half full…
While it's true Calhoun's teams haven't fared well against Power Five foes, they've been close. At Michigan, Oklahoma and Michigan State they've held their own deep into the second half, and that's against competition largely better than this Colorado squad. Tucker's first season starts with emotional tests, as the Buffaloes face Colorado State in the Rocky Mountain Showdown followed by a visit from Nebraska. Then comes Air Force in a classic trap game situation.
***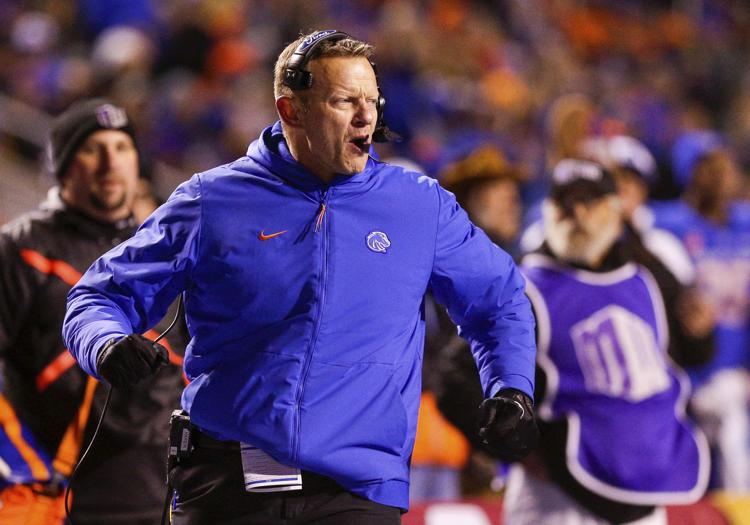 AIR FORCE AT BOISE STATE | 7 p.m., Sept. 20 (ESPN2)
Half empty…
Air Force's three-game winning streak in this series seems so long ago after the Broncos slammed the door on that with a 44-19 pounding of the Falcons on the blue turf in 2017 and followed it with a double-digit victory last year. All five Boise State offensive linemen are back, as are a trio of defensive standouts up front. The Broncos are again picked to win the Mountain West's West Division. This program has gone 197-39 since 2001.
Half full…
When Air Force won three in a row in this series from 2014-16, it did so by pressuring the quarterback and creating turnovers. Brett Rypien (now with the Denver Broncos) had his worst two collegiate games as a freshman and sophomore against Air Force in that pressure-packed environment. Now Boise State is going with a freshman quarterback again as it named Hank Bachmeier the starter. What's more, the Broncos must replace their top running back, top two receivers and offensive coordinator. This is a formula Air Force has worked to its advantage before, even on the vaunted blue turf.
***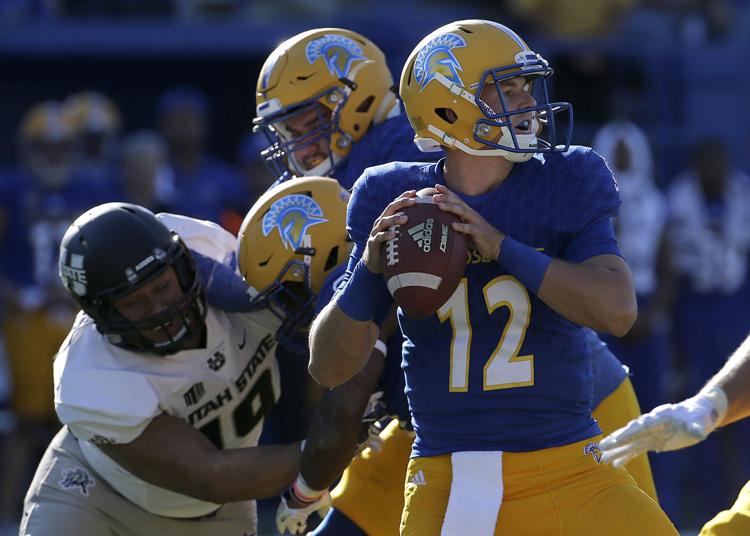 SAN JOSE STATE AT AIR FORCE | 6 p.m., Sept. 27 (CBS Sports Network)
Half empty…
San Jose State may have been just 1-11 last year, but in six of those losses it was tied or leading at some point in the second half. It did that while giving playing time to more than 40 freshmen and sophomores. Quarterback Josh Love returns after throwing for 1,963 yards and 14 touchdowns. As much as San Jose State has struggled since joining the Mountain West, it has played Air Force tight. The Falcons led by one point in the fourth quarter before pulling away in 2015 at Falcon Stadium, then scored in the final minute to win in the most recent meeting in 2016.
Half full…
This is as close to a sure thing as Air Force has on its schedule. San Jose State ranked 117th in the nation in scoring offense and 115th in scoring defense. The building job that remains in coach Brent Brennan's third year is far too steep to assume he'll have a defense – which loses six starters – in position to slow Air Force's option offense on the road in the first month of the season.
***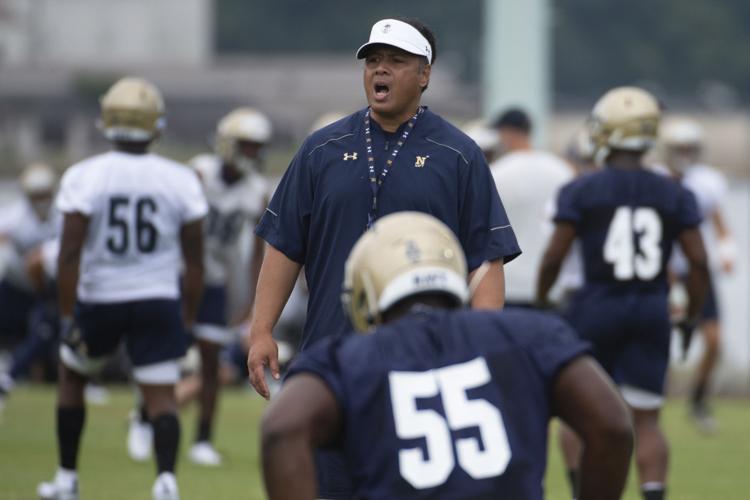 AIR FORCE AT NAVY | 1:30 p.m. Oct. 5 (CBS Sports Network)
Half empty…
There's no reason to doubt coach Ken Niumatalolo. Prior to a 3-10 season last year, Niumatalolo's teams had missed a bowl game just once in 10 years. In that respect, his track record was very similar to the one Troy Calhoun boasted when he took Air Force from a 2-10 debacle in 2013 to a 10-win season in 2014. Only five total starters return, but one of them is senior quarterback Malcolm Perry. Navy is 6-1 against Air Force in Annapolis, Md., since 2004, and that lone loss came in overtime.
Half full…
Navy's win total has dropped over the past three years from 11 to 7 to 3 – so that down season may not have been an anomaly. To hear Niumatalolo's comments about dissent within the team spilling over to social media, it sounds like the issues run deep. The game last year wasn't close. Air Force outgained the Midshipmen 399-178 and scored the final 35 points in a 35-7 rout. Even if Navy is improved, as would be expected, Air Force has gotten better, too.
***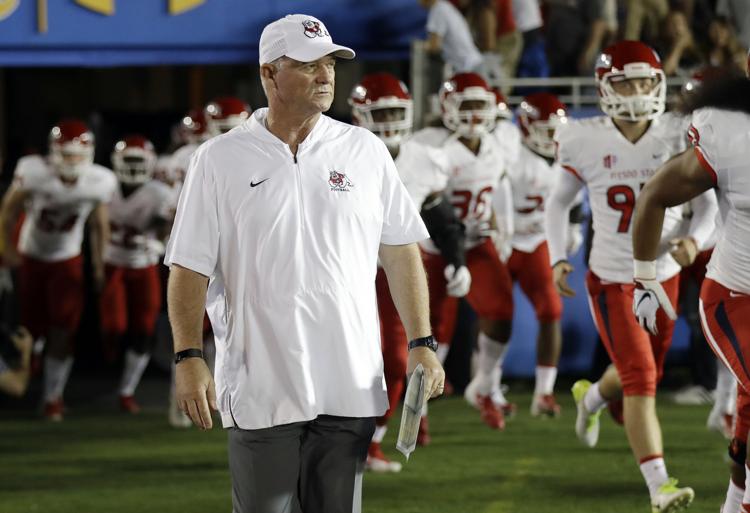 FRESNO STATE AT AIR FORCE | 5 p.m., Oct. 12 (CBS Sports Network)
Half empty…
Coach Jeff Tedford has returned Fresno State to its perch among the best Group of Five programs in the nation – going 22-6 over the past two seasons with a conference title. Last year the Bulldogs trounced UCLA and Arizona State, split with Boise State and beat a pair of teams in Nevada and Wyoming – squads that defeated Air Force – by a combined score of 48-6. Six starters – including five seniors – return to a defense that was third in the nation in scoring defense and had the best total defense in the Mountain West.
Half full…
Air Force is catching Fresno State in a rebuilding year and at Falcon Stadium, making this winnable. The Bulldogs lose quarterback Marcus McMaryion and defenders Jeffrey Allison and Mike Bell, who declared early for the NFL Draft. If there's one swing game that could send the Falcons toward a great season as opposed to a decent one, this is it.
***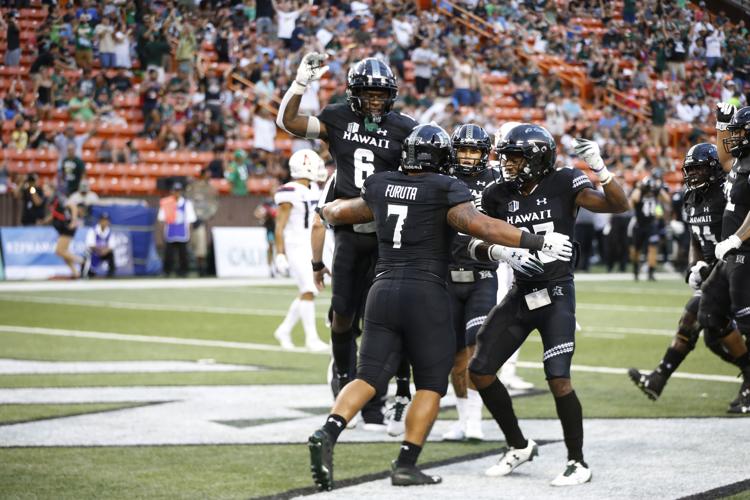 AIR FORCE AT HAWAII | 9 p.m., Oct. 19 (CBS Sports Network)
Half empty…
San Diego State coach Rocky Long said he would have picked Hawaii to win the West Division based on the talent it had coming back. Now, thanks to a victory over Arizona, everyone else can see why. From a strength-on-strength standpoint, this is a terrible matchup for Air Force. The Rainbow Warriors ranked No. 122 in the nation in rushing offense last year but ninth in passing, while Air Force's defense was 16th against the run and 84th against the pass. Hawaii played Army and Navy last year – blowing out the Midshipmen and losing by a touchdown at West Point – so the triple option won't be a foreign concept.
Half full…
There's little evidence that Hawaii can stop Air Force's offense. Yes, the Rainbow Warriors split with Army and Navy last year, but they gave up 69 points in the process. Coach Nick Rolovich's team is a ton of fun, but is it disciplined enough to stop an Air Force program that put up 59 points in its most recent trip to Oahu? Also, Hawaii is clearly undecided about what to do at quarterback, an issue that could potentially haunt it if it doesn't commit to one early in the season.
***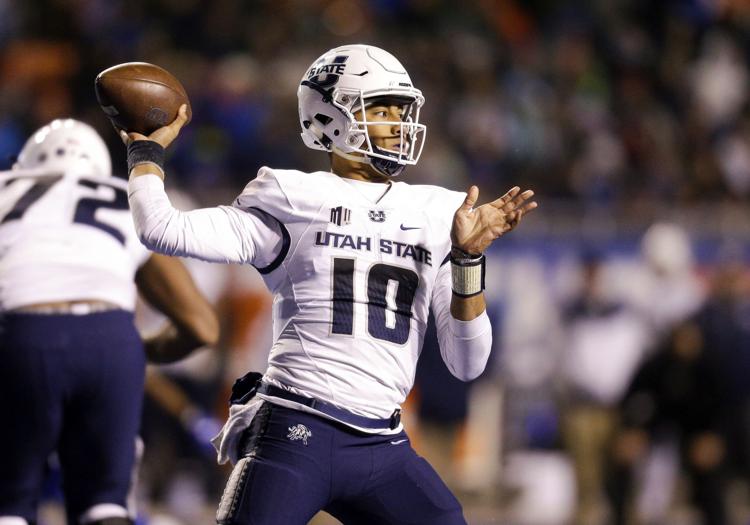 UTAH STATE AT AIR FORCE | Oct. 26, Time TBA (ESPN networks)
Half empty…
Coming off an 11-win season and touting quarterback Jordan Love as a Heisman Trophy candidate, Utah State is the hot program in the Mountain West. The Aggies scored 47.5 points per game last year – No. 2 in the nation – and complemented that with a defense that gave up the fourth-fewest points in the conference. The only losses came at Michigan State by a touchdown and at Boise State by 9 points. The defense returns six starters and kicker Dominik Eberle was a Lou Groza Award finalist in 2017.
Half full…
This is not 2018. Utah State's explosive offense returns only Love and left tackle Alfred Edwards. The bigger loss comes with the departure of coach Matt Wells for Texas Tech. The Aggies are now under the direction of Gary Anderson, who returns after leading the program from 2009-12. His staff made the unusual move sticking with the existing offense as opposed to bringing in its own. At the very least, expect a close game. Air Force has outscored the Aggies 132-125 over the past four meetings. That's 240 minutes of football separated by one touchdown.
***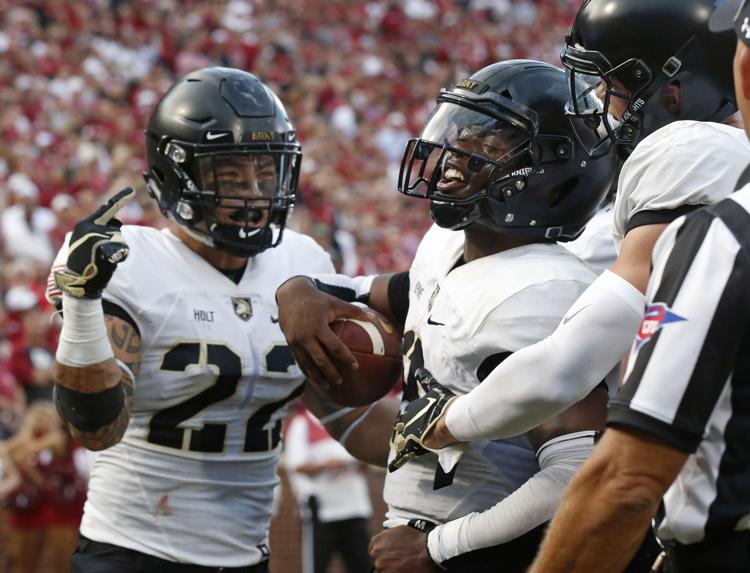 ARMY AT AIR FORCE | 1:30 p.m., Nov. 2 (CBS Sports Net)
Half empty…
What a force Jeff Monken has built. Air Force had defeated Army 25 times in 28 meetings before Monken's Black Knights shut out the Falcons 21-0 at Falcon Stadium in 2017. They followed that with a 17-14 win at West Point last year. Army has won bowl games in three straight seasons, won double-digit games in consecutive years and has won back-to-back Commander-in-Chief's trophies for the first time. Senior quarterback Kelvin Hopkins Jr. returns along with six others from the offense, while four are back from a defense that ranked eighth nationally in total yards.
Half full…
Can Army keep replicating all of this success, particularly that defense that has been so difficult for Air Force to solve? Defensive coordinator Jay Bateman left for North Carolina and all but one from the front seven are gone. Last year Air Force hurt itself by waiting until the second half to turn to quarterback Donald Hammond III, and then made questionable play calls down the stretch as it turned the ball over on downs at midfield as it drove for a potential tie or win. This should be a good one.
***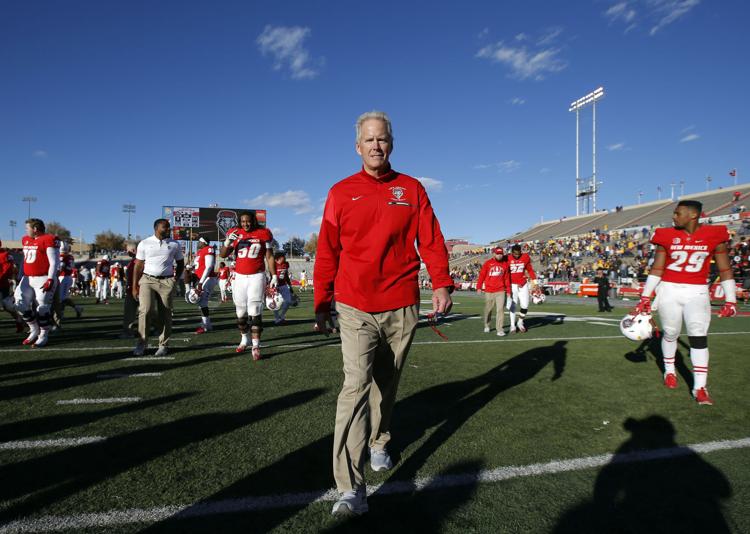 AIR FORCE AT NEW MEXICO | Noon, Nov. 9 (AT&T Sports Network)
Half empty…
Air Force has been dreadful against New Mexico away from the academy in recent years. It's dropped four in a row outside of Colorado to the Lobos, with Bob Davie's teams scoring 45+ points in each of those games. Last year's efforts to install a new offense were hindered by injuries at quarterback, but don't think Davie has forgotten the option principles that worked so well against Air Force in recent years. Also 19 junior college transfers were part of the 2019 recruiting class, so expect a different-looking team.
Half full…
The Lobos seem stuck in a downward spiral. Davie is on his third offensive coordinator in three years. Air Force outgained them 623-305 last year. Any time a team brings in as many junior college players as New Mexico has, the potential of a disjointed roster exists. Maybe Davie can bring all of these ingredients together and build a team that is firing on all cylinders by the second week in November, but that doesn't seem like the likely scenario.
***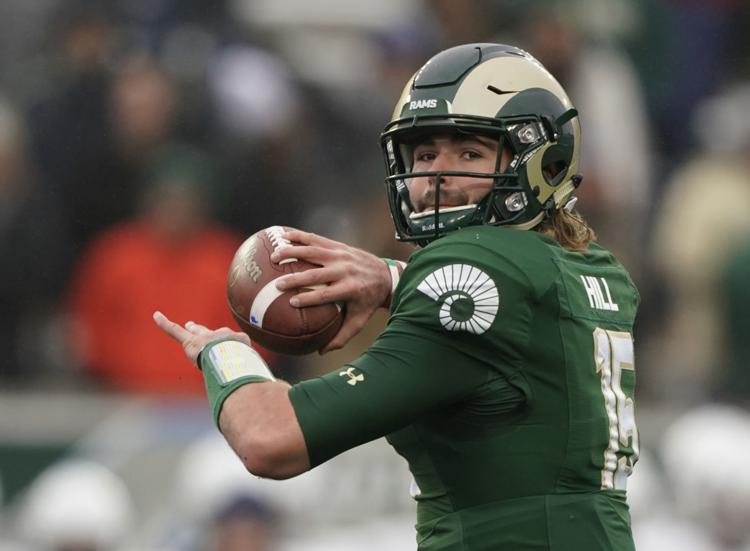 AIR FORCE AT COLORADO STATE | Nov. 16, Time TBA (ESPN networks)
Half empty…
The first thing to keep in mind is Air Force will be playing on the road, and that has been rough lately. The Falcons have won just one of their past seven road games, and that lone win came when they sweated out a 6-point victory over a UNLV team that was in the midst of a six-game losing streak. Colorado State figures to have more going for it than the home venue, though. Veteran quarterback Collin Hill leads the offense, and coach Mike Bobo and his staff have raved about improvements to the overall team speed, particularly on defense.
Half full…
Air Force has averaged 430 rushing yards during its three-game winning streak over the Rams. After fullbacks rumbled for 304 yards in the game last year, Colorado State will be in the unenviable position of making a massive correction to its approach. Mike Thiessen and the Air Force offense staff tend to be at their best when game-planning against a team they know will be loading up to stop one area, and with quarterback Donald Hammond III (or Isaiah Sanders) there will be a quarterback who knows how to utilize each piece of the offense. Depending on how things go between CU/CSU and AFA/CU, this could be for a Colorado Crown.
***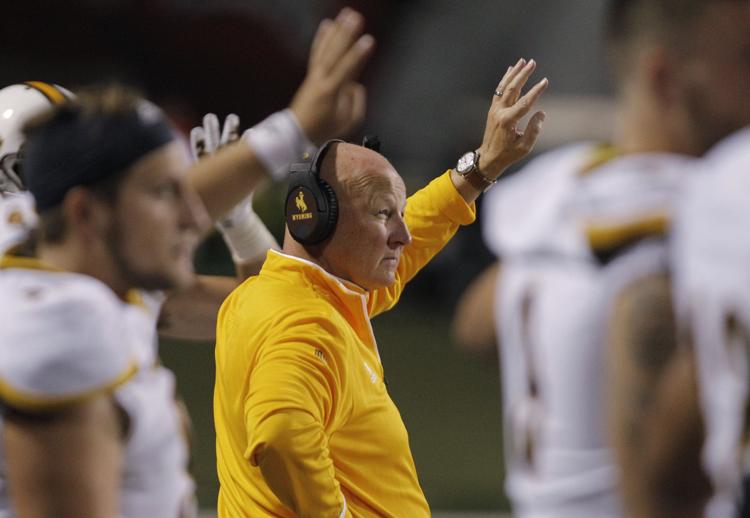 WYOMING AT AIR FORCE | Noon, Nov. 30 (Facebook)
Half empty…
Wyoming quarterback Sean Chambers showed how dynamic he can be over four games last year, completing 60 percent of his passes and rushing for 100+ yards in each of his three full games. He's still a freshman, and by the time the Falcons see him this late in the season the 6-foot-3 California native will be a veteran under the offensive coaches who developed Carson Wentz and Josh Allen. Not that all this might even matter. Wyoming just knows how to beat Air Force. The Cowboys have taken five of the past six games in the series. Even during a 4-8 Cowboys season in 2014, Wyoming topped a 10-3 Air Force team.
Half full…
Throw out one game where the Allen-led Cowboys came to Air Force and won by a pair of touchdowns, and the Falcons have come frustratingly close in the recent losses in this series. Last year saw a squandered 13-point lead fourth-quarter lead. In 2016 Air Force was turned away on a 2-point conversion attempt that would have tied the game late in the fourth quarter. In 2014 Wyoming won 17-13 on a last-minute touchdown. Air Force feels its talent and experience are up this year, and the combination of those improvements and the home field could help overcome that razor-thin margin.