Air Force controlled what it could control on Friday in the most literal sense available to a football team.
The Falcons ran for 511 yards, didn't attempt a pass, and stomped UNLV 48-14 in an emphatic senior sendoff at Falcon Stadium. They controlled the clock for 26:12 in the 30-minute second half – including all but 30 seconds in the fourth quarter.
"That's what Air Force football is about," said fullback Emmanuel Michel, who ran for a team-high 123 yards.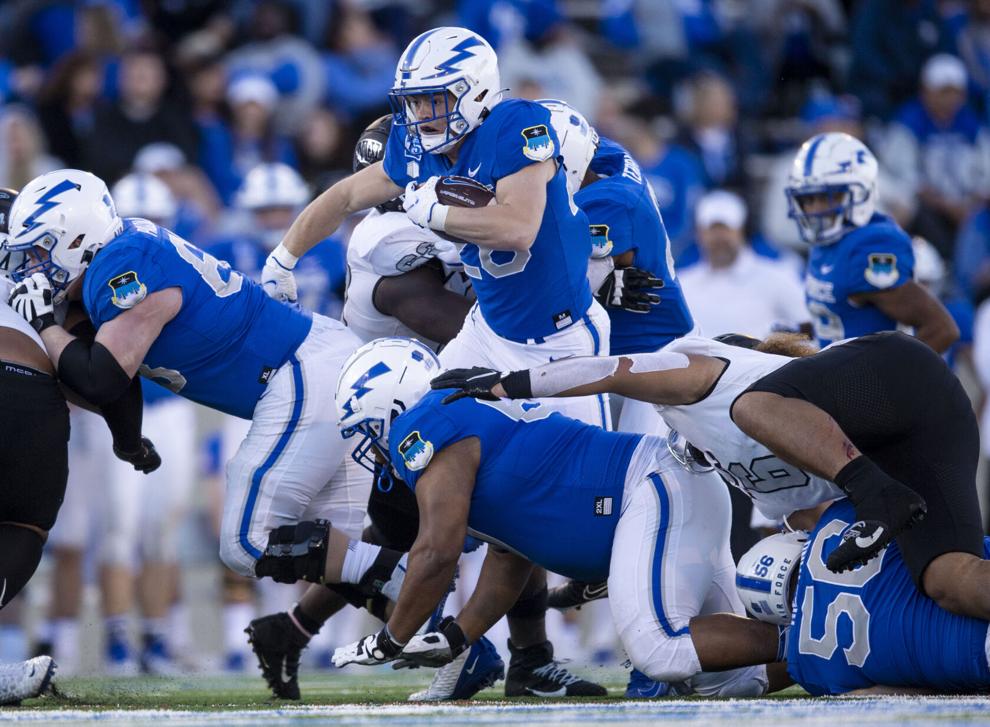 But what the Falcons couldn't control was the action elsewhere in the conference. Utah State's 35-10 victory at New Mexico, coupled with a Boise State's 27-16 loss at No. 21 San Diego State (the Broncos had led 16-3) left Air Force and the Aggies tied atop the Mountain West's Mountain Division. Because Utah State beat the Falcons in their head-to-head matchup, it wins the tiebreaker and will play at San Diego State next week in the conference championship game.
The Falcons would have advanced with a Boise State win or Utah State loss.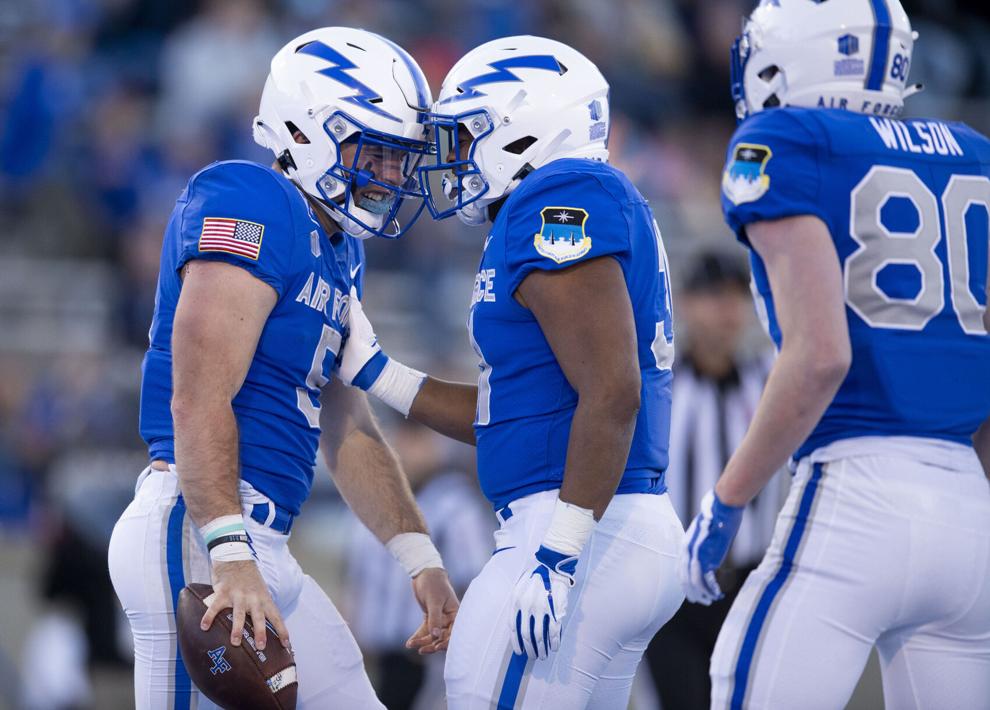 "Definitely tough to not be going, but at the same time we did that to ourselves," said cornerback Tre' Bugg, referencing home losses to the two division champions – 49-45 to Utah State on Sept. 18, 20-14 to San Diego State on Oct. 23. "You just kind of have to take it on the chin."
The Boise State game finished just as Air Force was kicking off, but Falcons players said they were unaware of the outcome until after the game.
"I actually had no idea," said defensive tackle Jordan Jackson, who closed the home portion of his career with 1.5 of the team's five sacks. "This is a great conference. We play against great teams. I can't say I'm too upset about it. Those are two great teams. It will be kind of fun to see how they play next week."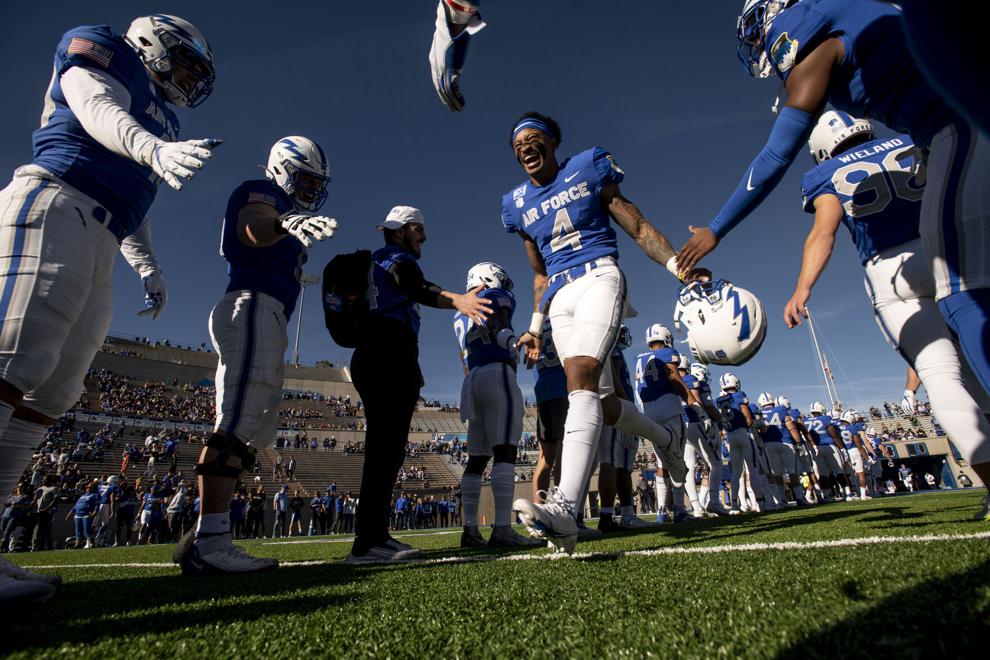 Air Force (9-3, 6-2 Mountain West) certainly played like there were stakes attached. Sophomore Corey Collins forced a fumble on the opening kickoff, which Brad Roberts turned into a touchdown three plays later.
Roberts finished with 98 rushing yard, giving him the most in the Mountain West this season and the seventh-most in Air Force single-season history.
Those first three plays – all Roberts runs up the middle – offered a preview of things to come.
"We were just going to impose our will on people, and it's a good feeling," Michel said. "When you just give it to us like that, we kind of know how the rest of the game is going to go."
Jackson forced a fumble on a sack on UNLV's second possession, which Roberts again cashed in with a touchdown.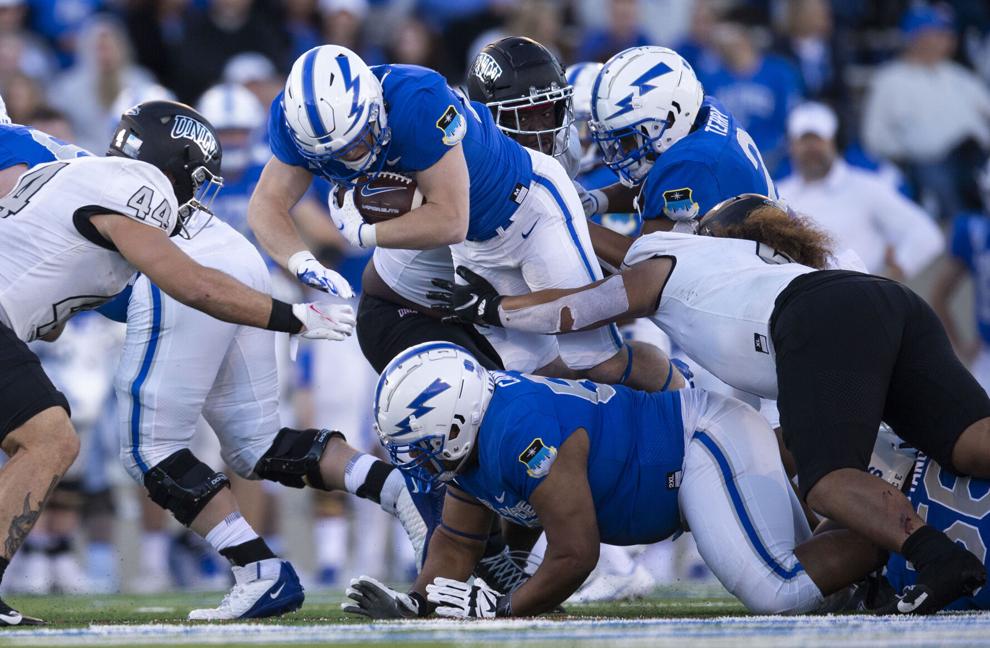 On UNLV's next possession it attempted to kick a field goal, but a high snap left holder Evan Silva scrambling and Bugg and Trey Taylor were there to bring him down.
Air Force added a field goal after that, then tacked on a 41-yard touchdown run from Brandon Lewis on a one-play drive with 1:04 left in the half.
"Brandon showed pretty good juice there," coach Troy Calhoun said.
Then came the suffocating second half.
"Our offense, man, they held the ball forever," Bugg said. "When the offense is able to hold the ball like that it makes our job easier."
Air Force did this despite learning about 2 hours prior to the game that it would be without quarterback Haaziq Daniels, who was out with an illness not related to COVID-19.
Senior Warren Bryan drew the start and sophomore Zachary Larrier – the Mountain West champion in the 200-meter dash in track – rotated at the spot. Bryan ran five times for 18 yards, Larrier nine times for 80 with a touchdown.
"You see it all the time in practice," Roberts said. "His speed is just awesome to watch. I think he had a great game."
Air Force outgained the Rebels 511-214 in total yards – with more than half of UNLV's yardage coming on a 72-yard run from Charles Williams and a 55-yard pass from Justin Rogers to Zyell Griffin. This was just UNLV's second loss in conference play by more than one possession, and it was the first time Air Force hadn't attempted a pass since 2012 against Hawaii.
UNLV (2-9, 2-6) lost 57 yards on tackles for loss, including two more from Vince Sanford. The 89 yards Sanford has accrued on sacks this year is second in a season for Air Force behind Chad Hennings' 182 in 1987.
The Falcons had gathered the team on Sunday to explain the situation and reiterate that, regardless of the outcomes elsewhere in the conference, they would leave the field happiest if they kept their focus on the task at hand. That's what happened.
"I think it's a good way to go out," Jackson said.