If Kim Gidley had any misgivings about the challenges awaiting her as Air Force women's tennis coach, a conference call on her first day ended them.
"I had a coach say if they had to play us, they'd quit their job because we were that bad," Gidley recalled of the call with Mountain West coaches discussing the conference's inaugural season. "It was, 'If we have to play you, I'll quit.'"
The fear was the Falcons were so bad, playing them would hurt rankings and amount to a waste of time.
It took 20 years, but Gidley has Air Force poised to win that conference.
If the Falcons (21-1, 4-0 MW) top New Mexico (11-8, 3-1) at a home dual at 3 p.m. Friday, they will be the first women's program from the academy to capture a Mountain West team title.
"You could definitely say we've come a long way, baby," Gidley said, borrowing the slogan from Virginia Slims Circuit lore.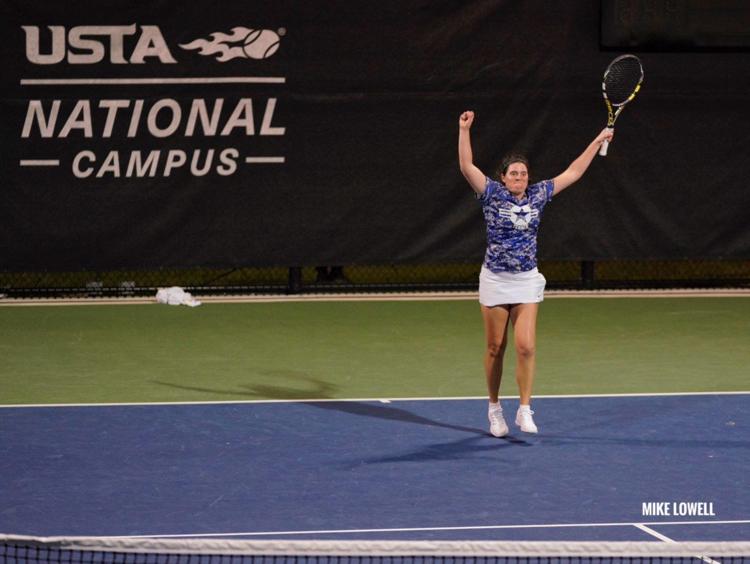 Women comprise roughly a quarter of the population at the academy, and they compete in all but one — softball — of the 10 sports the conference offers (counting indoor and outdoor track separately). By contrast, men's programs have captured seven Mountain West titles across the league's eight sports.
Before considering how this program reached this point, consider the challenges it overcame along the way that aren't even specific to gender.
College tennis is dominated by foreign players, with half of the current NCAA Top 10 individuals coming from Europe.
That option isn't entirely cut off to Air Force, which includes players from New Zealand and Saudi Arabia, but such players are the exception.
"We're America's team," senior Elizabeth Barnickel — Air Force's all-time leader in victories — proudly stated.
Also, success in few sports at the junior level is as closely tied to socioeconomics as tennis. And at Air Force, many programs use the lure of a guaranteed career after graduation as a key selling point. The first question hockey coach Frank Serratore asks his assistants after home visits with recruits is about the size of the family's garage. Three stalls? The player is going somewhere else. Two stalls? They have a shot. One stall? That kid is coming to the academy.
And, of course, there's the academic requirements to enter and succeed at the service academy as well as the military obligations and postgraduate commitment. A Falcons player must embrace all of that.
"If you can get the right kids and get them in the right environment, then things can work and you can win," Gidley said. "That's always been our philosophy."
And Air Force has won, quite regularly. Gidley's team went 20-10 in her first season and hasn't suffered a losing campaign since 2010, as the program thrived on developing players. Gidley's instruction was so noted that former football coach Fisher DeBerry said he brought his granddaughter in for Gidley's camps, and that sparked such an interest that she later became a high school champion in Oklahoma.
But while Air Force could consistently post winning records, it sought a breakthrough in the Mountain West. It entered this year 8-20 over its previous five seasons in the conference.
The key to overcoming that hurdle came with a coincidental meeting six years ago. As Gidley watched a mixed doubles match in her home state of Texas, she learned one side featured a brother-sister team. Wearing her Air Force attire, Gidley was approached by the players' father, who explained that his son, Lucas Fumagali, was heading to the academy the next year. His daughter, T.J., was still a freshman at the time.
Impressed with her play and knowing there was an in, Gidley made it a point for the next three seasons to watch four or five of T.J. Fumagali's matches, thinking "I just want to make sure I'm seen everywhere she goes."
Lucas Fumagalli capped his Air Force men's tennis career in 2017, netting a slew of collegiate sportsmanship awards and being named Air Force's top scholar-athlete.
He didn't meddle with T.J.'s recruitment, wanting her to make up her mind on her own, but his presence and success at Air Force left its mark as she turned down offers from Kansas State, Nebraska and New Mexico and will likely be the program's most decorated player by the time she's finished next year.
"I bought in really quickly," said Fumagalli, who is 18-1 this year at No. 1 singles and is Air Force's first player to be ranked nationally in singles and doubles.
Fumagalli, in turn, helped recruit fellow Texan Kristin Kerrigan, who was the top-ranked 18-and-under player in the Lone Star State when she committed.
Kerrigan's interest in a service academy began with a random postcard from West Point she decided to investigate. She made her official visit to the Falcons as a junior and was so impressed she not only committed the following day, but she had enough credits built up that she decided to skip her final year of high school to speed up the process.
She turned 18 on the first day of basic training and has a 27-6 mark this year as a freshman.
"What really struck me was the purpose," the 6-foot Kerrigan said. "I wanted to have a life of purpose. Just the disciplined lifestyle and the structured day was really appealing. I wanted to do something more with my life than tennis.
"Winning one match to get a point for my team here means so much more than anything I could do individually."
Fumagalli and Kerrigan are two of Air Force's five current players — joining Barnickel, Ashleigh Harvey and Meredith Jones — who posted 20-win seasons as freshmen or sophomores (the other member of the top six is Nadeen Lieberman, who is 27-6 in a breakout junior season). That kind of early success reflected the increased talent Gidley was able to recruit. It then fostered more growth because of the level of internal competition. And with all of that, a mindset took hold that the program didn't have to feel it was limited any longer.
"With that momentum," Fumagalli said, "It's kind of just a belief."
The Falcons have backed that by climbing as high as No. 44 in the rankings this season, at the time placing it above 2017 national champion Florida. Air Force has victories over Colorado and Nebraska, and in the conference it beat Boise State for the first time and won for the first time at Wyoming. The 21 victories are one shy of the program's record since competing in Division I, and the four Mountain West wins are a record.
The lone loss came to then-No. 7 Kansas.
A victory on Friday would bring an unheard-of title for Air Force female athletes in the Mountain West era — champions.