Tre' Bugg departed the practice fields at the Air Force Academy fully in the moment.
"My dad says when you know it's the last time, make sure you act like it's the last time," Bugg said earlier this month. "Because you don't know it's the last for a lot of things that you do."
The Falcons – and a decorated senior class – will take that mentality into the First Responder Bowl at 1:15 p.m. Tuesday (ESPN) at Southern Methodist's Gerald J. Ford Stadium in Dallas when they face Louisville.
Among the seniors suiting up for Air Force (9-3) for the last time will be Bugg and Jordan Jackson, three-year starters who will get one more taste of the collegiate football in showcase games in the coming weeks. There is also first-team All-Mountain West guard Hawk Wimmer, linebacker Demonte Meeks, sixth-year senior James Jones IV, safety Corvan Taylor, slot receiver Brandon Lewis and a host of others who are finishing careers that did not take a straight line but included some impressive peaks.
This senior class helped make the nucleus of the 2019 team that went 11-2 and won the Cheez-It Bowl. It also contains members who departed for the 2020 season on turnback and others who stayed through the bizarre six-game season played under the shadow of COVID-19.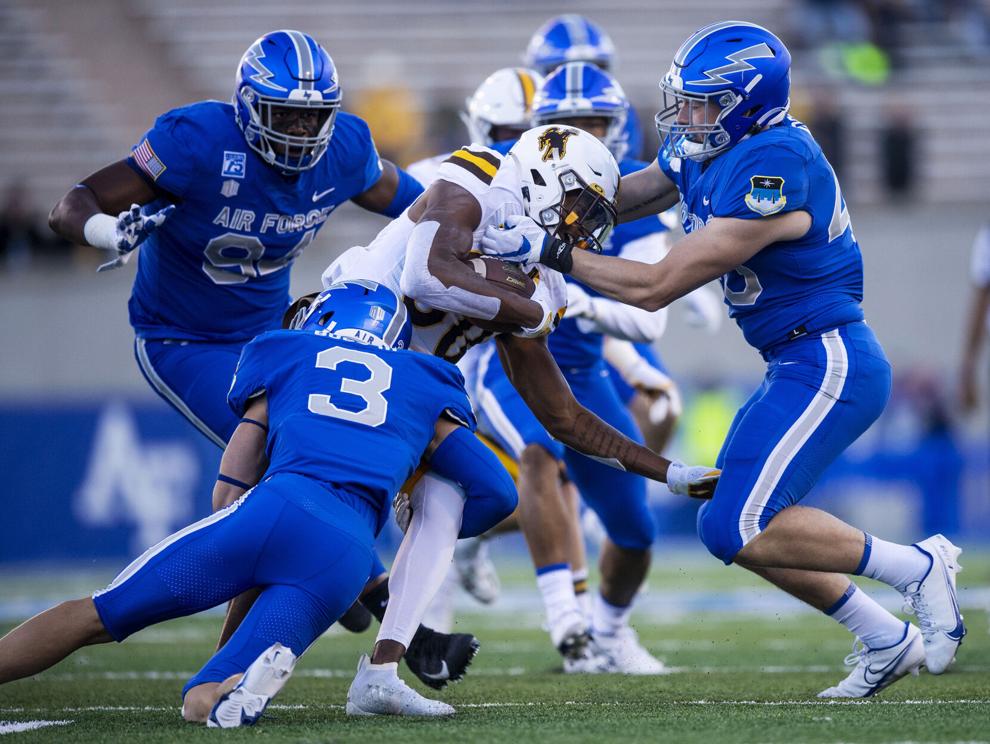 And they've led this team to a 5-0 record in road games, a first-place tie in the Mountain West's Mountain Division and they now have a chance to post the ninth 10-win season in program history.
"I'm just happy I get to play another game with them," Bugg said of his teammates. "These are some of my best friends in the world. We've really grown as a family over the past year."
And what an interesting last game this could be.
Air Force has largely been the picture of consistency, leading the nation in rushing and ranking second in time of possession. The defense ranks fifth nationally in yards allowed. The team is going to run the ball (it has had four games with one or fewer completed passes), defend and stay conservative on special teams. It is a formula that has allowed the Falcons to be competitive in each game. In fact, COVID year aside, the Falcons haven't lost a game by more than two touchdowns since Nov. 2017.
All that consistency is contrasted by a Louisville (6-6) team that has been far more erratic. It's season includes blowout wins over Duke and Syracuse, blowout losses to Mississippi and Kentucky and a slew of tight games, several of which the Cardinals let slip away late.
Louisville, from the Power Five Atlantic Coast Conference, is among the most balanced offensive teams in the nation with 230.6 yards per game passing and 211.3 yards per game rushing.
That balance comes largely from quarterback Malik Cunningham, who has thrown for 2,634 yards with 18 touchdowns and six interceptions while rushing for 968 yards and 19 touchdowns (fourth most in the nation).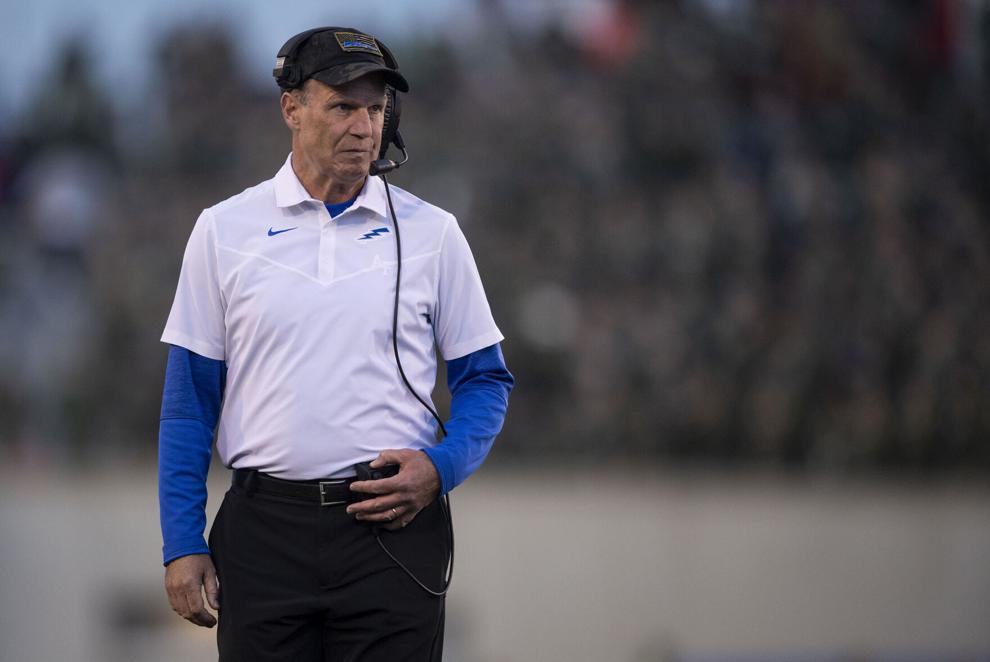 "He's a tremendous player," Air Force coach Troy Calhoun said, noting some similarities between Cunningham and his Louisville predecessor, Heisman Trophy winner Lamar Jackson.
"We've got to get the ball out of his hands," safety Corvan Taylor said. "He definitely can run the ball, pass the ball; he can do it all. He's a very big challenge."
The Falcons have a few personal accolades in play, including an outside chance for fullback Brad Roberts to set an all-time single-season rushing record (he needs 220 yards to catch Beau Morgan's record).
But when this team talks about the desire to win first as a team, it's to be believed. Bugg and the handful of fifth-year seniors endured consecutive 5-7 seasons before the Cheez-It Bowl season. They know the difference in feeling from a highly successful season and those less-so. These players experienced what it felt like to temporarily have the 2020 season canceled. Some played in empty stadiums. They've won big game like those against Colorado and Washington State in 2019 and Boise State this year, and they've experienced crushing losses like the one in overtime against Army this year in Dallas.
They've seen pretty much everything. And knowing this is the last time, they know how they want to end it.
"I just want our team to win," Roberts said. "I want to have the seniors come out on top in their last game, I think that would be huge for our team. And I want to beat a Power Five team. Those are my two main goals."
---
Air Force's all-time bowl record
1958 Cotton               TCU                       0-0, tie
1963 Gator                 North Carolina       0-35, L
1970 Sugar                Tennessee           13-34, L
1982 Hall of Fame       Vanderbilt            36-28, W
1983 Independence   Mississippi              9-3, W
1984 Independence   Virginia Tech          23-7, W
1985 Bluebonnet        Texas                   24-16, W
1987 Freedom            Arizona State       28-33, L
1989 Liberty               Mississippi           29-42, L
1990 Liberty               Ohio State           23-11, W
1991 Liberty               Mississippi State   38-15, W
1992 Liberty               Mississippi            0-13, L
1995 Copper              Texas Tech           41-55, L
1997 Las Vegas          Oregon                13-41, L
1998 O'ahu                 Washington        45-25, W
2000 Silicon Valley       Fresno State      37-34, W
2002 San Francisco     Virginia Tech      13-20, L
2007 Armed Forces     California           36-42, L
2008 Armed Forces     Houston            28-34, L
2009 Armed Forces     Houston            47-20, W
2010 Independence    Georgia Tech    14-7, W
2011 Military Bowl       Toledo              41-42, L
2012 Armed Forces      Rice                  14-33, L
2014 Potato Bowl        Western Michigan   38-24, W
2015 Armed Forces      California           36-55, L
2016 Arizona Bowl       South Alabama  45-21, W
2019 Cheez-It              Washington State  31-21, W
2021 First Responder   Louisville