Beer options change, elevators to debut
There will be new beer options at Falcon Stadium, along with easier access to different levels.
A partnership with Anheuser Busch will make Bud Light and Breckenridge Brewery the official beer and craft beer of Air Force athletics. The agreement will expand the craft beer options at the stadium. The school said it will also use new assets to speed up beverage lines. A partnership with Tailgate Guys has added reserved locations and options.
"This partnership (with Anheuser Busch), along with the other additions, will greatly improve the experience for our fans," athletic director Nathan Pine said in a press release.
Air Force added the sale of beer prior to the 2017 season, with Coors serving as the original partner.
Work is still being done to complete a set of elevators on the stadium's south side. One will run from the concourse near the south entrance to the second level, where a connection can be made to a second elevator to the third level. Handrails have also been improved as part of a $4.8 million project to bring the stadium into compliance with the Americans with Disabilities Act.
It is likely the elevators will be ready by the second home game Sept. 27 against San Jose State but not for the opener Aug. 31 against Colgate.
Also new for this season is an agreement with the American Forces Network to carry Falcons football games in 168 countries. The games will also be carried regionally by KVOR 740 AM in Colorado Springs and The Fan 104.3 FM in Denver.
Calhoun references leaving Mountain West
Air Force coach Troy Calhoun dropped a reference to potentially going independent or joining another conference Wednesday at a media event.
Asked about an open week in the schedule after the opener and before playing at Colorado on Sept. 14, Calhoun mused about a way they could avoid such an early break.
"Maybe if we were in a different league or not in a league, we could set the schedule," Calhoun said.
The schedule often includes strangely placed open weeks for Air Force – this year it comes after the first game and before the finale – because it plays a nonleague game against Navy on the first weekend of October and against Army the first Saturday of November.
Air Force was mentioned as a candidate to fill UConn's spot in the American Athletic Conference over the summer, which would put it in a league with Navy and free up a non-conference slot. The American has publicly stated it will not seek to fill that opening.
Asked if he had been updated on any developments with the American or asked by upper-level administrators for his opinion, Calhoun would not elaborate.
"We follow what's dictated," he said. "That's just where we are. We follow what's dictated. That's the way we work."
Freshman QB has interesting backstory
Clemson enters the season ranked No. 1, coming off a season in which freshman quarterback Trevor Lawrence guided the Tigers to a 15-0 record and a national title.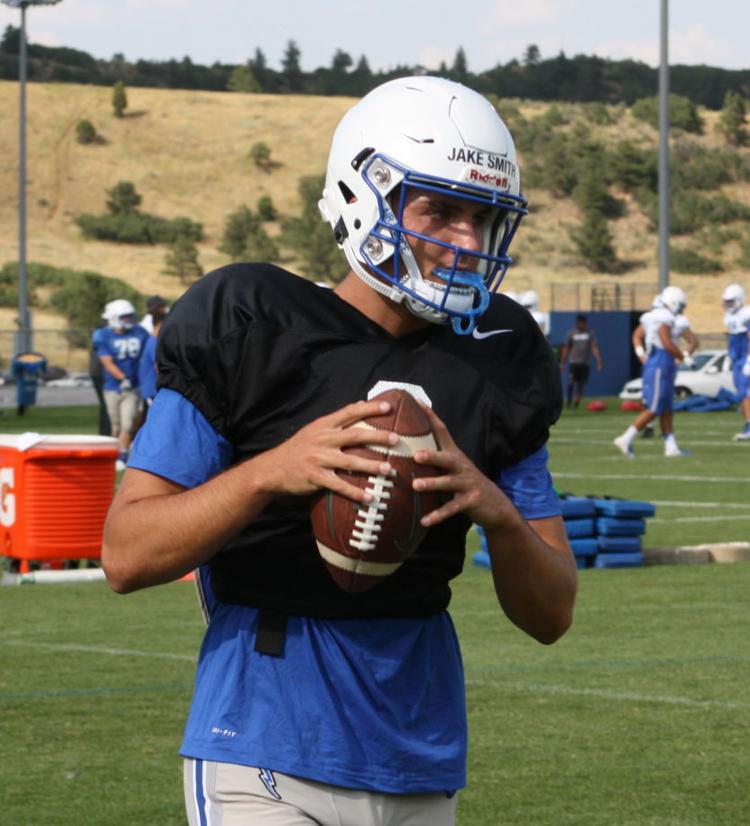 Lawrence, who played at Cartersville, Ga., also guided his high school team to 15-0 records and state titles as a sophomore and junior. His 41-game winning streak and path to a state title as a senior, however, hit a roadblock against Blessed Trinity – a team quarterbacked by Air Force freshman quarterback Jake Smith.
Smith completed a deep touchdown pass with 12 seconds remaining to give his team a 21-17 victory over Lawrence's Cartersville squad. Smith completed 7 of 8 passes for 98 yards in that game and later went 11 of 12 for 111 yards in a state championship game victory to cap his junior year.
Smith then led a 15-0 state championship campaign as a senior.
Air Force's freshmen, including Smith and fellow quarterback Zach Larrier, will scrimmage at Falcon Stadium on Saturday morning from 9-10:45 a.m. as part of Fan Fest.