U.S. Air Force Academy cadet athletes flouted the sacred honor code by committing sexual assaults, taking drugs, cheating and engaging in other misconduct at wild parties while the service academy focused on winning bowl games and attracting money from alumni and private sources in recent years, a Gazette investigation has found.
The findings are egregious enough that academy Superintendent Lt. Gen. Michelle Johnson told The Gazette that she has called for an Inspector General's investigation of the athletic department.
"These efforts will help in eliminating subcultures ... whose climates do not align with our institutional core values," she said in a statement released Thursday exclusively to The Gazette. Johnson said the academy has taken steps to correct the problems within the athletic department. "Despite all of our efforts, I expect we'll still have issues with a few young people who will make poor choices," she wrote.
Documents newly released to The Gazette reveal how serious those "poor choices" of the past have been. They detail parties dating to 2010 where cadets, including a core group of top football players, smoked synthetic marijuana, drank themselves sick and may have used date-rape drugs to incapacitate women for sexual assault.
The culture was so wild that academy leaders canceled a planned 2012 sting out of concern that undercover agents and confidential informants at a party wouldn't be enough to protect women from rape.
The Gazette investigation also found that athletes cheated on tests, and in one instance, an economics professor created a special course for two basketball players - and taught it around their game and practice schedules.
The number of athletes involved was a fraction of the 1,000 cadets who participate in academy sports programs. But those who misbehaved sent shockwaves through the school and its teams. The bulk of those brought under scrutiny played football for Air Force.
The allegations are shown in hundreds of pages of documents released by the Air Force under the Freedom of Information Act and were confirmed through dozens of interviews with academy brass and sports officials.
As cadets hit the field in recent days to get ready for a new football season, misconduct and preferential treatment at the academy will no longer be tolerated, Johnson told The Gazette.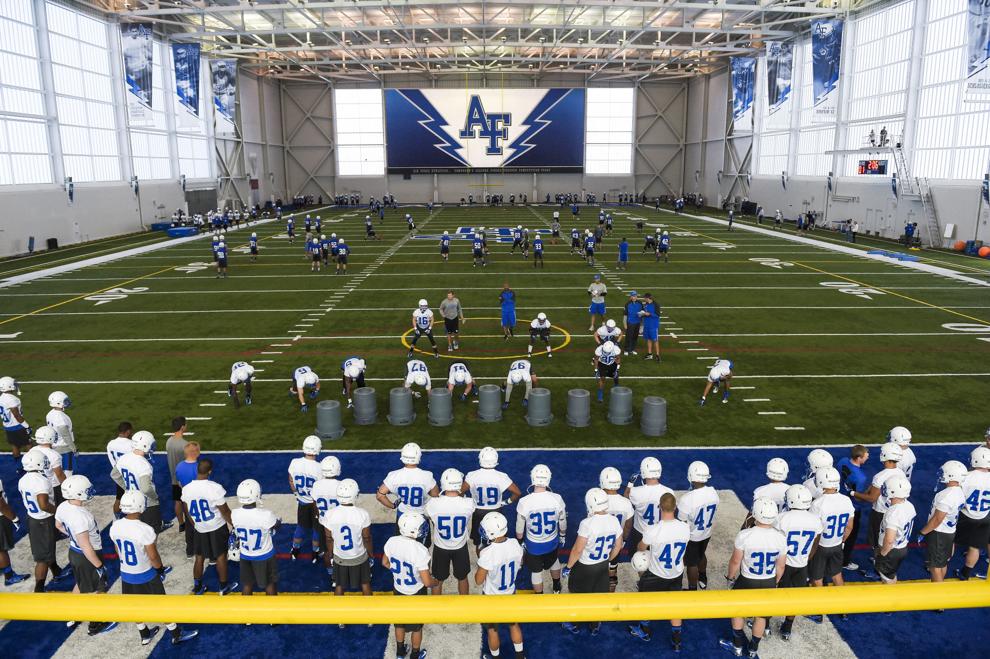 She and the athletic director say coaches and other leaders will be held accountable for cadets' off-field conduct.
Video: USAFA cadet athletes against sexual violence
More than a dozen problem cadet athletes have left the academy in the past three years - and without some stars on the field, the football team slumped to 2-10 last year in what commentators called the worst season in the academy's history. A few years ago, the football team was a bowl game victor and a perennial contender for the coveted Commander-in-Chief's Trophy.
Johnson, who took command a year ago, has ordered reforms to fix the culture in the school's athletic department. There are new recruiting standards, and coaches have been told to keep a closer watch in the locker room.
Johnson has asked that the academy's inspector general investigate the climate in the athletic department and whether sports programs promote the academy's ideals.
Gone, apparently, is a culture that insiders say was driven by hands-off management and a willingness to accept risky athletic recruits in a bid to win on game day.
Allegations of a wild party
In the early days of December 2011, agents of the Office of Special Investigations at the school were told about a party where cadet athletes used spice, a synthetic marijuana, and allegedly engaged in gang rape.
From: Jan. 28, 2011: Cadets under probe for using synthetic pot
It was the most stunning set of allegations after nearly two years of investigations into off-campus parties, drug use and athletes' conduct.
The blowout was held in the woods west of Colorado Springs on Dec. 2, 2011, a week after the football team ended its regular season with a 45-21 thumping of Colorado State.
"The girls' drink, or Captain Morgan with the blue lid, was only for girls to drink," OSI confidential informant cadet Eric Thomas told investigators in a written statement obtained by The Gazette. The blue-capped bottle, he explained, was laced with "roofies," a street term for flunitrazepam, a powerful sedative known as a date-rape drug.
Thomas told investigators that "four or five females did not recall what occurred the following day after the party."
In one bedroom during the party, "multiple male cadets had sexual intercourse with other unknown females," Thomas alleged.
Reports show Thomas talked to investigators four days after the party.
Acting on that and other tips, OSI ran a dragnet that probed the activities of 32 cadets, including 16 football players and several other athletes. While the probe started with the party, the investigation was wide ranging and uncovered questionable conduct before and after the event, officials said.
According to Johnson, three of the 32 cadets were court-martialed, sentenced and discharged - two football players and a women's basketball player. Five more cadets received administrative punishment that resulted in their dismissal - three basketball players and two football players. Another half-dozen cadets resigned. Three more cadets were kicked out for unrelated misconduct.
Of the 16 football players investigated, seven made it through to graduation.
Air Force Academy athletic director Hans Mueh said he didn't learn about the investigation until after a Dec. 23, 2011, bowl game in which athletes targeted in the probe played.
Officials say while OSI, which does not fall under academy commanders, kept quiet about its investigation, so did the partygoers. A month after the party, some female revelers were told by cadets to "keep their mouths shut or they won't like what will happen," Thomas told the OSI.
The academy's leaders began to learn of the investigation in January, several officials said.
While pains were taken to punish the cadets for the conduct, there's little evidence that academy leaders asked wider questions about whether the misconduct of so many athletes exposed deeper problems within the sports programs.
After academy leaders were told about the allegations of rape and drug use, OSI agents planned their own party, one with informants in the crowd and special agents nearby to bust bad actors. But leaders determined that the risk that women would be raped was so high that the idea of a January 2012 sting was quashed, academy officials said.
While the party sting plans failed, OSI didn't quit. A wider probe dubbed "Operation Gridiron" began.
OSI special agent Brandon Enos, who worked on the investigation at the academy, describes the operation on his LinkedIn page on the Internet: "Case agent and responsible for Operation Gridiron at the United States Air Force Academy," his page says in a section touting his award as "Rookie Agent of The Year" for 2012. "This operation identified and proactively removed approximately 18 starting division one football players and 20 other collegiate athletes from the United States Air Force Academy for controlled substance use and distribution and sexual assaults. This was the largest and most successful operation in the history of the Air Force Office of Special Investigations Region 8 and the United States Air Force Academy."
Enos hasn't responded to requests for an interview.
The numbers cited by the agent don't match the numbers released by the academy, but describe a large effort.
There were no charges brought from alleged activities at the Dec. 2, 2011, party, but other allegations of misconduct sent athletes to court.
Linebacker Jamil Cooks was convicted of abusive sexual contact after a woman said Cooks sexually assaulted her. He was sentenced to the five months he'd already spent in pretrial confinement and discharged.
From April 28, 2013: AFA's Jamil Cooks convicted in sexual assault case, booted from military
Wide receiver Anthony Daniels was convicted in March 2013 of attempted sodomy after two women testified about alleged sexual assaults. He was sentenced to eight months behind bars.
From March 8, 2013: Cadet Anthony Daniels Jr. sentenced to 8 months in jail in sex case
Recruited athlete Stephan Claxton was convicted of wrongful sexual contact in June 2012 after women testified that he groped them. Claxton got six months and a discharge.
From June 22, 2012: Cadet Stephan H. Claxton in sex cases sentenced to 6 months confinement
The convictions were a shocking departure of the ideals of honor and duty set at the academy's founding 60 years ago.
Teams more tied to private money
The Air Force was formed in 1947, and President Dwight Eisenhower signed a law establishing the academy on April 1, 1954.
"Throughout its history, one theme has been constant and persistent - a Commitment to Excellence," the academy's history of the school says.
Cadets wrote the school's honor code and take an oath to uphold it: "We will not lie, steal, or cheat, nor tolerate among us anyone who does. Furthermore, I resolve to do my duty and to live honorably."
One of the academy's core values is that athletic competition breeds great leaders. The sports program has grown generals, military heroes, CEOs and members of Congress.
The last two superintendents got their start on academy teams. Lt. Gen. Mike Gould, who was in charge during the time of the misconduct, was a renowned defensive back.
Johnson remains on the list of all-time top scorers of the school's women's basketball team.
The games cadets play, Johnson said, are a key building block for making leaders.
"It's all on the shoulders of competition," Johnson said.
The mantra: Fighting and winning on the battlefield has similarities with fighting and winning in sport. Sports reveal character. Leadership, tenacity and a winning attitude are key ingredients to victory, academy leaders have said.
At any given time, 1,000 of the academy's 4,000 cadets participate in intercollegiate sports, with more than 100 of them playing football. The group of athletes that got in trouble represented a small fraction of the athletes.
"What I don't want to lose track of are the great things that 95 to 98 percent of the athletes are doing," said Mueh, who played soccer at the academy as a cadet.
Academy athletes are different from their counterparts at other Division I schools. They face basic training, military discipline and a regimented life that makes them earn privileges like televisions in their rooms. Another difference: Cadets are paid for their time at the taxpayer-funded academy, and get free clothing, housing and food. Graduates from the academy are required to serve a minimum of five years in the military.
Football coach Troy Calhoun started for the academy at quarterback as a cadet in 1986. As coach, he said he would lose a game to build a leader.
"You're talking about a person and leadership and character and serving as an officer, compared to a game," he said. "That's the only reason why we are here."
Academy teams are increasingly tied to the flow of private money, mostly generated by football, that funds their programs.
As the Pentagon has tightened its belt - cuts are projected to eliminate $900 billion in spending over a decade - the academy has built up ways to bring in nongovernment cash.
The school established the Air Force Academy Athletic Corp. last year to solicit donations and funnel the money raised by teams, especially football, the biggest financial force in the athletic department.
"Every coach here understands that without football, their programs wouldn't be where they are," Mueh said. "It allows the TV revenue, it allows the concession revenue, it allows the gift shop revenue."
It also helps pay for the Air Force's highest-paid employees - its coaches. While Calhoun makes up to $1 million a year, Johnson makes $184,770 for supervising every aspect of the school.
In a recent round of budget cuts that saw the academy eliminate 69 positions and 10 academic majors - a third of the majors offered at the school - Johnson chose to preserve the sports teams despite pressure to shutter some of them to save cash.
The athletic department lost 30 government-funded positions, including nine assistant coaches, but Mueh said private donations allow the school to sustain sports programs, from fencing and volleyball to hockey and football, that help cadets learn through competition.
Robert Goldich, a retired congressional researcher from Virginia who has studied the influence of sports at service academies, said the cash flowing toward football is no surprise.
Goldich claims that big-money boosters and cheering alumni pressure the academies to win on the field, even if that means overlooking the conduct and aptitude of athletes.
"They are so rah-rah about football that they don't care about what happens" off the field, he said.
Some say standards compromised
To build winning teams, the academy sometimes enrolled recruits who failed to buy into the school's values. Many of those recruits were football players in 2008 and later, after Calhoun was hired as head coach.
According to its standards, the prime quality the academy is supposed to seek in all prospective cadets is the likelihood that they'll become officers.
"I think they have, more and more, recruited people for athletic purposes who can't hack it academically and morally," Goldich said.
Some at the school say Mueh may have allowed standards to fall. In 10 years under Mueh, who has announced plans to retire in 2015, athletes at the academy have piled up the record of misbehavior and courts-martial convictions.
"Obviously, we shouldn't have brought any of them in - in hindsight," Mueh admits of cadets who dishonored the program.
Mueh, though, hotly contests that his management style led to athlete misconduct.
Two athletic department workers, who asked not to be named for fear of retaliation, said Mueh gave coaches wide latitude in recruiting and maintaining discipline.
A former academy leader called Mueh's style "hands-off," even as allegations of athlete misdeeds piled up and coaching salaries soared.
"Laissez-faire," another said of Mueh's style.
Mueh responded that he's been ingrained in day-to-day operations and has disciplined and fired coaches, including reprimanding legendary football boss Fisher DeBerry and firing basketball coach Jeff Reynolds.
Reynolds was fired in 2012 when the team skidded to several listless losses, and players said they weren't meshing with the coach.
A hall-of-fame coach, DeBerry was reprimanded in 2005 after he made remarks deemed racially insensitive about the speed of black players. He retired in 2006, giving way to Calhoun.
"To call me laissez-faire, that is disingenuous," Mueh said.
Athletic misconduct came into focus this year when the Pentagon said its top priority to prevent sexual assault at the Defense Department's three service academies is changing the climate of their sports teams by getting coaches to foster "dignity and respect".
The recommendation came after athletes at the Military Academy at West Point, N.Y., and the Naval Academy in Maryland were cited along with Air Force players as creating environments hostile toward women.
In 2011, the academy's football squad included Cooks, the linebacker who was convicted by court-martial of abusive sexual conduct and jailed. Mueh calls him "an absolute predator."
Putting a player like that in uniform goes against the academy's goal - building leaders of character, Mueh said.
Johnson said her coaches, above winning, are supposed to build honorable officers.
She pulled coaches aside for a recent meeting and told them continued ethical lapses would send the school down the path to "Penn State," a reference to the scandal involving assistant football coach Jerry Sandusky that has rocked that school.
Mueh said Johnson's meeting, driven by a December Gazette story about cadet confidential informants and athlete misbehavior, was an eye-opener.
"The coaches reacted to that as, 'Wow,'" he said. "They still talk to me and say 'I have never been chewed out like that before.'"
Months later, Johnson was still upset about what had happened before her tenure.
"This obviously is unacceptable," she told The Gazette of the allegations of athlete drug use and sexual assault.
Sexual assaults a problem
Sexual assault and substance abuse have been problems at the Air Force Academy for decades. And in the past two years, the academy has recorded more reports of sexual assault than the nation's other two service academies combined.
In the 2012-2013 academic year, cadets reported 45 sexual assaults, representing nearly two-thirds of the 70 reported assaults at all three major military academies.
Commanders have repeatedly said that the reason there are so many sexual assaults reported at Air Force is that their aggressive steps have made cadets more comfortable in discussing one of the nation's most under-reported crimes.
"The greater number of reports seen at USAFA is not likely due to a higher crime rate," the Pentagon said in a 2013 report to Congress.
But athletic programs at the academy may drive a subculture that denigrates women.
"The most observable example was the circulation of an electronic slide deck (PowerPoint slides) that disparaged academy women and taunted those who might date them. While the cadet author of the slide deck was identified and punished in August 2012, the slide deck continued to be circulated by members of at least two sports teams," the Pentagon report read. "In addition, informal customs of some teams disparage, taunt, and sometimes chastise individuals that date fellow female cadets."
The Pentagon's top recommendation to stop sexual assault at service academies:
"Employ purposeful and direct engagement with leaders and supervisors of teams, clubs, and other organizations to advance a climate of dignity and respect."
While Johnson contends that no one can tell whether a prospective cadet will behave at the academy, a great deal of care is put into weeding out those who don't meet standards long before they set foot on campus.
Eight cadets are turned down for every one who's accepted.
But there's a back door that's a boon to sports programs.
Dozens of athletic recruits who can't meet the academy's high academic standards are ushered into the Prep School each summer. The school is designed to tutor below-standard recruits so they can succeed as freshmen the following year. In addition to athletes, the Prep School trains former enlisted airmen and other candidates for academy admittance.
"The Prep School does a fine job of preparing anyone who has any gaps in their education to come to the academy," said Andy Armacost, the academy's dean of faculty.
All the while, those athlete recruits play and practice on junior varsity squads.
Coaches are willing to accept a level of academic and even moral risk to recruit top-level athletes. They dispute allegations that those risky athletes get academic breaks in class.
"If their numbers aren't that great but there's something else there, there's some leadership, we will take a risk," Mueh said.
Recruits must have at least a 50 percent chance of "getting through the Air Force Academy," he said.
A star linebacker, leaders explain, doesn't always come with top grades, perfect morals and high test scores.
The goal is to get a player and mold him or her into an intelligent moral officer over four years at the school. For the most part, the system results in success, Mueh and Johnson said.
Dozens quizzed over party
Cooks spent a year in the Prep School before his 2010 debut as a freshman linebacker.
When Cooks wasn't on the field for spring practice in March 2012, Calhoun offered an easy answer for a Gazette sports reporter.
"Strep throat," the coach said.
Cooks may have had strep. He also had a large legal problem. In February 2012, a female cadet had come forward and accused the linebacker of forcing her into sex acts in an academy dorm room in May 2011, court-martial records show.
Calhoun said he wasn't told about the allegations until July 2012.
When Cooks and four other presumed starters didn't show up at August team workouts, Calhoun wouldn't offer a reason, as the program had routinely done for decades.
"They're not here," Calhoun said, in a phrase he would continue to repeat for most questions about the five absent players. "They're not on our team."
Cooks' absence from the football field stood out in Colorado Springs, where he was a hometown hero. He had led the Sierra High School football team and was projected as a top academy player after a sophomore campaign that included 29 solo tackles and two and a half sacks for the Falcons.
In late 2012, he was jailed for allegedly entering a woman's dorm room at the school in an additional allegation.
In April 2013, he was convicted by a military court, sentenced to time served and kicked out of the academy. He was required to register as a sex offender, Johnson said.
By the time Cooks was sentenced, academy leaders had known about trouble with cadets and athletes for three years.
Cadets were punished for misconduct, but serious management reforms, including holding coaches and other officers accountable for the acts of their subordinates, weren't on the agenda.
The issue first sounded alarms after a Teller County house party in the fall of 2010 that followed Air Force's defeat of the Navy football team 14-6.
Four-hundred pages of documents released by OSI under the Freedom of Information Act showed the post-game party involved binge drinking and widespread use of the marijuana substitute "spice," which is illegal under military law.
On a porch at the party, cadets gathered to smoke spice in between games of beer pong, the documents say.
Dozens of cadets were quizzed in the weeks after the party. Some pointed to members of the football team as suspects.
In January 2011, OSI investigators raided six dorm rooms on the campus looking for spice. They found it.
Nearly three dozen cadets were investigated for using spice, with 21 kicked out of the school and five more resigning. A breakdown of athletes in that investigation and punishment wasn't offered.
Gould emailed Col. Tammy Rank on the morning of the raids, ordering her to give news of the spice investigation to his boss at the Pentagon.
"Pass short, factual summary - without causing undue over-concern," Gould ordered, according to documents obtained by The Gazette under the Freedom of Information Act.
Gould ran the academy for three years before passing command to Johnson in 2013. The former academy football star required his staff to provide weekly updates on efforts to instill what he called "fanatical institutional pride" in cadets.
He ended most emails with "Go Falcons!" Johnson ends her emails with "Respectfully."
Cheerleading at academy
Gould had everybody on campus cheering for the sports teams, including professors.
Former academy economics professor David Mullin remembered one meeting of the academic staff. "They had half the auditorium shout 'Knowledge!'" he said. "The other half of the room shouted 'Power!'"
All that cheering was aimed at helping the academy move on from years of low morale after the school's 2003 sexual assault scandal that saw scores of women come forward with claims that leaders of the school had mishandled or ignored their claims of sexual assault.
But, Mullin said, professors had been asked to do more than cheer.
"Specifically, I was asked personally to run a section of microeconomic theory where I taught it to two students - the two star basketball players on the team at that time," Mullin said. "Not just basketball players - only the two stars."
Mullin said he gave in to the request by his boss in 2005 and taught the course to the smallest class he'd seen - center Nick Welch and guard Antoine Hood, who had led the team to the 2004 NCAA Tournament, where they were knocked out in the first round.
"Antoine Hood received an A- and Nick Welch received a B. How did that happen? I tailored meeting times around their playing schedule," Mullin wrote in an email to The Gazette. "There was a stretch where we didn't meet for two weeks. Everything was customized. I watched over them as they did their homework. We had the DFEG (Department of Economics and Geosciences) conference room regularly booked for our meetings.
"Welch initially was given an incomplete but was allowed to complete the course several months later. This was also most unusual."
Armacost, the dean, admits that the basketball stars got special treatment, but denies there was wrongdoing.
Often, he said, cadets - athletes and nonathletes - encounter scheduling conflicts that require special arrangements. The two stars, he said, needed a class time that didn't conflict with basketball practice.
"I would say what we were trying to do is accommodate the needs of an economics major," Armacost said.
Mullin said star athletes, though, could expect personal service at the school.
He remembered failing a football player in an economics course.
"I was closely questioned and I had to provide evidence and show it was the case that indeed this athlete was not qualified for passing the course," Mullin said. "There was an extra layer of scrutiny."
Armacost and Mueh said Mullin is wrong and that repeated internal reviews prove it. They point to one showing lower grades for athletes. They also said, in their years at the school, they've never seen a player get a free pass in class.
In May 2012, Thomas, the informant, told Air Force investigators that some professors were giving athletes breaks including a chance to retake tests and lighter penalties for late assignments.
He said the Department of Management, which teaches management courses, would "hook-up" athletes - slang for giving athletes advantages in class.
When questioned, a professor allegedly told the informant that the athletes fell into a "special circumstance," records show.
It's unclear whether those allegations were formally investigated by OSI, which received the tip from Thomas.
A former academy leader, speaking off the record, said he never heard allegations of professor misconduct.
Armacost said he's investigated the allegations that management majors got a break, and studied the possibility of grade inflation for athletes.
Neither happened, he said.
"Any claims of our faculty not having the integrity, those are heavy allegations and we will look into them," Armacost said. "My belief is the faculty do not and will not compromise their integrity. If given evidence we would hold those people accountable."
Mueh, former chemistry head and vice dean at the academy, said misconceptions of athlete treatment may be driven by the extra instruction that athletes and any other cadet can get. The academy ranks at the top of professor availability nationwide - a measure of help given outside the classroom - and tutoring takes place on team trips and even on the sidelines.
All cadets are offered this same level of help, Mueh said.
"We take pride that every cadet at the Air Force Academy has to do the same program," Mueh said.
Armacost points to a new academy study released to The Gazette. It shows that over three years, athletes lagged behind their nonathlete classmates in cumulative grade point average - 2.71 for the athletes and 2.93 for the others.
The school's teams have one of the best graduation rates in the NCAA, and 29 football players made the spring dean's list this year for keeping a B-average or better.
The academy is known as one of the toughest academic environments in the country, with stellar ratings for its classes, including No. 2 in undergraduate engineering nationwide.
But athletes and other cadets who struggle in class have always had an illegal option - to cheat.
In 2012, 78 cadets were accused of cheating on a mathematics exam, including a large contingent of athletes. The academy most recently investigated 40 cadets for alleged cheating on a chemistry assignment.
It is the fourth probe of cheating involving a group of cadets at the school since 2004. In those incidents, scores of athletes have been implicated.
Yet the penalties for cheating have been softened.
Until the 1990s, any cadet caught cheating was automatically expelled. Now, first-time cheaters are given probation and allowed to stay at the school.
'Culture of noncompliance'
Maj. Gen. Gregory Lengyel, who served as the school's commandant of cadets until this summer, had a term for the misconduct that took place in recent years across the academy, including on sports teams: a culture of noncompliance.
A few months into her tenure, Johnson said she saw it, too: Cadets were more loyal to teams, cliques and friends than they were to Air Force ideals and the school's honor code.
The code is the essence of character, leaders say, at an institution that turns out lieutenants who will fly bombers or grasp the keys that can launch nuclear missiles.
That's part of the reason past behavior was so upsetting to Johnson that she called coaches to the carpet in December.
In her statement to The Gazette, she described her view of it in milder terms.
"This past behavior was troubling and suggested certain subcultures that were inconsistent with the culture of commitment and climate of respect we work hard to uphold," Johnson wrote in response to the Gazette's findings. "In part, recognition of this prior misconduct has caused us to refocus on our culture and climate."
Johnson has pledged to hold those who run the academy's sports teams and its athletic department responsible for upholding the school's values.
"I've personally visited the Athletic Department on several occasions to meet with the coaches and administrators to communicate my expectations and to highlight their important role in cadet development," she wrote. "The Athletic Department has responded."
A major step in changing the culture of the athletic department is ensuring recruits will uphold the school's values, Mueh said.
"I think everybody now, we have heightened awareness," he said. "We have been hurt by the actions of these really bad actors.
"From here on, the recruiting process will be much more intensive in terms of character."
Calhoun said his coaches are taking a deeper look at the character of recruits. Teachers, school janitors, parents and neighbors are quizzed about the background of prospective athletes, he said. On character issues, anything less than perfection is a no-go, he said.
And coaches are on notice that if they turn a blind eye to a recruit's flaws or an athlete's misbehavior on or off the field, consequences will be swift.
"If you're an enabler in any way, if you're tolerating - that's out of line," Calhoun said. "You're not going to work here."
Johnson said she's increasing minimum entrance requirements at the Prep School to weed out weak cadet candidates. Entry requirements had been eased in recent years, the academy said.
The tougher standards for entry to the Prep School will make it harder for athletes who struggle academically to join the cadet wing and academy teams.
"We'll see that in the incoming class," she said.
Another step is demanding that cadets buy into a "culture of commitment."
The academy over the past year has ordered cadets to take greater responsibility over discipline. If they see the kind of partying that took place in the past, they're expected to act. They're ordered to intervene to protect victims and take steps to see that lawbreakers are punished.
"Accountability is a huge part of this and understanding what 'right' looks like," Johnson said.
Thursday, the football team hit the field for its first summer practice.
The players, Calhoun said, are steeped in the academy's values.
"If you have problems with personal skills in regard and respect for others, we don't want you," he said.
Calhoun dodged questions about whether coaches had a responsibility to detect and deter the misconduct that investigators found on the football team. He attributed the trouble to individual cadets who didn't meet his stern standards for conduct.
He said he was shocked by previous athletes' behavior.
Players are told the rules before their first day at the academy, he said.
"To be able to play here, it has to be based upon your merits," he said.
Asked whether he was saddened to see players he mentored gone from the team, Calhoun was stone-faced.
"They don't belong."
Athletes have pledged to fight to stop sexual assault in their ranks and to stamp out a culture that allows it, leaders say.
"They have started a program we want to bring across the academy," Johnson said, describing the new Respect and Character Enrichment Program run by the athletic department.
Athletes formed a group called Cadet Athletes Against Sexual Violence. Most athletes have joined the group, which has a goal of educating cadets in the impacts of sexual assault and violence.
A closed-door training session for athletes focused on their duty to intervene when they see situations that might lead to a sex crime.
Football stars formed a 24-member leadership council to police the team's ranks and uphold the honor code.
"Despite all of our efforts, I expect we'll still have issues with a few young people who will make poor choices," Johnson wrote in an email to The Gazette.
"However, I continue to pledge transparency and an emphasis on cadet development that provides the right culture and climate so that we can remain focused on the development of all 4,000 cadets and our bright future," Johnson wrote.
In April, the school's athletes made a YouTube video to show their return to ideals the academy pledged to uphold when Eisenhower was president. It's called "The Pledge."
"Let's take an honest look at ourselves," the video begins.
"And realize there is a problem with the lack of respect we show one another."