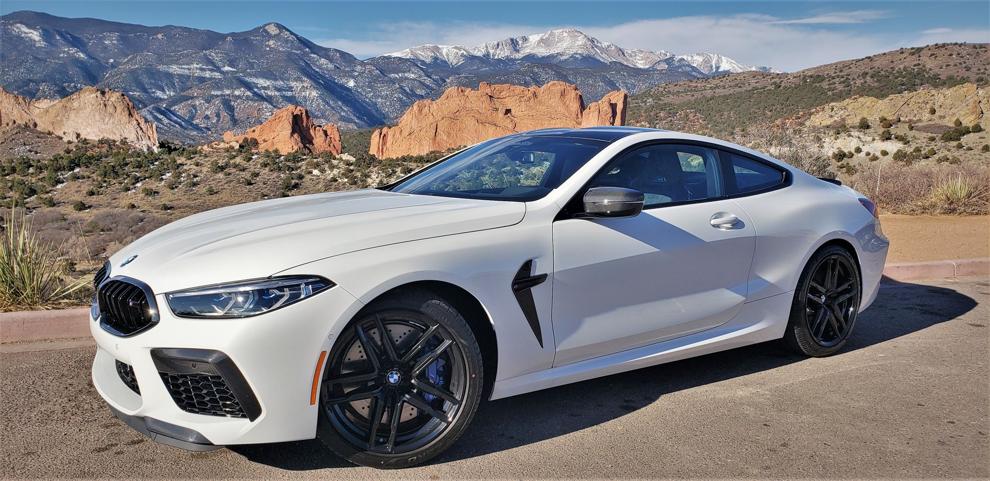 There she is. Rumbling at the curb like a dangerous feline extra from Tiger King. Get in. Switch the drive train to racetrack mode and prepare to be changed forever.
Test driving the BMW M8 (sticker price $159K and change) on a busy I-25 North on a recent, random Thursday is an exercise in frustration. You can feel the power of its V-8 turbo engine right in front of you. The low rumble it emits seems like the car's expressing its displeasure with a throaty growl: Open me up, you fool! See what I can do!
Winslow BMW Genius Randy fills me in on just exactly the parameters of awesome we're dealing with here: The M Competition Package includes a professional-level driver M sport differential and M Driving Control over a 4.4 liter, BMW M-Power Turbo V-8 32-valve engine. That means the M8 delivers a whopping 650 horsepower and 553 lb.-ft. of torque. Gear heads know exactly what these specs mean. All I know is that this car has a mean motor with more mojo in it than any vehicle I've ever driven. Car and Driver magazine calls it "a bully among boulevard cruisers" with an "inherently aggressive demeanor" that includes a "complete roster of go-fast goodies." I couldn't agree more.  
But I urge you. If you're in the market for an M8, a drive will seal the deal. Once I get into the comfy, low slung seat, I can feel this car's energy and it's awe-inspiring, like standing too close to a mountaintop or turning around in your scuba mask to find a shark at your elbow. We switched off the pop station that was on and tuned into AC/DC immediately. 
Enter to win
The M8 will serve as a charismatic base for the Wrapsody 2020 2.0 contest, sponsored by Winslow BMW and in its second year. Worldwide entrants try their luck with a new, BMW design, with the lucky winner receiving $5,000 and bragging rights for life. They'll also choose a local charity of their choice to receive $1,000. Second place receives $3,000 and a $1,000 charitable donation, as well.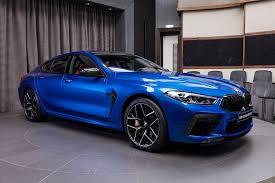 Contest judges receive designs from graphic art students to studio artists; engineers; and master BMW techs (not just anyone gets to work on these ultimate driving machines). The winning design will be immediately translated into a BMW vision in the form of a vinyl "wrap" creating an end result exciting enough to play a starring role in the Broadmoor Pikes Peak International Hill Climb. The winning car will be filmed from a helicopter along the storied course the day of the race as the pace car during the Parade of Champions for the 98th running of the Race to the Clouds this August. 
Check out the rules online for digital and traditional artists, and join the Hill Climb board, Winslow BMW and race friends around the globe as the final design car astounds onlookers and global viewers online with its devastating detail and artistic aplomb. The team at Winslow urges you to express your inner drive and your love for the art of racing and create a design that will wow the whole world. To schedule a test drive, call 719-473-1373. To enter the contest, click here. 
"We'd love a Colorado Springs finalist or two—like the ones we've had over the years. Sponsoring the contest is a labor of love for our ownership. We really want to be involved in seeing a BMW aficionado's design dreams come true," said general manager and co-owner Gregg Randolph.

Get your design in by July 15 so the M8 can be ready for race day. Check out the Winslow BMW site for more about the requirements for WRAPsody and for more about requirements for building your own BMW M8 from the ground up. The car's built in Germany and it's a splendid example of craftsmanship, verve and passion made metal.