Local doggy daycare works with dogs' natural daily cycle to make them (and you) happier
Your dog doesn't play all day. You've seen it at home: One minute, she's at the door with her tennis ball in her mouth, desperate for a game of catch. Next, she's conked out on the couch. At Lucky Dog Boarding and Daycare's two Springs locations, they respect dogs' natural cycle of rest and play.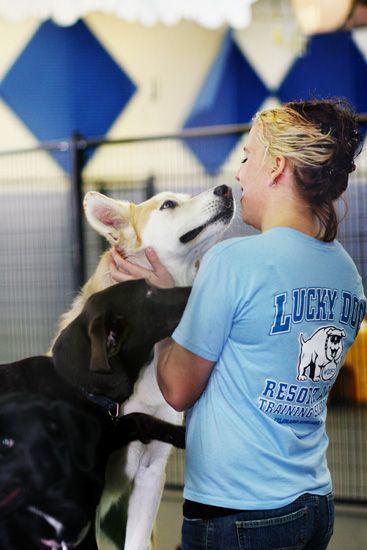 "Since we opened in 2004, we've worked with our playgroups and handlers and with the latest in behavioral research to institute a schedule that will make our dogs less stressed and set them up to have more fun," said Lucky Dog CEO Neal Barlow. "We also have the optimum-sized groups organized by temperament, so each dog has the stimulation he needs."
Our small, medium, large and senior play groups of no more than 15 dogs each allow every pooch to get enough supervision, with plenty of room to play inside and out. These groups aren't designated just by size, however—for example, the medium group consists of "teenagers" who have uber-activity levels. Some seniors and puppies might hang out together in the small group—if they're equally "chill" in temperament, that is. Finally, the large groups consist of adult dogs who enjoy play but with a lot of relaxation. These critters can be any breed—from a Basset Hound to a Great Dane.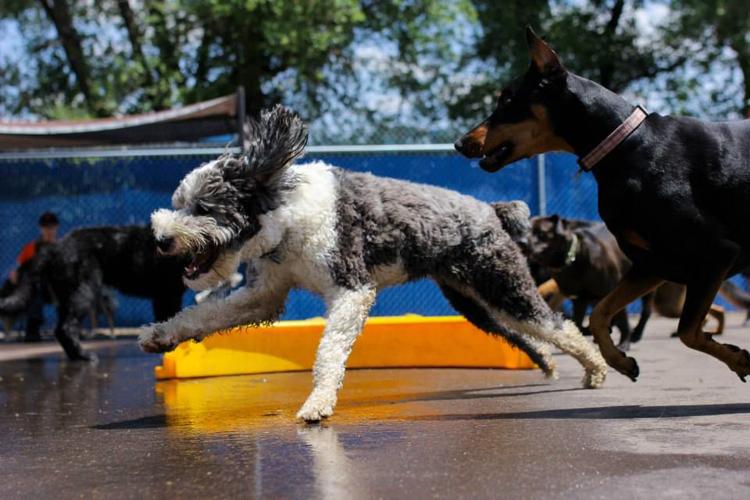 "We have a plan for every group every day—to include both structured and free play and tailored activities we know that all dogs in the group will love," said Kennel Manager Rasha Brown. "We also make sure they all get a rest about every 1-2 hours. That makes them happier, less stressed and less prone to lapses in polite canine behavior."
If bad behavior occurs in group then a calming time out or a walk on-leash are used to relax the dog and get her back into the swing of things. People-time is attentive but minimized to allow the dogs to thrive in the pack environment. Of course, the handlers play with the dogs as a group but animal behaviorists note that pack animals prefer their own kind if given the option, especially when they can form bonds with a group of dogs. Too much one-on-one handler time can create unnecessary friction for the dogs.
Handlers will of course "love them up" when they approach the humans (who could resist?) but they also organize group play and, if a specific dog doesn't want to participate, handlers let them hang with their buddies and do something else. You can view all of these shenanigans on the webcams any time you like, of course, giving you enhanced peace of mind.
Start your furry friend's fun today
For people who might be transitioning back to offices from remote work at home, it might be a good time to start your dog at the daycare, provided he's got the temperament for it. Before bringing your dog, they recommend coming in and taking a tour so you can see how they do things, fill out some paperwork and provide vaccination records. Then, bring your dog for a free evaluation day. The team will get a feel for which group your dog will like. It usually takes just one evaluation and you can start leaving your dog any day, without reservations in advance. 
"We love becoming part of your dog's life," said Resort Manager at the South location, Deanna Wenner. "I've actually been able to watch a family's first puppy come in and become a part of our family and then watched as successive dogs in that family also grow up with us," she adds. "You're trusting us with your family member. It's a great responsibility we take seriously—and have fun with them, too!"
Trained experts
Each handler is trained for two weeks in subjects like dog behavior and pack management before they are allowed to supervise a group on their own. They're also mentored with the seasoned handlers in the groups until they are fully vetted. That means they know what to do if there's a rare fight or an emergency.  
"We're a happy family here—we all get along and we all help each other learn and grow as handlers. I think because of that, dogs are happier and ultimately, clients are, as well," said Rasha.
Lucky Dog experts will work with shy dogs, too. For example an apricot-colored standard poodle and his "brother" a standard poodle-Irish setter mix, both came to the daycare shy and timid. After Rasha and other team members stayed kennel-side with them and worked with them one-on-one, they relaxed enough to join the group. To this day, the poodle will emit a high-pitched yip if she sees Rasha and will continue to vocalize until she gets her belly rub.
"Forming those bonds with the pets and their people—that's the best thing about working here. It's really a dream job for me," Rasha said.
Since 2004, when they opened their central location, Neal and his teams have improved the doggie daycare experience by making play areas bigger; instituting rest and relaxation times; and even adding a place to buy treats and pet food; grooming services; and a self-wash station to the facilities. There are also boarding services for a single day or vacations. 
"It's a priority for us to make sure it's convenient for our clients by offering additional services such as providing various retail products and grooming services while their fur babies are at daycare.  It's essentially a one stop shop for our clients" Deanna said.  
You can find more information on their website, www.bealuckydog.com, or reach out to the staff at Lucky Dog South (Janitell Road) 719-527-WOOF (9663) or Central (Mark Dabling) 719-599-WOOF to schedule a tour today. Lucky Dog is open from 6 a.m. to 8 p.m. weekdays.