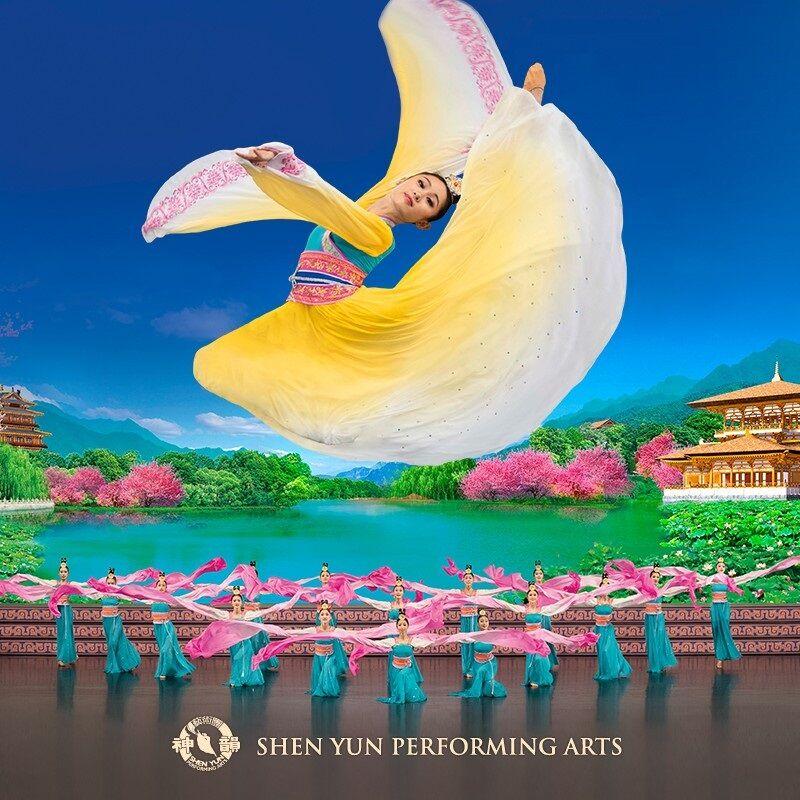 Is it Chinese ballet? Is it acrobatics? Is it gymnastics?
Whatever it is, audiences are finding the unique dancing of Shen Yun Performing Arts incredibly beautiful and enchanting.
"It was just world-class. Amazing. Astonishing, even," said Rosalie Jones, an award-winning choreographer and lecturer on dance, after she saw Shen Yun last year in Rochester, NY.
Dance connoisseurs seem to have a special appreciation for Shen Yun's dance, which forms the centerpiece of a performance that also features a live orchestra, a digital backdrop and a variety of colorful costumes.
A self-proclaimed tough dance critic, choreographer Elliot Treend saw Shen Yun in London, England and said, "I can be quite a nasty person when I watch performances and I take notes and I can be quite critical and negative, and I thought it was wonderful. I was really analyzing the choreography, analyzing the dances and they look beautiful. . .What can I say — yeah, I'd come and see it again."
Dancer and dance teacher Brooke Synnott, who saw Shen Yun in Melbourne, Australia said, "The athleticism, especially of the men — they were just amazing, while being really graceful at the same time. . .A really great night at the theater."
An Ancient Dance Form
Understanding the dance in Shen Yun requires first understanding Chinese civilization. Throughout the last century, China has been racing to catch up with the superpowers of the world since they shot past China during the Industrial Revolution in the 1800s. First England and America industrialized, then the rest of Europe and Japan, leaving China, it seemed, in the dust.
However, before the Industrial Revolution, China was generally regarded as the most advanced nation in the world. It had the highest degree of literacy and technological development, profound medical and spiritual traditions, and the longest continuously formed imperial borders. Paper, gunpowder, printing, silk, tea, the compass and the mechanical clock all came from China.
People today often think of Japan as a more civilized and advanced nation than China and, indeed, Japan is richer per capita, by a longshot, today. Fewer people know that much of Japanese culture is rooted in China's golden age, the Tang Dynasty, whose culture Japan ironically preserved better than China.
While Europe had the mighty Roman Empire, China at the same time had the mighty Han Dynasty of similar size. The difference is that there was no dark ages in Chinese history when the Han fell, as was the case when Rome fell. Instead, China had dynasty after dynasty enriching and advancing the culture.
Dance
From this advanced civilization came a highly advanced form of dance, crafted for the grandness of its beauty and expression.
Going thousands of years back, ancient Chinese dance emerged alongside ancient Chinese martial arts, or kung fu, and shared many similar movements, postures and techniques. In the imperial courts and among the common people, dynasty after dynasty, Chinese dance continued to develop with dances in Chinese operas cross pollinating with martial arts and other dancing.
Over thousands of years, Chinese dance became systematized though still passed down privately from teacher to student, like martial arts, and not recorded in books. In the last century it has come to be known as classical Chinese dance.
Scholars and writers in the West and even in China do not fully agree on what the term "classical Chinese dance" encompasses. There is a tendency to dismiss classical Chinese dance categorically as a way of attacking ancient traditions and glorifying modern forms — a sort of knee-jerk response or attitude of self-preservation from the socialist-communist mindset. For instance, three years ago, The New Yorker magazine declared that classical Chinese dance was developed in the 1950s. This is ridiculous because it contradicts the title "classical" itself, and a Shen Yun-affiliated dance academy has a teacher who was trained in classical Chinese dance before the 1950s!  
"Amplified Form of Expression"
Comparing classical Chinese dance to ballet, the other most widely known classical dance form a key difference is that classical Chinese dance has a required component of acting.
"The acting in classical Chinese dance involves coordinating facial expression with physical movement which, when merged together, results in an amplified form of expression," according to Shen Yun.
Audiences seem to love it.
"Amazing," said Keisha Laren Clarke Gray, a Broadway performer with credits including "The Lion King," after seeing Shen Yun in San Francisco. "The dancers expressing their emotions. . .And whether it's funny, or sad, or political or something serious — I was able to get that through the dance."
"I can really feel the different emotions," said Imogen-Lily Ash, a dancer and dance teacher, after seeing Shen Yun in Birmingham, England. "The ladies, how they moved, it was as if they were just floating on air, and that was really special to see."
"I loved how it felt so joyful [during] the whole thing, yet there were pieces that were extremely touching and moving and I loved that," said Joslyn Duncan, a ballet instructor, who saw Shen Yun in Detroit, Michigan.