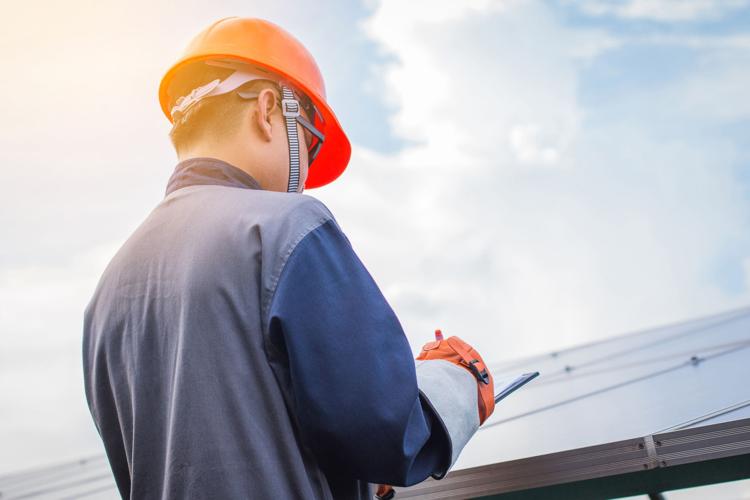 At EcoMark Solar, they spell out the savings very clearly for each homeowner with a customized proposal, using specific data points from the customer's home, delivered during a no pressure in home consultation or office visit.
If you're interested in solar energy for your home, you're not alone. Thousands of homeowners in Colorado are working on getting solar systems installed before the Federal Tax Credit and local incentives expire. Why? Because a person owning a 3,400 square foot home might expect to pay the utility company up to $82,000 over the next 20 years (depending, of course on energy usage and using a relatively small rate increase of 4.5% from the utility company each year.) So if you want to stop throwing money away on electric bills, read on.
First, a phone call
Getting setup with EcoMark Solar for a customized solar proposal is very straightforward. EcoMark Solar will do a three-way call with you and your utility company to collect your most recent, 12- month electricity consumption data. If you haven't been in your home for a year, EcoMark can utilize any month of data that you do have and design a very accurate system based on the square footage of your home. Once EcoMark Solar has this information, their expert design team builds a customized solar proposal for your home.
Meeting with Josh Kitts or any of EcoMark Solar's highly trained Solar Consultants at EcoMark Solar's offices or in your home is a no-pressure experience. They will use Google Earth Satellite pictures or the exact specifications of your home. During the consultation, homeowners can find out very quickly how much they can produce with a solar system—and how much they will save.
"Nothing is left to chance. Once a homeowner has decided to move forward with solar, it only takes a few moments to complete their paperwork and financing documents," Kitts said.
There is no money due up front. EcoMark handles all of the permits and works with the utility company to set up the exact system you need—no more, no less. "Our master electricians and expert designers will come out to the home and examine the roof, as well as the electrical system and ensure that no detail is overlooked," Kitts said. 
In Colorado, thanks to our many days of sunshine, most people net out to zero electricity bills, because during the spring and fall, their solar panels are producing tons of energy during long, sunny days. Any cloudy or snow-covered days are more than made up for by this months-long, production juggernaut—in almost every case.
"We will also talk to the HOA for you to make sure that they understand everything," Kitts said. "We want everyone to be happy with the situation—especially your neighbors, who once they find out about your savings, might actually become clients of ours in turn."
Right here in the Springs
The team is based right off of Rte. 24 –and sources all employees in the region. The Denver office takes care of some things. You can see your installation expert at the office or in your home. One of the first things they do during a home consultation is to determine your needs based on the condition of your roof. EcoMark has a roofing company on-site in the Springs should you need any repairs prior to installation. Everything they do is under 25-year warranty—so if anything goes wrong, call their office so they can help you set it right. The team at EcoMark Solar even has an app to track hail-affected zip codes and will call its clients to make sure everything is fine after one of our legendary hail storms.
"The warranty covers the solar equipment, however your homeowners insurance covers any weather-related damage for what is usually less than $25 extra a year added to the insurance bill. I must say, however, that only the most gargantuan hail tends to cause damage to the panels—we have rarely seen cataclysmic damage from hail here in the Springs," Kitts said. "We can work with your insurance company on your behalf to fulfill the claim should you ever need us to," he added.
Here's an example of a breakdown that you might see with a 3,400 square foot home* here in the Springs:
 

Option A: Paying the Utility

 

VS.

Option B:

Owning Solar

 
 
 
 
 
 
 
 
 

Annual cost

$ 2,064

 
 

Total System Value

 

$34,200

Total 10 year cost

$20,640

 
 

Federal Tax Credit

 

$8,892

Total 20 year cost

$41,280

 
 

Local Incentive (From COS Utilities)

 

$1,200

Annual rate increase

X 4.5%

 
 

Net cost

 

$24,108

Total energy cost

$82,560

 

100% loss

 
 

Adds value to home
*All calculations based on an actual 3,400 sq. ft. home proposal with "normal" design parameters. These savings parameters can't be guaranteed based on varying energy usage and specific design needs.
"We leave nothing to chance," Kitts said. "Our master engineer signs off on everything we do which is not a common practice. We want to be there for you every step of the way, and take care of everything you need."