Colorado Springs' Finest Living Found at 54 Sommerlyn Road
Tina Swonger and The Peak Success Team with RE/MAX Properties Inc. are so excited to feature this year's "Must See" Parade Home! This is the first time Kimber Construction, LLC will showcase their extraordinary talent for the Parade of Homes Community! This 5-star builder and construction company has been a staple in the community for over two decades. If you only have time to see one home in the parade this is it!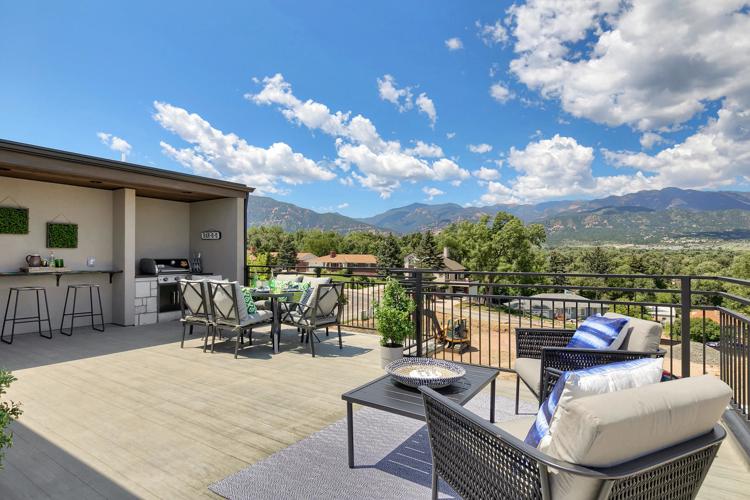 Transformed neighborhoods offer exciting amenities
In the past year, Colorado Springs has undergone an impressive transformation: from the new Olympic Museum to developing, growing and restructuring the entire southern downtown area. This incredible property fits right in with Colorado Springs' newfound concentration of modern innovation and luxury. Nestled within the upper Ivywild Revitalization Area, these brand new contemporary paired homes speak for themselves. Boasting unparalleled 360° views, 54 Sommerlyn Road exhibits the natural beauty of Colorado Springs that draws so many inquisitive and adventurous visitors to our exceptional community.
Kimber Construction, LLC. has spared no expense in the design and display of this elegant property. With interior features such as high-end stainless steel appliances, atrium windows, quartz counters and a private elevator to all three levels and oversized, 2-car garage, 54 Sommerlyn Road has a truly refined feel. The contemporary design of this home accents the modern elements as well as balancing the influence from the lush natural surroundings and unsurpassed stunning views. Meet the Builder. 
Impressive interior design decisions shine
As part of our comprehensive marketing program, we have enlisted the assistance and talents of two amazing professionals; the first is the amazing Jennifer Miller, a certified professional home stager and owner of Perfectly Placed Home Staging & Redesign, LLC. Jennifer has a unique eye for complementing the colors and flow of this masterful living space. Ami Robinson with Designs of All Kinds Interior Design is out second fabulous resource—she has used the eclectic design of the property to showcase the inviting upscale space that is perfect for living and entertaining.
Located in the southern part of Colorado Springs, the home promises quick and easy access to many pivotal areas of town including the Ivywild School, the Art District and many local amenities. Pop over to downtown Colorado Springs in a less than eight minutes or take a quick bike ride to explore some of the local historic landmarks including the Broadmoor, Pioneers Museum, Acacia Park and the statue of General Palmer! Head west to experience Pikes Peak, Seven Falls, Cheyenne Canyon, Garden of the Gods and Historic Manitou Springs. All of that activity is just minutes from your doorstep!
Our 10-year partnership with Kimber Construction has been an honor and privilege. Our real estate team consists of Tina Swonger - team leader, listing and buyer's specialist; Michele Hammerton - listing and buyer's specialist; Jennifer Blanco - office manager and client care specialist; and Emily Hammerton - tech guru and marketing advisor. We are a well-rounded group of ladies dedicated to providing superior service and extensive marketing opportunities to every one of our clients. We customize every buyer- and seller- experience to specifically suit your needs when it comes to one of the most important financial decisions of your life. With a combined 40 years of experience in real estate, we have developed a unique system for serving our clients that revolves around working together as a cooperative team. See more about our team.
The Peak Success Team elevates participation in our spectacular community to the highest level of importance. Our passion, involvement and investments include Springs Rescue Mission, Partners in Housing, Peak Producers and SRES (Senior Real Estate Specialists). We are highly committed to the well-being of each and every one of our community members. We are thrilled to be able to display our listing at 54 Sommerlyn Road in this year's Parade of Homes and honored to have worked with so many wonderful people along the way.
We can't wait to see you there!