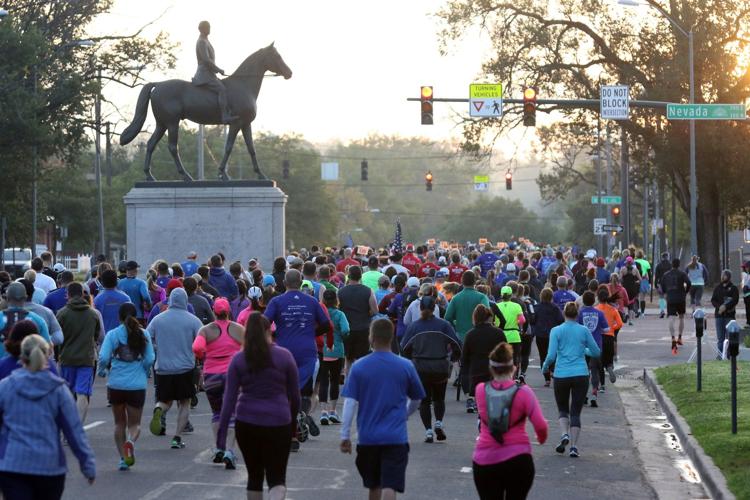 Runners from all levels, including elite to first-time marathoners, compete at the 2018 Colorado Springs Marathon. Photo courtesy High Altitude Special Events.
You've seen them on the sidewalks at the water stations, cheering the runners on. You've not seen the hours of behind-the-scenes work these volunteers put in—fortunately, Colorado Springs Marathon Volunteer Chair, Cianna Reider says it's true that "many hands make lighter work." This year, the event will be held on September 28 with a new course and new, first-time marathoners joining elite athletes for fun and fitness.
"Each year, we are honored to have more and more growth in the number of volunteers who step up and make everything work—from months out from race day," Reider said. "They make everything work for everyone involved."
From cheer squads to Air Force cadets; from ham radio operators keeping the race wired for sound to church groups; from laughing with the Mesa Ridge Tennis team, some of whom dressed up as dinosaurs last year; the event's multiyear and brand new volunteers make everything run smoothly, especially on race day, which can be quite hectic.
"We literally couldn't do it without them," Rieder said. "And each year they faithfully come back for more!"
Of course, for many people, cheering on running friends and family or competing themselves becomes a highlight of their year. Now in its sixth year, the community-bonding event features four races (a full marathon, half-marathon, 5K, and a "Kid's K"). It has historically drawn over 3,000 spectators and about 1,700 participants. Race Director Steve Bingham-Hawk said that race participation has grown about 20 percent each year.
Some Changes to Note
This year, the race does not start and end at Acacia Park. Marathon planners chose the Colorado Springs Pioneer Museum at 215 S. Tejon as "home base" and added several more trail-running options to comprise some of the course, partly to be a good neighbor to local business, said Bingham-Hawk.
Runners in this year's event will come from about 34 states and six different countries to compete. Part of the proceeds from this year's event will benefit Team Red White & Blue, a veteran's group that supports reintegrating combat veterans back into society, mainly through physical activity and running.
From the Couch to the Course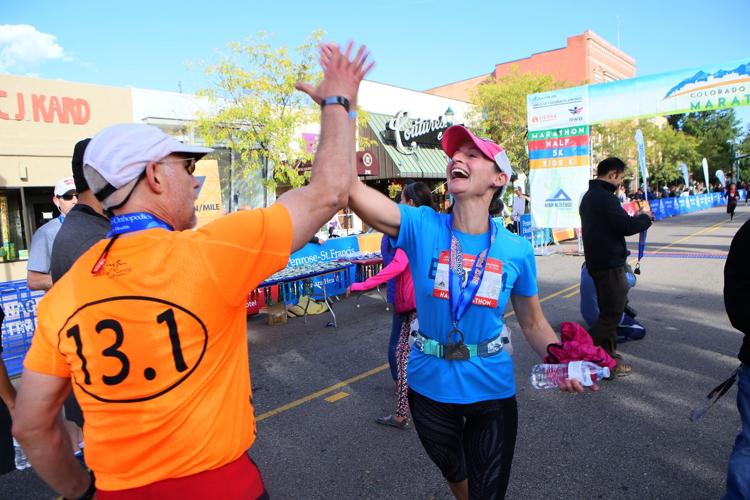 An ebullient runner receives a high-five at the finish line. Photo courtesy High Altitude Special Events.
Another multiyear participating group from sponsor Centura Orthopedics/Centura Health includes first-time half-marathoners who train over 10-16 weeks in a "Couch to the Course" team that keeps them motivated to finish.
 "I had just had my second baby and I needed to get back in shape so I signed up—they helped me build a program from day-to-day that was manageable. I learned that if we wanted to, we could also walk/run—even on event day. I was able to run in my neighborhood to train, even with two little ones at home," Talent Acquisition Specialist Natalia Rall and Centura Health first-time team member said.
"It forced me to be serious about getting fit. When I crossed the finish line, I was only sixteen minutes behind my avid runner husband—I made it in 2:45—I was so excited."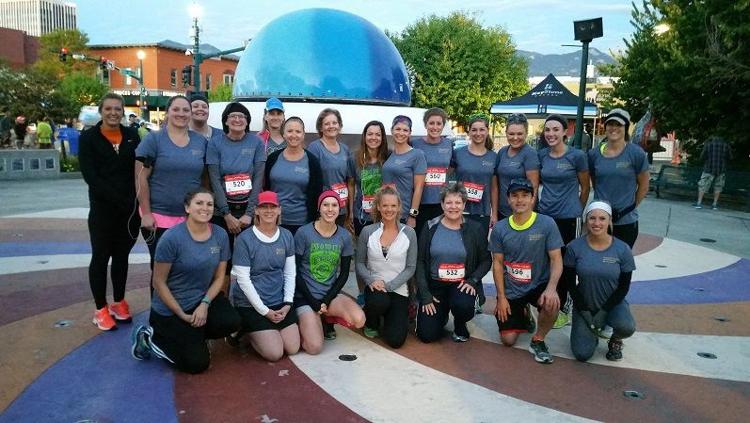 The team at Centura Health included many first-time half-marathoners. Photo courtesy Centura Health.
"Pace music makes all the difference," Rall said. "I really believe that anyone who wants to train for a half marathon could definitely do it." Rall said that many people on her team who used the walk/run strategy made a better time than she did.
Where the Elite Compete
The course is a Boston Marathon qualifier and attracts many elite athletes who complete the Marathon in record time. The race starts with them heading out first, along traversing the brand new route through the heart of Downtown; through Memorial Park and around the lake then through Greenway Trails in America the Beautiful Park, and all the way out north through the leafy roads of the Old North End and out to the Air Force Academy.
To sign up to participate or to volunteer, visit them at the coloradospringsmarathon.com