Martine Vogel of Open Range Construction becomes animated when talking about the sustainability of the stunning home we're walking through on a chilly February afternoon. I nearly wiped out on my way down the driveway, not because I stepped on a patch of ice but because the wind was so strong, it nearly toppled me. But as Martine and I stood in the center of the soaring great room, surrounded by certified, Energy Star windows, you could not hear even a breath of the wind that was howling along the Black Forest prairie right outside. This preternatural silence was thanks to the Insulated Concrete Forms (ICFs) that make up the outer walls. ICFs are part of high-performance home building (HPHB) a whole-building approach that combines several elements of sustainability. The efficient, eco-friendly "building envelope" means the walls, roof and foundation create a quieter, more comfortable, safe, durable and money-saving home in the long run.
According to the National Institute of Building Sciences, the term 'high-performance building' means "a building that integrates and optimizes on a life cycle basis all major high performance attributes, including energy conservation, environment, safety, security, durability, accessibility, cost-benefit, productivity, sustainability, functionality, and operational considerations."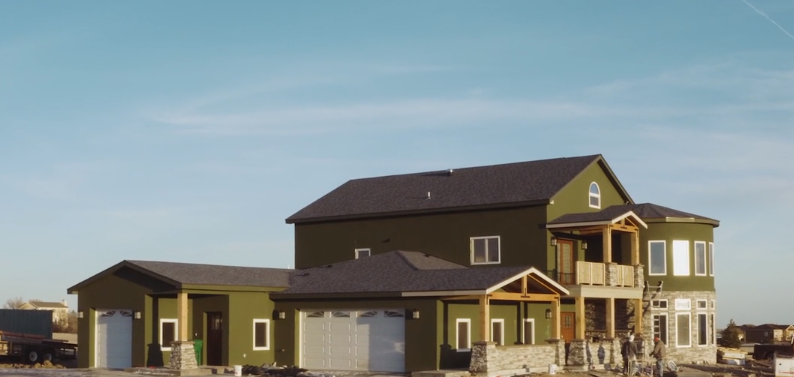 A long history of helping families make dreams into reality
Martine and her husband Dan are custom builders who started their first high-performance structure way back in 2005, in Widefield, off Browning Road. The couple, former teachers who now live in Woodland Park, soon found out that not only was their first ICF build faster, it created energy efficiency unreachable by classic, "stick-built" homes. During a build during the Black Forest fire in 2012, Martine and Dan found out all they could about how this disciplined building style can protect the occupants of homes from fire, flood, tornado and earthquakes.
"I almost wouldn't live in a non-ICF home, after what I learned about their safety, strength, and sustainability," Vogel said. The team now builds everything from cabins to homes and commercial buildings that are thousands of square feet, using high performance techniques.
Energy Star homes are quieter, warmer, lit better and are lower maintenance
High performance home building with the Vogels means new homes have earned the ENERGY STAR® label. These homes have been designed and built to standards well above other homes in the market today.  It means better quality, better comfort, and better durability.  It also means that your new home is a better value for today, and a better investment for tomorrow.  The ENERGY STAR label gives you the peace of mind that your home has undergone a better process for inspections, testing, and verification to ensure that it meets strict requirements set by the U.S. Environmental Protection Agency (EPA). The Vogels' homes are built to this standard and to all foreseeable future standards, as well.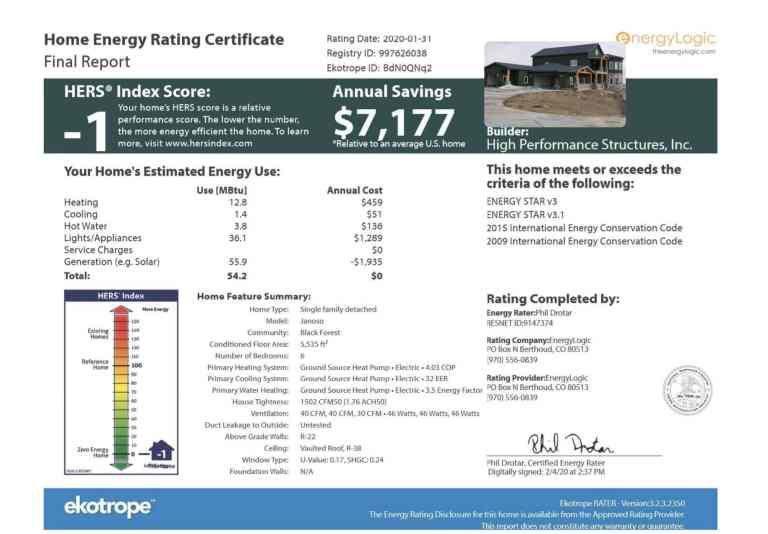 "We build inner walls in the traditional fashion—so even if a home is sold, that new family can literally reconfigure the entire floorplan. We envision these houses as being passed on for generations—they're that well-built," Martine said.
A building plan for now and for the future of your family
Growing up in Germany where her Dad was an Army photographer, Martine recalls fondly all the features of historical homes, homes that stood the test of time. After over 20 years of construction experience completing projects that include dozens of custom home builds in Douglas, El Paso and Teller Counties, working on High Performance Structures' projects has meant that she feels connected to the future of these families' homes.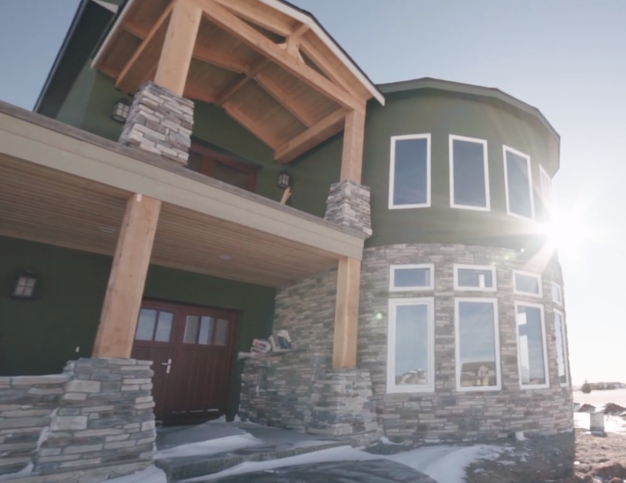 "It's my mission to let people know how the investment in custom high performance homes pays off for everyone's future—it not only saves energy but helps with resale value and creates a better quality of life each day for the people who live in these homes," she said.
Dan agrees, "We are all about using sustainable materials and environmentally conscious construction methods that yield a beautiful living space that exists as lightly on the planet as possible," he said.
Elements of a high-performance structure
These homes can include specialty windows, doors, alternative energy, and energy efficient water systems and heating systems. For example, the 6,500 sq. foot home I toured had four, geothermal wells that provided for the radiant heat flooring and a grid-tied, 10-kilowatt solar system for electricity. Many prospective homeowners are unaware of the new technologies that create savings and a home that is superior both structurally as well as environmentally.
The Vogels have completed more than 40 ICF projects. These forms are known industrywide for their ability to meet newer, energy-efficient rules in current building codes while being more resistant to natural disasters. They're way better in frost-protected shallow foundations, for soundproofing, thermal insulation and a drastically improved indoor air quality, used along with specialty air circulators.
ICFs deliver stronger walls as compared to a conventional concrete foundation wall. Speed of install can be faster since there are no cumbersome forms to remove. Add in that the wall insulation is included and factor in the ability of any contractor to easily install piping and electrical wiring within the foam without furring out concrete walls and the result is an overall more efficient installation. "We generate a lot of attention as the walls are going up—it looks like we're installing giant Lego blocks," Martine said.
Coloradan home designs work well with ICF—rock, brick and stucco exterior elements cover three tiers of strong reinforced concrete and foam interiors that won't crack as readily as concrete pours.
Homeowners using ICFs receive up to a 70% decrease in energy costs once the work is complete as well as a 75% reduction in the levels of allergens and dust inside the house due to the tight thermal envelope.
The Vogels can run down all the particulars of your dream home—they spend time working on floor plans along with clearly explaining the multiple opportunities for their sustainable, eco-friendly building methods to provide a safer, cleaner, quieter lifestyle for your family. You can also bring your own plans, or perhaps more than one plan with elements you like. Martine's team can work with you to create exactly what you want.
The home I visited that chilly February afternoon was breathtaking, its custom-built amenities clearly created with the utmost of craftsmanship, replete with artistic flourishes all around. From the recycled glass countertop in the kitchen with its playful glints of royal blue to the stunning, matching, glass handles in the solid wood doors; from the full-length greenhouse nestled against the kitchen to the specialty "granny flat" complete with an expertly outfitted pocket kitchen and its own garage, this home commands both the landscape and continuing respect for its eco-conscious design.
"Our experience has taught us to really listen to our families and work with them to realize their dreams. If their dream is creating a nature-friendly structure in the Colorado environment we all long to protect, we are the builder for them," Dan said.