St. Francis Medical Center's new emergency department enhances efficiency and clinical capabilities
During St. Francis Medical Center's first decade of operation, its emergency department's patient volume increased 50 percent, requiring not only a larger department, but also more efficient methods for treating the increasing influx of patients. The all-new ED opened Feb. 13, upgrading the former department's one triage room and 23 exam rooms to four triage rooms, six "super track" rooms, 38 exam rooms and four behavioral health rooms.
Many people have experienced the frustration of being rushed to an emergency department, only to spend hours in the waiting room before being seen. This is simply because traditionally, emergency departments prioritize the most serious cases. For example, patients having a heart attack are seen immediately, whereas those with an injured ankle typically have to wait.
St. Francis Medical Center's new emergency department tackles this issue by using a system called "split flow," which employs the aforementioned super track rooms. In this system, patients with more acute needs flow to exam rooms to receive the appropriate care, while patients with lower-acuity complaints like cold symptoms, dental pain, earache, pinkeye or flulike symptoms are simultaneously treated in the super track rooms.
"That super track area is for patients who have a lower-level complaint. Like, 'I've twisted my ankle,' 'I need some stitches,' just something that we can take care of quickly for you, and we don't want to get you in the mix of those patients that will have longer lengths of stay because they're sicker and need more care," said Emergency Services Director Michele Hobbs.
Super track areas are a relatively recent concept in the industry. Another part of that increased efficiency stems from the fact that the system also allows physicians to multitask, by treating super track patients while waiting on results for more seriously ill or injured patients. Studies have shown that the split flow model significantly reduces wait time and length of stay prior to discharge for ED patients compared to the traditional model.
ER doctor Chris Johnson, MD said the increased number of rooms also helps to limit the wait time for patients. "We've more than doubled the bed space we have, which means less time in the waiting room," he said.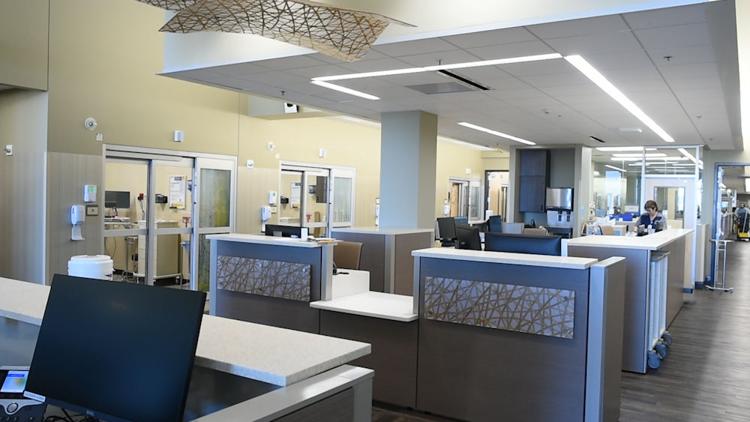 The opening of a new emergency department also provides an opportunity to review guidelines on deciding when you should go to the ER. Hobbs said that if you feel that you're having an emergency situation, then the best policy is still to dial 911, but if you're questioning whether or not you need immediate care, you can also call your primary care physician and give them your symptoms to determine a course of action. "But," she added, "if you're having any type of symptom where you really feel it's necessary to come in, you're welcome — we want you here." Dr. Johnson added, "We see all types of issues in the emergency department, from those that are not emergent to those that are truly life-threatening, and we take care of all those, all day, 24/7. We're equipped, we can handle it. Come in and see us, and we'll help you out."
Dr. Johnson also detailed why it's preferable to take an ambulance rather than driving yourself to the ER. "The advantage with [dialing] 911 over just coming in by yourself, is they initiate treatment in the field. So it's more than just transportation and getting here quickly, there are actually interventions, medications, procedures and things that paramedics and EMS can do to start treatment there at your door," he said.
The same guidelines apply to children with emergencies. If they're not exhibiting extreme symptoms, Dr. Johnson said the best approach is to call your pediatrician's office for advice. But, he added, "The bottom line would be, in the emergency department we see all spectrums — from kids that are not very sick at all to super-sick kids that are at death's door. So if you have any doubt at all, we're here to help and serve you."
In fact, St. Francis Medical Center treats 12,000 kids per year, and the new emergency department reflects that with greatly improved accommodations for them. They now have a dedicated area for children, with a more comfortable atmosphere than their everyday exam rooms, and it's purposefully placed at the opposite end of the department from the behavioral health unit and resuscitation rooms. They also have an on-staff child life behavioral specialist to help take care of your child so the experience is not as scary for them. "We know that when kids come to the emergency room, everything they see can be scary and traumatic, and we don't want that experience," said Hobbs.
So far, the hospital staff has also been very happy with the new department. Said Hobbs, "Since we've opened, the associates have told us that they're really loving the space. They have windows, they have views — they'd never had that before. So being able to just take a second if they need to breathe … they can go enjoy the beautiful views that we have here. And they're also enjoying the fact that it's just new; they have new equipment, and they have bigger rooms to take care of our patients."
Dr. Johnson echoed those sentiments, saying, "It's beautiful. It's fantastic!"