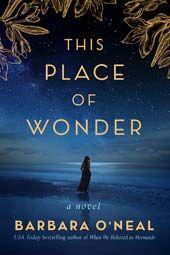 "This Place of Wonder" tells the story of four women connected by their love for one man – Augustus Beauvais, a famed chef with a celebrated reputation and legacy of great intentions and horrible decisions – who has suddenly died in his restaurant kitchen.

Every page of the book is filled with atmosphere, emotion, characters to care about, family drama and a few surprises as the characters struggle to find their place in a world that is very new to them. Maya, Norah, Meadow and Rory are the women in Augustus Beauvais' life who must deal with both his loss and their individual personal problems.
Maya, Augustus' biological daughter who was estranged from her father at the time of his death, has recently completed a rehabilitation program for alcohol dependency and is ready to reclaim her life. She has inherited Augustus' Spanish-style mansion in Santa Barbara, as well as his dining establishment.

Boston native Norah spent the last nine months of Augustus' life with him as his live-in girlfriend, charmed by the intense man 30 years her senior. The product of a difficult upbringing, she will need to use all her resourcefulness to rebound from his death, finding the courage to examine what made her upend her life for him, and chart a course for her future.

Augustus' ex-wife Meadow is a powerhouse within the organic foods movement. She was still his business partner, despite their divorce after 20 years of marriage a decade ago over his infidelities. The pair raised her daughter, Rory, and his daughter Maya. She deeply mourns the loss of the man who was the love of her life; theirs was a love lost but never forgotten.

Like her mother, Augustus' stepdaughter, Rory, grieves for Augustus. She is a source of calm and peace for her same-aged stepsister, Maya, the voice of reason for her mother, Meadow, and a support system for both these women in her family.

Each of these women who love – or loved – Augustus is asking themselves the same question: "Who am I without him?" – and share a common need to bring themselves and their lives back together.

Journey through the changing world of these women as they move forward without the man who was such an integral part of their lives. Root for them as they work to follow-up personal tragedy with personal triumph.
Author inspiration, hoped-for takeaways, and interesting characters  
When asked about writing inspiration and what inspired this book O'Neal said, "I always say that my whole job is to be interested in everything, and all my curiosities and collections of random facts and adoration of certain places and things and houses all go into a basket until I am ready to write a new book. Then I paw through it, pulling things out – oh, look at this woman in recovery! This 1930s Art Deco house on the rugged coast of California! I am always writing about relationships between women, how we uplift each other and sometimes step on each other's throats, and that is true in "This Place of Wonder."

Of the book, its subject matter and conflicted characters, O'Neal shared her hopes that "This Place of Wonder" is read "...for escape, first, but I also hope they can see that grief and trauma and change are just part of our lives. We all experience those things. Luckily, they pass and we get to the other side, to happiness and possibility. It is our friends and family who help us through to see the wonder in our lives again."

Speaking about the strong personalities of the characters in "This Place of Wonder," O'Neal singled out the posthumous protagonist as the most interesting to write about.
"A big, vivid character like Augustus has been in my mind for a long time, a man who makes his own rules, and strides through the world as if it belongs to him, doing exactly as he pleases and leaving both love and damage in his wake," she said. "As a child of the '70s, I have known many iterations of this kind of man, and writing Augustus gave me a chance to explore my feelings about them. He is one of my favorite characters ever, and probably will be very polarizing."
A writer's writer
"This Place of Wonder" has elicited complimentary comments from fellow authors:
"Dealing with loss, love, hidden secrets and second chances, this stirring tale is utterly engaging and ultimately hopeful. 'This Place of Wonder' will sweep you away with the intoxicating scents, bold flavors and sweeping views of the region and transport you to a world you won't be in any hurry to leave." 
- Colleen Hoover, #1 New York Times bestselling author
"Barbara O'Neal's latest novel is simply delicious. Engrossing, empathetic and profoundly moving. I savored every sentence of this story of several very different women who find solace and second chances in each other after tragedy ... "This Place of Wonder" is one of the best books I've read in a long time." 
- Camille Pagan, bestselling author of "Everything Must Go"
"I have never much moved in the elevated circles of California farm-to-table cuisine, but O'Neal makes me feel like I'm there. Rather than simply skewering with pretensions, "This Place of Wonder" pinpoints the passions. Some of these characters have been elevated to celebrity, some are newcomers to the scene, but all are drawn together by the sensuality, the excitement, and ultimately the care that food brings them. Elegiac but also forward-looking, this is a book about eating, but more than that, it's a book about hurt and healing and women finding their together. I loved every moment of it." 
- Julie Powell, author of "Julia & Julia" and "Cleaving"
About Barbara O'Neal
Bestselling author Barbara O'Neal has penned more than a dozen novels of women's fiction, which have been published in nearly two dozen countries; titles that include "When We Believed in Mermaids," that spent many months on the Amazon Charts, as well as the bestseller lists of the Wall Street Journal, USA Today and Washington Post newspapers, as well as "Write My Name Across the Sky," "The Lost Girls of Devon," "The Art of Inheriting Secrets," and "How to Bake a Perfect Life." She lives in Colorado Springs, Colo. with her husband.
"This Place of Wonder" is available through Amazon, Barnes & Noble, Target, Indiebound and Books-A-Million.