Your workday has been long and you're relieved that it's Friday as you throw your purse on the couch. Your spouse has already arrived and tells you that the kids are out with their friends riding bikes in the neighborhood, The Farm, which is the best decision your family has ever made. Now, it's time to plan your parents' anniversary party at the Clubhouse, a wonderful central hub of the master planned community located just north of Interquest Parkway off Voyager Pkwy. and Ridgeline Dr. and in Academy School District 20.
You walk into your light and airy kitchen, enjoying the enchanting views out of your many windows and sliders. As you think about the party, you're grateful you've got so much to offer your guests—but not nearly as much as the Clubhouse has offered you since it opened in November 2019.
Every weekend, friends and family clamor to come and enjoy The Farm's amenities such as parks, trails, The Clubhouse and pool. But you like quiet weekdays and weekends with your family the best, when you can get in a quick workout in the fitness room every Wednesday with your neighbor; take a yoga class; or just walk with your kids and spouse around "Lake Ann" surrounded by the Colorado vegetation and sunshine that you love. The sunsets over the sweeping mountain views delight you every time—and when your family gathers in the outdoor conversation areas near the Clubhouse pool, greeting friends and neighbors, you feel like you really belong.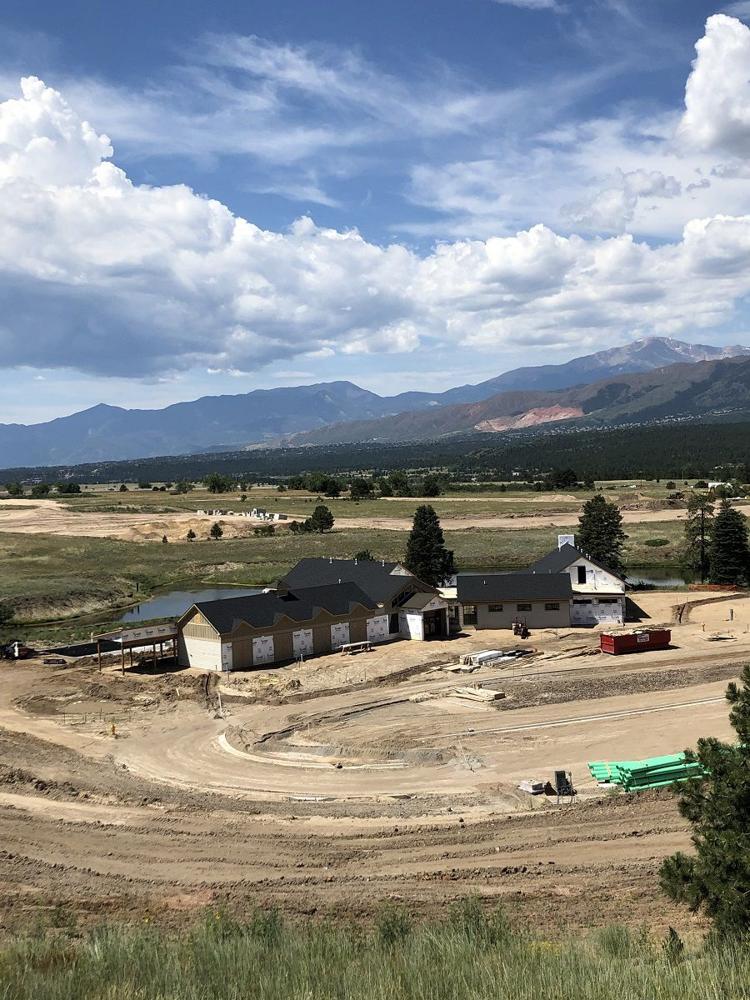 As you go down the guest list for your parents' anniversary party, you remember you need to sign up the kids for fall soccer at the Clubhouse. You also remember it's Parent's Night Out this Saturday—your youngest has been clamoring to go since all of her friends will be there. Maybe you and your spouse will head out and try that new pizza restaurant out on Interquest. It's a relief to know the kids will be happy and safe at The Clubhouse while you're there savoring a wood-fired pizza—that you can work off on Sunday at the Clubhouse's Line Dancing Class you finally convinced your spouse to attend.
You tell all of your friends at work that The Farm continues selling single family homes offered by exceptional builders Saddletree Homes, Vantage Homes, BrookStone Homes and Goetzmann Custom Homes. There are multiple sized lots offered—your friend Susan is into the mountain modern look while Kate is all about French provincial interior design and farm house styles. You're sure there's something for everyone—homes are offered from the high $300s to $1 million-plus.
You've been out to the 16 custom home sites with your Dad and Mom—they're eyeing a midsize lot between the ones offered from 18,014 to 40,000 square feet. You're hoping they'll make the decision soon—it seems all of your best friends live here on The Farm with you these days—it makes sense that your family will join you. Mom would love the Bunco Night and Friends over 50 events at the Clubhouse and Dad's a volleyball spiker still, and keeps himself fit on Lake Ann with your spouse, kayaking and even taking part in the Clubhouse's events with the family. This year, at the Kentucky Derby Party, you enjoyed mint juleps; seeing your Mom with a large, pretty hat; Dad in his summer suit; and the tons of stuff the kids loved doing with all of their neighborhood friends.
You're so grateful the Clubhouse has become your family's second home on The Farm. You've built the perfect, unique home and now, since the Clubhouse is open and full of fun activities, you are continuing to build a fabulous community that makes you glad you live in one of Colorado Springs most inspired.
Visit TheFarmColorado.com to learn more or stop in and visit one of the model homes today.