Dogs who will tolerate a cleaning stay happy and calm. Video shot on September 25 at Wag 'N Wash, Uintah St., Colorado Springs. Chris Malone, The Gazette.
Your pet goes to the vet for his shots and checkups regularly but many people don't know that every dog should get regular dental cleanings, as well. Maintenance check-ups and cleaning with the experts at K-9 Smiles can help you save your friend from dental problems down the road. 
Broken teeth and more serious issues need more than a cleaning and require additional veterinary care, of course, but many pets can benefit from a cleaning from K-9 Smiles. They will examine your dog's teeth at convenient locations across the Front Range and administer a complete dental cleaning without anesthesia under a vet's supervision.
Check the calendar here for dates and locations near you.
How it works
The vet techs and K-9 Smiles go with veterinarian Dr. Anna Norman to put on a teeth cleaning day at one of their mobile locations. Then the following steps will occur:
1. ORAL RINSE
Before the dental cleaning process starts, the oral cavity is rinsed with 0.12% Chlorhexidine to decrease bacteria in the mouth.
2. SCALING THE TEETH
A sharp, sterile scaler removes the calculus from every tooth.
3. SCALING UNDER THE GUM LINE
Curettes are used to remove plaque and calculus from below the gum line.
4. PROBING
After the tartar has been removed each tooth is probed for pocket depth to identify gum disease.
5. CHARTING
All of the identifiable disease present before treatment is recorded. If necessary, they we will refer you to your vet.
6. POLISHING
No matter how careful we are during the scaling/curettage phase of teeth cleaning, minor micro abrasions of the tooth surface occur. Polishing smooths out the defects and removes any plaque missed during previous steps.
7. IRRIGATION
After polishing the teeth we rinse the mouth out with oral rinse solution.
8. CLIENT EDUCATION
The vet will explain everything they found and discuss a treatment plan. She can dispense antibiotics and advise you to follow up with your veterinarian for additional procedures if needed. If you give them your email they will send you a notice when your next cleaning is due.
Testimonial from happy pet parents
Your pet's stress levels are monitored throughout the process by a licensed veterinarian, and if they feel your pet's stress levels are too high, they will stop the process. Pet parents are often amazed that their pets will tolerate the cleaning under the expert care of the K-9 Smiles team.
 "What a great group of attentive hygienists! My dog is skittish and the hygienist talked to her the whole time and calmed her down. I am ashamed I waited so long to get my dog's teeth cleaned," said one happy client.
Chronic dental issues can be dangerous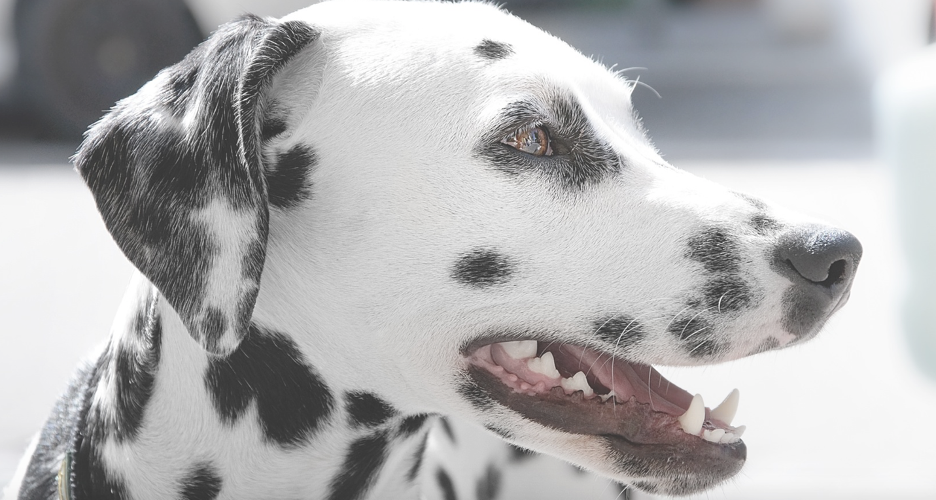 Most states require a veterinarian to be present during a dental exam or cleaning. The K-9 Smiles team works with veterinarian Dr. Norman to fulfill this requirement. They use a remedy called Bach Flowers to relax your pet before they begin cleaning. K-9 Smiles will check to see if there are cavities, gingivitis or pockets, broken teeth etc. going on in the pet's mouth and will grade these issues from 1-4, with four being the worst situation. K-9 Smiles can clean most dog's teeth and will refer any loose, broken or grade 3 and 4's back to your veterinarian for a dental under anesthesia. Gums that probe over 3mm are considered to have periodontal disease, which means the tight protective gum barrier has moved away from the tooth. Bacteria under the gum line, if left unchecked, will also jeopardize the tooth root and surrounding tissue. If active, continual infection persists, bacteria and infection can enter the pet's blood stream. The poor pup might also be experiencing a lot of pain that she obviously can't tell you about.
It is key to have your pet's teeth examined and cleaned often. Elderly dogs or dogs of certain breeds are more prone to dental problems and disease. Dogs that are given too hard of chews, like antlers, can also break their teeth, leading to infection. It's also key to brush your pet's teeth every day to avoid long-term issues. It's easy to do if you start small, give treats and use the right-flavored toothpaste and brush.
Most dogs will enjoy the time with you as you clean their teeth if they're approached early and often using training techniques that anyone can follow. Start brushing their teeth daily and remember, large dogs need a cleaning once a year; small dogs should have a cleaning twice a year. See before and after shots of a dog from K-9 Smiles (below).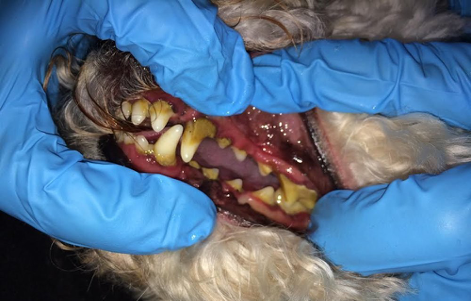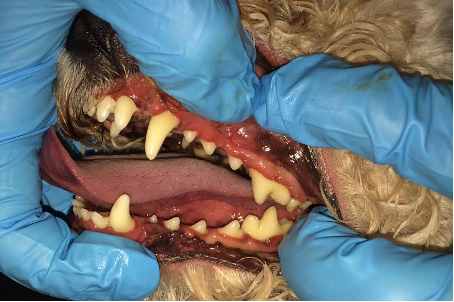 Get started today protecting your pet from dangerous dental issues. Check the calendar and call the company that's hosting the clinic nearest you.