St. Francis Medical Center's new $102 million emergency department is now complete and fully operational. In what amounts to a modern marvel of efficiency, the construction — slated to be completed by mid-March — was finished two months ahead of schedule, allowing the department to open on Feb. 13.
The hospital itself opened in 2008, but in the ensuing years the emergency department had experienced a 50-percent increase in patient volume, requiring a larger ER to meet the needs of the growing area. Whereas the former ER had one triage room and 23 exam rooms, the new emergency department boasts four triage rooms, six "super track" rooms, 38 exam rooms and four behavioral health rooms.
Starting with the design process, the new department was designed for peak functionality and efficiency. Using a new method in the construction industry called IPD (integrated project delivery), the design team, contractors, subcontractors and even hospital staff were incorporated into the design process from the very beginning.
"We involved the nurses, we involved providers, we involved radiology, we involved lab, the registration people. And it wasn't just from a manager and director level; it's the 'boots on the ground' people … they know what works well because they're doing it every day," said Emergency Services Director Michele Hobbs.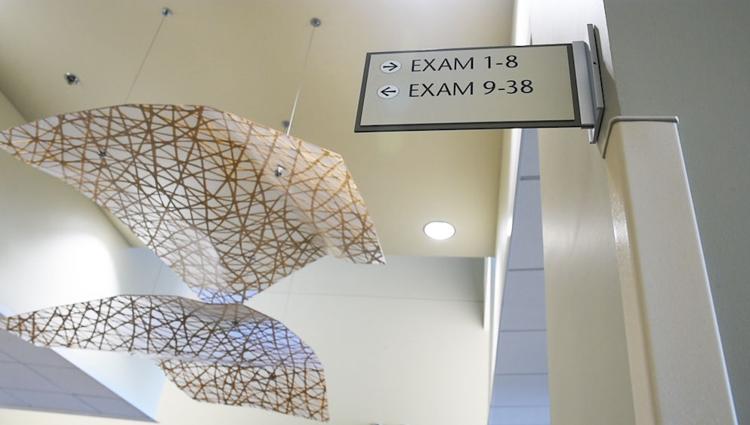 Local labor shortages created by the concurrent construction of two other hospitals and the U.S. Olympics Museum only underscored the need for efficiency. Said Project Manager Ashley Fritz, "We spent a good six months planning and designing with contractors. We had hospital staff, our contractor, our engineers, our architect, even our subcontractors like the drywall company were a part of it — so we tried to cut out inefficiencies by bringing everyone together in the beginning."
Another aspect of the IPD process is finding cost savings while a project is in progress so those savings can later be reinvested in the project. Said Fritz, "We were very successful with our budget, and we were able to reinvest that money back into the hospital. That's really a testimony to how this project went, and the effort that was put into it."
Adding onto an existing hospital poses challenges beyond typical construction in order not to disrupt everyday operation. "We were building operating rooms right next to our existing six operating rooms that were fully functional, 24/7. We were building next to some of the most sensitive areas that are sterile; right up against them. Healthcare construction is completely different from building a house. It takes skilled labor and the right people to know what you're doing," said Fritz.
The design is also more aesthetically pleasing, which benefits both staff and patients. It is impressively large and open; unlike other emergency rooms, it breathes. Walls of windows open up to surrounding mountain views and allow in gentle natural lighting.
Or, as Fritz summarized, "Have you ever seen a view like this from an emergency department before?"
Artwork throughout the building features an appealing forest motif, with grass and tree roots on the bottom floor extending up to tree trunks on the second level, followed by leaves on the third floor and treetops on the top floor.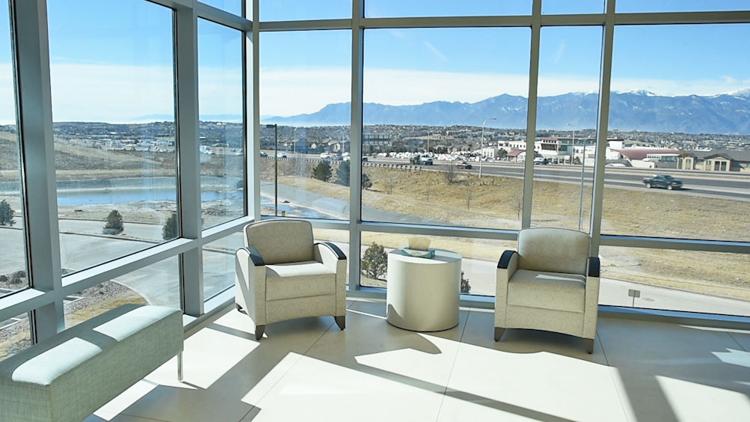 The layout also allows associates to more openly interact with physician and midlevel providers. Said Hobbs, "In our old emergency room, just because we'd had to add on different areas piece by piece, we really lost that line of sight of each other and the line of sight of our patients. Now we have an open area where we're able to communicate more effectively, and provide better care for our patients."
Other design aspects that aid functionality include a covered ambulance arrival area beneath the department that doesn't leave patients and EMTs exposed to the elements. The super track rooms provide an area outside of the triage and exam rooms where patients' whose emergent needs require lighter treatment can be evaluated and split off from those with more acute needs. "That way, we're not bottlenecking at the front door; we're continually moving patients through. The first patient that we had in here was in and out in 56 minutes," said Fritz.
Technology in the department is also much improved by the new structure. Hobbs said that when equipment was ordered they made sure they purchased only the highest technology available, and all of the equipment is brand new.
Hobbs concluded by saying that patient feedback so far has been very positive. "Since we've opened, our patients have been telling us that they really love the space. It's such an improvement from our old ER. We're hearing they're happy that they're able to get in and get out as quick as possible."