Save for his wife, Allan Cano was alone in America.
He jettisoned everything to which he had become accustomed in order to start a new life. Family, friends, culture and career. All thousands of miles away.
Cano moved to America with his wife in 2016. The pair met in his home country of Nicaragua after she, an American, traveled to the faraway land to learn Spanish. They were married in 2014, but she was drawn back home to be near family. Cano followed.
He found life in the new country isolating. Language presented the most substantial obstacle.
"One of my biggest problems was going to the grocery store," Cano said. "When I was trying to buy something, I would think 'How can I leave here? I will have to talk to someone to pay.'"
The decision to leave Nicaragua weighed on Cano. "The first year, I cried," he said. "I didn't feel part of this country."
But now he stands with his head held high, having found his stride in Colorado through classes at Pikes Peak Library District. He's quick to ask questions about his new language and logs away tidbits for future use. Cano's work ethic and outgoing personality are infectious.
Back home, Cano studied English at a university but said his skills weren't strong enough to find a job. And English classes in America were far too expensive.
"The first thing I wanted to do when I arrived was get a job," he said. "But all the jobs, they needed English speakers. So I can't apply." The catch, of course, is that without a job, Cano couldn't afford private English lessons. Cano's wife broke the cycle. "She found me this library sheet," he said. "It said they had classes for free, and I decided to try."
Cano called the number for Spanish speakers on the bottom of a flyer advertising Pikes Peak Library District's English as a Second Language classes. A Spanish-speaking employee walked him through the program, orientation, placement exams and how to find classes at the library branch closest to his home.
The classes sparked a positive change in his life, Cano said.
"I was very motivated," he said. "Outside of class I would watch YouTube videos, and I asked my wife if we could speak English at home."
Cano learned so quickly he became a mentor for others in his classes.
"Allan inspires our other learners to push themselves beyond the boundaries of the classroom," said Kyle Beargeon, adult education instructor at Pikes Peak Library District. "You don't get a diploma for learning English; it is a lifelong process that must transcend lesson plans into their everyday lives. Learners consistently need encouragement and community. Fortunately, there is a sense of community in these rooms at the library because of people like Allan."
The language skills shifted Cano's perspective. He made acquaintances with so many others like himself. Although they hailed from different countries and cultures, they now belonged to the same tribe and connected through their ever-growing grasp of English.
"When I meet people from Asia, Lebanon [and] Mexico even, because their culture is very different from mine, it is very cool to talk about how we do things in our country, and it's all in English," Cano said. "I like to learn about when they arrive here, what they are doing, how they are doing."
Rising through the ranks of his classes, Cano now volunteers in the same entry-level courses with which he once began, guiding students through the same nervous corridors he navigated barely two years ago.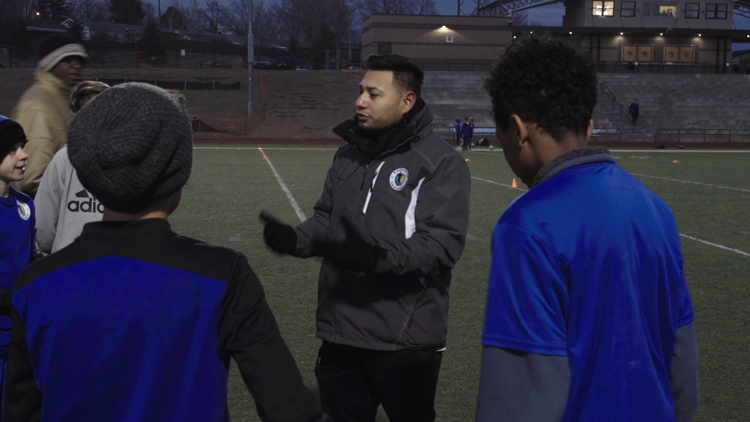 Cano now coaches youth soccer part time, thanks to the English skills he learned in library classes. The position is his job, but also a learning opportunity.
"At the beginning, I was nervous," he said. "Because when I coach, I have to explain everything in English. But my students have even started to help me. When I say a new word for the first time, if I say it wrong, they say 'Coach! Try to say it this way next time.'"
For a full-time coaching position, Cano said his supervisor requires an American GED. Fortunately, he can turn to a familiar resource in Pikes Peak Library District, which also offers free GED courses.
"Math and science are the same in any language, so I'm taking those first," Cano said.
He's also preparing for his U.S. Citizenship Exam this November, again through the Library District, which offers free Path to Citizenship courses.
"I take everything I can at the library," he said. "If I don't have a full-time job, I should take advantage of my time to go to classes in the morning and in the night. Why not? I'm not losing anything."
The benefits of learning English are obvious, but Cano said he's learned so much more than just a language.
"Pikes Peak Library District is not just teaching you English, they help you become part of the community," he said. "They teach you how to find transportation, to take care of your information, everything it takes to be part of the community. This is very important for me."
Do you have a story about how the library impacted your life? Share how PPLD sparked your story at ppld.org/spark, or on social media with #shareyourspark.