The 14,115-foot-tall majestic purple mountain known famously as Pikes Peak has beckoned visitors to the Colorado Springs area since the early 19th century. Not only are the stunning views inspiring, but they are the creative inspiration behind Katharine Lee Bates' poem from 1895, "America the Beautiful," which became one of America's most patriotic songs. The words came to her as though she belonged here.
Belonging here — between mountain and plains — with the natural beauty, cultural and employment centers at the base of the Rocky Mountains continues to beckon residents and tourists alike. That's why Colorado-based Century Communities, one of the nation's top-10 homebuilders, has committed to grow with the region by building quality crafted homes and neighborhoods.
Century Communities is legendary for the pride and craftsmanship its team brings to every new home and community. Whether designing for affordable, luxury, or quality homes in-between, Century Communities strives to match each home with local needs and the budgets of its homeowners — always functional, comfortable and iconic.
Life in the shadow of Pikes Peak can be more fully appreciated from your new home at one of Century Communities' four locations: Meadowbrook Crossing, Forest Meadows, Wild Grass at Rockrimmon and Stetson Ridge. Meadowbrook Crossing — an inviting collection of single-family homes — starts in the mid $200s. Just 15 minutes from downtown, this vibrant community offers 13 floorplans, two-story and ranch options, and up to five bedrooms. Or, enjoy being close to outdoor activities at Wild Grass at Rockrimmon. With unique paired homes nestled into the coveted Rockrimmon area, these new homes offer ranch and two-story plans starting in the $300s.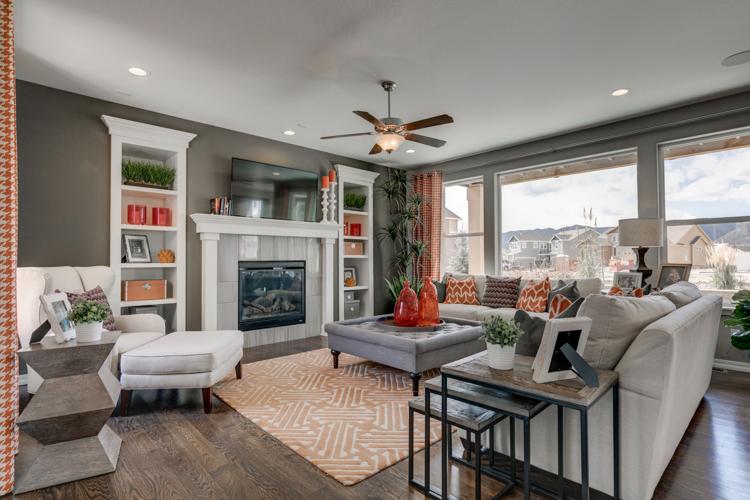 Life in Monument, north of Colorado Springs, offers lakeside living in a small-town environment. New homes at Lake of the Rockies start in the mid $300s with two styles of homes and 14 different floorplans with up to five bedrooms. If condo living is what you desire, then Stetson Ridge is the place for you. This community will open late summer/early fall of this year.
Two of Century Communities' premiere communities — Meadowbrook Crossing in Colorado Springs and Lake of The Rockies in Monument — are offering move-in ready homes with substantial savings, incentives and design upgrades through April 30. If you are looking for the right house to call home, now's a great time to check out the many ways you can take advantage of all the Pikes Peak region has to offer.
Both communities have move-in-ready homes available for immediate purchase, and they feature distinctive architectural designs such as granite countertops, open entryways, lofts, mudrooms, outdoor fireplaces, wine cellars and more, depending on the community and floorplan chosen.
We're excited to announce that Century Communities is in the top 3 winners in the Home Developer category at The Best of the Springs event. This speaks to the quality of design and craftsmanship we apply to every new quality and affordable home we build, and every new community we develop. We're proud to be part of this amazing region where homeowners can enjoy a slice of our great Colorado lifestyle," said Tammy Zink, Colorado VP of sales and marketing for Century Communities.
Zink added that Century Communities is committed to helping its homeowners feel like they belong in the home they choose. For any new move-in-ready home or home built from the ground up and purchased at Meadowbrook Crossing or Lake of The Rockies, homeowners can take advantage of closing cost assistance, designer upgrades, savings on the purchase price, or lock-in rates — all depending on the homes selected and options chosen.
If you believe you belong here at one of these outstanding communities, then stop by one of Century Communities' sales offices today at 7205 Boreal Drive in Colorado Springs, or 17592 Leisure Lake Drive in Monument to learn more about move-in-ready homes and savings incentives. For more information please visit: centurycommunities.com/colorado.