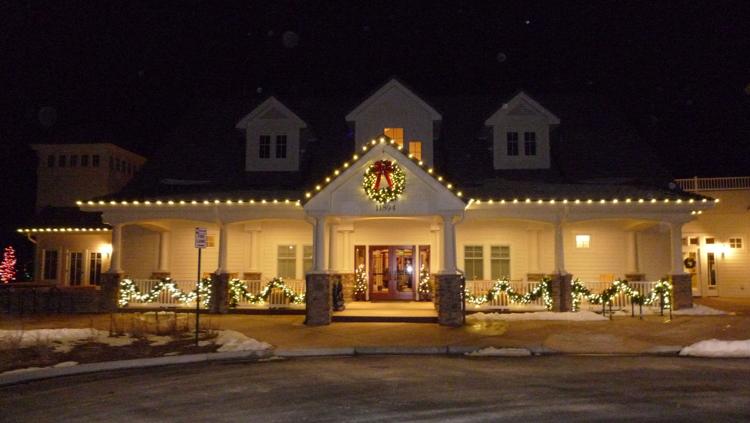 Holidays can be stressful, especially if one finds it difficult to juggle all of the demands of the season. From cookie swaps to wrapping and sending presents; from shopping excursions with crowds and rainchecks; to myriad responsibilities for Mom and Dad, it's key to retain balance during this hectic time of year. Fortunately, Cordera residents have a decided edge.
On December 1, the families at Cordera welcomed the season in style at the Cordera Community Center, a private resident clubhouse, with a spectacular outdoor tree lighting and visit with Santa. There, kids and adults created holiday crafts; played games; and enjoyed a hot chocolate bar and scrumptious baked goods, too. The Conservatory Carolers gave everyone that special, seasonal feeling with their pitch-perfect carols—while Santa himself flicked the switch to light the trees—about 75 in all—that now grace the streets of the neighborhood.
While Cordera is a thriving, mature community where about 1,200 families call home, there are still home sites for sale, with 60 lots just released in November. This spring and summer, about 120 lots become available.  Home shoppers can expect additional fresh, new, exciting lot offerings from builders who know homeowners have very specific ideas for their respective dream homes. There's a new, five acre park still to come, in addition to the brand new, 16-acre Wild Rumpus Park, that's kept totally accessible through all four seasons. And if it's summer that thrills you, a second, lap-style pool is opening summer 2020, with no addition HOA dues. 
Great rooms for great gatherings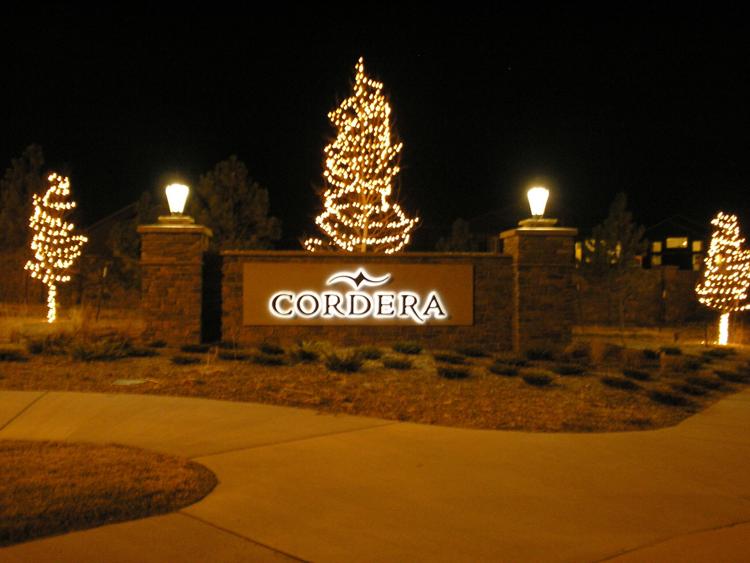 Many people living in Cordera have chosen their favorite lot from a plethora of options and have worked with their homebuilder to design interior and exterior facets of the home. They work with regional favorites like Campbell Homes; Creekstone Homes; Goetzmann Homes; Keller Homes: Saddletree Homes: and Vantage Homes. There are homes available right now with exquisitely appointed open concept floor plans; a place for a wet bar replete with the finest decanters of whatever makes you smile during the season; and finished basements so kids can have their own fun space during holiday get-togethers.
Those who would like a floorplan that's highly conducive to entertaining need look no further than Cordera's open concept floor plans. These are universally acknowledged to provide many benefits, like more natural light; excellent "flow" for entertaining; and the inclusion of separate but connected seating areas that allow guests to freely mingle or the family to study, talk or just be together while preparing meals. Several homes in Cordera have the vaulted ceilings often associated with open concept floor plans; and all of them are located in a community where your friendly neighbors will help you feel right at home.  In fact, Cordera attracts all types of buyers and includes a wide variety of age ranges and family makeups. Multigenerational arrangements are common: Parents often buy in the same neighborhood as their adult children, making for a more settled holiday season without the stressors of airports.
Community of caring
Moving into Cordera, many families are excited to see the instant comradery and connections between neighbors —even in the wintertime, with children playing in the snow at the expansive Grand Lawn Park. That's because as neighbors, Cordera community members are committed to keeping this "kids can be kids" aesthetic. With award-winning grammar, middle and high schools surrounding the master-planned community, Moms and Dads can plan to have just as much fun meeting new friends as their children, with carpools; book clubs; and poker nights all part of the wider Cordera community experience. As are the pretty, lighted streets during this season of celebration.
Maintained paths
Joggers bundled up against the cold are common along the masterfully planned trails and paths that while away through a winter wonderland. While still only ten minutes to I-25 for an easy commute, Cordera homes feel nestled in nature, with friends and family happy to unwind beside stone fireplaces; or in the popular, outdoor living rooms, complete with a fire pit, hot tub and heated kitchen and living area. Working with custom builders, these homeowners have discovered that thanks to the relatively mild days interspersed within Colorado winters, indoor/outdoor entertaining doesn't have to end in autumn. In fact, Christmas in Colorado Springs reaches a normal high temperature of 42 degrees Fahrenheit with the mercury topping out at 67 degrees during the warmest Christmas on record. Colorado Springs has had a White Christmas 29 times since the national weather service has been tracking it; and there's a climatological chance of an inch or more 41% of the time.
Winter precipitation aside, your family will safely bundle up and walk the well-maintained streets to visit friends and neighbors or walk to the pageant at Cordera's own D-20 elementary school. Whatever the weather, Cordera provides a holiday home base to beat the stresses of life. For more information visit Cordera online at www.cordera.com or take Briargate Parkway east, just past Powers, to see the streets alight with holiday spirit.