Let your kids and grandkids experience the childhood you remember at Cordera — where you get the community feeling you've been missing, and the carefree lifestyle you deserve. At Cordera, residents receive the gift of neighborly streets and long summer nights of laughter. And any conversation about the superlatives of the community should mention their partnerships with the award-winning builders who contribute to creating it … the select few from whom Cordera residents choose to build their dream homes.
Campbell Homes (282-9250, campbellhomes.com) is proud to have be a Signature Builder in the Cordera community with home designs that fit residents' lifestyles in both form and function. They have been named "Builder of the Year" three times by the Housing and Building Association of Colorado Springs for continued service and contributions to the community. Established in 1965, their four decades-plus of success says it all. Campbell Homes' Cordera builds start in the $400s, and their model is available to view at 4407 Outlook Ridge Trail, with a brand new model opening next month.
CreekStone Homes (434-7339, creekstone-homes.com) was founded in 1995 with a strong belief in the American dream of homeownership, and their new builds represent what today's most discriminating home buyers are seeking. They are proud to have NAHB-Certified Green Professional oversight in the construction of their homes, boasting features such as: Greater energy efficiency, healthier indoor air, reduction in water usage, improved durability, and reduced maintenance. CreekStone homes in Cordera start in the low $400s, and a model can be viewed at 4328 Outlook Ridge Trail, with a new model opening next month.
Goetzmann Custom Homes (548-1338, goetzmannhomes.com) is a highly respected award-winning, local semi-custom and custom homebuilder with over 35 years of experience. They offer generously sized lots, most of which back up to open space. Values like loyalty, commitment and communication are at the core of their vision. Their homes in Cordera start in the low $500s, and a model is available to view at 4021 Horse Gulch Loop.
Keller Homes (282-9378, kellerhomes.com) has crafted thousands of homes and earned a plethora of industry awards since their founding in 1983. They use the most energy-efficient products and practices to ensure that their builds provide comfort and sustainability for generations to come. They also have lots available in the new enclave of élan within the Cordera community. These homes offer low-maintenance living with installed and maintained landscaping, parks maintenance, snow removal, and weekly trash/recycling services. Their homes start in the low $400s, with a Cordera model available for viewing at 4408 Outlook Ridge Trail, and a new model opening in élan next month.
Saddletree Homes (284-5337, saddletreehomes.com), established in 1994, has built some of the finest luxury homes in Colorado Springs. They build truly semi-custom homes, allowing customers to make the design changes necessary to build the homes of their dreams. They have won multiple awards, including the Parade of Homes' Industry Awards of Excellence for eight consecutive years. Their builds in Cordera start in the low $600s, and a model can be viewed at 4007 Notch Trail.
Vantage Homes (282-6535, vantagehomescolorado.com) started building in 1983, immediately making customer focus their top priority. And after more than 35 years, they are still driven by that commitment. The products that go into their homes are chosen not for price, but for quality, structural integrity, low maintenance and energy efficiency. Besides their single-family homes in Cordera, they also offer lots in the Cordera neighborhood of Estancia to provide low-maintenance, high-community living. Their homes start in the low $400s, with a Cordera model available to view at 10309 Webster Pass Court, and an Estancia model available to view at 4754 Portillo Place.
No matter which builder you choose, you'll be creating a beautiful, new, single-family, semi-custom, low-maintenance home, with a timeless exterior, innovative floorplan and stylish interior finishes. And after you select your design and outdoor living options, Cordera provides the ideal setting, in a quiet community with easy access to amenities, upscale shopping and dining, the acclaimed Academy School District 20 and convenient access to I-25.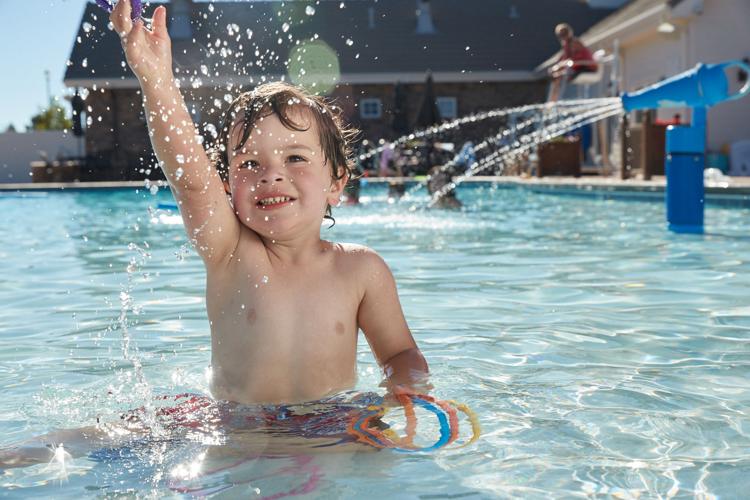 Cordera Community Center is the place for events, such as holiday parties, music and art classes, food and wine tastings, book clubs and other social gatherings. Amenities include a heated outdoor pool, fitness room with cardio machines and weights, fitness classes, a café, child watch room, and an extensive event schedule. The nearby Grand Lawn features a five-acre open space park with picnic areas, community events, movies, music and more.
Living in Cordera, residents can enjoy nature and stay healthy – all without having to drive anywhere. There are more than four miles of interlinking trails, in addition to wonderful themed parks for kids throughout the community.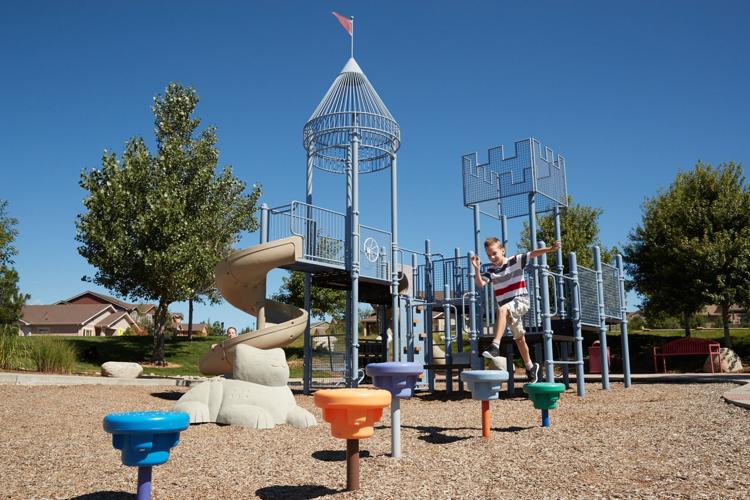 In fact, plans for the new 16-acre Wild Rumpus Park are in development, with a variety of features inspired by the award-winning storybook, "Where the Wild Things Are," encouraging outdoor play, discovery, and use of imagination.
When you live in Cordera, your children can enjoy the cherished experiences that you remember from your own childhood, with an environment and neighbors committed to keeping it that way. Cordera is that rare community where kids can still be kids — and that just might be the greatest gift you can ever give them.
Visit cordera.com for more information.