Colorado Springs CollegeAmerica Offers Free Life Skills Classes to Community, January 28-31
Life can be complicated. And no matter your stage of life or your personal ambitions, it can be hard to keep up with the knowledge we need to successfully navigate all the day-to-day aspects that govern our lives.
The Colorado Springs campus of CollegeAmerica is seeking to help by offering a series of FREE Life Skills Classes to all members of the community, from January 28-31. These classes will help people get up to speed on skills that are valuable in everyday life but often fall by the wayside, as finding formal training for them can be inconvenient and costly.
Whether you are interested in receiving First Aid or CPR certification, learning what it takes to own and operate a business, or how to keep yourself safe online, there's something for everyone. The sessions run one to two hours, and cover a variety of relevant topics (listed below). If you are 18 or older and are interested in attending, they will be held at the CollegeAmerica campus at 2020 N. Academy Boulevard. Walk-ins are welcome, but seating may be limited so it's recommended you call 719-622-3624 to reserve a spot.
CollegeAmerica has hosted the classes quarterly since last July, which they fund completely themselves without sponsorship. Although the seminars offered vary each quarter, their goal remains to provide everyone with the knowledge and skills to be successful. The last series of classes held in October were well attended.
Kiersten Murdoch, executive director of CollegeAmerica's Colorado Springs campus said, "We have had teenagers to senior citizens and everyone in between sign up for our sessions. We would like for people to leave with a better understanding of the topic discussed, and hope it makes a difference in their everyday lives."
When asked why they offer these classes to anyone in the community free of charge, a school representative said, "To give back to the community. We're a nonprofit, and we have an initiative where all our different campuses try to find ways to give back to the community and help out."
Murdoch concurred, "CollegeAmerica is always looking for ways to participate in activities, give back to the community, and provide services to the public. For the past 10 years, we have offered GED® tutoring at no charge to help prepare people to take their GED® exam. We participate in volunteer organizations and walks, and allow various businesses to use our facility for seminars and classes. Twice a year, we host career fairs for vendors and the public free of charge. It is our goal to provide beneficial services to the community and allow them to see our beautiful facility and the services that we offer."
All classes are taught by CollegeAmerica instructors, who are certified or experienced in the topic. Of the classes, the school rep says, "They're held in classrooms in our facility, so it's a professional classroom environment to maximize the learning atmosphere."
As to how class topics are chosen, Murdoch said, "Basically, we have an all-staff meeting and talk about what challenges the community may be facing or [classes they] could benefit from, and go from there. Oftentimes, it stems from things that we ourselves have issues with and feel that others may, too."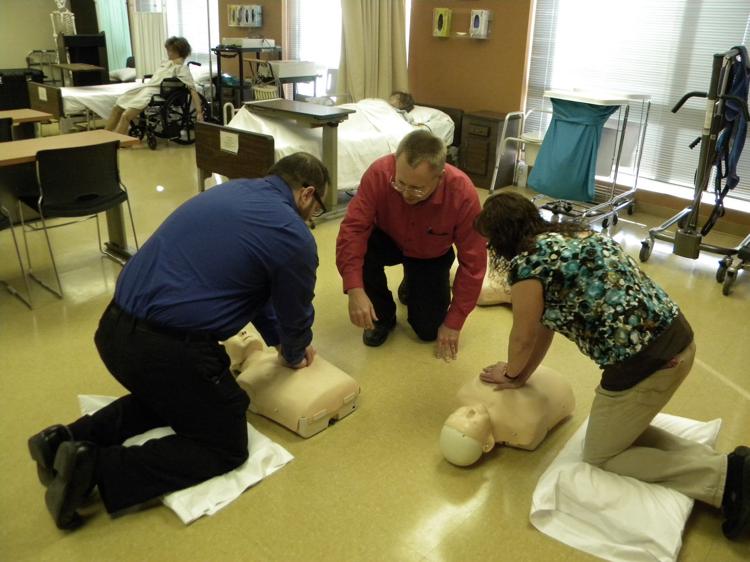 Their instructors are extremely passionate about what they teach and look forward to sharing their experience with you. Added Murdoch, "We have received some great feedback from past attendees; especially with regards to our CPR and First Aid classes, as the members who successfully completed the course were certified. People seem to enjoy the various course selections and some even sit for more than one session. We will continue to switch up the classes and are always open to suggestions."
We can't know everything or control all of life's variables. But some basic knowledge can sometimes make all the difference in navigating everyday life, and these Life Skills Classes can teach you so much in so little time. The classes are absolutely free and open to the public, so you have nothing to lose and only knowledge to gain. These services are not within the institution's scope of accreditation.
Daily class session schedules:
Monday, January 28
• 11:30 a.m. Keys to Business Success
• 1 p.m. First Aid
Tuesday, January 29
•11:30 a.m. Deciphering Medical Insurance Forms
• 1 p.m. Preparing a Federal Job Resume
Wednesday, January 30
• 11:30 a.m. Accounting for Small Businesses
• 1 p.m. CPR
Thursday, January 31
• 11:30 a.m. Staying Safe Online
• 1 p.m. Logical Decision Making
Detailed class descriptions are available here. Call 719-622-3624 to reserve a seat.