For the past 23 years, CIVA Charter High School has provided Colorado Springs students with the opportunity to place the arts front and center in their lives!  With creativity encouraged throughout its programming, kids at CIVA are encouraged to "follow their dreams and change the world."
Here are some little known facts about the high school that prioritizes small classes, college prep and art and performance programs that you can't find anywhere else.
1. Recognized statewide for academic achievement: The only Springs high school that holds the three-year honor of winning The Governor's Distinguished Improvement Awards that are given to schools that demonstrate exceptional student growth. On the school performance framework that is used by the state to evaluate schools, these schools "exceed" expectations on the indicator related to longitudinal academic growth and "meet or exceed" expectations on the indicator related to academic growth gaps.   "The academic success is the result of inspiring our students to pursue their passions and to follow their dreams," said science teacher, Rachel Van Scoy.
2. The best award-winning arts programming of any high school in the Pikes Peak region:  CIVA's emphasis is on the arts, offering a wide variety of visual, performing and fine arts.  There are courses in acting, dance, violin, guitar, choir, film, theatre, painting, drawing, photography and many more.  All students are required to take some sort of visual arts course at CIVA—from award-winning art instructors and among award-winning students. They can then move on to expand their reach and talents in any art major of their choosing.
"We are recognized as the Springs' advanced visual and performing arts high school," said Administrator Joni Landry, "the sky's the limit for our artists when it comes to creativity and honing artisanship skills for life."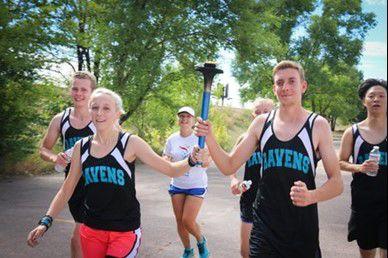 3. The peer culture is friendly and welcoming!  The culture CIVA continues to cultivate is one of their biggest assets for their students. 
"I've never been to a school that's like a warm hug," said student Chris Gilbert.  Small class sizes, kind students and engaging teachers make for a great daily experience.  Students have described the school as feeling like a 'warm hug' while being encouraged to passionately follow their dreams. 
Ensuring a safe and comfortable atmosphere is the school's main approach to education and their success is evident in their academic and artistic achievements.  At CIVA, students want prospective friends to know:
"You will feel safe and comfortable here," said Savannah Fildes. "We take care of each other and celebrate each other's achievements."
4. College preparatory excellence:  Many parents and their children are unacquainted with the various components admission boards take into account when looking for future scholars. Colleges like to see service learning opportunities however CIVA has a larger goal in mind when they made it a requirement for each student to complete service learning hours in the community.  These hours are called 'a habit of the heart.'  "At the end of the day, it is a part of our commitment to students' growth and learning."  - CIVA Artist in Residence and Community Liaison Elizabeth Acree-McClenahan. 
A broad array of AP courses and challenging curriculum creates a readiness for post-secondary achievement for CIVA students, not just a checklist for applications—students are creatively and personally challenged to be their best at CIVA. The school also focuses on international students, hosting 10-15% of students from other countries to enable students to play a role in "fostering peace and understanding in (our) school, community and around the world," stated Headmaster Zimmerman.         
5.Quantum Learning takes students to the next level:
Your student will master essential skills and strategies using this advanced, brain-based learning network. Through these courses in expository reading, writing and critical thinking, students are encouraged to understand their own learning styles and become active participants in obtaining 9 keys of excellence:
Spirit of the game—A spirit of goodwill in everything they do
Integrity—Matching behavior with values 
Make failure lead to success: Learning from failures and feedback
Speak with good purpose: Think before you speak and speak honestly, kindly
This is it: Make the most of every moment
Commitment: Make your dreams happen
Ownership: take responsibility for your actions, thoughts, feelings, words
Flexibility: Be willing to do things differently
Balance: Live your best life, being mindful of others while focusing on what is meaningful and important in your life
"Students and teachers work together to create an engaging, focuses and highly-developed learning atmosphere in which students can feel safe and supported," said Administrator Elise Robinson.
And remember: Athletic opportunities include Cross Country, Rock Climbing and Ultimate Frisbee and Yoga. 
Call them today to be added to the waiting list and to meet with staff and administrators and set up a guided tour or shadowing day for your child.