Apex Audiology: A history of service with integrity in Colorado Springs
Dr. William Herholtz, owner of Apex Audiology is the third in a multigenerational line of hearing instrument providers. When asked why he was passionate to carry on the family business, he said, "You can help someone regain their sense of hearing and see how it changes their lives and the lives of the people around them."
And, although he's an affable guy who's affectionately known by his patients as simply "Dr. Bill," he's serious when it comes to how important good hearing is to overall health.
"Untreated hearing loss can lead to dementia, cognitive decline and isolation. When you lose hearing, it's gradual over years, so your lexicon — your memory of how things are, changes. You don't hear it the same way, so you don't remember it the same way," he said. Indeed, recent research by Dr. Frank Lin, director of the Cochlear Center for Hearing and Public Health at Johns Hopkins University, supports this correlation.
Founded by Herholtz's grandparents in 1957, Apex Audiology is a locally owned and operated hearing care practice focused on providing personalized care, as well as a higher level of service and expertise. "Customized solutions for each and every patient, regardless of what their hearing problem may be, or what they've been told in the past. We're usually able to help even people who have been told that they can't be helped," said Dr. Bill.
Service is important with hearing instruments, and integrity is the core value at Apex. They have a refined process for fitting the instruments; following up with patients to ensure that they get ideal results not just when they're initially fitted, but for the lifetime of the instruments that they've purchased.
One of the biggest differences between Apex Audiology and their competitors is that Apex is staffed by university-trained doctors of audiology, and the generations of experience they have in the field allow them to properly fit and program the hearing instruments they provide so patients get the best results. Dr. Bill understands why consumers are inclined to purchase hearing instruments from the internet or big-box stores, but is disturbed by the lack of service they receive.
"A lot of times people say, 'Well, I got these, but they never showed me that.' Or, 'They just gave them to me.' Those people, sometimes they'll come in and we'll do a test with their hearing instruments on, and they might get 20 or 30 percent of the words correct. And with our fitting and our instruments, we can get them up to 80 or 90 percent," he said.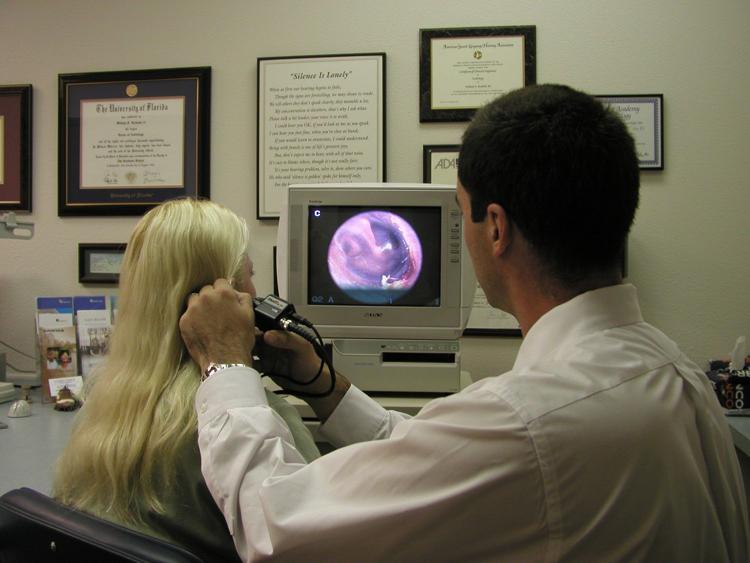 Dr. Bill cites a 2013 Consumer Reports study that found about 60 percent of the hearing instruments sold in the U.S. are not fit properly. "We really have a certain disdain for that number, and we go the extra mile to get it done just right for our patient," he said.
Most hearing care practices are now owned by out-of-state corporations, often by hearing instrument manufacturers themselves, meaning those clients are only being offered products made by that manufacturer — not necessarily the products that are best for them.
Said Dr. Bill, "There are six major manufacturers and we work with all of them. Of course we have our preferences, and those change as technology changes. Our independence and our family ownership allows us to do what's best for the patient, regardless of who makes the hearing instrument."
The fact that technology has advanced hearing instruments so much in recent years just underscores the importance of proper fitting and programming. Like most things, they've come into the digital age, converting analog sound into digital via a chip that can be fine-tuned to cancel noise and enhance speech. There are also the recent innovations in Bluetooth technology that allow hearing instruments to be paired to users' phones, computers, televisions and more.
Herholtz admits that hearing instruments are an investment, which is why it's so important to purchase them from a provider who offers the proper service and support. He said that when people purchase them from the internet or a big-box store, they often find them to be ineffective after a year or two. "All of our instruments come with a lifetime of follow-up care, routine checkups, and we retest the hearing and make sure they're set properly."
In closing, Dr. Bill reiterated the importance of healthy hearing and the solutions that properly supported hearing instruments can provide, "It's a very emotional issue when you lose your sense of hearing. You get disconnected from the people in your life, and so when people face up to that and finally realize that they need to do something about this, it can be life-changing."
Apex Audiology is located at 1902 W. Colorado Ave., Suite 100, in Colorado Springs, with additional locations in Pueblo, Cañon City and Limon. For more information or to make an appointment, call 719-247-9000 or visit apexaudiology.com.