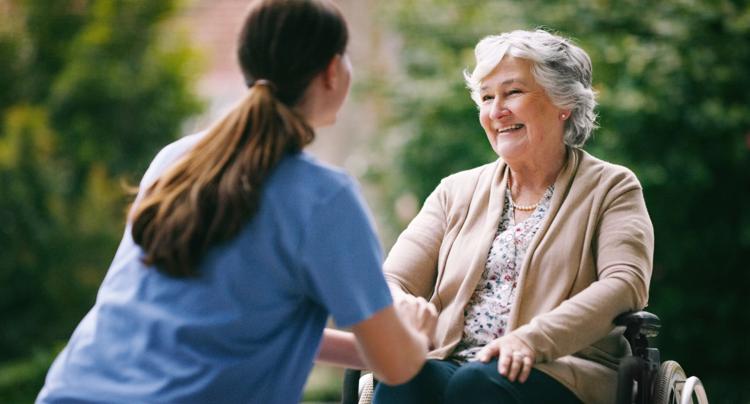 Ken Jenson has been fielding calls from all over the country about loved ones who are immune compromised or 65+ and especially at risk for COVID-19. He wants you to know that he and his dedicated team of caregivers remain on the job for the ones you love. 
"First, I want our clients to know our caregivers are being tested for fever and will not be working with that or any symptom of COVID-19," Jenson said. "We are here to keep your loved ones as safe as possible in these trying times." 
Caregivers can help elderly and immune compromised clients take care of all of the details while they are keeping safe as possible from COVID-19. That means calling doctors for refills and dropping off and picking up prescriptions. Caregivers can help Mom and Dad call or go online for grocery delivery and keep out-of-state and quarantined family members apprised of their much-loved family member's current wellness.
"We are always very careful with good hygienic practices as recommended by the CDC. All caregivers have been well-trained on these and on the importance of hand washing and sanitizing surfaces for their clients," Jenson said.
Jenson suggests families keep in close contact with elderly relatives and share CDC recommendations with them. He adds that many families would be surprised to know that their long-term care (LTC) insurance will cover all of Amada's services for their loved ones—Jenson said to give him a call for more about how to activate your policy.  And of course, as the CDC urges, always "Call your doctor:  If you think you have been exposed to COVID-19 and develop a fever and symptoms, such as cough or difficulty breathing, call your healthcare provider for medical advice."
New clients and caregivers welcome
Because of the COVID-19 health crisis, Jenson said that they are performing more phone intakes and remote 60-day assessments to be extra careful. He is working with current families and new ones to ensure that their loved ones are taken care of in these difficult times, especially because CDC experts suggest that those who are 65 and older should limit community exposure for the next few weeks, just to be prudent. Why not reach out to Jenson and his team to have an extra assurance that everything is being done to make these social distancing days as easy as possible on your family?
"We are very protective of both clients and caregivers in our Amada extended family. Of course there are many unknowns in dealing with COVID-19 but I want families to know that everyone here is working hard to keep us all healthy and safe," Jenson said.
In fact, caregivers have ramped up sanitizing efforts at client residences and additional caregivers are also needed to meet the demand that the novel coronavirus pandemic has caused. They also have received specialized training in practices to limit the spread of illness when caring for ill, older or immune compromised individuals. Jenson expects the need for compassionate, skilled caregivers will grow exponentially in the days and weeks to come.
"Healthy individuals can contact us right away to get started on background screening and interviewing online for skilled caregiver positions," Jenson adds. "Those who perhaps have public-facing jobs impacted by social distancing mandates can look to our industry as an alternate career that's extremely rewarding and serves an important public service, as well," Jenson said. "Our caregivers find that what they do each day is really making a difference in families' lives and they're so fond of their clients—they wouldn't have it any other way." 
Jenson urges families to reach out to him personally with any issues or fears that they have. "We can get through this together," Jenson said. "Amada is ready to help."