If you can make it to only one show a year, let Shen Yun be your show of choice. And for theatergoers, the company's two-day run at Pikes Peak Center is the best time to see this one-of-a-kind performance.
Since its inception, this classical Chinese dance company has taken off — literally — with flying colors. The pageantry of dance and music is a stunning display of Chinese civilization, with dancers spinning and leaping through the air in brilliant handmade costumes that take your breath away.
Shen Yun Performing Arts had humble beginnings as a small nonprofit organization based in upstate New York. It was established by a group of talented ethnic Chinese artists who came together with a shared vision: To revive genuine traditional culture and share it with the world. And as soon as it started touring in 2006, Shen Yun was an instant success.
By now, Shen Yun has toured to over 100 cities worldwide, performing in front of millions across North and South America, Europe, Asia and Australia. One of its trademarks is that each new season the company creates a brand-new production, which remains secret until the day the curtain finally rises.
More than entertainment
But sheer popularity is not the only reason why you should experience Shen Yun. Perhaps because of its profound mission, watching Shen Yun gives you the feeling of partaking in something historic, in the resurrection of a long-lost world. It is the world of ancient China, the Middle Kingdom that can no longer be seen even in China today. It is a world where divine beings and humans interact, a magical world of myth and legend.
And it is a world that speaks a universal language. The performance includes bilingual emcees who provide brief preludes to each story. But more importantly, classical Chinese dance and music speak directly to the heart, resonating with the audience on many levels.
Many audience reviews speak of leaving the theater with indescribable happiness, inspiration … even a newfound sense of peace.
The performance "touched the deepest part of my soul," wrote Maria Banks from Los Angeles in one review posted on Shen Yun's guestbook. "Shortly after returning home, my tears broke through again and again. It feels as though my heart's been washed clean. Gratefully yours."
"Brilliant. Mind-blowing," another wrote after watching Shen Yun in Toronto. "Heavenly music and dance evoke a land of purity, where the good always prevails."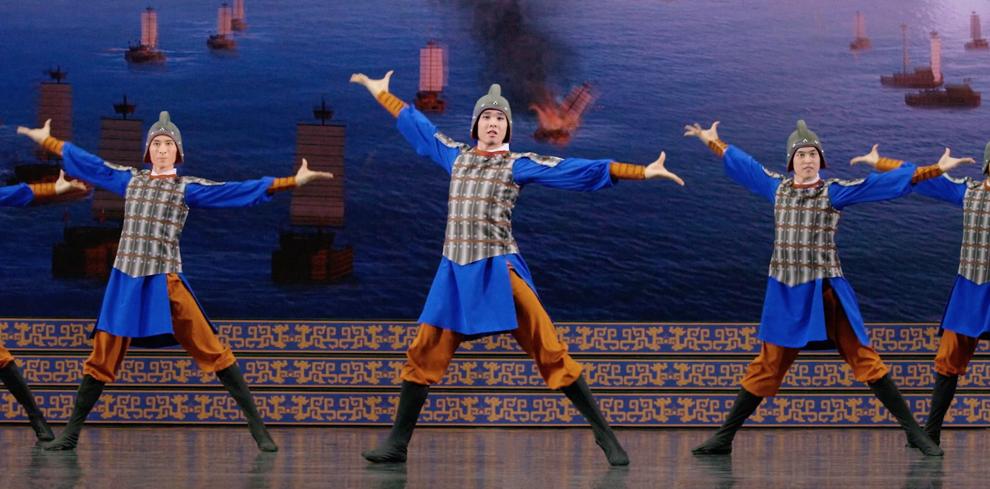 Not 'Made in China'
Shen Yun is completely independent of the regime of the Chinese Communist Party in Beijing. In fact, even though the company annually performs to sold-out theaters in the United States and around the world, the company is actually not allowed to perform in China.
Over the last six decades, China has experienced one communist campaign after another aimed at destroying traditional culture. Mao Zedong's Cultural Revolution of the 1960s and 70s, in particular, sought to completely eradicate this ancient heritage. Young Red Guards were mobilized to smash sacred statues, burn books, and defeat the Four Olds, which included the system of virtues that guided Chinese morality for thousands of years.
"Actually in China today, you can no longer see performances of genuine traditional Chinese culture," says principal dancer and choreographer Yungchia Chen. Chen grew up in China, later moved to Taiwan, won numerous awards throughout his dancing career and finally found his calling with Shen Yun. "China has many talented dancers, but the choreographers aren't allowed to choreograph any traditional pieces for them to perform. Shen Yun is different."
"Shen Yun is making every effort to bring back the most authentic, most beautiful part of Chinese culture — through dance," he says. "For example, the story of a mother tattooing four words on her son's back is about loyalty. The legend of splitting the mountain is about filial piety, and the tale of Wu Song battling the tiger is about courageously helping others."
Shen Yun will be performing at Pikes Peak Center for the Performing Arts March 19 and 20. Tickets and information at www.shenyun.com/cosprings.