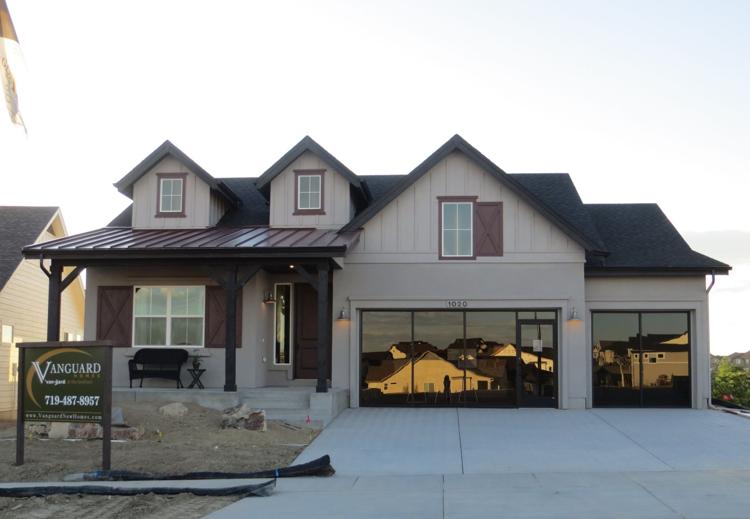 Tour a new model and The Gathering Place, now open, offering beautiful options for your family 
The Farm works with the Springs most sought-after builders who are on the top of clients' lists for responsiveness, value and their array of chic, delightful designs. Prospective homeowners here can select one of four homebuilders offering a variety of move-in ready homes with inviting exteriors, modern floorplans, and stately interior finishes. Or, if you would like to start from the ground up, the builders are ready to help you create the perfect custom home, as well. Only 10 custom home sites remain—so act soon if a custom build is part of your dream for living at The Farm!
Keep in mind as well that The Gathering Place is NOW OPEN—come by and take in the luxurious spaces, where community members take classes and use a state-of-the-art fitness room; host parties in the Triple Crown Room, Winner's Circle Courtyard or Jockey Club Patio; and take advantage of the refreshing pool, pond and acres of beautiful trails. 
Another activity residents have started to enjoy is stand-up paddle boarding - great exercise, and a fun family activity or the go-to sport for solitary relaxation while viewing the sweet sunsets on Lake Ann. The Gathering Place is open for extraordinary memory making! Nestled among miles of preserved trees and native vegetation, The Gathering Place will be the heart of the community, offering all sorts of ways to connect with nature, family and friends. www.thefarmcolorado.com
Vanguard Homes opens brand new model -perfect for entertaining
Check out this elegantly designed farmhouse, just finished on June 28 and open for tours today.
The modern farmhouse movement in architecture remains one of the hottest designs for discerning homeowners. Vanguard's take on this style includes an electrifying color pallet. If you're in the market for dynamic, main level living with a luxurious master suite and sitting room, this home possesses one of the most striking main levels available anywhere; and includes an additional bedroom or office space, as well. 
All around, take in the captivating Colorado mountain views. Standing on the patio from the lower-level walkout, you'll be surrounded by nature's majesty. This level also features spacious 9-foot ceilings, a wet bar, and multi-function seating areas for wonderful entertaining or just chillin' with the family.
Keep in mind, each home is independently rated and has achieved Energy Star status, providing you with economical, ecological peace of mind for years to come. Visit this model today and at their website at vanguardnewhomes.com.
Goetzmann models check all the boxes for luxurious living at The Farm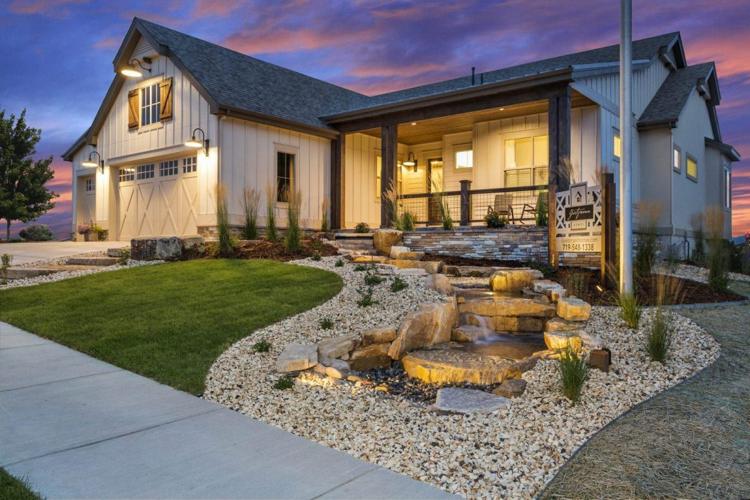 Entering the Sterling from Goetzmann at The Farm, and you are greeted by the soaring beamed ceilings and spacious rooms featuring abundant natural light and spectacular views.  Warm alder doors and hardwood floors throughout the main living area add to the warmth of the great room's floor-to-ceiling stone fireplace. The ideal dream kitchen includes stainless steel appliances to delight any chef, an enormous island, solid surface countertops, painted perimeter cabinets and a walk-in pantry. 
With an elegant, five-piece master bath including a freestanding tub, quartz countertops and a stunning unobstructed view of the U.S. Air Force Academy, the main level also includes a private junior suite and study with French doors.  
The lower-level, relaxed recreation room offers a second gathering spot for entertaining with its private lounge area and wet bar, stone fireplace and patio. This is truly a home of fine craftsmanship and design with unbelievable adaptability and luxurious comfort abounding throughout. Make an appointment today to experience its fine craftsmanship and fantastic ambiance and don't forget to visit The Gathering Place, as well—now open for the community to enjoy. www.goetzmannhomes.com
Saddletree Homes provide indoor-outdoor living with upbeat Colorado touches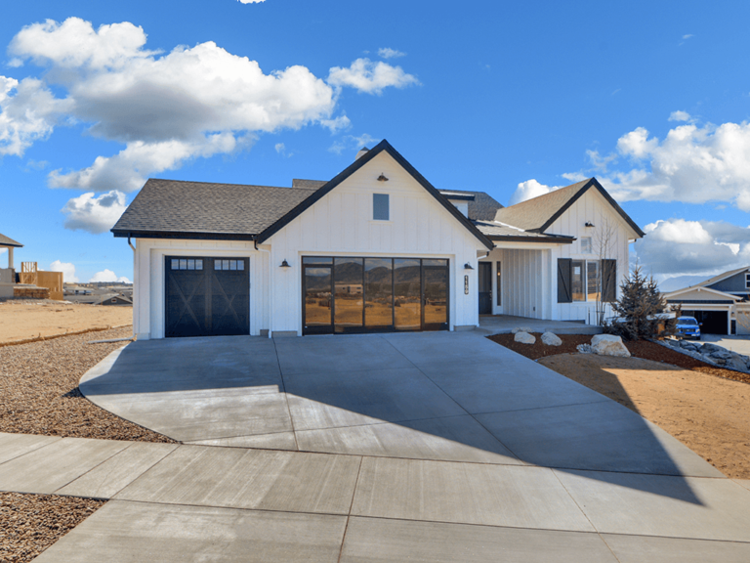 The freshest architecture at The Farm offers some of the city's most beautiful walkout lots in intimate neighborhoods with sweeping views of Pikes Peak. The exterior elevation of the Palisade 1923 and its clean lines offer a grounded, secure, and inviting feel that will continue to grow in beauty as the landscaping and neighborhood mature.  
Within, soak up the feelings this space evokes: Created for people who enjoy gathering in a relaxed environment that fosters connection, this home comes complete with fixtures that are a bright mixture of value and luxury, each hand-selected for fit, finish, and style. This superb home also offers great flexibility for any lifestyle. One can easily imagine the house decorated in numerous styles and themes. 
Its kitchen creates a sense of hearth and centricity for the home and can become the foundation for years of great memories. The true chef will be right at home too, with all the right tools for serious cooking. The home is rounded out with spacious bedrooms, ample storage, and the proper systems to support your life. 
Visit www.saddletreehomes.com for more.
Vantage Homes—delightful designs, deluxe choices for customizing to your heart's content
At Vantage Homes, constructing a beautiful new home is a collaborative art. They really listen to you when they are crafting a home that fits your lifestyle.
Visit the Mustang at The Farm: This modern and spacious open-concept ranch plan is ideal for those who love to entertain. The great room boasts lofty 11' ceilings with a standard fireplace for an inviting and cozy atmosphere and includes a large rear patio complete with partial cover for ample space to entertain.  
The main level features an inconspicuous, yet conveniently placed laundry room along with a standard tech center and two bedrooms with the option to convert the study into a third bedroom. Homeowners who choose to finish the basement will enjoy additional options including a recreation room, media room, and up to three additional bedrooms including an optional junior suite. A spacious three-car garage comes standard with the option to upgrade to a four-car garage. Fully finished to include up to 6 bedrooms, including a junior suite option, and 4.5 baths, popular options include 9' basement ceilings, deck and patio cover extensions, powder bath, boot bench, and additional pantry cabinets. www.vantagehomescolorado.com