Multimillion-dollar price tags, expansive suites and cutting-edge technology are the norm for new hospitals and health clinics in Colorado Springs.
Not in the city's southeast. Here, primary health care for thousands of patients is in a gray, low-slung building originally made for defense contractors, not doctors. Missing it is easy — the turn-off from South Academy Boulevard arrives long before its front doors are even visible.
"Because there's so many apartments around us, people walk to us, they push strollers over here, they ride bikes over," said Cory Arcarese, founder of Value Care Health Clinic.
They come seeking the nurse practitioners who tend to some of the city's most impoverished residents — the clinic a rarity in an area with some of Colorado Springs' most glaring health disparities and some of the fewest nearby options for care.
Largely devoid of the same health care resources as the rest of the city, the southeast's residents on average suffer unusually high rates of poor physical health and mental distress — ailments that often go untreated due to the ever-rising cost of care. The disparities highlight a deep divide between the southeast and the rest of the city while offering a clear example of the physical and mental repercussions that poverty, crime and food insecurity can inflict on a community, health care experts say.
Southeast Health: Click the highlighted areas below for detailed information
A four-year average of Colorado Department of Public Health and Environment surveys from 2012 through 2015 for 18 census tracts in the southeast shows:
• One in eight residents on average were in frequent mental distress, among the highest such rates in the state;
• One in seven residents delayed medical care because they couldn't afford it;
• Higher than state average rates for obesity, diabetes and fair or poor health;
• Lower than state average rates of people engaging in recreational physical activity.
The southeast's residents also must drive farther to get help.
No hospitals and only a couple urgent care clinics exist in the southeast.
At least 90 percent of the roughly $1 billion in hospital construction projects planned or underway in Colorado Springs are at least a 5 to 9-mile drive from the closest houses in southeast Colorado Springs. That includes the new Children's Hospital facility under construction in the city's far north Briargate neighborhood, which is far from any city bus line.
To be sure, there are nonprofits here whose presence is vital for Medicaid recipients.
Just inside the southeast's periphery exists facilities for Peak Vista Community Health Centers, a federally qualified health center that offers a host of services, including family, pediatric and dental care, for Medicaid patients and the uninsured. And AspenPointe, a mental health provider also catering to Medicaid recipients, has actively sought to locate its services in the southeast.
But finding a nearby family doctor here can still prove frustratingly difficult.
Value Care is the only primary care clinic outside the Printers Park area in the 80910 ZIP code, and no such doctors work across the street in 80916.
That's exactly what drew Arcarese here.
A former vice president of circulation for The Gazette, Arcarese quit the newspaper business in 2010 to become a small business consultant.
But two years later, her 55-year-old brother died of complications from diabetes. At that moment, she took her inheritance and vowed to keep others from suffering the same fate.
"He was one of those folks who fell through the cracks," Arcarese said. "I had all this grief, and I didn't know what to do with it, and I put it all into this because I wanted it to mean something.
"That's why we came to southeast. Because just because you're in a low socio-economic level, there's challenges. There are challenges, where maybe other folks don't understand."
Poverty, crime take a toll
Many factors contribute to a neighborhood's health status other than the lack of nearby doctors, health experts say.
The community in which a person lives — the rates of crime, poverty, and the availability of fresh food and grocery stores — has a strong impact on a person's overall health, even life span, according to the Centers for Disease Control and Prevention.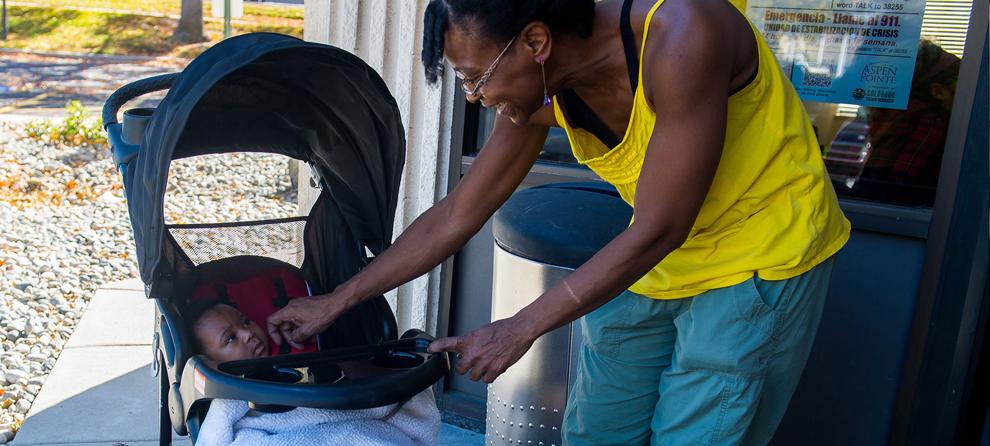 It's a concept called the social determinants of health. And few other Colorado Springs communities face as many of these challenges as the southeast.
Despite accounting for only 21 percent of the city's population, the southeast has 42 percent of the city's impoverished children and 34 percent of its impoverished residents. It also has 42 percent of its gang incidents and 31 percent of its violent crime.
Academy Boulevard — a six-lane thoroughfare — and the region's other large arterial roads make walking and exercising more difficult and dangerous.
Further, poverty, unemployment, exposure to racism and gang violence can take a toll on residents' physical and mental well-being.
Definitive national studies have found that consistent exposure to stress creates elevated levels of cortisol in the human body. Cortisol is the "fight or flight" hormone, and the studies have linked it to health problems including high blood pressure, diabetes, heart disease and even low birth rates, a leading cause of infant mortality.
"The socioeconomic factors in southeast Colorado Springs really pose a challenge for those residents," said Cari Davis, the Colorado Springs Health Foundation's executive director.
The care that residents do seek can be ill-equipped to help.
With few primary care offices or urgent care clinics available, residents often visit the emergency room for minor ailments. Memorial Hospital Central, the closest hospital to the southeast, has the busiest emergency room in the state, and it ranks as the 15th busiest in the nation, said Joel Yuhas, Memorial's president and chief executive.
The reasons are manifold.
Usually, frequent emergency room visitors place their personal physical and mental health care below more immediate needs, such as finding work, keeping multiple jobs, paying bills and finding food for the day. Only when chronic health conditions worsened did they seek help, said Dr. Roberta Capp, a researcher at the University of Colorado Anschutz Medical Campus.
She led a study that found people in the Denver Metro area who relied on the emergency room for care had disproportionately high rates of food insecurity, mental distress and homelessness, along with transportation issues and trouble finding a primary care doctor that accepted their insurance.
"It's an equality problem," Capp said. "What we have is inequalities within the system."
A neighborhood clinic
On Dec. 4, 2014, the for-profit Value Care Health Clinic opened.
It has since taken on 3,500 patients, and it's looking to expand its clinic space at 1050 S. Academy Blvd.. Arcarese plans to add four exam rooms in the coming months, bringing her total to nine. In the process, the clinic's footprint will grow from 3,100 square feet to 5,500. It already has an in-house laboratory staffed by a contractor, and will soon add an X-ray machine.
Recruiting medical assistants and support staff was no problem. For the first time, they could work close to home, Arcarese said.
Tucked between a car audio shop, a Magic: The Gathering hangout and the state's Department of Corrections headquarters, it's bright and cozy inside.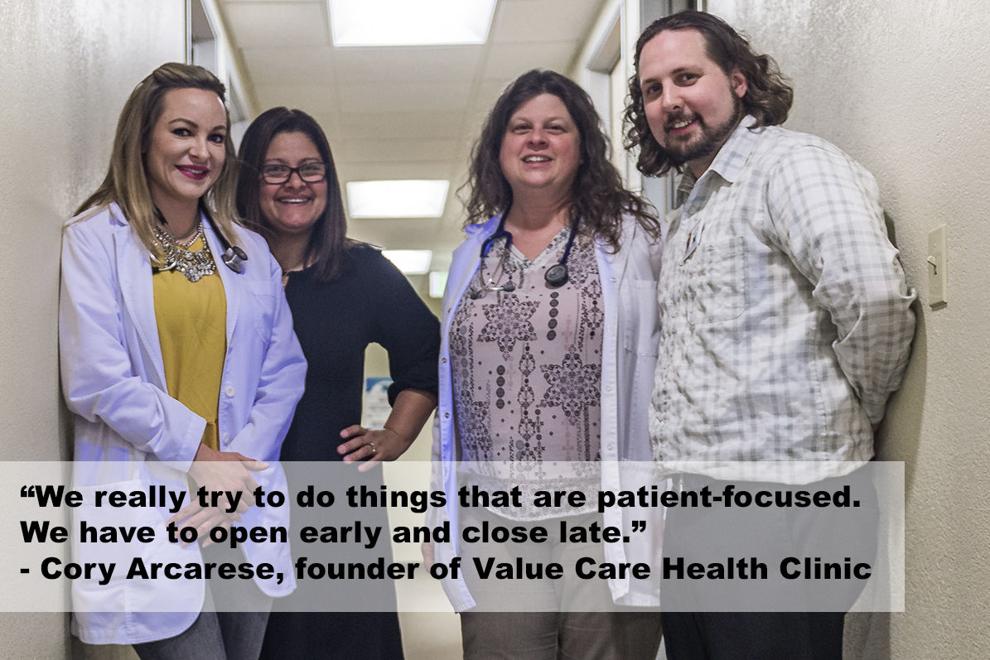 A "prayer for immigrants" in Spanish adorns one of the foyer's walls, and fliers advertising English classes and changes to federal immigration policies litter a waiting area table.
It's open far longer than a typical doctor's office, taking patients from 7:30 a.m. to 6:30 p.m. every weekday. "We really try to do things that are patient-focused," she said. "We have to open early and close late."
And the clinic accepts walk-in appointments — a practice unheard of in most other doctor's offices. It's partly a nod to the high appointment cancellation rates from patients juggling multiple jobs and being dependent on the city's anemic bus system.
She's done it all with about 80 percent of her patients on Medicaid — a program that pays far less per visit than private insurance.
She has an AspenPointe behavioral health provider embedded in her clinic. But finding medical specialists for her patients can be a monumental task, she said.
She says she's confounded by the lack of primary care doctors and other medical offices in the southeast.
"I don't know — I wish I had an answer for you," she said.
"Why can't we build parks here? Why can't we have more sidewalks. Why?" Arcarese asked. "It's all intertwined — health and living space and community is all intertwined.
"It's almost like that flywheel," she added. "It goes in one direction. And you try to get it to go in a different direction, but there are so many different components tied to it."
Hospitals: Difficult market
A spokesman for DaVita Medical Group, which owns the primary care practice formerly known as Colorado Springs Health Partners, said in an emailed statement that "we are always evaluating growth opportunities throughout the Pikes Peak Region so that we can continue to meet the needs of this community, which is our priority."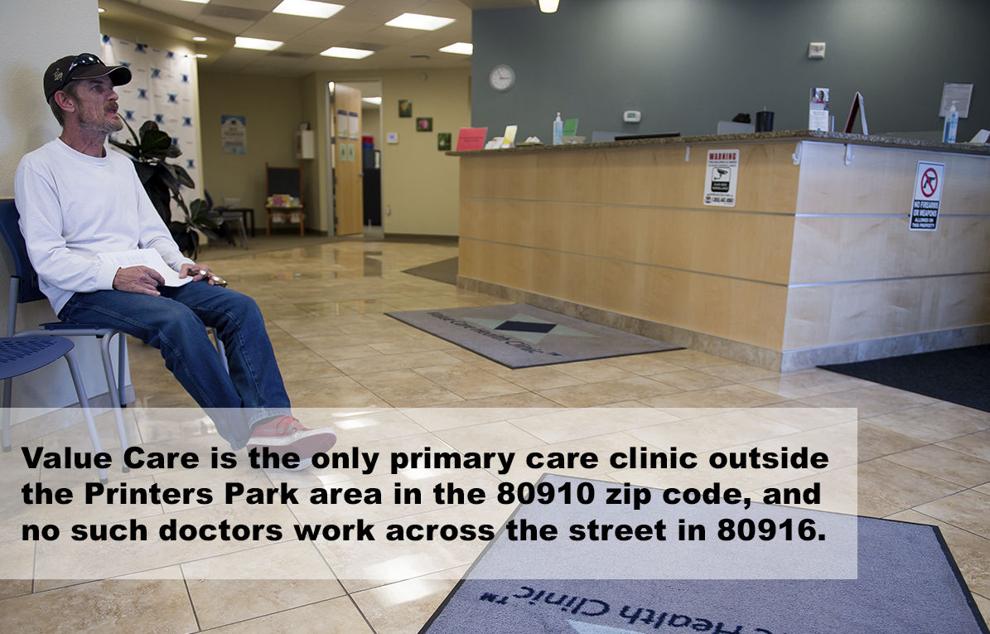 Memorial Hospital and Penrose-St. Francis Health Services' leaders defended focusing resources away from the southeast.
Memorial's Yuhas suggested greater attention be paid to Colorado Springs' overall shortage of primary care doctors. A Memorial Hospital review found the city in need of 170 additional primary care physicians — 112 of them in the city's central and southern areas. By comparison, a 2014 study by the Colorado Health Institute pegged that figure at 120 physicians needed for El Paso County.
Penrose-St. Francis Health Services plans to move its main hospital campus closer to the foothills while expanding services near Powers Boulevard and Woodmen Road. Its Healthy Neighborhood Project also has focused on other communities, including the Old North End, Tri-Lakes and Broadmoor areas. The hospital system's president and CEO, Margaret Sabin, said she has had discussions with Southeast & Armed Services YMCA leaders on establishing a similar program there, near Chelton Road and Jet Wing Drive. A complicating factor keeping it from happening is the area's "difficult" market.
"It is an underserved market," Sabin said. "It's not a heavily insured market. Now, as a mission, we do provide services to all — regardless of payer. But we also have to be able to pay our nurses and doctors. University would be the same way. It's more a challenge of — you've got to provide the kind of model that will be sustainable."
Penrose-St. Francis supports other initiatives in the southeast, including a program where police officers and sheriff's deputies coach soccer teams.
Sabin suggested the southeast needs help specially tailored to its unique challenges.
"We've got to get into the social substructure," Sabin said.
AspenPointe, a key mental health provider for Medicaid patients, recently doubled down on serving southeast residents.
The nonprofit recently spent $9.5 million acquiring a 70,000-square-foot building near Jet Wing Drive and Fountain Boulevard to expand its psychiatric, counseling and group therapy services. It plans to spend at least $200,000 more renovating the building, which formerly housed the defense contractor TASC.
AspenPointe made the move for its clients' convenience, said Kevin Porter, an AspenPointe spokesman.
"We know that that area in particular has a high concentration of Medicaid-eligible individuals and families," Porter said. "So it makes sense to be as close to them as possible, in order to reduce barriers like transportation."
While such a major step will obviously help, experts say broader change is needed to address poor health outcomes in the southeast. That's because those ailments are merely the symptoms of more systemic issues, UC's Capp said.
"The root cause is something upstream of that," Capp said. "There's no one specific solution to this.
"I can add 10 primary care clinics there. Is it going to improve primary care access? For sure. Is it going to improve people's health? For sure. But is it going to improve violence in the community? Probably not. Which is not going to improve exercising in that community, if people are scared of going outside.
"It's all a little piece in the chess game."
—
Burt Hubbard contributed to this story.