GIRLS' SWIMMING AND DIVING
Lady Trojan Invitational
At Fountain-Fort Carson: Caitlin Cairns of St. Mary's set an event record in the 100-yard backstroke and later won the 200 free to highlight Saturday's finals at the Lady Trojan Invitational.
Cairns' time of 1:00.67 broke the mark of 1:02.08 set by Kennedy Terry of Pine Creek in 2017.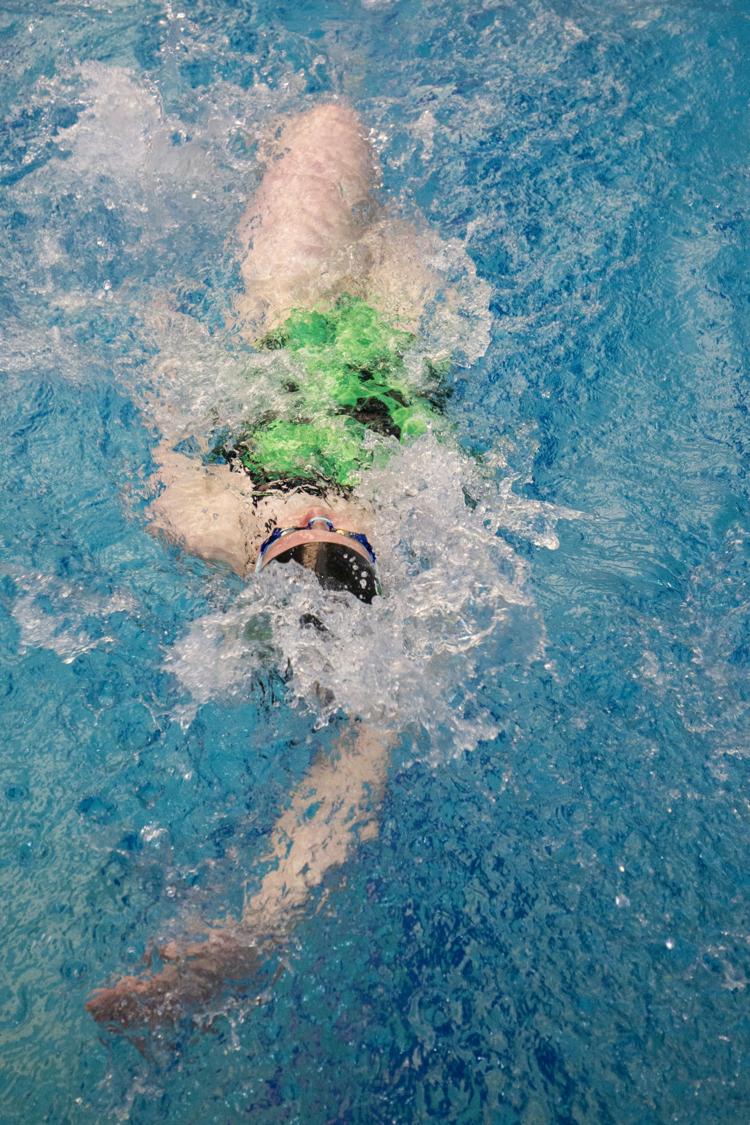 Discovery Canyon's Noel Clayton touched first in the 100 freestyle and also finished runner-up in the 200 individual medley.
Loveland, Fairview and Broomfield took the first three spots in the team standings, respectively. Discovery Canyon finished fifth for the top local placing.
BOYS' BASKETBALL
Vanguard 81, Lamar 50
At Lamar: Seth Fuqua scored 18 of his game-high 25 points in the first half and eclipsed the 2,000-point plateau to lead Vanguard to its seventh consecutive victory.
The Coursers senior has 2,004 points, just six behind Pueblo Central grad Michael Ranson for 10th all time in the state.
Dominique Clifford added 24 points, and Joseph Padilla chipped in with 15 points for Vanguard (10-2, 7-0 3A Tri-Peaks), which jumped out to a 24-12 lead in the first quarter.
Congrats @seth_fuqua 2000 pt club tonight in a win! #together @gazettepreps @coloradopreps @Bball_CO @PrepHoopsCO @ColoradoChaos @LindseySquints pic.twitter.com/0LubjToeRO

— Coach Joe (@JWETTERS) January 20, 2019
Harrison 48, Sierra 41
At Harrison: Tayzhean Archuleta and Donta Dawson scored 12 points apiece to pace Harrison past district rival Sierra for the Panthers' eighth straight win.
Harrison (11-3, 7-0 4A CS Metro) hasn't won a league title since 2006-07 but holds a two-game lead over Sierra, TCA and Widefield at the halfway mark.
Isaish Wilburn led Sierra (8-6, 5-2) with 18 points.
Widefield 70, Mitchell 51
At Mitchell: Tim Mewborn scored 16 points to lead four scorers in double digits as Widefield dominated Mitchell to win its third straight.
Randall Days added 13 points for the Gladiators (8-6, 5-2 4A CS Metro), who also got 12 points from Luis Maldonado and 11 from Donte Scott.
Widefield jumped out to an 18-9 lead and extended the advantage to 35-20 at halftime.
Mitchell (3-11, 0-7) dropped its eighth straight game.
TCA 63, Elizabeth 57 (OT)
At Elizabeth: Kade Walker sent the game into overtime with a late free throw and had a game-high 21 points as TCA outlasted Elizabeth.
Micah Lamberth had 17 points and Tyler Trogstad added 10 for the Titans (9-5, 5-2 4A CS Metro).
ECA 44, CSS 31
At Colorado Springs School: The new year has been kind to Evangelical Christian Academy (8-3, 2-0 2A Black Forest), which won its third straight game since returning from the holiday break.
Canon City 80, Mesa Ridge 70
At Mesa Ridge: Canon City pulled away in the fourth quarter to snap a nine-game losing streak in the series for the Tigers' fourth straight win.
Canon City (8-7, 4-4 4A CS Metro) outscored the Grizzlies 26-18 over the game's final eight minutes to pad a two-point lead and beat Mesa Ridge (4-10, 3-4) for the first time since Jan. 8, 2013
Lewis-Palmer 82, Air Academy 47
At Lewis-Palmer: Thanks to a 30-9 run in the third quarter, Lewis-Palmer (14-0, 6-0 4A/5A Pikes Peak) stayed perfect on the season as the Rangers pulled away from Air Academy (8-6, 4-2).
L-P led 43-32 at halftime.
St. Mary's 81, Florence 24
At St. Mary's: Eddy Ferrara led three scorers in double figures with 17 points, and St. Mary's moved to within one victory of last year's win total in a rout of Florence.
Sam Howery (13), Luke Stockelman (11) and Gabe Calhoun (10) had key contributions for the Pirates (10-3, 5-1 3A Tri-Peaks), who went 11-13 during the 2017-18 season.
GIRLS' BASKETBALL
F-FC 55, Pine Creek 40
At Colby, Kan.: Samiyah Worrell scored a team-high 22 points, and Danae Christensen added 14 to help Fountain-Fort Carson to a wire-to-wire win over league rival Pine Creek in final-day action from the Orange and Black Classic.
Worrell had seven points in a game-opening 13-3 run that put the Trojans (11-3) in the driver's seat.
Pine Creek fell to 3-11.
CSCS 77, Jefferson Academy 47
At Colorado Springs Christian School: CSCS (11-0, 3-0 3A Tri-Peaks) set the tone with a game-opening, 20-7 run in a nonleague win over Jefferson Academy.
Lamar 49, Vanguard 42
At Lamar: Taylor Chavira scored 11 points, Brecken Payne added 10, and Lamar built a big second-half lead and held off Vanguard to snap the Coursers' five-game winning streak.
Vanguard, which trailed 40-26 heading into the fourth quarter, fell to 9-3, 4-2 3A Tri-Peaks.
Sierra 70, Harrison 55
At Sierra: D'nae Wilson led three scorers in double figures with 21 points as Sierra continued its domination of district rival Harrison.
Aria Lacour and Jasmine Monroe-Shivers added 19 and 15 points, respectively, for the Stallions (9-5, 5-2 4A CS Metro), which beat Harrison for the 14th straight time in the series.
Amyah Moore-Allen led the Panthers (4-10, 2-5) with 21 points.
Mesa Ridge 57, Canon City 49
At Canon City: Serin Dunne scored a game-high 23 points and pulled down eight rebounds, and Mesa Ridge took the lead for good with a 15-7 run in the third quarter as the Grizzlies won their seventh straight by rallying past Canon City.
Angelina Jackson added 12 points for Mesa Ridge (10-3, 7-0 4A CS Metro), which played the Tigers (9-6, 5-3) to a 27-27 stalemate through two quarters.
TCA 60, Elizabeth 25
At TCA: A 23-4 run to start the game put TCA (10-4, 5-2 4A CS Metro) ahead to stay.
WRESTLING
Mel Smith Husky Invite
At Florence: Kris Kramer (113 pounds) and Abe Leonard (195) ascended to the top of the podium to pace Elizabeth to a fifth-place finish.
Other individual crowns were posted by Brady Hankin of Woodland Park (106), James Ruona of Canon City (132) and Nathan Johns of TCA (182).
HOCKEY
Liberty 6, Summit 5 (OT)
At Breckenridge: Connor McIlhany scored the game winner 2:38 into overtime as Liberty rallied past Summit.
Greg Schendzielos scored three goals and added an assist for the Lancers (4-6), who trail trailed throughout until Matt Smith's goal with 1:04 left tied the game at 5.
Cheyenne Mountain 9, Colorado Academy 1
At Honnen: Chayse Heffler and Scott Sullivan each scored four goals to power Cheyenne Mountain past Colorado Academy.
The Indians (5-5-1) had a 43-7 shots advantage over the Mustangs.