WOODLAND PARK • You can tell just from photos of her that Kelsey Berreth, the 29-year-old Woodland Park mother authorities believe was killed by her fiance, was a good person, said JoDee Garretson, Berreth's cousin.
"She had a smile that could light up a room," Garretson said last week from her home in Washington state, where Berreth grew up on her parents' farm.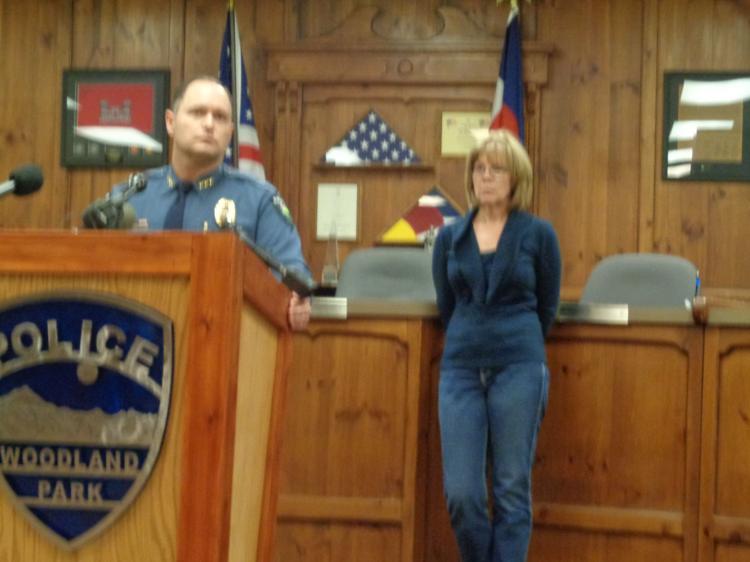 Since Berreth was reported missing by her mother, Cheryl, in early December, people near and far have been captivated by the twists and turns in her presumed murder. The flight instructor was last seen alive on surveillance video on Thanksgiving Day shopping with her 15-month-old daughter at the Woodland Park Safeway.
Despite not having found her body, authorities have arrested the man she was planning to marry and the father of her daughter, Patrick Frazee. The 32-year-old Florissant rancher was arrested Dec. 21 and charged with first-degree murder, as well as conspiring with others to kill Berreth. No one else has been arrested, although an Idaho woman with whom Frazee was reportedly having an affair, is under investigation, according to authorities.
"It's just horrific; it breaks your heart," said Cripple Creek resident Jeff Kuykendall, who didn't know Berreth but has been following news reports about her. "You just wonder what the motivation was."
With investigators' justification for Frazee's arrest sealed, all the public can do is guess at what happened to her and why.
Speculation on social media is rife. One Facebook discussion group has nearly 15,000 participants; another has 10,000 members, and several have about 2,000.
"If you use common sense, it's easy to see she was a stand-up member of society," wrote one online commenter. "She held down a good job, owned a home, had two cars and loved her family. It's disgusting that people would even speculate about what she 'did or didn't do.' The fact is that she is the victim, and that's the only thing she should be at this point in time."
National media descended on this small mountain town in the first two weeks of the investigation. They continue to follow new leads in Colorado and Idaho, where Berreth's cellphone last pinged and another woman is being investigated for possible ties to the murder.
Couple met online
Unlike many millennials, Berreth did not have much of a social media presence.
But she did meet Frazee online, Garretson said.
"Kelsey told me that," said Garretson, who couldn't confirm whether the two met on the dating site for rural residents, FarmersOnly.com, as has been rumored.
"She was very happy and excited to be with him," said Garretson, a first cousin to Berreth's mother who lives in Idaho.
Berreth, who moved to Colorado in 2016, was engaged to Frazee, although the two never lived together, her mother and Garretson have said.
Her Colorado address initially was listed as a post office box in Florissant, the town where Frazee lived and worked on his family's ranch.
They met in March 2016, said Kate Loucado, who worked with Berreth for a short time.
"She was a farm girl looking for someone with strong family values and someone who held the same beliefs and morals," Loucado said on a Facebook discussion page. "I think she was awestruck that this handsome cattle rancher was interested."
In February 2017, Berreth told fellow pilot Kris Ackerman that she was getting married soon.
Ackerman, a classmate of Berreth's in pilot school, described her as "quiet and reserved."
"Very nice to anyone she interacted with," Ackerman said on Facebook.
He last spoke with her in June 2017, when she told him she aspired to fly cargo deliveries or work as an airline pilot.
At the time of her disappearance, Berreth was a flight instructor in the Pueblo office of Doss Aviation, which provides flight training for the U.S. military and international armed services. The company does not "release information about employees," said a spokeswoman, refusing to say how long Berreth worked there or what kind of employee she was.
Garretson said Berreth loved the freedom of flight from a young age and obtained her pilot's license as a teen.
"I'd forgotten how young she was when she learned how to fly," her cousin said.
And she was a "damn good pilot," Loucado said.
Many unanswered questions


Authorities have not released what evidence they found that led them to believe she was killed in her Woodland Park townhome. But after searching Frazee's 35-acre property and Berreth's townhome, authorities said they no longer believe she is alive.
For those who knew her, it's hard to imagine she's no longer alive.
"She was a sweet girl," Loucado said.
Friendly and personable, said Lon Rust, who owns Paradise Spirits liquor store in Woodland Park, where Berreth was a customer." She seemed like a fairly stable person," he said.
Berreth was "a very shy person until you actually get to know her," said Luda Boychuk, a friend.
"She always kept to herself, until we became friends, and then she was nothing but sweet and the most down-to-earth person ever," Boychuk said on Facebook.
Berreth moved to the townhouse near downtown Woodland Park in May and didn't seem to know her neighbors.
"Not many in town knew her," resident Laura Ross said on Facebook. "A few remember seeing her here and there, but she didn't frequent any place specific. (She was) very private."
Although Berreth's parents are active in the Sandpoint Seventh-day Adventist Church in their Idaho community, where several prayer vigils were held, Berreth was not a member of the denomination's church in Woodland Park, said the Rev. Mike Kissner, pastor.
Her parents visited the church a few weeks ago, he said, likely when they were obtaining temporary custody of their daughter's child, to receive prayers and consolation.
At the first of several news conferences last month, Cheryl Berreth described her daughter as loving God, her family and friends and her job. She also said Kelsey was "reliable, considerate and honest."
Berreth's townhouse sits dark, empty and torn apart by criminal investigators searching for evidence.
Now, only questions linger. Why was she not reported missing for 10 days? Why did Berreth hand over the baby to Frazee on Thanksgiving? Why did Frazee not let Berreth's mother see the child while she was in Woodland Park, before he was arrested? Did Frazee threaten an Idaho nurse to help kill his fiancee? Who sent texts from Berreth's cellphone from Idaho three days after Thanksgiving, saying she wouldn't be at work the following week? Did Frazee plot to murder her in October, as an Idaho couple now assert? Where are her remains?
"This whole thing seems so unreal," Boychuk said.
Contact the writer: 719-476-1656.