In a Friday conference call, leaders of the U.S. Olympic Committee celebrated a great fundraising year and a pile of medals earned in the Winter Games.
Things are bright, they said, with the possibility of another Winter Games coming to the United States. As incoming board Chairwoman Susanne Lyons put it, the Larry Nassar scandal with its hundreds of victims and pending lawsuits is in the "rearview mirror" for the Colorado Springs-based Olympic Committee.
The conference call came just 96 hours after a stunning report criticized the Olympic Committee for its focus on "money and medals."
The report by the law firm Ropes and Gray found that the sexual assaults against hundreds of victims "was a manifestation of a far broader constellation of factors and conditions in elite gymnastics and Olympic sport that left young athletes vulnerable to abuse and led Olympic organizations astray from the priority of athlete safety."
But new Olympic Committee CEO Sarah Hirshland, who has already yanked U.S.A. Gymnastics' ability to govern itself and spent her first few months apologizing for the scandal, dismissed claims that the Board of Directors overseeing USOC had responsibility.
"There is nothing we have seen in (the report) that would indicate there was a problem with the culture created by the board," Hirshland said.
While the Olympic Committee works to move past the sexual assault scandal, legions of lawyers, Olympic observers and congressional watchdogs say there is more accountability ahead for the committee.
Colorado Democratic U.S. Rep. Diana DeGette, who will take over the chair of the congressional committee overseeing USOC, said Hirshland's view of where responsibility lies likely will be tested as lawmakers seek to fix an organization whose internal report said leaders turned a blind eye to the attacks on athletes by gymnastics team Dr. Larry Nassar.
The fix could be radical, DeGette warned.
"We may need to have a full new board," DeGette told The Gazette.
At the University of Colorado in Boulder's Sports Governance Center, director Roger Pielke was still absorbing the scathing 233-page report last week.
One thing was clear, said the respected sports governance researcher.
"It is a catalog of governance failures from the top to the bottom," he said. "USOC failed and even further up the food chain, Congress has failed in its oversight."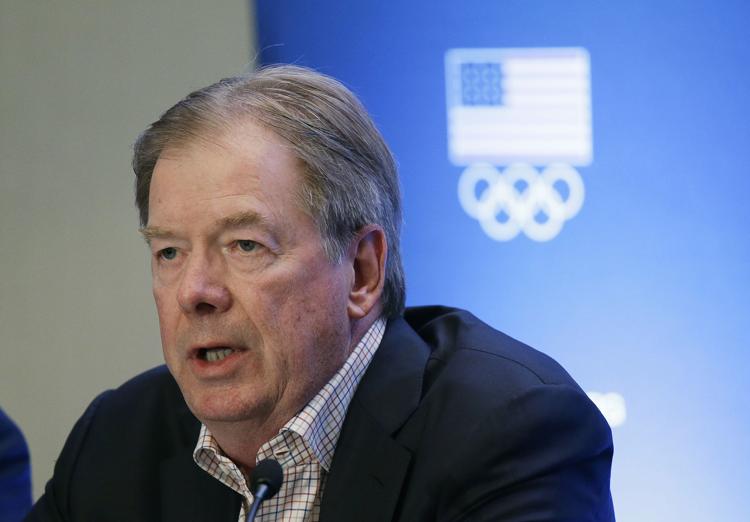 Years of warning
Reports of sexual abuse against athletes go back decades. For years, little was done.
But the Olympic Committee awoke to the dangers in 2010 when leaders first called to establish the Center for SafeSport.
Outgoing USOC board Chairman Larry Probst admitted Friday that the governing body overseeing American Olympic sports was slow to embrace the new organization, which is charged with caring for victims of sexual assault, investigating their claims and barring offenders from participation.
"Yes we were aware of some of the historical issues," Probst said.
But, the board struggled to carve out cash for the center from the Olympic Committee's budget, which topped $183 million in 2017.
Denver-based SafeSport opened in March, but leaders still complain that it is underfunded and ill-equipped to deal with an avalanche of sexual-assault claims.
While the USOC board dallied over the center, sexual predators were busily at work behind the Olympic Rings. Most recently, multiple claims of sexual abuse arose in taekwondo and swimming.
But the most notorious case, the one that drove the harsh internal review, involved Nassar.
"In all, Nassar committed thousands of sexual assaults between the early 1990s and the summer of 2016," investigators said. "He abused some survivors one time, while abusing others hundreds of times over a period of many years."
Nassar's practices were a cause for concern in the gymnastics community for years.
During the 2012 games in London, USOC's top medical officer expressed concern that Nassar was seeing patients without a chaperone present. Nassar's conduct led to a low score on a post-games evaluation and a recommendation that he not serve at subsequent Olympics.
In 2015, warnings about Nassar's conduct drew top-level attention after a juvenile gymnast told a coach that Nassar fondled her groin when she saw him for a knee injury and later sent her a fawning Facebook message commenting on how well she looked in a prom dress.
The complaint was relayed to USA gymnastics boss Steve Penny who relayed the concern to then-USOC CEO Scott Blackmun and Alan Ashley, his top deputy for athlete performance.
Nassar's case played out in court last fall, with scores of victims recounting abuse and its impact. In January, he was sentenced to up to 175 years in prison.
Code of silence
Investigators spent a lot of time investigating who at USOC's headquarters on Tejon Street knew about Nassar in 2015.
They concluded that Blackmun, who left USOC citing medical reasons in February and Ashley, who was fired on Monday, kept the complaints about Nassar to themselves until the scandal broke in the Indianapolis Star 14 months later.
But Blackmun told investigators that at least one other leader probably knew.
"Mr. Blackmun stated to the independent investigators, without having any direct recollection, that he believed he would have shared the athlete allegations and the referral to law enforcement with Larry Probst, Chair of the USOC Board of Directors, on one of their regularly-scheduled weekly calls," the report said. "However, there is no evidence of such a communication and Mr. Probst has no recollection of being apprised of the allegations or the referral in the summer of 2015."
At the Willamette University School of Law in Salem, Ore., professor Jim Nafziger finds it hard to believe that Blackmun and Ashley were that good at keeping secrets.
Honorary President of the International Association of Sports Law, Nafziger has spent years studying the Olympic Committee. He said the Board of Directors had a duty to quiz Blackmun about the Nassar allegations and similar cases.
"It is hard to have imagined they didn't have some implied knowledge," Nafziger said.
On Friday, USOC leaders say communications are better now, and the new CEO is expected to keep the board informed of sexual-assault concerns.
But whether the board had a duty to interrogate Blackmun about Nassar remains as murky as the 40-year-old law that established the Olympic Committee.
The Ted Stevens Act
Alaska's Sen. Ted Stevens has been out of Congress for 10 years and dead for eight, but his name and his 41-year Senate career remains memorialized in federal law that governs Olympic sports.
The Ted Stevens Amateur Sports Act of 1978 was enacted to resolve disputes over who got to pick Olympic teams. To end warring among sports organizations, the Stevens Act created the U.S. Olympic Committee, giving it a supervisory authority over American participation in the Games and the power to charter national governing bodies to oversee the various sports that compete for international medals.
While the power to offer charters technically gives USOC broad powers to hand down discipline in sports, the Olympic Committee has focused instead on money and medals, the Nassar report found.
Investigators say the USOC leaders "chose to adopt a deferential, service-oriented approach to the national governing bodies."
At Pepperdine University in California, law school professor Maureen Weston said it is easy to lose track of mundane things such as rules, regulations and governance in the pressure-packed world of Olympic sports.
"People can focus on the pressures to win and overlook the well-being of athletes," explained Weston, an expert in sports law who has been a close observer of USOC's travails. She is on the board of the Sports Lawyers Association, dedicated to the ethical practice of sports law.
Weston said the focus on financial success and athletic victory has been a common thread in a series of recent sexual assault scandals in sports, including Penn State University in Pennsylvania and Baylor University in Texas.
"We revere people who excel in sports and don't subject them to the same level of scrutiny," she said.
USOC has a blue-ribbon panel studying how it governs the four-dozen national governing bodies it oversees, with the report due next year.
Outsider call for change
Led by Hirshland, the Olympic Committee has pledged to change its ways and stamp out sexual assault. Top leaders have left. The Board of Directors is handing the gavel to Lyons, who will replace Probst as chairman.
The Olympic Committee outlined its accomplishments in an email announcing the findings of the investigation.
"The USOC has already implemented a number of reforms and initiatives including instituting new leadership and stronger accountability measures," the committee said.
They have moved to revoke the charter of USA gymnastics. A new council is empowered to examine athlete concerns. The head of USA Gymnastics has been ousted, and chief of sport performance Alan Ashley was terminated for keeping the Nassar allegations secret. SafeSport will get more money to handle cases in the coming year.
Hirshland is brand-new to her job, and many athletes are still waiting to see what her follow-up to the report is and what her next steps will be to clarify and strengthen the USOC's oversight of its national governing bodies.
Pielke, the University of Colorado professor, issued a study that found the Olympic Committee and its governing bodies often lacked transparency, accountability and oversight.
"We can't leave it up to the victims of abuse and the media to be the mechanism of accountability," he said.
But this fall, after he was asked to present his findings to leaders of USOC in Colorado Springs, he found them to be more hostile than open to change.
"It was more of a dressing down of us for being critical," he said.
Leaders were angry that The Gazette had reported on Pielke's study, he said.
"They were more concerned about what was written in The Gazette than what was found," Pielke said.
August Wolf, a former Olympian who leads the Group Olympians Rising, has called for an inspector general to probe misconduct in Olympic sports and a bigger voice for athletes in the operations of USOC.
"The (Ropes & Gray) report … talks about how ineffective the Athlete Advisory Committee is, almost by design," said Wolf, whose Olympians Rising issued a report of findings and recommendations to Congress several months ago and was among a group invited to participate in a House Oversight and Government Reform Committee roundtable last Tuesday.
Wolf said his group's suggestion of the creation of an Office of Inspector General, an independent ombudsman-like resource for athletes voicing complaints about sexual abuse, was taken "very seriously" by the panel, with the conversation progressing to a discussion of where the office might be housed.
"Hopefully, in 2019, we get some legislative action to prod the USOC, which traditionally has sort of hoped that all this stuff blows over and really window dressed any real policy issues," he said.
Until then, athletes across a breadth of Olympic sports will continue to pay the price for "money and medals" at the top, he said.
The internal review even has USOC's allies calling for change. Colorado Springs Republican U.S. Rep. Doug Lamborn, who has been silent on the Nassar scandal, called for congressional action after the report was released.
"The inaction on the part of top officials at USOC for such a long period of time is disturbing," Lamborn said in an email.
"Congress should continue to investigate this situation to ensure justice for the victims and prevent it from happening again."
Congress steps in
Two senators on a subcommittee overseeing USOC called for a Justice Department criminal probe of statements Blackmun made in written testimony to a committee this year.
In those statements, Blackmun claimed that he sought SafeSport help and took other steps to immediately address the Nassar situation in 2015. Blackmun recanted that version of events in his statements to investigators, the Nassar report said.
"The subcommittee takes its oversight role seriously, and it appears that Mr. Blackmun has made false claims and misled our subcommittee — harming the investigation and ability to develop policy," said a joint statement from Sens. Jerry Moran, R-Kansas, and Richard Blumenthal, D-Conn. "Just as importantly, survivors of abuse have had to wait longer for the truth and longer for systemic changes to help prevent others from similar injury."
In the House, November elections passed responsibility for oversight of USOC to DeGette, who will lead the investigative subcommittee of the Energy and Commerce Committee.
DeGette's chairmanship comes with vast authority.
"I'm going to have subpoena power," she said.
DeGette said she is still waiting for signs that USOC will move to fix its problems.
"I haven't seen a demonstration that they are taking this seriously," she said.
The congresswoman's consideration of replacing USOC's board is no idle threat. Congress gave the Olympic Committee its authority and monopoly over the games and could take it away.
DeGette said in the past USOC has been slow to embrace change but has eventually fixed itself.
But lawmakers won't give the organization a free pass, she said.
"This is at the top of our agenda," she said.
While Hirshland maintains the Olympic Committee's board has done nothing wrong in the past and is making all the right moves now, she will comply if Congress orders change.
"Certainly we will await directions from Congress," Hirshland said Friday.
Settlements mulled
USOC has changed one thing in the wake of the report. Leaders said they are re-examining their wholesale denial of liability in lawsuits that stem from the Nassar case.
The Olympic Committee in a string of court filings has asked for suits to be dismissed, saying it had no responsibility for Nassar's acts.
The report found USOC, though, allowed Nassar to continue his pattern of abuse because Blackmun didn't move to stop him.
"USOC's inaction and concealment had consequences: dozens of girls and young women were abused during the yearlong period between the summer of 2015 and September 2016," the report said.
Weston, the Pepperdine law professor, said USOC's missteps in the Nassar case could have financial consequences in court.
"Their responses are good efforts, but these lawsuits are looking at the past," she said. "The liability is certainly there."
USOC leaders said Friday that they are mulling whether the committee should offer settlements to some victims.
"I think there are some new facts in there and we have looked at outside counsel to look at those facts," Hirshland said.
While USA Gymnastics has filed for bankruptcy in the face of its Nassar-related liabilities, USOC leaders say they won't consider that step.
At the San Francisco board meeting, the leaders of USOC cheered success rather than legal peril. Despite repeated pledges that the organization will change its focus, money and medals remained at the top of the Olympic Committee's agenda. "Our athletes have done great as always," outgoing board Chairman Probst said. "Revenue is running ahead of plan and expenses under plan."
Contact Tom Roeder: 636-0240