By the time Frank Macon turned 21, he'd already defied a lifetime's worth of odds, making it from Colorado Springs to Alabama to join the nation's first group of African American fighter pilots, the Tuskegee Airmen.
He was in the final weeks before graduation and looking forward to service overseas, his officer's uniform tailored and hanging in the closet, when — despite a "terrible" head cold — he went up to train on that fateful day 75 years ago.
"We were up there having a blast. We loved practicing our dogfighting," says Macon, in "I Wanted to be a Pilot," his 2019 autobiography aimed at young readers. "Looking back, I should have gone to the dispensary. That's the doctor. Being stubborn, I didn't."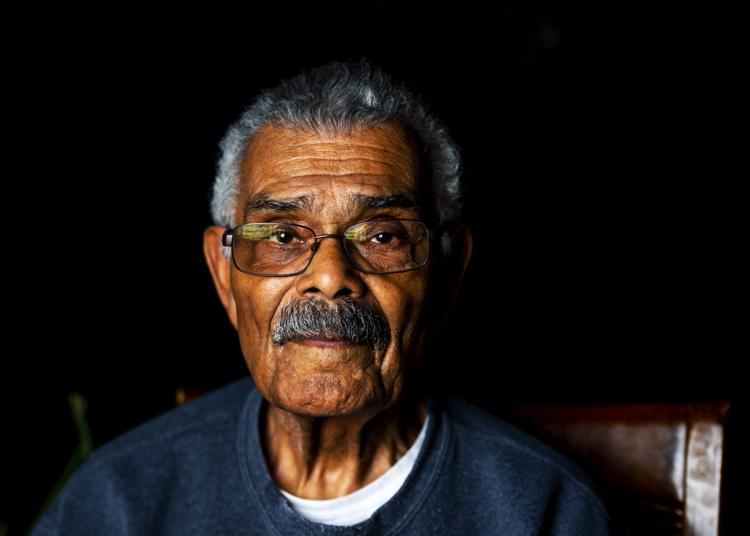 As he pulled his T-6 out of a power-dive, Macon felt an excruciating "pop." The drastic pressure change of the maneuver had ruptured both his eardrums. He missed graduation and spent almost a year recovering. By the time he'd healed, World War II was over.
"When my class graduated, I was in the hospital," he said. "I've thought about a lot of that … and it just seems like fate."
Like he was meant to do something else.
Lots of somethings else, as it turned out.
Macon earned his wings and returned to the Springs, where he worked for 23 years at Fort Carson, retiring as head of aircraft maintenance. He raised a family, ran a machine shop fabricating electronics, researched aviation accidents professionally, and continues to write, study, invent and work with kids to inspire a love of learning and curiosity.
"I really did things that I wouldn't have done if I had just been a pilot because that's all I would have been doing, boring holes in the sky," said Macon, who turned 96 in August.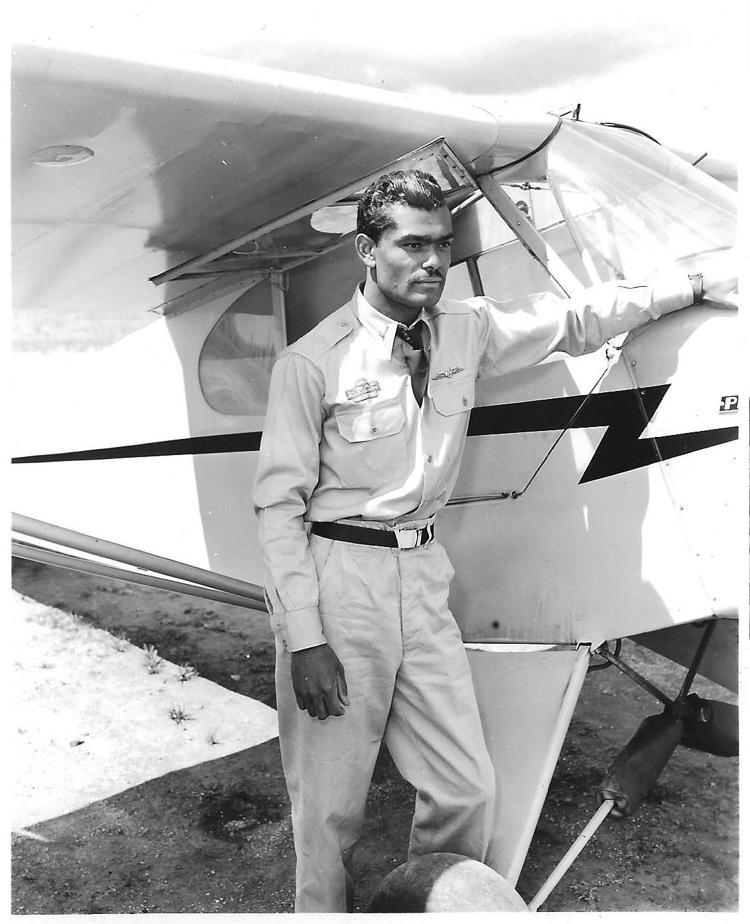 You don't have to be in a plane to bore holes in the sky and you don't have to be a fighter pilot to pursue — and achieve — your dreams.
"There are a lot of kids who say, well, 'They won't let me do this.' No. You're the one that won't let you do it," he said. "I had to overcome a lot of obstacles to get to where I was, but for every obstacle I had to overcome I learned something."
Like an airplane, Macon was built to soar. We all are, is his point.
"Frank is very hands on … not an academic, but he can build an airplane," said Liz Harper a teacher who met Macon through mutual friends and partnered with him in writing his autobiography. "There's a lot of kids that way, too. They're much better at building than maybe studying or memorizing or whatever.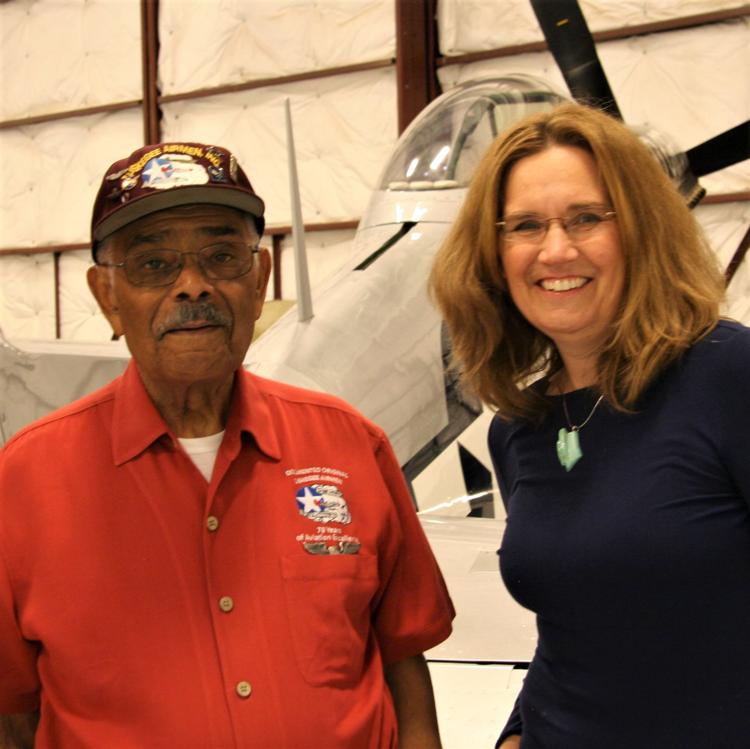 "He really has a heart to help all kids who struggle. I do know at the time (after he burst his eardrums), it was devastating. But just Frank being Frank, he turns everything that's very hard into something positive."
Macon grew up a few blocks from the west side home where he lives today. He never knew his father, and though his mom — who'd had him at age 14 — lived just down the street, Macon didn't know who she was until later life. He was raised by two great aunts. Though he struggled greatly with math and reading in school, due to what later was diagnosed as dyslexia, he was a mechanical whiz who put his skills to work creating devices and pranks that earned swift punishment — including hymn-singing penance at the parlor piano — from the aunts.
"For him, it (the challenge) really is not about the race issue at the time, because his neighborhood was very different and his school was integrated," Harper said. "Not that he didn't have experiences with segregation and that sort of thing, but for Frank, his biggest hurdle, he will tell you, is his dyslexia and fact that didn't know his birth mom and birth father."
Macon built his first "plane" out of orange crates when he was "eight or 10," and hauled it down the street for a test run in the Uintah Gardens area.
That "was kind of a low area, kind of a swamp ... and there was a hill and guys would try to drive their cars up there … to see how far they could get. Sometimes they'd roll down the hill," Macon said. "We took it up there and was trying to fly it off, and the wings fell off."
By the time he was a teen, Macon had found more productive channels for his creative energy.
The Alexander Film Co., which produced advertising shorts for movies, sat on a 26-acre compound that contained its own airstrip and airplane manufacturing plant that, at the time, was the largest of its kind in the world.
"Alexander Aircraft was up in the north end of town and I used to always ride my bicycle up there all the time and go in the factory when they were building the airplanes and watch what they did. And they showed me a lot ... taught me a lot before I even got into the air," Macon said. "Some would take me up flying, and I'd help wash the airplanes down or clean parts and things like that, so I just liked it. And so it was just a part of me."
Macon spent the rest of his free time at the garage down the street, watching the mechanics work. Eventually, the owner "got tired of running me off and he put me to work, sweeping the floor, cleaning the parts and all like that," he said. "Finally they started showing me how to disassemble different parts and also how to reassemble them."
By the time Macon got to Tuskegee, not only could he fly an airplane, he could take it apart and put it back together again.
"Frank learned to fly here with the Civil Air Patrol first, and they told him not to tell when he went to Tuskegee. At the time, it was an experiment and they didn't think that if you were black you could fly. So mum was the word, and everyone was on an equal plane with everyone else," said Harper,
She recalls Macon's response when an airman at a base they visited in Cheyenne, Wyo., asked who he considered to be the best leaders at Tuskegee.
"He paused for a long time and then said, 'I can't answer that. We all had to be exceptional,'" Harper said. "If everybody wasn't exceptional in this experiment, it wouldn't have happened."
Retired Air Force Col. James Stewart was stationed in the Springs in the 1970s when he got to know Macon, and realized he was in the presence of a legend. It wasn't until the mid-1990s that the story of the Tuskegee Airmen reached wider audiences, thanks in large part to an HBO movie celebrating their largely unsung contributions to the war effort. But flight was Stewart's purview. He knew.
"The movie created the conversation. Then the United States started locating all the Tuskegee Airmen and identifying who they were," said Stewart, who's also co-chairman of the Springs' National Museum of World War II Aviation. "They're role models for any African American kid or any young kid who wants to go out and fly and go through the experience. But for a long time, the Tuskegee Airmen had no recognition whatsoever."
Even after that big picture recognition came, identifying the individual heroes in a community remained a challenge.
"These guys aren't braggers and they don't talk much about things, unless pressed. They're just very humble guys, and Frank's no exception," said Col. Mark Dickerson, president of the Hubert L. "Hooks" Jones Chapter of the Tuskegee Airman Inc. "He's just a really neat guy. And he's moving slower these days, and a lot of times he may answer kind of slow, but when he does answer a lot of times you're just knocked off your chair by what he says."
Dickerson was introduced to Macon about 25 years ago when both men were members of the High Flights Soaring Club at Peyton's Meadow Lake Airport, the state's largest pilot-owned airport, which Macon helped establish in 1967.
"At the time, I didn't know he was an original Tuskegee Airmen … and the fact that folks like you or me can be hanging around these guys and not even know who they are is a message in and of itself," Dickerson said. "These guys did what needed to be done and contributed from the heart without looking for a lot of accolades. It's a message about their humility and just basically their desire to just do good things, make good stuff happen."
The first plane Macon built fell apart before it got into the air.
The last, a 1944 Stinson Vultee V-77 "Gullwing" aircraft, has a much more indelible story.
Macon and some buddies were flying in the Denver area in the early 1950s when they spotted the plane sitting in an old airfield. They landed and inquired about the vintage aircraft, and learned it had been made in America for the Canadian Air Force, and was a military plane used as a civilian transport during World War II.
"They wanted $1,500 for it and we said we'll just give you $500, and they said, 'We'll take it,'" said Macon. "We took the wings off of it and put the tail section up in the pickup, put the wings on a trailer, and hauled it down to Colorado Springs.
And it took Macon and his partners over three years, working on evenings and weekends, to rebuild it.
On Monday — Veterans Day — Macon will donate that prized aircraft to the National Museum of World War II Aviation at a special ceremony.
"We've had other Tuskegee Airmen who've made donations to the museum … uniforms and that kind of thing, but Frank's donation is a major donation in that it sets aside a piece of history that most people don't even think about," Stewart said. "This is a piece of American history that talks about the civilian side of what was going on in World War II. And it ties in directly to a Tuskegee Airman — a Tuskegee Airman from Colorado Springs who's lived here, essentially, his whole life."