"Don't let me convince you," John Anderson says.
Let that be the trees, he says.
"After the first half-hour, you won't need convincing. You're gonna be amazed at what's out there."
Just up the road from his Monument home is Fox Run Regional Park, the forest of tall pine that twists and turns in ways that some explain as natural. Not Anderson. For those curious groups he's led here over the years, he tells a much different tale.
He goes not 50 yards on the trail before stopping.
"This," he says, "is a confirmed Native American trail-marker tree."
Confirmed, he says, by mostly his inspection, by his forensic skills built over a lifetime. He was a cop, then he was El Paso County's sheriff, then he went on to be a private detective, then, in 2012, he retired to pursue cases that fascinated him most: those on the fringes of history.
Ever since coming by an article in this newspaper, the bizarre trees have been Anderson's ultimate investigation.
"I should say I'm confident in confirming it to be one," he continues at the L-shaped trunk. "But here's the features to look for ..."
Here's the orangeish bark that suggests to him at least 200 years of age. Here's what he calls "the primary trunk," the dead, arm-sized piece jutting upward — where the tree would've grown were it not for the bend.
"See right there?" he asks, motioning to faint scars. "These are your tie-down marks."
So goes his explanation of what happened in the days of hunter-gatherers: "When the tree was very young and pliable, they would've taken a wooden stake in the ground, and then they'd tie either a leather thong or braided yucca."
Along with trail-marker trees, they have come to be called Ute prayer trees, marking ceremonial sites in the Pikes Peak region and beyond.
And they and their foremost champion have been the subject of rising controversy.
Anderson has continued to lead hikes, give presentations and promote his books around the West despite red flags.
'Lack of oral history'
In 2017, Colorado's governor-appointed archaeologist, Holly Norton, sent him a letter citing "a lack of oral history" and "no demonstrable scientific evidence" to prove the trees as human-modified. Along with professional rebukes, she mentioned those from Ute representatives.
Norton ended: "I respectfully request that you cease recording on state lands, as well as cease disseminating information related to the 'Ute Prayer Trees' in Colorado."
Soon after, Anderson showed up at Norton's office with his lawyer and also his mentor, James Jefferson, an elder from the Southern Ute reservation. Anderson invoked his constitutional rights. Jefferson insisted Norton was listening to the wrong people; he had knowledge that those tribal representatives did not.
The meeting ended in a standstill — Norton not wanting to wind up in a courtroom nor wanting to tag along with Anderson on one of his tours in the woods.
The invitation still stands, Anderson says. He has also invited Colorado Springs' lead archaeologist and the city forester, both of whom have dismissed the "prayer trees."
Too bad, Anderson says. "I'm not trying to say you're wrong and I'm right. What I'm saying is, these trees are deserving of a fair, professional assessment."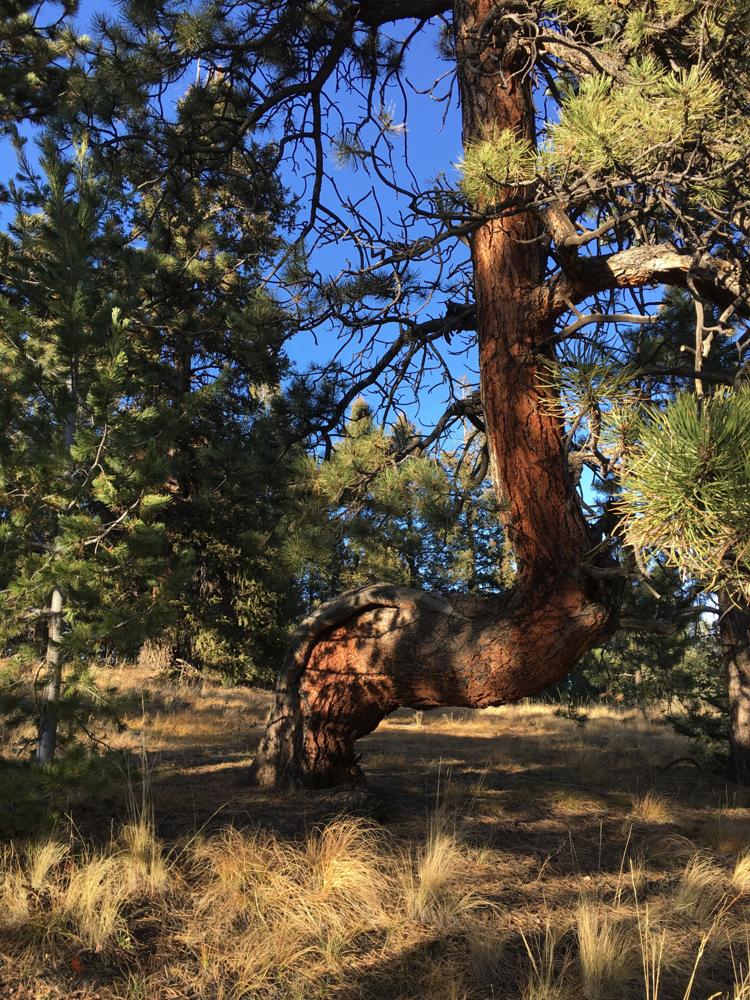 Research has been too narrow, he and other proponents say — including the city's sampling of a lone tree that turned out to be around 67 years old. To proponents, the naysayers with their Ph.D.s reside in an ivory tower, forming opinions among themselves and scoffing at anyone below, all the while failing to protect living artifacts.
"There's jealousy between various academics," says Gary Ziegler, a scholar and friend of Anderson who considers prayer trees "highly probable" based on his research at his Westcliffe ranch.
"There's a disregard for people who aren't professionals, per se, or trained by professionals."
Those experts, meanwhile, see an alarming faction growing around the bent trees, a band of pseudo-archaeologists gaining notoriety and ignoring evidence. Young trunks could be forever altered by snowload or wind, for example. Lightning and several diseases could be culprits, too. And tree limbs are known to contort themselves trying to right the damage done by porcupines.
Marilyn Martorano, a Longmont-based archaeologist specializing in peeled trees — the scars left by Utes extracting bark — has been trying to banish what she knows to be fantasy.
"I've spent many years trying to refute this," she says, "but it's hard when so many people have been brainwashed."
Ute Tribe speaks up
As the debate rages, the Utes have stayed mostly quiet.
But this summer, officials from the Southern Ute and Ute Mountain Ute tribes issued a six-page statement to federal, state and local governments. While the bending might have been practiced by individual families and other tribes, "These trees have been falsely attributed to the Ute Nations' general cultural practices," the statement read.
Jefferson, whose time away from the reservation was spent in academia, cried foul at the statement. He calls it "a false claim" that skipped proper council channels, an act of malpractice orchestrated by its lead author: Alden Naranjo. Jefferson, 86, describes the fellow elder as a rival out to "downgrade" him.
Through the tribe's communications specialist, Naranjo and his daughter, cultural liaison Cassandra Atencio, declined comment. Attempts to reach other tribal officers were unsuccessful.
The silence isn't surprising to Norton. "I'm not privy to all of the politics," she says. "I just know that some of these things have been very personal and kind of driven wedges into things. I think that's why it took so long for them to come up with that statement."
It's no deterrent to Anderson, who takes Jefferson's word: "They're talking about what they don't know. The elders never told them this, and that's perfectly appropriate. But just because they don't know about this or haven't heard about this doesn't mean it doesn't exist."
But opponents say Anderson is the one talking out of turn. And worse, by charging for his guided hikes and seminars, they say he's profiting from cultural appropriation. Most alarming to them were the El Paso County contracts he was awarded to survey parks.
On the other side of the crooked trees, they say, is an ugly side of human nature: greed. Tracing the roots of the prayer tree narrative, there might be jealousy and ego, too.
Anderson has a ready defense for his fees, saying he only seeks to travel and raise awareness without digging into his retirement funds. But he'd rather not talk about himself. "This shouldn't be about me," he says.
It should be about the trees, he says. And don't let him convince you. Watch this documentary, he says.
"The Mystery of Trees"
The narrator is introduced as an actor and member of Oklahoma's Cherokee Nation. A flute plays as he speaks.
"One of the most fascinating mysteries I have recently learned about is the presence of oddly shaped trees that hold meaning we can only imagine ..."
The documentary is called "The Mystery of Trees." It's by the Georgia-based Mountain Stewards, a self-described group of retirees. In 2005, they started looking into the strange trees they kept noticing along the trail, the narrator explains.
The camera flashes to scenes in Missouri, Arkansas and South Carolina, where white people speak of the trees they came to see as significant on their own properties. "Indian trees." "Marker trees."
Then elders from various tribes appear on screen. An Osage man speaks on his people's traditions being lost to forced assimilation. "We can never get this back," he says, holding a picture of a bent tree. "What they did, what they were thinking, the life they lived ..."
Back to the mission of the Mountain Stewards. Back to the narrator. "In 2007, they traveled west because they had heard that the Ute people had bent trees in Colorado they called prayer trees."
Loya Arrum is introduced, Pikes Peak in view, as she talks beside a tree she calls sacred. Here, she says, her people would utter prayers, and the curving tree would carry them up to Creator.
"I think, wow, my ancestors walked on this same trail, and now I'm here," she says. "It really touches my soul."
Celinda Kaelin, then the president of the Pikes Peak Historical Society, had invited Arrum to speak on camera. For years up to that point, Kaelin says, the society had raised "thousands of dollars" to bring Utes back to their aboriginal lands. That's how she met Arrum.
This was in the wake of Kaelin bonding with Clifford Duncan, who at the time served as a cultural liaison for the Northern Utes in Utah. Kaelin says Duncan had been assigned to review a book of hers, leading to monthslong correspondence.
Finally, in the spring of 1998, he came to visit her ranch in Florissant, she says. There came a morning she says she'll never forget.
She was sipping coffee, looking out the window at six bull elk when Duncan came to her side. The elk "got into a perfectly straight military formation and walked directly toward us," Kaelin says.
"I was just covered with goosebumps. I said to Clifford, 'Oh, wow, they're saluting.' (He said), 'No, no, they're saying we have to work together.' So that's how I came to be working with him."
It was a month later, she says, when Duncan told her about the prayer trees. Where a road was being widened, it occurred to him that they were in danger, no longer "hiding in plain sight," as Kaelin recalls him saying. "He said, 'You have to preserve and protect these trees.'"
So for the next 10-plus years, she told the story. It wasn't until after Duncan's death in 2014 that she says she started hearing dissenting opinions.
She learned later of one close to Duncan, Betsy Chapoose, telling confidants that the man had been "joking." Attempts to reach Chapoose, the Northern Ute cultural rights and protection director, were unsuccessful.
Martorano, the Longmont-based archaeologist, says she worked with Duncan "long before this whole Ute prayer tree thing came up." She's been in regular contact with Chapoose.
"It's really hard when people are gone to say, "Well they said this or they said that,'" Martorano says. "It gets into that sort of argument, and I think that's not worthwhile for any of us to start arguing about."
Competing theories
Martorano says she was scouting peeled trees at Florissant Fossil Beds National Monument when Kaelin showed her to a "prayer tree" near the visitor center.
"That's when I started realizing that it was basically a sham or a hoax," Martorano says.
She could tell from the trunk's diameter that it wasn't old enough to have been modified by indigenous people. She'd learn later, along with her contemporaries in the field, that there was no ethnographic evidence to suggest the trees being bent here — no old documentation.
But proponents point to evidence beyond Colorado. One of their primary sources has been a cartographer's map dated 1828-1844, depicting "Indian Trail Trees" in a territory that is now Illinois. At the turn of the next century, the trees continued to be commemorated, including in 1911 with one bent trunk receiving a bronze plaque.
So marked an early chapter of dispute. In a letter to the Chicago Record-Herald, one George H. Holt recalled a windstorm misshaping the tree as it was, "the only change being that the tree has grown."
Perhaps it was "a pity to spoil" the occasion, he wrote, "but it is much worse to invent a historical incident ..."
Tribal politics
Among the Utes, Jefferson is alone in his outspokenness. That doesn't mean he's alone, he says. "There's a bunch of other elders that believe like I do."
It's something he's explained to his white pupil: "A lot of them are not willing to (speak out) for the scrutiny from within the tribe as well as outside the tribe," Anderson says. "And I don't know that I blame them, quite honestly. Sometimes I question myself why I put myself through this."
The tribespeople Kaelin learned from have "clammed up," she says. She understands, having become aware of certain inner politics during her 25 years with the nonprofit World Council of Elders.
She's observed scorn for those she considers "superstars" like Duncan, an honorary attendee most everywhere he went outside the reservation, his name proclaimed in newspapers.
"On the res, that's one of the things," Kaelin says. "If anybody gets too far out there in front, too well known, then it arouses a lot of jealousy."
She offers another explanation for the silence: "Because of Anderson's work, the elders could be alarmed at the misuse of these very, very sacred trees. So maybe they're trying to take them back into obscurity to protect them."
Curiously, instead of banding together on their shared preservation interest, Kaelin and Anderson grew fiercely apart.
"It started positively," Anderson recalls, mentioning his admiration for the person advocating before him. Then Kaelin noticed what she considered to be widespread misinterpretation of the trees. She didn't appreciate him using her as a reference, either.
Things combusted in 2016 when she got word of him receiving an El Paso County contract. She wrote what Anderson called "a scathing letter" to the governor and state senators accusing him of fraud.
"She stuck a stick in the spokes that completely and deliberately caused a setback in what I hoped would help spread awareness of the trees," Anderson says.
Kaelin was "jealous," Jefferson says. "We were taking her role."
She laughs at that and draws on her teachings.
"In the Lakota way, we feel the great spirit gives certain work to certain people. And so the idea of jealousy is not germane, because it's work that is given. And so when someone like Anderson comes along, we just sort of blow it off, because they weren't given the sacred work."
The debate continues
That a public office could hire someone on behalf of the trees greatly concerns Colorado's top archaeologist.
"Local municipalities, if they're contracting with people, they sure as hell better be verifying," Norton says.
El Paso County paid Anderson $9,000 for two jobs. He was to survey trees in Fox Run Regional Park next, but the county broke ties amid the controversy.
A park planner involved, Ross Williams, says the county still considers "uniquely modified trees to be of some level of cultural significance." He cited Martorano's work on peeled trees and other scientific publications in British Columbia and Texas.
The latter, "Comanche Marker Trees of Texas" published by Texas A&M University, could serve as "a model" for verification, Kaelin says. The lead author, an arborist, went on to head a coalition of fellow researchers and elders.
To Kaelin, Norton's rebuttal is "a knee-jerk response." And the archaeologist admits: "It wasn't much of an investigation."
Norton doesn't see the need for one. The trees simply don't pass her eye test. And she's abiding by firm messages.
She recalls a Colorado Commission of Indian Affairs meeting in 2017, where Naranjo, the Southern Utes' appointed liaison, stood up and looked her in the eye.
"He asked for help in combating this prayer tree nonsense," Norton says. "It was pretty serious, like it was past the point of it being silly and something that should be ignored."
Soon after, she penned the cease-and-desist letter to Anderson. By then, the Pikes Peak Historical Society had distanced itself from him and the trees altogether, also no longer promoting material from its former president, Kaelin.
Still, Norton finds herself confounded by the number of believers. She's thought about it.
"It seems we've written Native Americans out of our modern life. They're groups of people that existed in the past in our popular mind. ... So sometimes, I feel like trying to resurrect these supposed ancient traditions is almost a form of white guilt, of trying to resurrect Native people without actually doing the hard work of looking at what they need today, actual social justice. That sounds cynical, but I think that's a lot of it."
Anderson remains resolute, showing anyone interested out to the mysterious woods. And the interest is indeed there; he counts 30 or 40 on his regular hikes.
But with the skeptics, he feels he is losing ground.
"You know, I really feel sorry for those people," he says, huffing and puffing up the trail to one of his favorite trees. "They're really missing out on a very important part of our collective history. And these trees really ought to be preserved, spared for future generations."
He reaches the tree — what used to be a favorite. It's not bent as much as it is broken, its limbs scattered about, an apparent victim of the wind.
"Just a beautiful old tree," Anderson says. "Now it's gone."
And he stands still, silent, as if reverent, while everyone else walks by.