Shelley Jensen's new office on South Las Animas Street backs up on what's known as the "homeless highway," the path many of the homeless travel between shelters or camps and the soup kitchen in downtown Colorado Springs.
In the past week, squatters broke into the old house by ripping off the siding and moved in pallets to sleep on.
Jensen had been using some of the space until someone set a fire inside.
Intruders also recently hauled a ragged large couch into the shade of the backyard.
Jensen, a community strategist and founder of a nonprofit called We Fortify, is sympathetic — to a point.
"When you're in survival mode, you do what you have to sometimes," she said.
"I understand it in the winter when it's cold; it's hard to stomach in the summer."
After spending thousands of dollars to clean up the property before the latest round of damage, it's now going to cost about the same amount to raze the dilapidated home and build a new office building as it would to renovate it, she said.
That house, and six other vacant, trashed homes in the Mill Street neighborhood will be demolished in upcoming weeks and replaced with Jensen's dream: tiny homes for the homeless.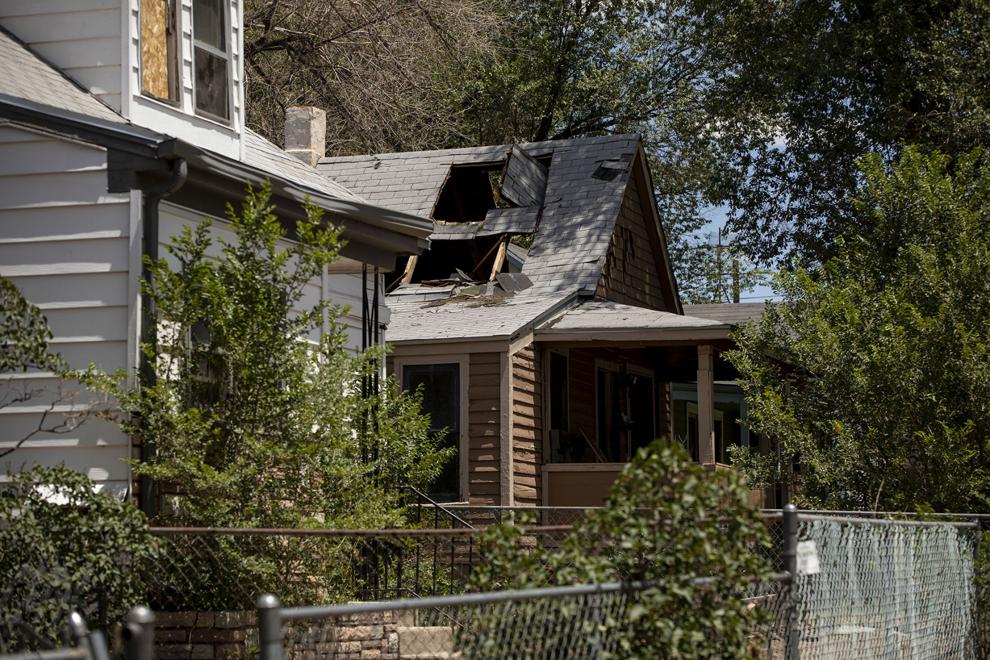 Five 240-square-foot tiny homes will be ready for renters in October at Fountain Boulevard and South Sierra Madre Street, Jensen said. Thirteen more will be on the .63-acre site by February. Each is costing the organization $50,000 to purchase.
The development, Working Fusion at Mill Street, will target 18- to 29-year-olds who are temporarily homeless, such as those exiting the foster care system or the military and couch surfing, living in their vehicle or staying with friends or relatives.
Instead of the neighborhood's illegal squatting problem, the new tiny home village will give homeless young adults a chance at creating something better for themselves and their future families, Jensen envisions.
"The goal is to create a generational shift," she said. "If we can shift them out of poverty — by providing a dignified neighborhood with expectations and a better chance of progressing in their lives — their children will not be born in a paradigm of poverty."
Jensen's vision, now three years in the making, is finally moving forward.
Colorado Springs City Planning and City Council approved the project nearly a year ago, but the coronavirus pandemic stalled fundraising, Jensen said.
Recent commitments of $50,000 from the Edson Foundation and $50,000 from El Pomar Foundation are making a dent in the $1.6 million goal.
But before the tiny homes can be moved onto the land, the existing asbestos-laden vacant homes must be abated and torn down.
That should happen in the next month, Jensen said.
Nunn Construction President Tyson Nunn is working with other local builders to help clear the land and install utilities, she said.
Nunn said he's excited that the tiny house development is coming to fruition and for its potential.
"We are looking at ways to support her, and partner with other businesses, to provide in-kind services for site preparations," he said.  "We are also looking at other partnerships to get the structures built."
The renewal can't come fast enough for neighbors, who say homeless people have been taking advantage of the empty homes.
As soon as Jensen left one home in giving a tour of the property last week, homeless people tried to sneak back inside, which produced shouts of complaints from neighbors.
Jensen is empathetic of their side, as well.
"It breaks my heart," she said.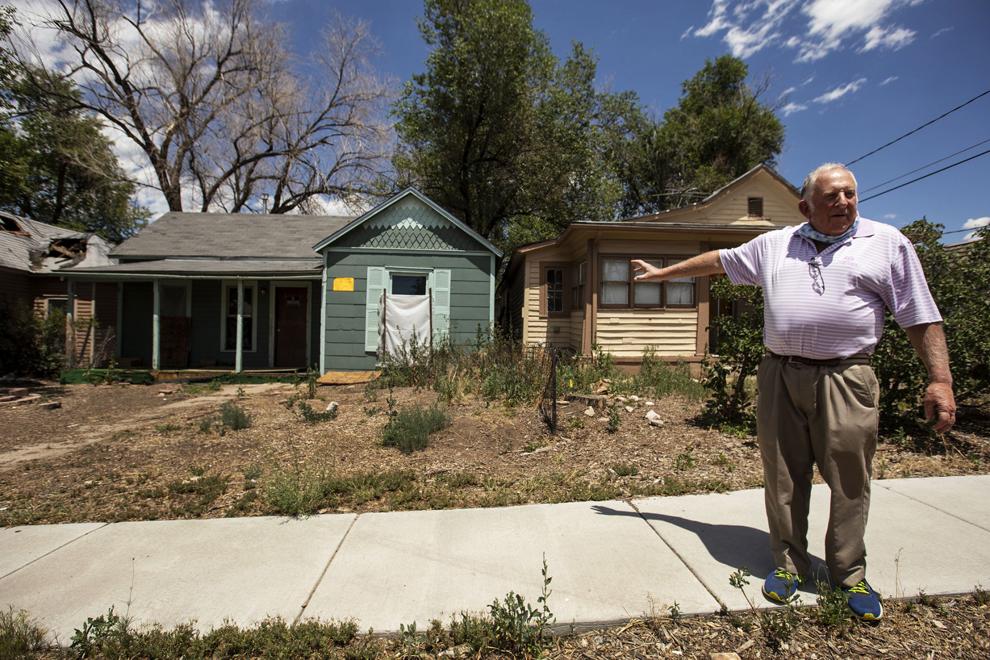 Envisioning a whole downtown
Greg and Rick Flaks' parents, Stanley and Regina Flaks, bought the Mill Street homes in the 1970s. The civic-minded couple, who ran a large wholesale distribution business, often gave breaks to people who were trying to better their lives.
They helped promising renters with a hand up, Greg Flaks said, and supported community museums, the arts and music organizations.
The brothers want to follow the example their parents set.
They were going to tear down the Mill Street homes and build a storage rental facility. But when Jensen, a friend, told him about her idea over coffee in 2017, they decided to use the land for philanthropic instead of commercial purposes.
"We said we'd like to be involved," Flaks said. "It would be great to help people — our parents moved here in 1950, and our family is interested in doing things for the good of the community."
Jensen's organization is leasing the land for one-third of market rate value, with an option to buy in 10 years.
The southwest edge of downtown Colorado Springs was built as a "first-class, working-class" neighborhood, Flaks said.
Today, clients of the Salvation Army's R.J. Montgomery homeless shelter two blocks to the north and Springs Rescue Mission's large campus for the homeless less than a mile to the south, hang out and are thought to be the squatters in the homes that have not had renters for at least a year.
"I kick them out, I call the police," Flaks said.
But every night, the "No trespassing" signs are ripped down, Jensen said.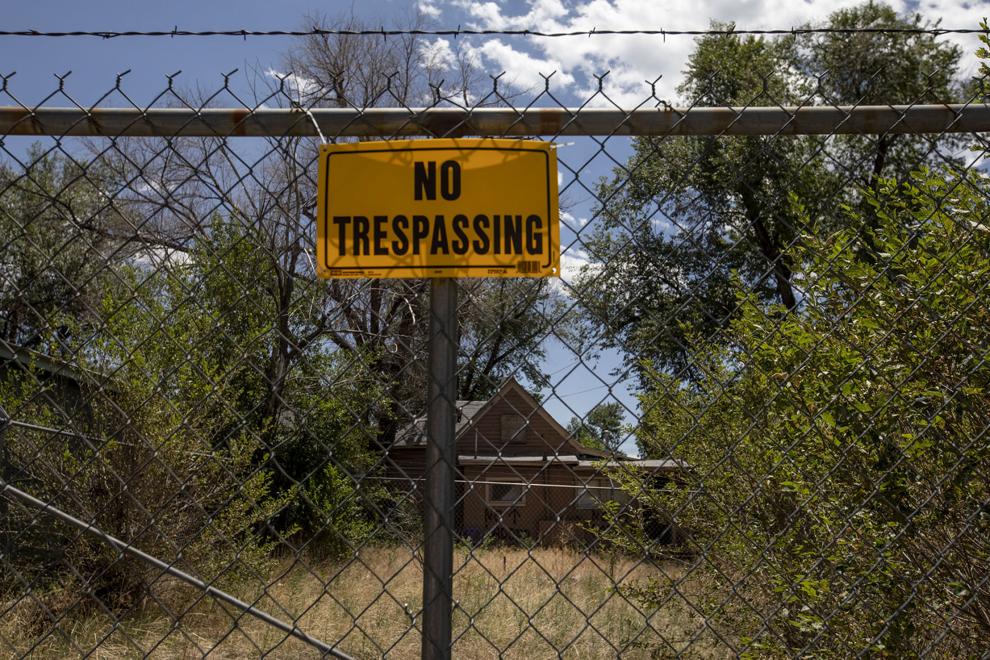 The plan for Working Fusion at Mill Street began before a large-scale urban development in the neighborhood took root. The new U.S. Olympic & Paralympic Museum is less than a mile to the north, as is the under-construction Colorado Springs Switchbacks FC Stadium.
"My mother always envisioned this whole downtown area happening just the way it's happening now," Flaks said. "She always hoped something like this would transpire."
Several new traditional apartment complexes are being built to the east, and numerous restaurants have opened in recent years.
Whether the project for the homeless will be welcome amid the new development is yet unknown.
"I worry about gentrification maybe being the pressure that would force the program to move elsewhere," said Beth Roalstad, executive director of Homeward Pikes Peak, which is one of the referral agencies for the tiny home village.
But the future residents could be good for the incoming enterprises, which will bring jobs within walking distance of Working Fusion at Mill Street, Roalstad said.
The location isn't as important as its mission, she said.
"People who are experiencing homelessness thrive in a community setting," Roalstad said. "And the small numbers and being intentional about programming and education makes this a great model that can truly impact the lives of the folks who want to be there."
Each tiny home will have a loft, access to a garden plot and enough solar power that residents' utility bills will be around $25 in the summer and $45 in the winter, Jensen said.
Residents will be referred by local service agencies, such as Homeward Pikes Peak, Springs Rescue Mission and Mount Carmel Veterans Service Center, and vetted. They must have a job or job prospect and cannot be addicted to substances.
The first tenants will start to be identified in August, Jensen said.
Roalstad said her organization's street outreach team will help select and screen young people who might be good candidates — those who want structured support and life coaching.
Renters will be charged at 40% of average median income.
Jensen said the project focuses on young adults because the city's homeless initiative identifies the demographic as the most vulnerable. She traveled to the slums of India and other countries to research poverty.
What she found: "People can be in poverty but be happy as long as there is a healthy community."
The tiny home village will be a controlled environment.
A two-year lease and a contract holding renters accountable for being good neighbors and tenants will seal the deal.
After two years, Jensen said, tenants ideally will move into independent housing being on secure financial footing and having a living-wage job, which in Colorado Springs is $17 to $18 per hour. They also will be in a healthy social-emotional and physical state, she hopes.
"The expectation is they are shifting out of poverty," Jensen said.
Classes on budgeting and other life skills will be provided, along with community activities. Counseling also will be offered, either from the referring agency or through Working Fusion, which will have a director of counseling on staff.
"What happens now is people get Section 8 housing vouchers and search for an apartment complex that will take them, but they still struggle," Jensen said. "They don't have the tools to manage things like earning a living wage and the problems that led them to be there."
Jensen's new office is located just down the alleyway and will feature a community center for village residents. She also plans to incorporate artwork on public spaces such as fences and host public events like concerts.
"It's a community kumbaya," Jensen said. "That's how it should be."
Donations can be made at workingfusion.com.