MOSCA • The campground opened for the season this month, and of course it was full. Of course people from near and far came for this certain spring awakening in Colorado's most mystical realm.
"A delight," one camper called the celestial show over Great Sand Dunes National Park and Preserve.
Remarked his partner: "There's so many stars you can hardly pick out the constellations!"
The eyes need to adjust. The mind can be disbelieving on the dune field by day and even more so by night: the darkness and silence overwhelming around the swooping, soaring sea of sand.
But soon, sure enough, there is Orion. There are others ancient civilizations knew and named for fabled heroes and beasts. There's Polaris, aka the North Star. There's Ursa Major, aka the Big Dipper, and the Milky Way, the unmistakable brush against the diamond-studded canvas. Multicolored planets and nebulas add to infinity.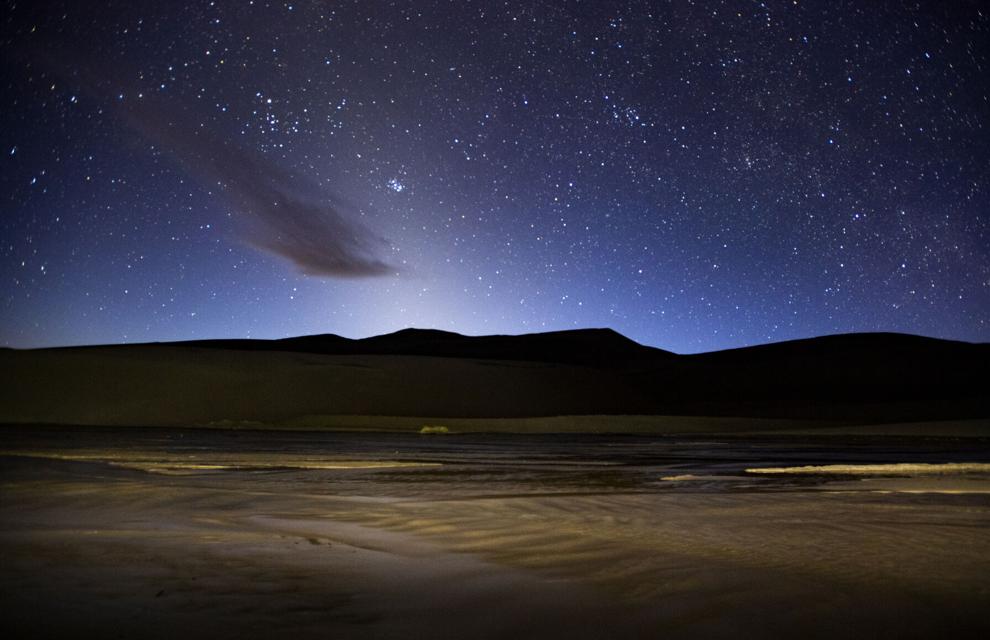 This is the view hanging over the San Luis Valley, the world's largest alpine valley, defined by generational ranches with hardly any man-made lights to obscure the scene above. Just as it is rural, the valley is spiritual. With the heavens at hand, perhaps it is no wonder the ornate structures of the region: stupas honoring Buddha and a hill-topped shrine that is a pilgrimage for Christians. (That's not to mention the alien watch tower.)
The night sky "is a gift every day," said local Amy Raney. "We get to feel this greater power than ourselves, this universe that is bigger than ourselves."
Here at this natural, bizarre sanctuary, the feeling is most profound, she says.
"You can lay out on the dunes and feel like you can touch the stars. How can you beat that?"
The national park achieved International Dark-Sky status in 2019, a designation shared by only about 130 other places in the world preserving "true darkness" — skies closely resembling what early ancestors would've seen, without today's rampant light pollution.
Since that designation, star-chasers have descended upon the Great Sand Dunes. Upward of 150 people come for weekend telescope tours throughout the summer, said Kathy Faz, the park's chief of interpretation and visitor services.
She's seen the reaction among first-timers, the realization "like you're on another planet," Faz said. The dusty surface might feel like Mars, but then the mysterious, swelling creek on the dune base startles, appearing glassy under the cosmic glimmer.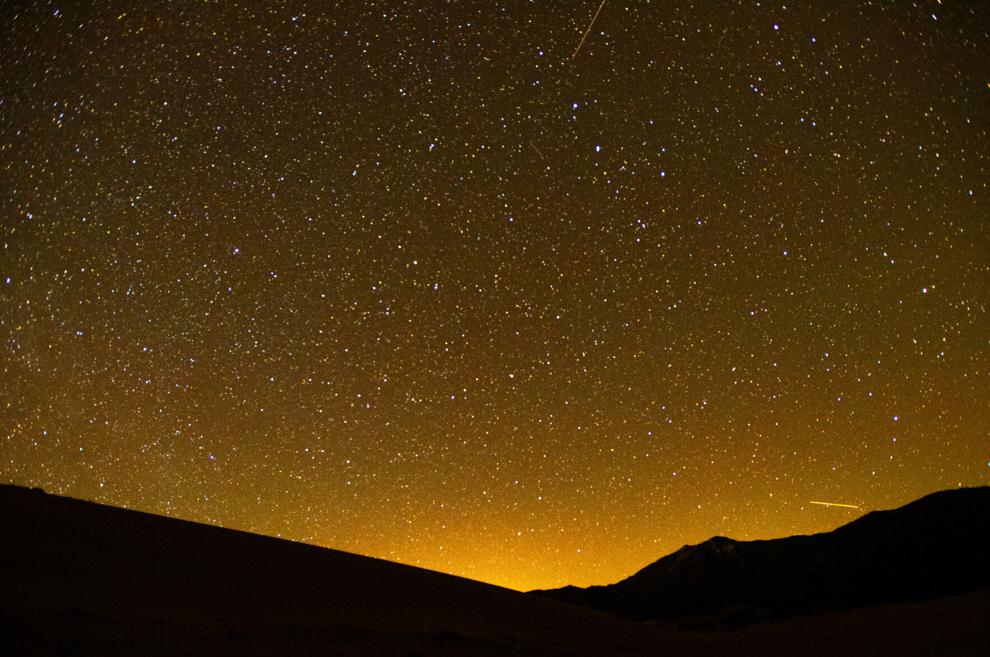 "Your mind will start going into that feeling of another world," Faz said. "That's an imaginative state that I think is really healthy."
But the park also aims to bring people back down to earth. To educate, Faz said. "To get people out to recognize that darkness is important."
International Dark-Sky Association defines light pollution as "the inappropriate or excessive use of artificial light." The association cites research that has largely focused on birds, which navigate by moon and stars. Artificial light can disorient their migrations, luring them to cities, where they've been found to crash into buildings and perish. A similar fate has been reported for baby sea turtles, who mistake light and dangerously wander inland.
The San Luis Valley's iconic sandhill cranes mostly travel by day, but local observers worry occasional nighttime flights can be harmed by lights. They see a threat to another famed valley migrator: the Mexican free-tailed bat, which like other nocturnal creatures relies on darkness for hunting.
And emerging science suggests self-inflicting harm by ever-expanding urbanization.
The American Medical Association has cautioned against high-intensity LED lights, such as those erected along city streets and highways and parking lots, saying they might increase the risk of cancer, diabetes and cardiovascular disease. By proliferating lights, researchers have long noted human beings disrupting their essential sleep rhythms.
But the impact goes beyond physical, said Ryan Parker, chairman of International Dark-Sky Association's Colorado chapter.
"We're losing the ability to really appreciate what makes Colorado Colorado," said the fifth-generation native. "We have so much development that's happening, and we're eroding that natural landscape, including that natural night scape, by adding more unshielded, extra bright lighting. We're creating these glare bombs."
In 2016, following a years-long survey that used satellite data and widespread ground observations, Italy-based Light Pollution Science and Technology Institute announced 83% of the planet's population lived under blemished skies, including 99% of Americans and Europeans. A third of humanity, the report determined, was unable to see the Milky Way.
An ambitious initiative in the San Luis Valley aims to preserve it.
A multiagency collaboration seeks to establish the globe's largest dark-sky zone. The Sangre de Cristo Dark Sky Reserve would span more than 3,000 miles, covering five counties and mountainous terrain stretching to New Mexico.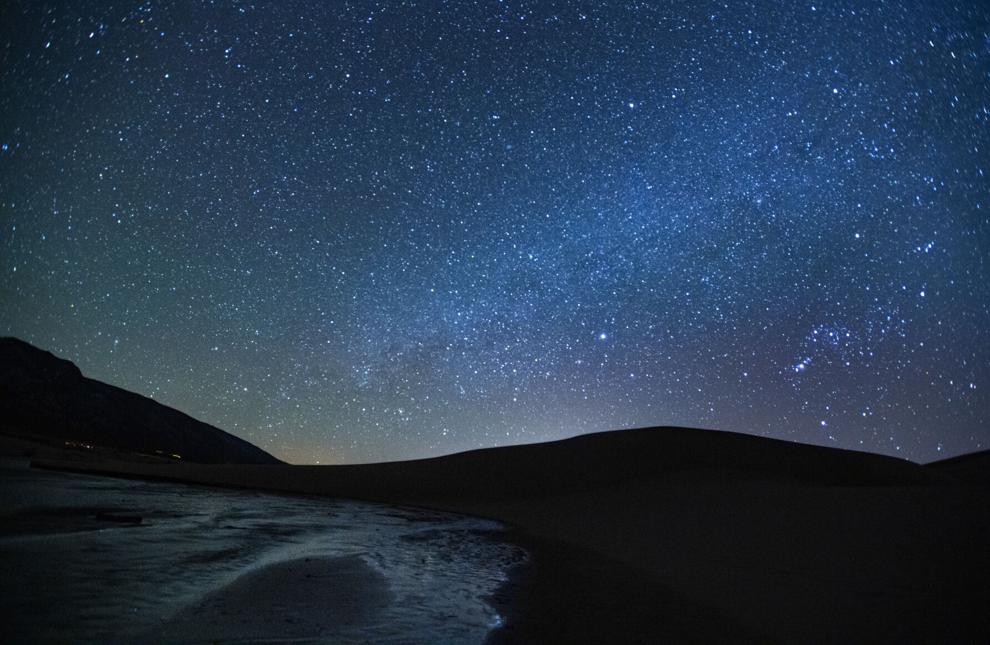 Nonprofit San Luis Valley Great Outdoors is spearheading the effort, convening local mayors, county commissioners, planning departments, ranchers and public land managers.
"It's a proactive way to ensure that our dark skies will be protected now and into the future," said Dani Gronhovd, the nonprofit's community connections coordinator.
The goal is to apply for International Dark-Sky status early next year. Success, Gronhovd said, could depend on communities seeing eye to eye, agreeing on code amendments and new rules for fixtures that are energy-efficient, softer in tone and shielded, the rays funneled downward.
Inspired by the Great Sand Dunes and by Colorado's first official dark sky in 2015 in the neighbor valley surrounding Westcliffe, there has been "an overwhelming buzz in the San Luis Valley about dark skies," Gronhovd said.
Parker has noticed a momentum shift beyond. More people are thinking about light in terms of other pollution for which there are federal regulations, he said. He sees more dark-sky applications, more locales recognizing stargazing tourism.
But Parker has also been discouraged.
"Western states have this don't-tread-on-me philosophy," he said. "Nobody wants to be the first to tell their community, 'Hey guys, your lights are not good for people.'"
A neighborly philosophy is needed, Parker said. An understanding that lights, in fact, tread on other people and animals.
"As a conservative Christian, a lot of people are surprised to know I have these progressive viewpoints," Parker said. "But this is a nonpartisan movement where we can all agree that God's universe is vast and amazing, and our ancestors long before us gazed up at the stars, they used the stars to navigate and way find, and that's our connection to our past. And if we lose that connection to our past, we lose the essence of being human."
Hence his group's ongoing Lights Out Colorado campaign, calling on residents to promote dark skies by new lighting practices — "a way to raise appreciation," Parker said.
Appreciation is raised at the Great Sand Dunes. During tours at the park, Faz senses "a lot of curiosity, a lot of excitement," she said. She hears exclamations — "Wow!" — and she hears childlike giggling.
"I also hear, and I don't know how to describe this, but it's like there's these connections happening," she said. "You have this feeling one person in the group is getting out of their comfort zone, but they're comfortable with their friends leading out there."