Two major Colorado Springs hospital expansion projects will open this month, but the local health care building binge is far from over.
St. Francis Medical Center's expanded emergency department opens Wednesday, the last major part of a $102 million, 168,000-square-foot addition that was started in May 2017. UCHealth Memorial Hospital North's $129 million, 130,000-square-foot addition will open Feb. 25, with space for expanded services for women, cancer patients and emergency medicine.
More construction will follow, starting with this spring's opening of Children's Hospital Colorado's $165 million, 294,000-square-foot facility on the Memorial North campus. Penrose-St. Francis Health Services plans to build out shell space for six more operating rooms and add two floors to the St. Francis addition for inpatient beds, building a third campus along Interstate 25 in northern Colorado Springs and renovating its Penrose Hospital campus on North Nevada Avenue.
The expansions have state officials concerned about an "arms race" with hospitals building redundant facilities to compete, rather than compliment each other, but Colorado Springs hospital officials say they are just trying to keep up with the area's growing population and demand for health services.
"We built the emergency room (at St. Francis) for 2,800 to 3,000 patients a month, and we have significantly exceeded that. We are now over 4,000 (patients a month) all the time," said Calvin Eisenach, the hospital's vice president of operations, during a tour last week. "We are bursting at the seams. There have been long waits" for emergency room patients.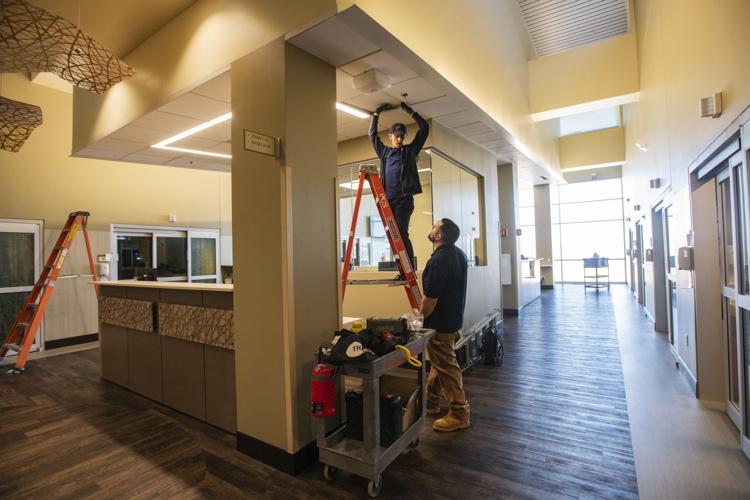 Memorial North and St. Francis report fast-growing patient counts, triggered by explosive population and housing growth to the north and east in the Colorado Springs area, especially as more Denver-area workers look for less-expensive housing in northern El Paso County. Memorial North opened in 2007 and St. Francis two years later.
"This expansion will serve the community well, but we have to keep expanding to serve the community coming in," Eisenach said. "We built bigger than we needed (now). But the community is growing and needs these (expanded) services." Besides the bigger emergency department, the addition includes a neonatal intensive care unit that opened in August and four more operating rooms that opened in October.
Few new employees have been hired to work specifically in the additions; both hospitals have added workers as needed to accommodate their growing patient volumes.
The expanded St. Francis emergency department will be nearly twice the size of the emergency department at Penrose Hospital. St. Francis' emergency department often handles more patients, while Penrose is equipped and staffed to handle more severe cases. The St. Francis department will have beds for 48 patients, not counting four beds to evaluate arriving patients, and special units for children and behavioral health.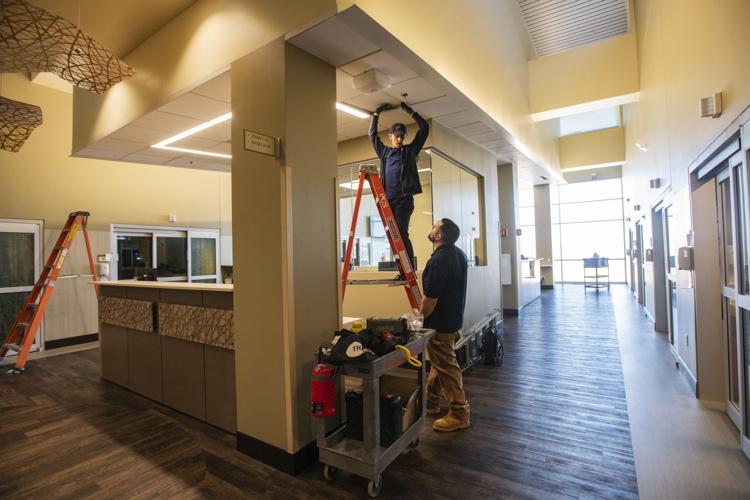 The new emergency department was designed by the medical staff that will use it, creating the most efficient patient flow, said Michele Hobbs, the hospital's emergency services director. That includes having satellite radiology and laboratory operations there so patients don't have to be taken elsewhere in the hospital and a larger ambulance parking area with a lounge for crews, she said.
The current St. Francis emergency department, which will close as its replacement opens, will be remodeled during the next month or so for vascular care, infusion and radiology, Eisenach said. The four new operating rooms are at capacity, though demand for those services tends to be higher in winter, and medical-surgical inpatient beds and the neo-natal intensive care unit also are full, he said.
The hospital's parent company acquired adjacent land in 2016 for expansion that could accommodate medical offices, parking or other needs, Eisenach said.
Penrose-St. Francis is acquiring a site for its third campus to follow housing being developed on the city's northern edge. The hospital sold a site in northwest Colorado Springs that was to have been used to replace Penrose Hospital. That plan was dropped, and Penrose instead will be renovated over seven to 10 years. The new campus will begin as a specialty hospital, perhaps focusing on high-end orthopedic and spine care. It likely will start with only a couple of floors and 24 beds, but will grow to rival St. Francis in size.
About half of Memorial's addition is dedicated to women's services, with areas for soon-to-deliver mothers, labor and delivery as well as care of mothers and newborns. The new space doubles the capacity of women's services and, when more unfinished space is completed, will be larger than the space now dedicated to those services at the Memorial Hospital Central campus east of downtown.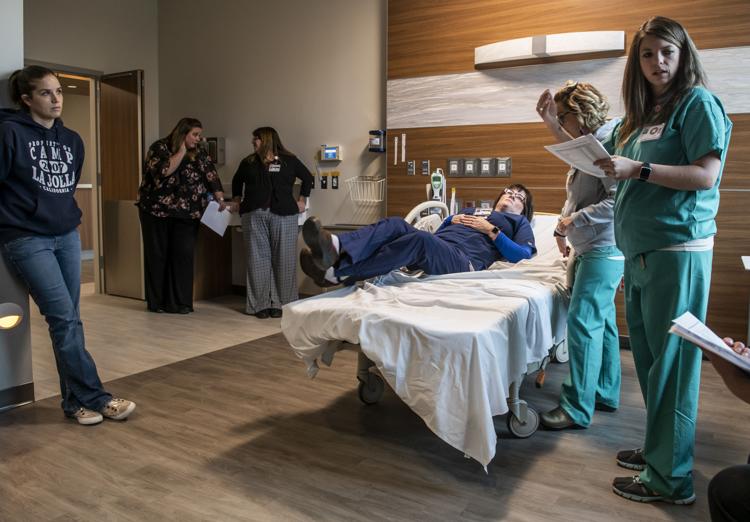 Memorial North handles about three-fourths of the volume of Memorial Central, but the number of annual births at the North campus grew by 21 percent between 2013 and 2018, hospital data show. Women's services now occupies about a third of Memorial North's building; that space will be used to expand inpatient beds for medical and surgical patients.
"Our growth in birth numbers year over year is reflective of the population growth in the region, and we are excited here at UCHealth to be growing in size and innovation to make sure the best services are available to our patients," said Amber Rossman, interim clinical director of Memorial's Maternal Child Division.
The hospital is running training exercises in the addition this month to help staff become familiar with where supplies and equipment are stored and how on-call staff can quickly find their way to the right rooms when paged. In one scenario, nurses walked through an uneventful birth while in a second scenario, a mother undergoing a C-section begins hemorrhaging, and teams from the emergency and intensive care units are summoned.
In October, Memorial North opened the first-phase expansion — a nine-room addition to its emergency department that will increase capacity by 50 percent.
That expansion won't be the last for Memorial North. The master plan for the 128-acre campus, which also houses Colorado Springs Orthopaedic Group, calls for another hospital tower, a second medical office building and a parking garage. UCHealth Memorial also operates Grandview Hospital on North Nevada Avenue and Pikes Peak Regional Hospital in Woodland Park.