B. Lin found herself homeless after her good intentions squared off against bad people.
The clash led to squatters illegally occupying and trashing her once-nice home in a middle-class neighborhood in northeast Colorado Springs.
And for more than three months, Lin has been seesawing between living in her car and staying in a homeless shelter.
Meanwhile, her home is now on the city's list of 38 dilapidated and condemned residences.
"People think I'm crazy when they hear what happened," she said. "My life has not gone well at all. I blame myself."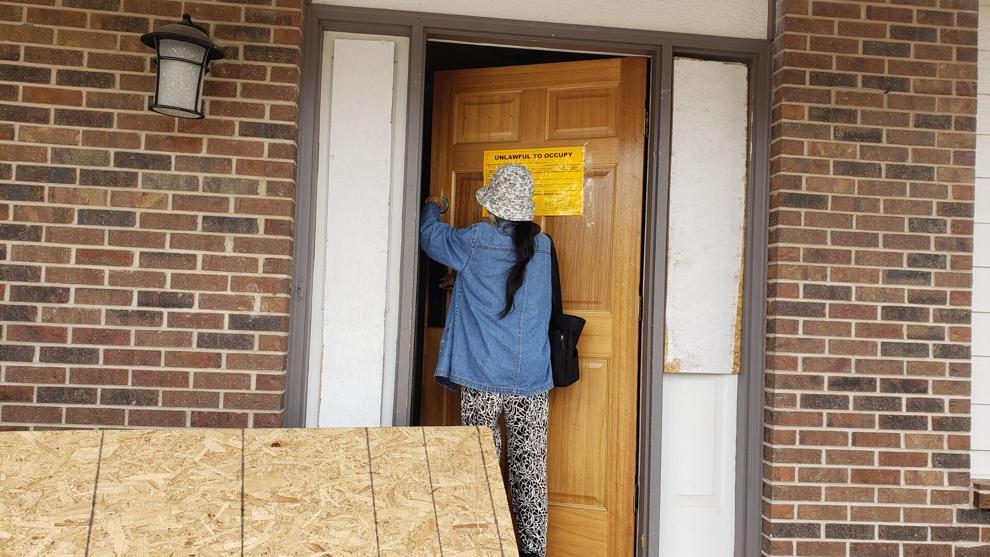 The tragic irony of Lin ending up homeless after squatters took over her property — which she and her now estranged husband had purchased as a newly built Richman home in the late 1980s — is uncommon, said Glenn Shellhouse, who does unpaid street outreach for Rocky Mountain Human Services.
As an agency volunteer, he's been helping homeless people get back on their feet for seven years.
"Her story was so unique that it popped out at me immediately," Shellhouse said. "I hear a lot of stories, a lot are heartbreaking, a lot are moving, and hers is unusual."
But the tale of squatters isn't.
Squatting — occupying an empty building or piece of land without the owner's permission — happens "all over the city all the time," said Chase Kinter, a code enforcement officer with the city of Colorado Springs.
"We deal with it constantly," he said.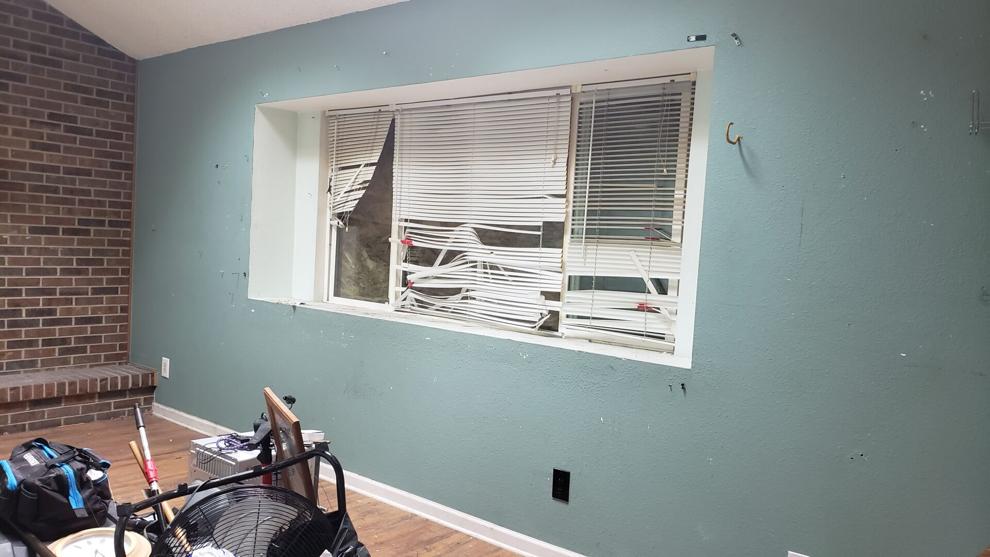 The most prevalent situation is when renters move into a house or apartment without the landlord knowing and are not on the lease agreement, Kinter said.
Other situations typically arise as a result of negligent landlords or people refusing to leave the premises.
Lin's case is more of an extreme. Good-heartedness led to her being taken advantage of, which the COVID-19 pandemic exacerbated and created even more difficulties righting what went wrong.
"I act strong, but I'm not," said Lin, who's in her 60s. "I don't want to show it."
Colorado Springs was home base for Lin's military family, who moved around while raising their children. They also traveled when her husband exited military service and worked for a government department.
The couple never rented out the house while they were on job assignments; it stood empty and waiting for them, she said.
They also never had problems until four years ago, when her husband retired, and they returned to Colorado Springs for good.
Lin, who was born in Taiwan and emigrated as a young woman, and her husband had hired a remodeling crew to spruce up the property.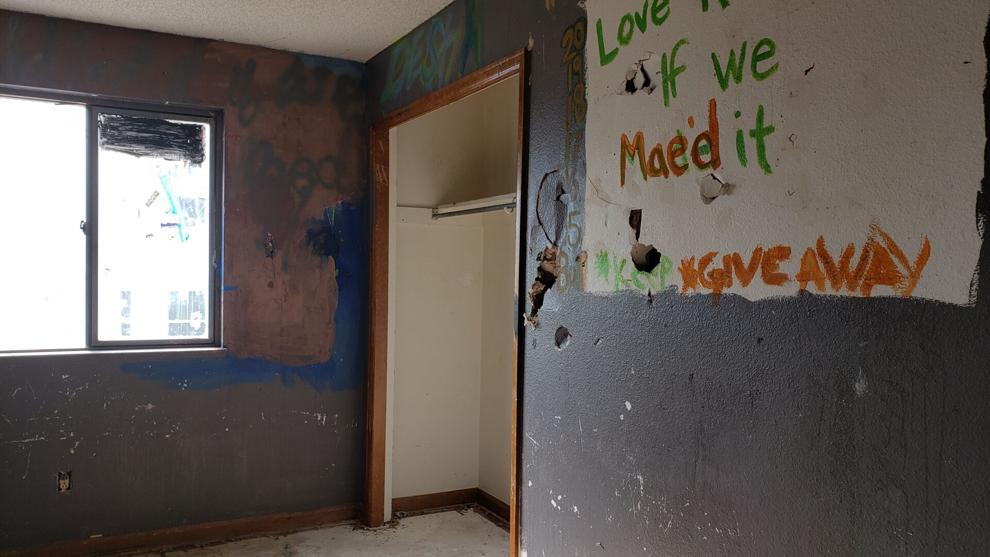 "One of the guys said he didn't have any money or any place to stay or credit," she explained while showing the ruins of her house. "I felt sorry for him. It was so cold out."
The couple provided a basement bedroom in their five-bedroom home, with Lin being her hospitable self, cooking for the man and making sure he was comfortable.
But he soon brought a relative to live there, she said, and eventually sneaked in a girlfriend. When Lin found a hypodermic needle in the dryer, she'd had enough.
"We kicked them out," she said.
But she had given the man a key to the home and didn't ask for it back.
When marital problems surfaced, Lin fled to Florida and left her husband behind. She thought he was continuing to live in the residence, but then she began receiving calls from the city's code enforcement about issues at the Colorado Springs house.
Her husband had abandoned the home, and his whereabouts are still unknown to Lin and code enforcement, who have tried to contact him. 
Squatters told city authorities who would come to the house that the owner had died or was on vacation. Squatters also transferred utilities' accounts to their names and accumulated $18,000 in outstanding bills, which accrued during COVID leniency, Kinter said.
"If I would have known what was going to happen," Lin said, "I would never have left."
While in Florida, Lin became ill, suffered injuries from a car crash and underwent several surgeries, which she said prevented her from returning to Colorado Springs until June.
The state of her beloved retirement dream left her feeling as broken as the home looked.
From 2018 to May of this year, but particularly during the pandemic, the residence was a central hub for homeless people, neighbors told her, with at one point up to 30 people staying there.
"I kept the house up real good," Lin said, fighting back tears while looking at the empty rooms.
Squatters left behind holes and writing on the walls, bare wooden floors that previously had plush carpeting, gouged countertops, missing light fixtures, wrecked plumbing, zero furniture, mice feces and a lingering odor of discontent.
But the property's appearance is much better than its condition in June, when code enforcement condemned it.
"It was completely filled with trash, rodents, debris," Kinter said. "Things were scurrying everywhere."
In May, after pandemic restrictions on tenancy and evictions lifted, $7,500 in outstanding utility bills on the house remained, and Colorado Springs Utilities tagged the water heater for being unsafe, code enforcement officers received municipal court orders for entrance and seizure warrants.
Authorities told about 15 people to leave due to unsafe and unsanitary conditions, and in June, code enforcement boarded up the house.
"The damage that had been done was extensive and required a huge load of work to clear out," Kinter said.
But even after barricading entryways, posting signs and changing the locks, Lin said people continued trying to get in. She points out marks on the front door where people attempted to break the new locks, and where basement windows were shattered to bypass the blockades.
One night Lin slept in her car across the street from her shuttered home and watched as a man climbed a tree in the backyard and went into a second-story bedroom, apparently to retrieve some belongings.
Another day over the summer, she found guns stashed in a barn on the property, which she and her estranged husband had never used, because it was new when she left four years ago.
"I had to call police several times in July," she said, adding that she's been returning to the house once or so a week to clean and make sure no one occupies it.
Codes enforcement removed trash from the outside and hauled away inert vehicles multiple times, Kinter said. The city billed Lin for the service, which Lin said she's still trying to pay off.
"It is beyond my power, beyond my budget to do this," she said of her house woes.
A family member paid a nearly $35,000 bill for a professional cleaning company to gut and strip the interior, Lin said.
Inhabitants used alcohol, methamphetamines and other narcotics, Kinter said.
"They were under the influence of various drugs; it was never-ending," he said.
It seemed obvious that drug dealers lived there, said a neighbor who didn't want to give his name because he didn't want it appearing in a public account.
Squatters stole cars, he said, and police showed up every other week and made "a number of arrests."
Police responded to the address on numerous complaints for abandoned autos, disturbances, medical calls, reports of assault and sex-offender registrations, said Robert Tornabene, spokesman for the Colorado Springs Police Department.
The neighbor said he was glad when the property was condemned.
"It was a busy spot," he said.
And as for Lin's situation: "It's rare you see anything this tragic," the neighbor said.
The longer squatters stay in a place that doesn't legally belong to them, the harder it becomes to remove them, Tornabene said.
Police have the legal authority to remove someone within the initial 24 hours of squatting, but after that, police cannot arrest them, he said.
If squatters "establish residency" by putting utility bills in their name or receiving mail at the address, "then it becomes the process of figuring out if an eviction would occur," Tornabene said.
Squatters can claim a residence after 18 years of living in it, according to Colorado law.
"It's difficult to get people out," Tornabene said. "The law has vague definitions and is so different than other states."
To prevent squatters, he said people should put up signs that say "No trespassing," and provide written notice to anyone who's in a house or apartment without permission that they cannot be there.
"There are steps that have got to be put in action, saying people can't be doing what they're doing," Tornabene said.
Kinter advises homeowners to have someone they trust check on their property if they plan to leave it empty for a period.
Also, be sure to have a lease agreement signed with all tenants, he said.
"You need to have a contract in place for someone not to take advantage of you," Kinter said.
Lin fears the process to restore her home to a habitable state will be long and beyond her meager finances and lead to an extended stay for her at the homeless shelter.
The water heater in Lin's home needs proper ventilation to function properly again and other renovations need to be completed. As long as she's showing progress, the work can continue, Kinter said.
"These types of properties are rampant in the city," he said.