Don't blink.
If you do, you might miss changes in Colorado Springs' retail, residential and commercial landscape — new stores, restaurants, apartment complexes and the like.
The Gazette routinely reports on such high-profile projects, many of which have been proposed by businesses and developers in response to the Springs' continued population growth, employer expansions and the city's ranking as one of the nation's most desirable places to live, an honor bestowed by U.S. News & World Report.
Here's an update on some of the residential and commercial projects The Gazette has reported on over the past year and where they stand now:
• Apartment living is in, shopping is out at the site of a former retail icon.
A Sears that co-anchored the Chapel Hills mall on Colorado Springs' north side for nearly 40 years was torn down about a year ago and construction of a 300-unit apartment complex — to be called Outlook Briargate — is underway on the department store site.
Evergreen Devco, a real estate development company with offices in Denver, Phoenix, Salt Lake City and Los Angeles, hopes to complete the apartment complex clubhouse and open the project's initial units in the first quarter of 2023, said Robert Place, the company's multifamily development director for Colorado.
"We've had a couple supply chain issues, but otherwise, construction is going good," Place said.
Those supply chain issues, however, could cause the opening of the first apartments to slide until April, he added.
The apartment complex is one of several projects Evergreen Devco has proposed in the Pikes Peak region, which include another apartment complex on Colorado Springs' northwest side and the Falcon Marketplace shopping center in unincorporated Falcon, northeast of town.
Sears had been part of the Chapel Hills mall since the enclosed retail complex opened in 1982. The financially troubled retailer, however, closed its store at the mall, and another at the Broadmoor Towne Center on the south side, in March 2019. Evergreen Devco bought the Sears store from a third-party owner in May 2021.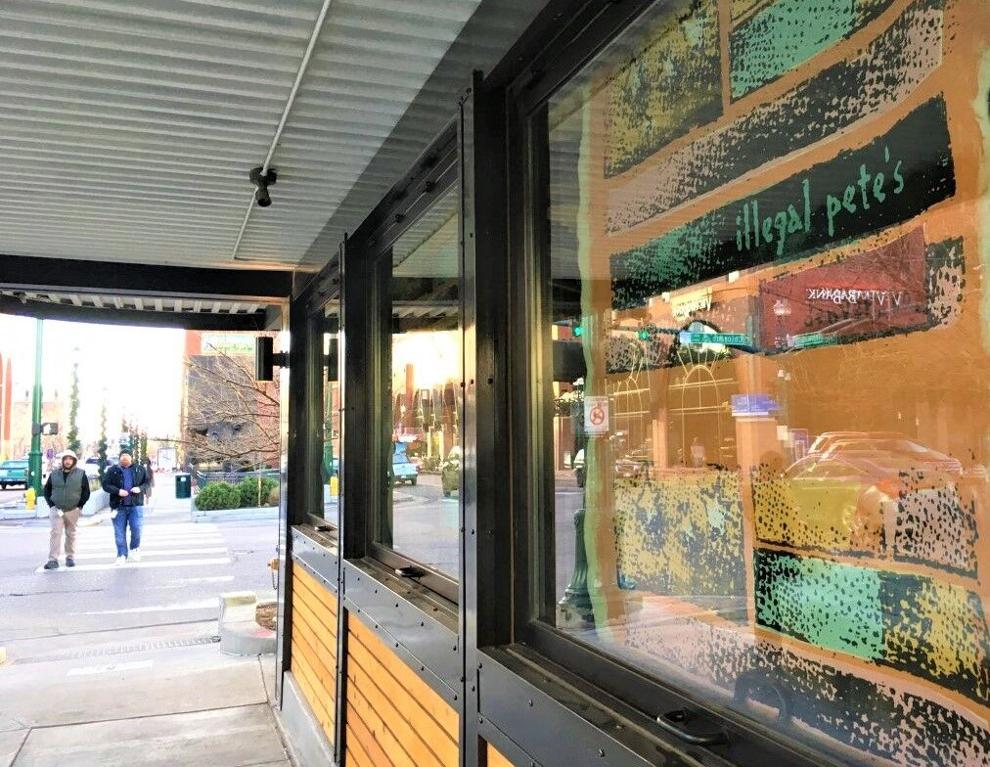 • Legal eats coming to Illegal Pete's.
Illegal Pete's, founded in 1995 in Boulder and known for its Mission-style burritos, tacos, and other Mexican dishes at a dozen locations in northern Colorado and Arizona, will open its 13th location in 2023 at 32 S. Tejon St. in downtown Colorado Springs.
The fast-casual chain signed a lease to locate in the Tejon Street building and had planned a June or July opening, founder Pete Turner said nearly a year ago. But corporate management changes within the company took longer than he expected and led to a delay in Illegal Pete's expansion plans, he said.
Now, Turner said he hopes to open in Colorado Springs in late spring of next year.
He remains bullish on the city's downtown, where thousands of apartments have opened, are under construction or planned and new attractions have debuted, such as the U.S. Olympic & Paralympic Museum, the Weidner Field multiuse stadium and Colorado College's Robson Arena.
"Can't wait to be a part of that community," Turner said of downtown Colorado Springs. "Love it. It's awesome. I've seen downtown Denver and been part of that in a couple different locations. Even the east end of the mall on Pearl Street in Boulder. You just see the energy (in Colorado Springs). You see it. ... We're extremely excited."
• Former Sunbird restaurant poised to fly again — as event center.
A Colorado Springs group that purchased the former Sunbird restaurant on the city's northwest side is moving ahead with its plans to transform the site into a 16,000-square-foot event center that would host weddings, corporate gatherings, parties and other events.
The group held neighborhood meetings recently with residents who live near the old Sunbird building, perched high on a hillside at 230 Point of the Pines Drive, said Colt Haugen, chief operating officer and co-owner of the Springs-based WickedThink advertising agency. He's part of the ownership group that purchased the Sunbird property in May 2021 and has developed plans for the event center.
The group plans to resubmit its proposal in the next few weeks to city government officials for review, Haugen said. The owners then hope to demolish the old 9,700-square-foot Sunbird building in January, launch event center construction in April or May and open the venue by spring 2024, he said. The new facility will be called The High Garden.
"We're rolling, we're moving forward," Haugen said.
The Sunbird, which opened in 1975, was popular for decades among families, couples and others who enjoyed its award-winning food and spectacular views from its hillside location.
Over the years, however, the restaurant and its food lost popularity and its building fell into disrepair. It closed in 2018.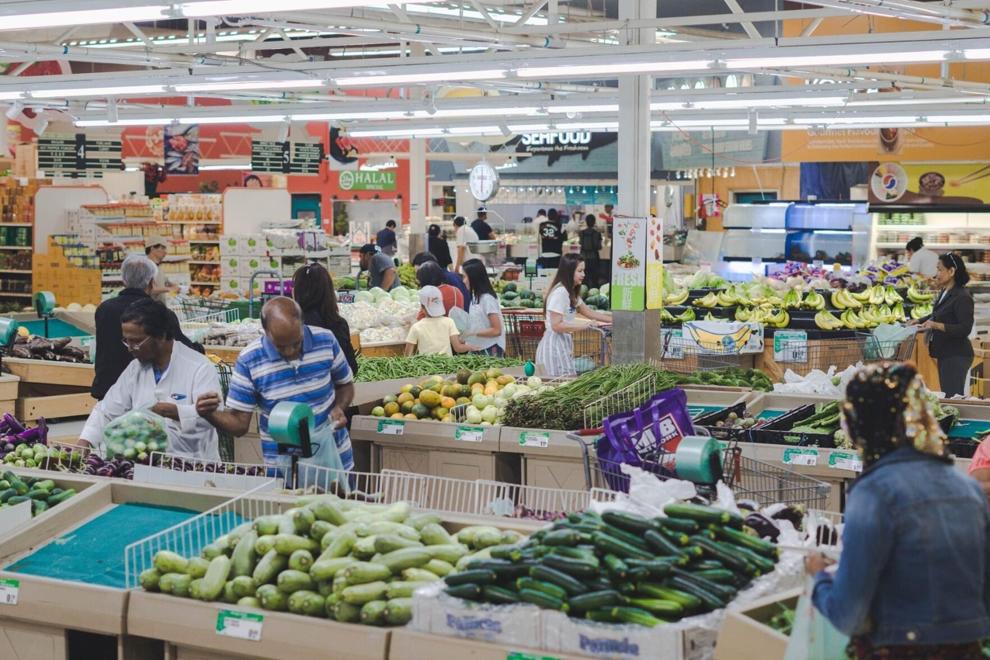 • New grocery remains on track in northern Colorado Springs.
The Korean- and Asian-themed H Mart grocery, part of a 40-year-old chain founded in Queens, N.Y., is moving forward with plans for a roughly 29,000-square-foot store to be built in the Victory Ridge development, southeast of InterQuest and Voyager parkways on Colorado Springs' far north side.
Brendon Choi, H Mart's general affairs manager for its Springs location and two existing stores in Aurora and Westminster, said the timetable for the grocery hasn't been finalized, however.
Construction on the store hasn't yet begun, and an original timetable that envisioned the store's opening in 2023 is up in the air, he said.
H Mart still is preparing its store design and continues to go through the city's planning process, Choi said. The chain now hopes to launch construction in 2023, he said.
"There's no change in that we're coming," Choi said. "It's just a matter of when, not an if."
H Mart, whose name is short for "Han Ah Reum" or "one arm full of groceries," is known for a diverse lineup of products that includes live crabs and lobsters, tropical fruits and numerous varieties of noodles.
• Shake Shack set to join Colorado Springs' burger wars.
California's In-N-Out Burger expanded to Colorado Springs two years ago and Texas-based Whataburger opened three restaurants in the city in 2022.
Now, New York-based Shake Shack, known for its high-quality, all-natural beef burgers, is targeting a 2023 opening southwest of InterQuest Parkway and Federal Drive, in the InterQuest Town Center development in northern Colorado Springs.
A timetable that accompanied a proposal submitted to city government planners in January showed that Shake Shack had planned to start construction in June on a 3,268-square-foot restaurant and open next month.
Construction, however, has yet to start, based on a drive-by of the site.
Katie Scott, Shake Shack's brand communications manager, said via email there have been no delays in the project, and the chain always had planned to open in Colorado Springs sometime in 2023.
"We don't have any timing to share other than 2023 at this point," Scott said of plans to open the Colorado Springs restaurant.
Shake Shack has nine existing locations in Colorado — three in Denver, one at Denver International Airport and one in Boulder, Castle Rock, Greenwood Village, Highlands Ranch and Lone Tree, its website shows.
"We love the community we have built in Colorado thus far, and we have continued to be welcomed warmly as we've entered new markets, most recently Boulder," Scott added.
"Each of these markets are very important to us and we're excited to be part of the growth and evolution of Colorado Springs."
• Dave & Buster's still apparently eying Colorado Springs' north side.
A proposal submitted to city government officials in August showed that Dave & Buster's, the suburban Dallas-based restaurant and entertainment chain, planned to open a 20,577-square-foot venue at the Highlands at Briargate retail and commercial center, southwest of Briargate Parkway and Chapel Hills Drive in northern Colorado Springs.
At the time, a Dave & Buster's spokesman said via email that the chain won't comment on new locations until they've reached a certain point in their development.
The spokesman didn't respond to recent calls and emails from The Gazette.
Highlands at Briargate is being developed on nearly 43 acres east of the Focus on the Family campus on property owned by the Christian ministry. Focus and The Keith Corp., a North Carolina-based commercial real estate firm, formed a joint venture to develop the Highlands at Briargate.
Highlands at Briargate users include Smashburger, Basil & Barley Pizzeria Napoletana, Einstein Bros. Bagels and Caribou Coffee and Chuy's, the Austin, Texas,-based Tex-Mex restaurant chain, among other users. The 91-unit Legend of Colorado Springs senior living center also has opened at Highlands at Briargate.
Graeme Keith III, a development partner with The Keith Corp., said via email that he couldn't comment on any potential tenants at the Highlands at Briargate, though he hoped to be able to discuss the project's tenant mix in early 2023.
Plans submitted to city government officials in August showed that Dave & Buster's would locate in the 20,577-square-foot, single-tenant building that would be constructed at Highlands at Briargate.
And though he declined to comment on specific tenants, Keith confirmed that site preparation work now is underway for that building, along with a 12,142-square-foot, multitenant building.
Vertical construction of the buildings should begin soon, Keith said, and his company hopes to complete its work on the buildings in the summer.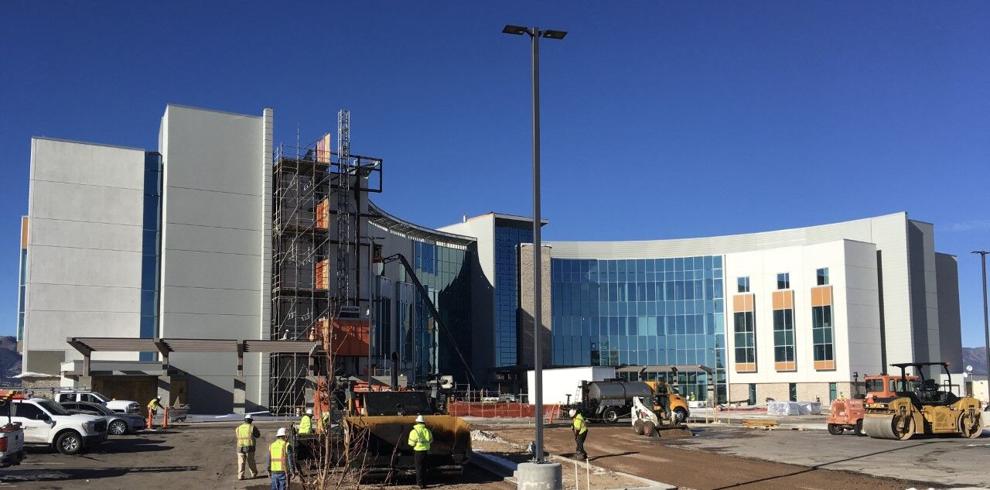 • New Centura hospital taking shape.
St. Francis Hospital-Interquest, the newest Springs-area hospital being developed by Centennial-based Centura Health, continues to take shape southeast of Interstate 25 and InterQuest Parkway on Colorado Springs' far north side.
The building's exterior is largely complete, while construction workers are finishing 72 rooms on the facility's second and third floors and 10 operating rooms on its fourth floor, Bill Lueck, Centura's director of operations for new development, said via email. The hospital also will have a 16-room, general emergency department on its first floor.
Centura continues to target a July opening for the first patients at the $170 million hospital, which will focus on spine and orthopedic care, hospital officials said via email. About 400 people will work at the facility — some employed by the hospital and others by third-party medical services companies.