When she was 15 years old, Aimee Resnick's eating disorder nearly killed her. 
Resnick said she was teased and bullied for being "bigger" than her peers throughout middle school and early high school. So, when a health class assignment required Resnick to set a weight loss goal and track her daily calorie consumption, she quickly fell down a rabbit hole of disordered eating habits. Resnick was eventually diagnosed with anorexia.
As Resnick's mental and physical health deteriorated from months of starvation, she received praise and encouragement from those around her, urging her to "keep up" the weight loss. With the help of her mother, Resnick briefly turned away from her disordered eating habits, but later relapsed during the stress and isolation of the COVID-19 pandemic. 
Soon after, in November 2020, Resnick attempted suicide.
"I realized that I had to recover from my eating disorder or be hospitalized," Resnick said. "Suicide felt like a more attractive alternative."
In Colorado, one in 10 residents will be diagnosed with an eating disorder in their lifetime, with many more going undiagnosed, according to the Denver-based Eating Disorder Foundation. Nationally, around 9% of Americans experience eating disorders, with the most common being anorexia, bulimia and binge eating disorder. 
Eating disorders are the second-deadliest mental illness, beat only by opioid-related deaths, according to the National Association of Anorexia Nervosa and Associated Disorders. Those with anorexia are 18 times more likely to die by suicide, with suicide being the second-leading cause of death for the disorder, a 2018 study found. 
The issue of eating disorders has only been exacerbated since the COVID-19 pandemic. The Eating Disorder Foundation in Denver said its average monthly sign-ups have increased 1,000% since 2019. Emergency room visits for eating disorders among teen girls nearly doubled nationally during the pandemic, and the Eating Recovery Center in Colorado similarly reported a "remarkable" uptick in patients in the last three years, particularly among teens and children. 
Eating disorders in Colorado teens, young adults rose during pandemic
Resnick, a now 18-year-old Centennial resident, is trying to help prevent other young Coloradans from going through what she went through.
"We have to eventually break into the fear," Resnick said. "We can't pretend eating disorders don't exist forever. We're doing a disservice to youth and adults alike by overlooking this issue." 
With the Colorado Youth Advisory Council, Resnick drafted Senate Bill 14. If enacted, the bill would create a statewide office dedicated to preventing disordered eating. It is one of two bills the state legislature is considering this year on disordered eating prevention. The other, Senate Bill 176, seeks to regulate operations in eating disorder treatment facilities and restrict the sale of diet pills to minors. 
A new office
If SB 14 passes, the newly-created Office of Disordered Eating Preventionwould be tasked with educating youth, parents, schools and primary care offices about preventing, recognizing and treating eating disorders. The office would also fill gaps in access to eating disorder treatment and lead a grant program to fund research on the prevalence, causes and effects of eating disorders in the state.
Delilah Tefertiller, another Colorado Youth Advisory Council member behind the bill, said getting eating disorder prevention into schools could make all the difference.
Tefertiller, 19 of Colorado Springs, said body image issues and diet culture had already reached her by the time she was in elementary school. When her elementary gym teacher mentioned that students might have to weigh themselves in front of class, Tefertiller refused to take another gym class throughout all of middle and high school. In middle school, her friends had an unspoken competition for who could go the longest without eating, bragging about skipping breakfast or lunch.
"Already from that young of an age, I knew that my weight was something to be ashamed of," Tefertiller said. "Disordered eating habits are extremely prevalent in young children, more than one would expect."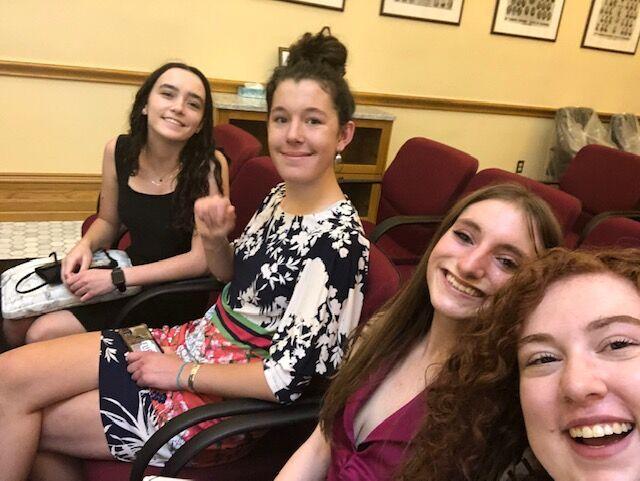 In high school, Tefertiller and Resnick encountered health classes that required them to set "goal weights," count how many calories they consume daily and identify or grade foods as good or bad, activities they said lead vulnerable students to develop unhealthy habits and attitudes towards food and weight. 
Sen. Dominick Moreno, who is sponsoring both of the eating disorder bills, said the research component of SB 14 is particularly important, as very little statewide data exist regarding eating disorders. Moreno said this has resulted in eating disorders being overlooked, even while the state legislature passed dozens of bills targeting other mental health issues in recent years. 
In 2015, CBS reported that Colorado had the fifth-highest rate of eating disorders in the country among adolescents. However, the state's Healthy Kids Colorado Survey monitoring the health and well-being of young people includes no questions regarding eating disorders.
"Youth issues can and often do get overlooked in policymaking," Moreno, D-Commerce City, said. "We do have a youth mental health challenge and it just shows that the legislature, although we've done some things in the past, needs to continue our work in this space."
From 2000 to 2022, the state counted only 421 deaths associated with eating disorders. The annual deaths peaked at 52 in 2000, hit a low of around 6 in 2006 and 2008, and slowly climbed to around 11 in 2022 — nearly identical to the pre-pandemic rates in 2019, according to data from the Colorado Department of Public Health and Environment.
This data is inconsistent with reports of recent spikes in the prevalence and severity of eating disorders from Colorado's Eating Disorder Foundation and Eating Recovery Center. It is also disproportionate to national data that suggests around 10,200 people die from eating disorders each year. Based on Colorado's population and extrapolating from the national data, the state should have approximately 178 eating disorder-related deaths annually.
Dr. Anne Marie O'Melia, chief medical and clinical officer of the Eating Recovery Center, said many eating disorder-related suicide deaths are likely mis-categorized. Of the state's record of 80 deaths with eating disorders as underlying cause since 2000, fewer than three were suicides.
"About half of eating disorder-related deaths are actually related to suicide, which is why it is so important have treatment available," O'Melia said. "(SB 14), I think, will do a lot to prevent eating disorders and to support families and schools in catching these things before they take hold. It will relieve a lot of suffering."
In addition to the Eating Recovery Center, the bill is supported by Children's Hospital Colorado, the Colorado Education Association, Colorado Psychiatric Society, National Alliance on Mental Illness, Youth Healthcare Alliance and Eating Disorder Foundation.
Sabrina Scanga, program director of the nonprofit Eating Disorder Foundation, celebrated the $200,000 grant funding the bill would provide for eating disorder research. But Scanga said the funding does not go far enough.
Federal funding for eating disorder research amounts to only 73 cents for each person with an eating disorder, the American Psychiatric Association reported. This is compared to nearly $87 per person for schizophrenia and $59 per person for autism spectrum disorder.
"Eating disorders are drastically, drastically behind with research," Scanga said. "Knowing how inaccessible care and education is for a lot of Coloradans, I think the bill could ask for more to really benefit the needs of our state. Right now, it's a minimal ask."
However, bill sponsor Moreno said he is actually working to lower the fiscal impact of the bill. Moreno said the Department of Public Health and Environment, which would house the Office of Disordered Eating Prevention, is pushing for amendments to make the bill less expensive to implement. The bill is currently expected to cost $426,000 through 2025 to pay for the office and grant program.
Moreno said cost-saving changes could include streamlining the department's duties regarding the new office or setting the grant limits "at a certain level." Moreno said the department is also opposed to creating an office at all, requesting that the new tasks simply be added to an existing operation. Though, he called this a "fundamental disagreement" and said the change likely won't make it to the bill.
The Department of Public Health and Environment declined an interview on the bill, saying it "does not comment on pending legislation."
The new office could be a deal breaker for Republican lawmakers, who have recently criticized Colorado's expanding government, calling it unsustainable and financially irresponsible. From 2019 to 2022, state lawmakers and the governor added more than a dozen new state offices, a new state department and other governmental structures.
House Democrats OK substance abuse intervention for Colorado middle, high schools
Sens. Perry Will of New Castle and Janice Rich of Grand Junction, two of the three Republican members of the committee considering SB 14, both said they haven't decided how they will vote on the bill. The third Republican, Sen. Jim Smallwood of Parker, said he plans to vote "no." 
Smallwood said he thinks the bill is more concerned about taking action on an issue that is personally important to some individuals, instead of taking action on issues that are killing the most Coloradans.
"I would have a hard time supporting an office for eating disorder prevention when we haven't yet created an office for cancer prevention," Smallwood said. 
Though with the Democratic majority in the Senate and supermajority in the House, the bill could advance with support from Democrats alone. In September, it passed out of the Colorado Youth Advisory Council Committee on a party-line vote, with all Democrats in support and the sole Republican in opposition. 
Treatment facilities
The other bill in the package, SB 176, would establish rules around care practices in eating disorder treatment facilities, and prohibit treatment facilities and insurance companies from using a patient's weight or body mass index (BMI) to determine the patient's needed level of care.
Lauren Snyder of Mental Health Colorado — the organization that developed SB 176 — said the bill was inspired by "traumatic" personal experiences of people who have worked at or stayed in eating disorder treatment facilities. Snyder said patients are often kicked out of treatment facilities after reaching a certain weight, though they're still engaging in disordered eating.
Snyder also spoke of patients being forced to participate in regular public weigh-ins while wearing sheer, exposing robes, patients being examined while nearly naked by staff members of the opposite gender, non-binary or transgender individuals being misgendered in assigned bathroom groups, patients being watched by staff when using the bathroom, and patients being tube fed or confined to their rooms as punishment for not finishing meals.
"I want to make sure that when people go into treatment, we are not re-traumatizing them," Snyder said. "There are some really messed up things happening in some of these treatment facilities."
If passed, SB 176 would establish several new requirements for treatment facilities, including providing private weigh-ins and medical exams, prohibiting staff from being in a single bathroom stall with a patient, designating bathroom times for non-binary and transgender patients, and making bed-based and room-based care a last resort. The bill would also require the promulgation of rules, training and enforcement of current guidelines around forced tube feeding.
Colorado is considered a hub for eating disorder treatment, with experts saying patients travel from across the nation and internationally to receive treatment in the state. O'Melia with the Eating Recovery Center said around 85% of her facility's patients come from out of state.
Between the Eating Recovery Center's four Denver locations and the ACUTE Center for Eating Disorders in Denver Health, the city's treatment facilities receive some of the most complex and severely ill patients in the country. Because of the life-or-death cases they face daily, O'Melia said she fears the regulations in SB 176 could get in the way of critical care.
"There are so many elements to it that are either unnecessary or ill-advised," O'Melia said.
Regarding tube feeding, O'Melia said it is already used as a last resort in life-threatening circumstances after a patient has been assessed by their care team, psychiatrist and a court to determine that the patient lacks the capacity to decide whether to eat themselves. O'Melia said the oversight is already so thorough that additional rules are not needed.
O'Melia also raised concerns about prohibiting the use of BMI to determine a patient's care. While she said she personally disagrees with using BMI, the American Psychiatric Association still uses it as a key element in assessing patients and levels of care. O'Melia said she thinks professionals should continue to push to change those guidelines, but she finds it "difficult to support a law that says we need to ignore the recommendations of our professional organization."
Others argue that using BMI as a basis for treatment is too harmful of a practice to let continue while they wait for the American Psychiatric Association to change its mind.
Lori Ventimiglia of Lakewood said her two daughters have both struggled with anorexia since they were 12 years old. They were hospitalized five times, during which Ventimiglia said they never stayed for longer than 30 days before insurance declared them "weight restored" and they were discharged. Ventimiglia said her daughters' peers who could afford to self-pay without insurance would typically stay in the treatment facilities for six to nine months.
"I witnessed repeatedly how this set up a series of relapses and extreme anguish," Ventimiglia said. "Insurance funding needs to cover patients through the healing of the whole person: physical, emotional and spiritual."
Tara Topper, a therapist who worked for the Eating Recovery Center from 2010 to 2016, said getting rid of the BMI consideration is "critical," explaining that the patient care teams regularly met with an insurance panel to report on whether they were making progress with their treatment. Topper said she encountered one medical doctor on the insurance panel who said he doesn't believe eating disorders exist.
Topper said she knew that if her patients had him on their panel, "they were going to get automatically denied."
For other treatment measures, Topper said the issue is more complicated. While she said she agrees with the bill seeking to give patients more privacy, she pointed out the reasoning for watching patients use the bathroom to make sure they're not vomiting or using laxatives, and the staffing shortage issues that could arise to implement daily one-on-one weigh-ins instead of doing them as a group.
But Topper stressed the importance of not re-traumatizing patients by putting them in uncomfortable situations, pointing out that this can exacerbate the trauma that caused them to develop an eating disorder in the first place.
"When you are a facility that's largely reacting to life-or-death situations ... you kind of deprioritize things like autonomy and dignity. We could certainly do a better job of that," Topper said. "I once said to one of our psychiatrists, 'I think we're going to look back on this in 10 years and say that we were being a bit barbaric.'"
When it comes to forced feeding tubes, Topper said she "doesn't envy" anyone who has to make that decision. She told the story of a patient with the emotional capacity of an 8 year old who would vomit in bags and hide them around the facility, but insist she hadn't done it despite her rapid weight loss. That patient was eventually put on a mental health hold, during which time forced tube feeding would be an option.
Topper said she thinks it was the ethically right decision, but admits she "doesn't know where the line is," calling it a question of "keeping them safe from themselves versus giving them the dignity to choose what to do with their body."
Elizabeth Earhart, a 21-year-old Denver resident, said she has dealt with disordered eating since she was 14, being admitted to treatment facilities three times: once at EDCare and twice at Eating Recovery Center. Earhart said the facilities "lacked trauma awareness" and used punitive measures, such as prohibiting her from going outdoors when she didn't eat and threatening tube feeding as a scare tactic.
Earhart said she had suicidal thoughts and attempts while hospitalized — something she never struggled with prior. Earhart said she was discharged prematurely during two of her stays, once for BMI and once, at the Eating Recovery Center, after she was sexually assaulted. While the assault did not happen at the facility, Earhart said her treatment team discharged her because she had "lost focus" on her eating disorder recovery and was affecting the "safety of the patient community."
"Each stay (caused) more issues than progress," Earhart said. "I left ERC in June 2022 worse off than I had admitted in March and getting back on the path to recovery virtually alone."
The Eating Recovery Center said it cannot comment on specifics of an individual patient's discharge due to ethical and privacy concerns, but "all discharge plans take several factors into consideration." The center also pointed to its patients who found success in their treatment. 
David Bachman said his teenage son was treated for anorexia in one of the Eating Recovery Center's Denver locations. Bachman said his son's treatment included tube feeding, which Bachman and his wife approved of after discussing it with his son's treatment team at the center. 
"His treatment needs went well beyond I and my wife's capabilities as caregivers," Bachman said. "It was a procedure that was hard to comprehend and challenging to decide upon. ... Every answer to our infinite number of questions was empathetic and thorough. What seemed so daunting became an informed decision for this vital course of action." 
SB 176 would also prohibit the sale of diet pills or other weight loss supplements to Coloradans under the age of 18 without a prescription, a move praised by treatment facilities and advocates alike.
Meds from 'vending machines'? Colorado lawmakers explore automation to dispense drugs
O'Melia called giving diet pills to children "a terrible idea," saying they drive eating disorders and harm development. Topper said she saw a patient in her 30s to 40s who had been taking laxatives since she was 10 years old to manage her weight, and nearly died of a fecal impaction.
Lawmakers in California and New York have passed restrictions on the sale of non-prescription diet pills to minors, though both bills were vetoed by the states' governors. Similar efforts have been introduced in Massachusetts, Missouri and New Jersey.
A Harvard University study found that, in 2018, 490 people in Colorado visited emergency rooms due to adverse events linked with dietary supplements. This was the 21st most hospitalizations in the country when controlling for state populations.
What's next?
SB 14 and SB 176 were each introduced into the Senate and assigned to the Health and Human Services Committee. Both bills are scheduled for their first hearings on March 23. 
Bill sponsor Moreno said he is optimistic the bills will pass into law, and he hopes they're just the beginning. Moreno said if the Office of Disordered Eating Prevention is created, it will develop further policy recommendations for the legislature to consider in the future.
"There's clearly a lot of work to be done in this space," Moreno said. "Some very brave young people are coming forward to share their stories and, ultimately, I think it will result in policy that impacts people more broadly and will result in both better outcomes for folks."
While some industry professionals like O'Melia with the Eating Recovery Center maintain that legislative action might not be effective or necessary to make change, advocates, such as Scanga with the Eating Disorder Foundation and Snyder with Mental Health Colorado, say they hope the flame these bills have lit in the legislature doesn't burn out.
Resnick, now a college freshman studying social policy, said she plans to introduce another bill in 2024 that would seek to ban weight discrimination and hopes other states will follow suit to introduce their own legislation.
But in the meantime, she has her eyes set on sparking the conversation on eating disorders statewide.
"Eating disorders kill thousands of use a year, and if we don't step up, that's not going to change," Resnick said. "I really do believe that this bill will save lives."