DENVER — Before his name was even announced, before Ball Arena had been told the first star of a sensational Stanley Cup playoff game, the crowd cooed his name like a love song.
"GRUUUUU!"
Avalanche 3, Knights 2 (OT). Take a bow, Grubi. This was one was all about Philipp Grubauer. Same for this Avs postseason, however long it goes. The Avalanche grabbed a 2-0 series lead.
One night after NBA stars Dame Lillard and Nikola Jokic combined their star power in a double-overtime playoff game in the same building, Grubi one-upped both. Yep, really. Grubi-Grubi was goody-goody. He saved 38 shots in regulation, one more in overtime, and the day.
Vegas ordered a double and poured it on. Grubi wasn't having it.
"He kept us in the game," said Avalanche forward Mikko Rantanen, whose game-winning goal spanked off the helmet of Knights goalie Marc-Andre Fleury and into the net. "He was basically the reason why we got to OT."
Shoot (but he'll stop that, too), Grubauer was the reason the Avs didn't get run out of their own building. This wasn't easy. This series won't be easy, not at all. Vegas was a better and more focused outfit after the two-game suspension of Ryan Reaves, as predicted. Vegas stopped the fisticuffs and started skating.
Good news for fun hockey, not-so-good news for the opposing goalie.
Didn't matter for Grubauer. Rantanen's right. It was Grubauer who kept the Avalanche in a game in which they were outplayed from the second period on. And this, right here, is an enormous series for Grubauer — personally, professionally, financially. Personally, Grubauer lit up like a 14-year-old hockey fan when a Zoom conversation turned to his opponent in goal, Marc-Andre Fleury. Grubi came up following and admiring the career of "Flower," who's third all time with almost 500 career wins.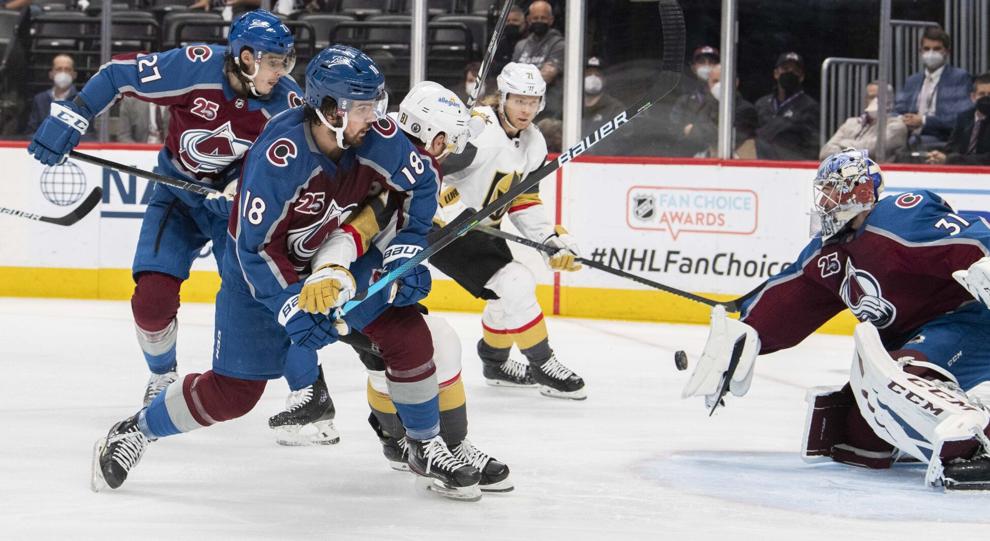 "When I came over (from Germany) all I remember is his yellow pads in Pittsburgh," Grubauer said.
Fleury and Grubauer were two of three finalists for the Vezina Trophy. In their first matchup of the series, the latter was superior.
"I never thought in my life that I would be part of that group," Grubauer said.
There's a funny thing about NHL goalies. Nobody seems to completely trust you until you've been the No. 1 on a Stanley Cup winner. This June is an opportunity of a lifetime for Grubauer.
Financially, an impressive playoff run could elevate his next contract into the $6 million-$7 million annual average range. Grubauer's a free agent after this season, and He might just mess around and price himself right out of Colorado. But that's probably chatter for the offseason.
The chatter before this season was whether Grubauer could get and stay healthy to provide the long-term answer in goal for the Avs. That chatter should be finished now. He was great, and he's been great. Entering Wednesday night, Grubauer had won five straight playoff games, tying an Avalanche record. Now he holds it.
Patrick Roy won five straight on three occasions.
But if anyone thought Vegas would go quietly, think again. The Knights erupted in the second period Wednesday, as if to remind everyone they tied the Avs for the most points in the NHL.
This is going to be a series, and a long one.
An Avalanche crowd that was rip-roaring in Game 1 spent much of Game 2 on its backsides.
Hey, thought you guys were fired up to finally be back in the building?
The peace and quiet ended when Rantanen scored from the right circle. Bedlam unfolded. Chilling outside of the giddy scrum was Grubauer.
"I think I was one of the first guys on the ice, celebrating with Grubi," Brandon Saad said.
The Avs didn't deserve to sweep Games 1 and 2, but Grubi made sure it happened.
"I thought his performance was exceptional," coach Jared Bednar.
"I think we're one of the fastest teams in the league, so practicing against those guys every day benefits me in games," Grubauer said.
Grubauer's finest moment came on a Vegas power play deep in the third period. They killed it. He killed it. Earlier in the game as the Vegas rush heated up, he stoned Vegas winger Chandler Stephenson on a point-blank shot. He deflected a ripper from Vegas captain Mark Stone. He knocked away a breakaway from Max Pacioretty. Time ticking down in the third, Knights forward Alex Tuch jumped from the penalty box and had a clean breakaway — and Grubauer stopped him, too.
He stole the night. He stole the game. Gruuuuu!