PARKER — It's a Monday night, and we're stepping into the Lutheran High gym, me and Baye Fall. Sweet kid, emigrated from Senegal to Colorado two years ago. Remember the name.
He's 6-foot-10, just a high school sophomore. Prospect-wise, he's Bol Bol, Kevin Durant, Michael Porter Jr. when they were 16 years old. 
"Bol Bol! He is amazing. I have been watching his highlights on YouTube," Baye says after a brief open run with his Lutheran teammates. "And sometimes when people see me do some move, they are like, 'That's Bol Bol!' That is very nice to hear. They say that on Instagram on the comments: 'They must be brothers or something.' We are not, though. We are not."
As two freshman girls walk past, their eyes grow as big as the headphones hanging from Baye's neck. One whispers, "Wow! He's tall!" That's the local view, here at a Class 3A school in the suburbs south and east of metro Denver.
"When Baye got here, I told him the story of when I went over to Senegal," says Greg Willis, the director of Fall's club program, and whose family took in the teenager. "Everybody there stared at me. I was different than what they're used to. I said, 'That's how you are here.'"
Now here's the national view: Baye Fall is one of the top-12 prospects in the country in the Class of 2023, according to ESPN and 247Sports. I haven't seen all of the other 11, but that's low.
Colorado high schools can officially open practice Monday, and Fall is on the marquee.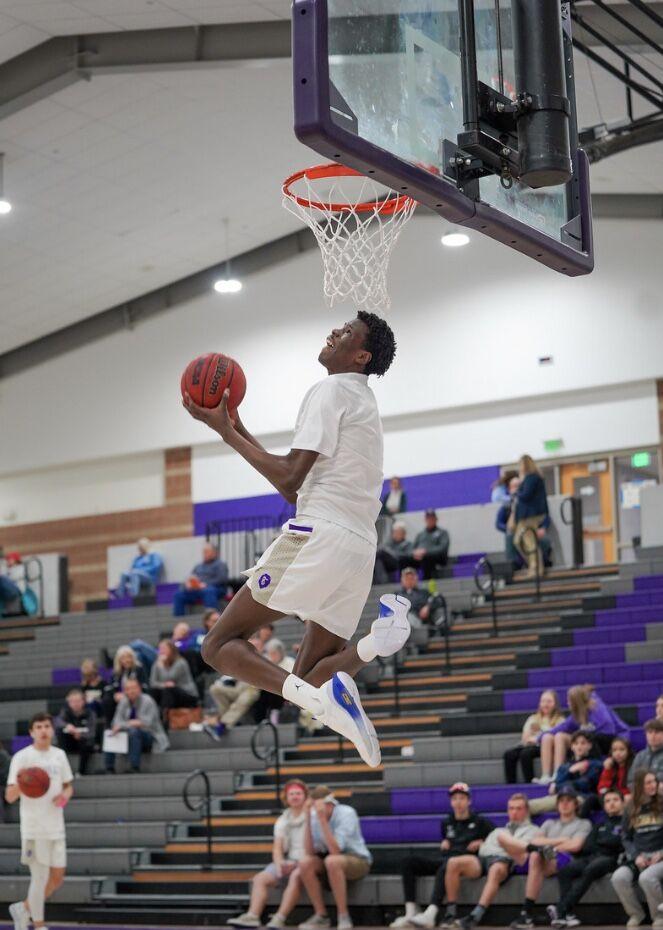 Minnesota offered him a Big Ten scholarship when Baye was in the eighth grade. CU-Boulder swung through Lutheran to check on Fall. Denver did, too, before quickly seeing he's out of the Summit League. Mighty Kansas offered him a scholarship a few weeks ago, firing a Bat signal into the sky for all the other bluebloods. By the end of his recruitment, Duke will be in on Fall. Kentucky will be in on Fall. And a bunch of programs won't be in on Fall, because Duke, Kansas and Kentucky are in on Fall. 
Then there's the potential for the NBA option, if the league reverses its rule and allows prospects to leap straight from high school to the pros.
"I hear that a lot. People call my family and tell me I will never play college basketball, which is funny, because (they think) I go straight to the NBA. That is funny to me," Fall says. "I'm just not so focused on that. It's not even an option yet. I am looking to go to school. If that is a (possible) way, I will pick that way. But right now I am focusing on high school and college."
He adds, "I am patient, but obviously I want to get to the NBA."
When the freshman girls marvel over his height, Baye hides a smile. He shouldn't. It's a fantastic smile, all teeth and innocence and down for the ride. Oh, and he's in for a ride. 
Doesn't know it yet, but he is.
Willis has been tied to the state's basketball scene for 40 years, and he's been involved with only two high school players with Fall's potential as a prospect: Chauncey Billups and Chris Thomas. One made the big time and a small fortune, the latter had 46 Division I offers but "got caught in the street life," the coach says.
All different types of wrong-way detours abound at this level of college recruiting, and that's where Baye's castle comes in. Knowingly or not, they are the adults responsible for Baye and his future, from Lutheran's teachers to boys' coach Bill Brandsma to Willis, who has directed the Colorado Hawks program for two decades.
Yes, Baye controls his own future.
"I know basketball pretty well, and I can say this kid's going to be really wealthy one day," Willis says. "It's going to come down to what goes on between his ears."
But here's a kid who came to the United States at 15 with a slight handle on English and a year-and-a-half of basketball experience. He's going to need serious guidance, and the guidance that too often hides in the shadows of high-major recruiting isn't the kind of guidance he needs.
Couple of weeks ago, the 16-year-old got a letter in the mail, along with photos of himself. They were autograph requests from back East, Willis says. Soon after, a stranger sent a text message to Baye asking if the teenager would like to join his travel squad down in Florida. Willis checked the guy's background, called him back and learned there was no squad and no school.
"I told Baye: 'These are people trying to make money off you,'" Willis says.
Fall recently began private workouts with former Nuggets trainer Steve Hess. He's in a good spot. Embrace a leadership mindset, and he'll be golden.
Lutheran's been a godsend, people around him say. During the COVID-19 pandemic Baye was able to attend in-person classes twice a week — "The remote (learning) is hard for me," he says — while Denver Public Schools are locked out of the classroom. It's worth the 45-minute drive from their Montbello home to the 'burbs, Willis says. Integrating a blue-chip recruit into a Class 3A program in the Metro League is no easy process, either. Brandsma, the coach, has witnessed a more mature Baye since the Lutheran boys team helped out with "A Night to Shine," the prom night for special needs kids founded by ex-Broncos quarterback Tim Tebow.
"Baye was unbelievable with the kids. I mean, unbelievable," Brandsma said. "I asked him, 'Why are you so drawn to these kids, Baye?' He said, 'I see how much I've been given, and I wish they could have that, too.'"