DENVER — So help me God, I'm sorry.
Sorry for forgetting the Broncos rookies in our family's Thanksgiving prayer. Thank you for Patrick Surtain II. There were some serious Champ Bailey flashbacks on Sunday at Empower Field at Mile High. Thank you for Javonte "Pookie" Williams. Or was that Clinton Portis Jr.?
Thank you for these precocious, cocky, not scared, gifted Broncos rookies. God bless 'em.
"We know as a whole rookie class these are big, key games going on," Surtain said after the youngest Broncos put the old heads on their back in a 28-13 blowout of the Los Angeles Chargers.
He's still not forgiven for passing on current Patriots quarterback Mac Jones, but at some point George Paton's draft day decisions deserve a chapter of their own. That point is when this becomes a valid question: How many games would the Broncos win without "PS2," "Pookie," linebacker Baron Browning and safety Caden Sterns? Four, five? They wouldn't be "in the hunt" in the AFC West after Thanksgiving, as Vic Fangio put it. That's for sure.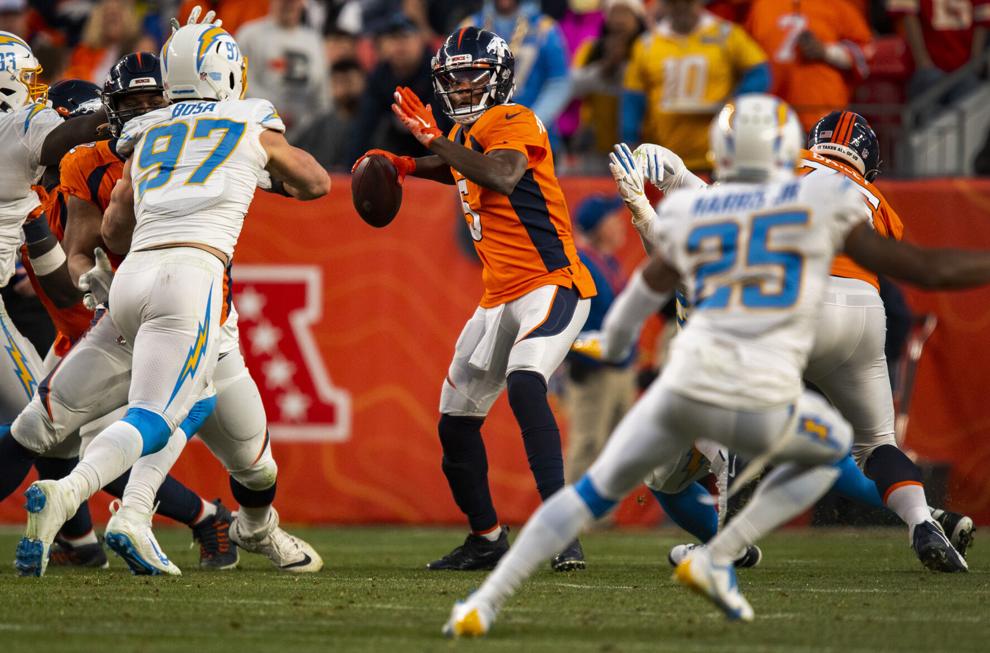 Let's not go overboard about Sunday's result, or the Broncos offense in general. Denver had 3 yards of offense in the third quarter, and Broncos fans were right to boo that silliness. It's so hard to watch this Broncos offense most of the time. The Broncos have scored 30 points in six of Vic Fangio's 43 games. Or I guess you can look on the bright side and say at least they scored 20 points for the 20th time in 43 games.
The Broncos paid two wide receivers $90 million, then threw the ball to Courtland Sutton and Tim Patrick six times, total. Denver's newest multi-millionaires had four catches, total.
Starting quarterback Teddy Bridgewater suffered a shin injury, Fangio said. That's why he came out of the game. Here's why he returned to the game: Drew Lock promptly threw a terrible interception that was also a kick to the shin.
Sorry, Lock's done-done here. After the Shane Ray-Drew Lock disasters, the Broncos should stop drafting Mizzou guys in the top two rounds.
But I can see where Fangio is coming from when he said it was "actually" a solid performance on offense for the Broncos. They played the final three quarters without the starting left tackle (and the backup left tackle), left guard, right guard, right tackle and Bridgewater, the QB, got a game ball for playing hurt. Maybe it's the Manning years talking, but it's still tough to accept 21 points on offense as a good day.
"We'll see how I feel when I wake up in the morning," Bridgewater said of the injury.
Thank God and their parents for the Broncos rookies. Pookie ran angry against the Chargers, as if he's still ticked they passed on him or something. He runs like the Grinch who could steal Christmas for the Broncos. One-hundred-eleven total yards, led the Broncos in receiving with 57 yards. On a 42-yard catch-and-sprint, Pookie juked a guy like Portis used to do around here. Was anyone else thinking there's going to be a time down the road when Pookie breaks out the title belt on the sideline?
"Any way I can help the team, that's what I'm trying to do," Williams said.
Surtain made two interceptions. The second one accomplished three things: clinched a 6-5 record for the Broncos, the first time they've been above .500 in December in five years; made for a delightful bit of family history, as his dad caught his final pick-6 at Mile High; sent me to YouTube. Yep, Surtain dashing down the home sideline looked a lot like Champ Bailey doing the same. Surtain and Bailey both were top-10 picks at cornerback. Portis and Williams were second-rounders at running back. Hmmm.
Long way to go before the new guys are on the old guys' level. Shoot, Portis had 1,500 yards as a rookie. Williams won't reach 1,000 at the current rate of his carries. But for one afternoon the dynamic rookies turned the Broncos' season.
Surtain carried the interception 70 yards for a touchdown and handed the ball up to his father. Awww. NextGen Stats clocked Surtain — the son, not the dad — at 22 mph, the fastest speed for a defensive player as a ballcarrier over the last five seasons. Which button on the PS2 controller is the Olympic speed button?
"I used to run track," Surtain reminded.
Beat the Chiefs Sunday night at Arrowhead and we'll talk about the playoffs. Till then, no dice, even though the Chargers team that stunk up the joint currently would be in the playoffs. What that says is the extra Wild Card is one too many playoff teams. No offense to the Chargers.
"The message going into today's game was like, 'This is it,'" Justin Simmons said.
Browning, the third-round pick at linebacker, had seven tackles and knocked down a pass. Sterns, a fifth-rounder who definitely isn't scared, filled in for starting safety Kareem Jackson and the Broncos "D" held the Chargers two touchdowns below their season average.
Williams averaged over 6 yards per carry for the fourth time. Fourteen touches per game isn't enough. Surtain ran 22 mph and called game.
Next year the Broncos could have a new owner, coach and quarterback. The rookies are a rare sure thing and reason for hope. Anyone else having flashbacks? Thank goodness.