Thousands of new parking spots did not go in as part of Weidner Field, but the city of Colorado Springs is confident existing parking downtown will be plenty to serve the new stadium. 
Switchbacks club President Nick Ragain said he didn't want the stadium to be an island surrounded by a sea of parking and instead hopes that fans will take advantage of the existing parking around downtown, that is within walking distance for most fans. 
"The vision has always been to be an urban environment and foster more of an urban experience," he said. 
He is hopeful that fans will want to take part in the downtown offerings and visit restaurants and shops before and after games. 
Scott Lee, parking enterprise director, said he expects the dispersed parking will help alleviate traffic after games because fans will be headed to different parking areas instead of pouring out of one central location. 
The team expects existing parking garages, surface lots and metered street parking will provide 5,000 open parking spaces on any night for the 8,000-seat stadium, according to its website. At least initially, game attendance will be capped at 4,000 attendees, leaving potentially more spaces available.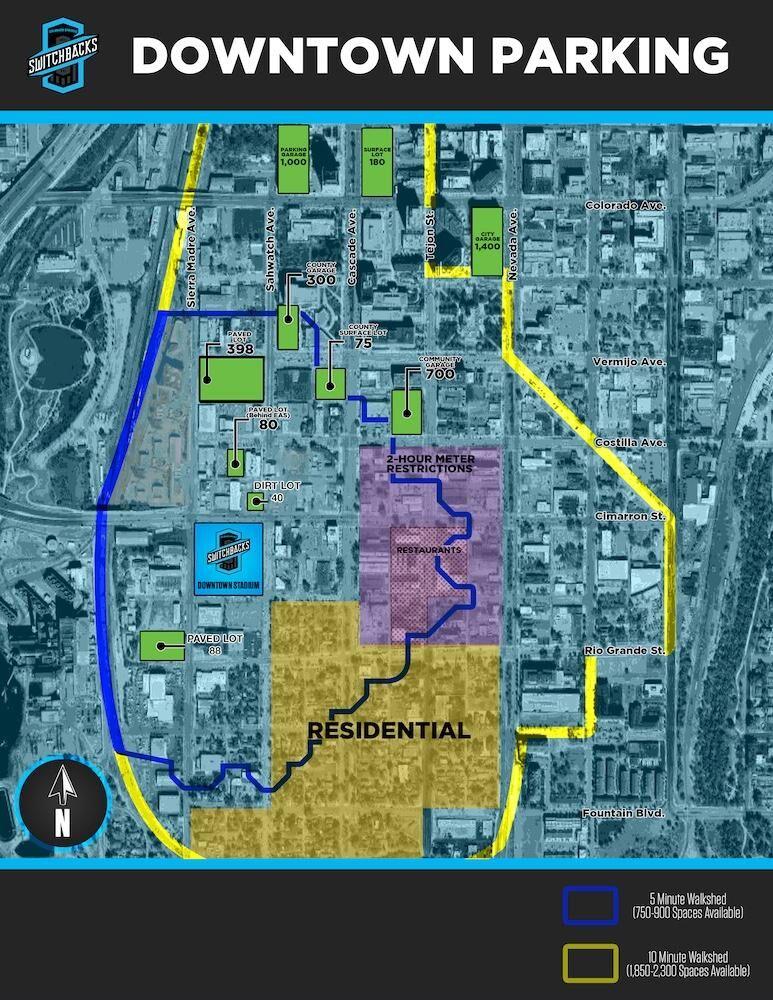 The stadium doesn't offer valet parking yet, but it could in the future by renting out a few surface lots near the venue, Ragain said. 
For now, fans can drop off members of their party at the stadium along south Sierra Madre Street before parking.
Most of the city's street parking can be managed through a phone app, allowing fans to add time as needed, Lee said. Meter rates vary based on how close they are to the downtown core. Meters north of Vermijo Street and bounded by Nevada Avenue on the east and Cascade Avenue to the west are $1.50 per hour, meters further out are $1.25 per hour and those are the periphery are a $1 an hour. 
The city and El Paso County parking garages charge a $1 an hour as well. 
For cyclists, the stadium will offer locked and fenced storage for bikes for a small fee.